Pages
Categories
Contributors
Recent Posts
Recent Comments
Recommended
Archives
Michael Iafrate initiated what has become a substantial series of reflections at R&T on the church and punk rock with a post in May 2009 here.
This is part 2 of my reflection on a review of a recent "drone" music concert in New York City. Part 1 is here.
Now for further reflection:
In the process of his review, Ratliff explores meanings of sounds that take one into humming ruminations on essentials: musically we call these "drones," but in theology they are, in a sense, the whole game, because theology is no more and no less than a humming rumination on essentials. We can explore such "droning" by theologically overhearing music reviews, and musically overhearing theological works, which are two ways of relating theology to music.
Consider Ratliff's opening reflection: "There's an irreducible element of music that connects metal, industrial music, power electronics and classical minimalism, and no word exists for it."
Stay with that for a while. And then onto the next sentence:
"It involves deep pulsations; excited provocation through sound and concept more than traditional technique; low-end frequencies rarely encountered in life; long sustained tones enlarged through overdrive; or distortion or just force of hands on instruments."
The kind of theology I write and teach often falls within the domain of "practical theology," in which it is emphasized that whatever is worthy of being called "theological" must be "experienceable" by people. I stand by that, so long as what it means is carefully interpreted, but Ratliff's meditation on (more…)
That was my first thought, or at least my fourth or fifth, when I read the headline over music critic Ben Ratliff's review of a drone concert in last weekend's New York Times. The print headline read: "A House of Drone, Ecstatic and Raw, With a Potent Aura of Largess." I wondered: with this evocative headline, what are we really talking about here?
(I have frequently quoted and celebrated Ratliff's reviews, such as here and here.)
The theological significance of drone may have to do with Holy Mother of God! Before anything else happens, take a look at this picture that accompanied the story, of Kim Gordon (formerly of Sonic Youth and now of Body/Head), taken by photographer Brian Harkin:
I hate to ask so pedantically whether you consider this as remarkable as I do, but ask I must. This is an ornate, even extreme position in which to posture an electric guitar. I can only surmise that by driving the headstock into the top of the amp, hunching over the upturned instrument from shoulder strength supported by delicately bent knee inside the carefully calibrated leg-stance, working the tremolo with her right hand, and steering the balance from her left hand, she is summoning feedback. For some reason the picture reminds me of the disturbing provocation of an upside-down crucifix, an (more…)
In the world of Rock and Theology, my interests have hovered around the relationship of underground music cultures, social movements, and religion. In particular, I've been interested in the relationship of DIY punk music cultures (broadly defined) and spirituality/religion and have done some writing on this, most recently in an essay in the new Rock and Theology book, Secular Music and Sacred Theology. In my essay on "staying punk" as a theologian, I spend a good deal of time discussing one of the "patron saints" of punk rock, Ian MacKaye of Fugazi and Minor Threat, whose distinct voice within the many discussions of "punk ethics" has made me think not only about my own musical practices but about the practice of theology.
In December of last year, MacKaye and his wife Amy Farina released their third album as The Evens. The album, The Odds, is another great batch of MacKaye and Farina's "quiet," but still uncompromisingly political, punk rock. As I was preparing final edits to the chapter I submitted for the book, I was also reading the press' discussion of MacKaye and The Evens, and I realized that, had I had more space, I could have discussed The Evens as great example of the traditioning of punk, of the way punk evolves — "grows up," even — but stays true to its commitments.
The Evens' recent string of interviews contain some discussion that might help to push forward some of the ideas I've been tossing about on theology and punk rock. (more…)
Not many art gallery shows sell out completely for months ahead, but the retrospective look at the life and music of David Bowie has. "David Bowie is" at the Victoria and Albert Museum in London from March 23rd to August 11th is sold out until August 11th, and sports long lines every morning for the few tickets reserved for 'on the day' sales. I would not have called myself a particularly avid David Bowie fan – and I'm not sure I understood what he was about, and yet passing through London these days I found myself drawn, and lucky enough to get in. Have you ever rediscovered without expecting it important parts of your past, or rather, found yourself in the midst of something more familiar than strange? And then began to understand something of why it was so important, or feels so essential? Such have been the last few days for me: music enters the body and mind via osmosis, like the smell of pizza in Italy that makes you hungry again even after you've just eaten, and so suddenly not only do you remember something but you're there, in how that song made you feel when you were between 5 and 15 (who remembers?) and opening your eyes to life: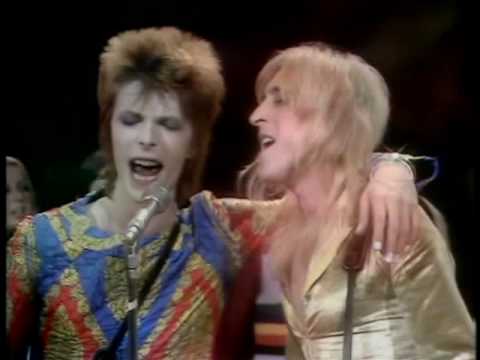 There is a star-man/ spaceman in my memory and musical history… although I wasn't aware of it, and the piano at the beginning of this song touches the (first?) chord of a life-long love of that instrument.

Apart from having way too much to see, hear and take in for so many people passing through, the exhibition is amazingly done – a window into the life, inspiration, hard-work and audacity of a musician some people call the Andy Warhol of the music -scene; a cacophony of sound, (more…)
I encourage R&T readers to check out a recent article in America magazine by Bill McGarvey about the band Mumford and Sons.  While I can't say I am a huge fan of this band (more my fault than theirs), I do appreciate their musicianship and I believe McGarvey highlights an important point that many of us who contribute to this blog would also support–that popular music can hold a spiritual significance without being relegated to the label of "Christian Rock".  Mumford and Sons does connect with listeners in a spiritually important way–I've observed this with students on the University of Detroit Mercy campus where I work.  In fact, a student suggested that my campus ministry team use a Mumford and Sons track for a midnight Ash Wednesday prayer service.  I often feel a tension between wanting to know exactly what it is about a particular song or band that connects deeply with someone, on the one hand, and just accepting that there is something special there that I do not need to understand in order to respect and believe it.
Can any Mumford and Sons fans chime in here?
Dave Nantais, Detroit, MI
For my New Year's Resolution, I vowed to listen more.  I particularly want to listen to those who don't easily get a hearing. Of course, everyone gives half an ear when the Rolling Stones play a 50th anniversary tour. Of course everyone is curious when Black Sabbath releases their first album in almost 20 years.  But what about the Eagulls, from Leeds, England, with their EP by the same name?They don't even have a website yet, let alone the industry marketing muscle of the Stones or Black Sabbath. They've actually got to make it on the strength of their songs, especially played live.  The lead single, "Moulting," is a perfect example of their melodic post-punk sound. Their early single, "Council Flat Blues," points to the struggle of their upbringing and the cry of despair so common in punk. Bands like this remind me of what lament psalms would sound like today, done in rock and roll style. Here is a clip of the band playing the lead song off their EP, "Coffin," live at The Barfly in Camden, London.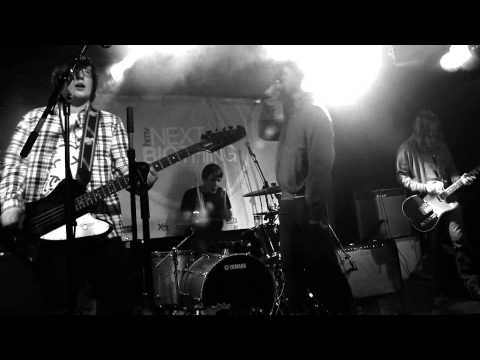 I am very happy to announce that the new book Secular Music and Sacred Theology has just been published by Liturgical Press. We will have a lot to say about this book in the coming months, and we think it is a book that Rock and Theology readers — and all who are interested in creative thinking about the relationship between theology/religion/spirituality and popular/secular music — will enjoy.
Secular Music and Sacred Theology is available in paperback or e-book format, and features many authors that R&T readers will recognize, each of whom write about how to relate theology/religion/spirituality to rock and roll/hip hop/secular/popular music. The authors include: David Dault, Maeve Heaney, Daniel White Hodge, Michael Iafrate, Jeff Keuss, Mary McDonough, Gina Messina-Dysert, Christian Scharen, and Myles Werntz. I edited the book and wrote the opening, introductory chapter.
This book will challenge readers to further clarify our thinking and to examine more deeply our own experience. It continually gets to the question: Why is music spiritually significant?
Please celebrate with us as we send this book out into the world, hoping it will connect!
TB
Tonight I was listening to the song "Chemistry" by Rush, and thinking about its appeal to many different kinds of fans, and thinking too about its significance in my life across many iterations of my religious/spiritual identities.
I remember being moved as a high school student by this song, in its surrender — through science, not despite it — to the mystery of interpersonal connection, and finding therein a mystical significance for my life that was not opposed to rational thought. I remembered, too, an interaction with a psychology professor in college about the lyric in this song, "emotion transmitted, emotion received," which he found significant, and which it took me twenty more years to appreciate — just how hard it is for an emotion to be transmitted and for that emotion to be received.
And this evening, after a few hours out with a friend of twenty years' chemistry, and upon hearing this song in my playlist, I was thrown back on its heady understatement.
Which tunes conduct us into the relationships that are between and beyond logical tellings? I mean those that are most essential for our sense of ourselves, beyond logical telling, beyond storytelling, beyond and outside, amen. This is where "secular music" overlaps the most "spiritual theology" and admits that, in the end, there is nothing firm to be known other than surrender to more life.
Here is Rush with "Chemistry."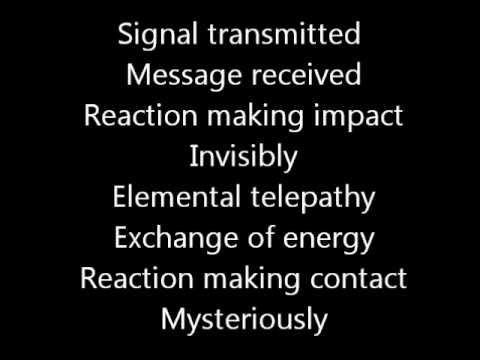 Tommy Beaudoin, Yonkers, New York
That was my confession here at R&T in April 2009, and it remains true today.
« Previous Page
—
Next Page »