Pages
Categories
Contributors
Recent Posts
Recent Comments
Recommended
Archives
September 2017
S
M
T
W
T
F
S
« Jan
1
2
3
4
5
6
7
8
9
10
11
12
13
14
15
16
17
18
19
20
21
22
23
24
25
26
27
28
29
30
This brief note is a followup to my recent post on Mata Amritanandamayi and her influence on rock musicians J Mascis and Jason Becker.
I vividly remember Jon Anderson of Yes introducing his "spiritual teacher," Divine Mother Audrey Kitagawa, at a show in Madison Square Garden in New York City in May 2004. (I have blogged here at R&T about meeting band members on the train the next day.)
Toward the end of the show, Mr. Anderson invited Divine Mother Audrey up to the stage.
High-quality video of the moment is here, but I cannot embed it in this post. A lower-quality version is here: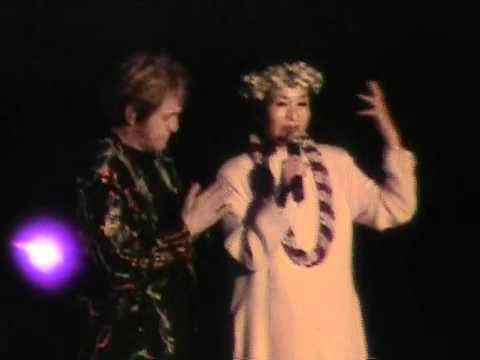 Lots of things are happening here. I think the band must be a little surprised. I think the band was not fully briefed, but then again they must expect this from Mr. Anderson. You can see bassist Chris Squire walk across the front of the kit, maybe going to sit offstage once he realizes that this is going to take awhile. (The next day, I helped him carry his bags off the train onto the platform at South Station in Boston.) You can hear keyboardist Rick Wakeman in the background trying to keep up with the Divine Mother, and he does an admirable job by starting off with mood music, and then trying to urge her along by offering an assertive orchestral swell when he thinks she is getting to the end of her speech.
The band members must know that they were in danger of losing the audience — which they were. You can hear the catcalls, impatient yelps, and random "WTF" sorts of expressions as she leads the crowd wait —- did I mention that this was happening in front of tens of thousands of fans at Madison Square Garden?!
So she led us through the Gayatri Mantra — a very interesting excerpt, with an important history, from the Rig Veda. (See the wiki discussion here.) She gets a fair amount of the fans to chant "Om" and "Peace" at the end. And then she announces, while Mr. Anderson has maintained a prayerful pose for several minutes next to her, "You are a perfect child of God. Immortal, eternal, and already in God's light." It was an extraordinary moment. And also extraordinarily odd. Did I emphasize that this happened at the end of a major rock show in New York City? It was striking, strange, perfect, and a buzzkill all at once.
For more on the fascinating Hawaiian-Hindu provenance of Divine Mother Audrey and her teaching, see here.
One of the reasons I love rock and roll is the experimental spiritual attitude of many of its "insiders" — from fans to musicians. This moment was no exception. This attitude is also present in the theological tradition that academic theologians, like myself, have also inherited, but it is often managed by narratives of continuity, sameness, and consensus. Staying in touch with the strange collisions in the theological tradition, akin to the collision of the Divine Mother's Gayatri Mantra with the Yes concert, is a reason I remain a theologian and love that work as much as rock and roll. That's one reason I cannot escape the intersection of rock and theology.
Tommy Beaudoin, Hastings-on-Hudson, New York
1 Comment »
I was at this show, and I remember this. I also remember the literally overwhelming audience response near the end of "And You And I", which was unbelievably powerful and emotional. Steve and Jon were unable to finish the final guitar/vocal section because we were too loud and would not stop cheering. Must have been a 3-minute non-stop standing ovation at least. What a night!

Comment by Steve Brittenham — January 14, 2013 @ 12:06 am
RSS feed for comments on this post.
Leave a comment