Pages
Categories
Contributors
Recent Posts
Recent Comments
Recommended
Archives
October 2017
S
M
T
W
T
F
S
« Jan
1
2
3
4
5
6
7
8
9
10
11
12
13
14
15
16
17
18
19
20
21
22
23
24
25
26
27
28
29
30
31
Recently on Rock and Theology we posted a link to a short article on Noisecreep entitled  Heavy Metal Stars Who Found God which Tom Beaudoin noted was "a topic of seemingly perennial interest."  This is very true.   The fascination people have with rock stars and whether they are 'Christians' or not is the subject of a whole sub-genre of rock journalism and other writing dedicated to discerning whether certain lyrical content ultimately points to a professing commitment as understood by institutionalized religion and in particular denotes an Evangelical faith.  This is nothing new as Tom mentioned and is of perennial interest to be sure and not just isolated to rock stars.  Recently Franklin Graham questioned whether President Obama was a Christian.  Graham stated that "I asked [President Obama] how he came to faith in Christ. He said he was working on the south side of Chicago in the community and the community asked him what church he went to. He said 'I don't go to church."
That said, Graham has since apologized for any inference about the state of the President's salvation but the perennial interest in Evangelical circles to define what a Christian is continues and is now turning its attention it seems to Bruce Springsteen.
Bruce Springsteen's 17th studio album – Wrecking Ball – was released in the US on March 6th and the critics have been hard at work to make sense of the Boss' latest outing (I recently posted a review of the lead single "We Take Of Our Own" here on Rock and Theology ).   One reviewer made a rather interesting comment that has had me perplexed and dismayed.  In his review of the album (wonderfully entitled "Stations of the Boss") Andy Whitman at Christianity Today noted the personal and profound impact Springsteen's music has made on him throughout his life saying that he became  "a Christian who is convinced that Bruce Springsteen has more to say to me than any other songwriter." Many people feel the same way.  At 62, Springsteen is still producing  great music of deeply spiritual and political conviction and while he hasn't recaptured the "glory days" of the Born in the USA years or the critical excellence of Nebraska, Darkness at the Edge of Town or The River, he is an undisputed American rock icon who has unique crossover appeal in an increasingly segmented music market.  I for one agree wholeheartedly with Whitman's statement to this effect and resonate with much of his review of the album (Wrecking Ball, by the way,  is a true return to form and a fantastic album worth repeated listens – IMHO).
But that isn't what caught my attention.
What was interesting is the line that follows his praise of Springsteen "having more to say than any other songwriter."  He follows with this interesting aside  that echos statements usually made at this juncture by Christian critics once they have praised an artist: "This is curious ["Springsteen having more to say than any other songwriter"] because, as far as I know, Springsteen does not claim to be a Christian." True, Whitman has loves Springsteen's work and lauds praise on this particular album.  In reference to the remake of "Land of Hope and Dreams" Whitman states that "it's a glorious song, a perfect encapsulation of the greatness of its songwriter and singer. It's also the gospel; good news—the best news, in fact—for those who are weary and heavy-laden, uncommon men and women sorely in need of grace."  Yet he can't leave that praise isolated and for some reason needed to alert the Christianity Today readership that while Springsteen speaks the Gospel we have still been notified if he is truly and completely in the tribe of Christianity yet. Perhaps Whitman is merely wishing to have a spiritual connection with this important artist.  Perhaps it is merely an aside that he feels needs to be acknowledged – that Springsteen truly hasn't come out with any creedal affirmation, has not used God in his thank you speeches, has not noted key popular Christian artists in his linear notes.  We don't know what his beliefs are in relation to Evangelicalism or some other profession of faith through direct pronouncements… other than his art.  Whitman notes surprise that he would connect with an artist who "does not claim to be a Christian" and yet sings the Gospel into being.
What do we make of this?
I am left scratching my head a bit – on the one hand, Springsteen is offering the Gospel.  Yet on the other hand there is the need to make sure we understand that his declaration of Christianity is not overtly resonate with some understandings of what faith looks and feels like and the Boss' silence on this matter for some reason needs to be footnoted.  It is akin to saying "Albert Einstein changed the way we look at the universe and forever opened my eyes to how time and matter relate. This is curious because, as far as I know, Einstein does not claim to be a Christian."
What this raises up for me is the constant confusion in some Christian circles that God would work outside of our publishing houses, record labels and even our sanctuaries. What does it matter whether we know the reasoned doctrinal assent of an artist if the art itself speaks, transforms, provokes and even prophetically moves the world closer into the embrace of God?  To this end I suppose I was wishing for a review like Fr. Andrew Greeley's fantastic article "The Catholic Imagination of Bruce Springsteen" from America back in 1988 where he points to the heart of the matter:
Springsteen sings of religious realities—sin, temptation,  forgiveness, life, death, hope — in images that come (implicitly perhaps) from his Catholic childhood, images that appeal to the whole person, not just the head, and that will be absorbed by far more Americans than those who listened to the Pope … The piety of these songs—and I challenge you to find a better word—is sentient without being sentimental…

I have no desire to claim Springsteen as Catholic in the way we used to claim movie actors and sports heroes. I merely observe that this is (not utterly unique) Catholic imagery on the lips of a troubadour whose origins and present identification are Catholic. I also observe that the Catholic origin of the imagery serves to explain them. I finally observe that the critics seem to pay no attention to the images, perhaps because without a Catholic perspective one has a hard time understanding where they come from and what they mean.

So if the troubadour's symbols are only implicitly Catholic (and perhaps not altogether consciously so) and if many folks will not understand them or perceive their origins, what good are they to the Catholic Church? Surely they will not increase Sunday collections or win converts or improve the church's public image. Or win consent to the pastoral letter on economics.

But those are only issues if you assume that people exist to serve the church. If, on the other hand, you assume that the church exists to serve people by bringing a message of hope and renewal, of light and water and rebirth, to a world steeped in tragedy and sin, you rejoice that such a troubadour sings stories that maybe even he does not know are Catholic.
I am so sorry that the line pondering the Christian status of Bruce Springsteen was in Whitman's fine review and even more ashamed that this need to flag for an Evangelical audience the uncertaintyof a faith statement is somehow necessary in my faith tradition.  That we are just not sure if someone professes to be a Christian in ways we understand when writing about artists of any stripe should be of no interest as the public outcry regarding Franklin Graham's statements about President Obama has shown.  If Springsteen is truly proclaiming the Good News, as both Andy Whitman Fr. Greenley state, then isn't that enough? Perhaps akin to David Nantais' recent posting asking  whether it was weird to pray for rock stars I am musing about whether it is time to pray for Christian fans of rock stars, that they would just relax and listen to the music, let it take hold of them, and let the proclamation of the Gospel be enough.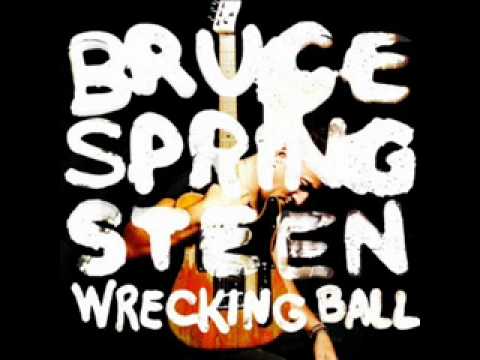 14 Comments »
RSS feed for comments on this post.
Leave a comment