Pages
Categories
Contributors
Recent Posts
Recent Comments
Recommended
Archives
September 2017
S
M
T
W
T
F
S
« Jan
1
2
3
4
5
6
7
8
9
10
11
12
13
14
15
16
17
18
19
20
21
22
23
24
25
26
27
28
29
30
Posted in: General by Christian Scharen on November 26, 2011
While against my better judgment, I had to stop at Menards, a major midwest home building supplies store, to pick up some supplies to hang an advent banner at church.  As soon as we walked in, our ears were assaulted  with some bad version of "jingle bell rock" (perhaps it was this horrific version by Billy Idol). I'd mostly avoided the shlocky Chrismas rock foisted upon unsuspecting shoppers this time of year (well, actually, since before Halloween, since that holiday doesn't have many tunes save Warren Zevon's Werewolves of London). So my first post in joining the conversation here at Rock & Theology on the cusp of the beginning of the season of Advent has to be about why rock musicians are much better at Advent songs than ones about Christmas.
Of course I could start many places on this one, but the most ready to hand for me is the case of U2. They have done some Christmas songs (the most widely know is Christmas (Baby, Please Come Home)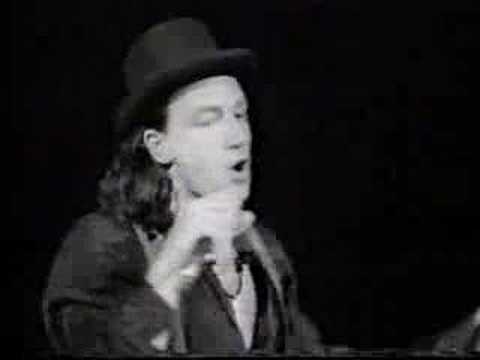 Honestly, it IS better than the over-played Jose Feliciano's Feliz Navidad.  But the fact is that rock is better in the mode of desire and lament rather than tinsel and mistletoe.  The U2 cover of Greg Lake's lament about consumerism in the Christmas season reaches closer to what I'm after, but its darker lyrics (They said there'd be snow at Christmas, They said there'd be peace on earth; but instead it just keeps on raining, vale of tears for the virgin birth) are overcome by the chiming guitar, sleigh bells, and references to Father Christmas.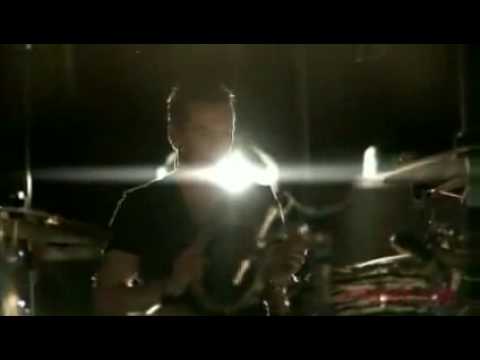 It is not too far off to say what divides "American Christianity" (a way to refer to cultural Christianity) and something nearer to the way of Jesus Christ is the little four-week season of Advent.  While the masses trample each other to fight over bargin consumer goods, the invitation of Isaiah is to stare at the horrors of the world and cry, "O that you would tear open the heavens and come down."  The heart of advent as longing parallels the heart of Jesus' teaching on prayer: to plead for life "on earth, as it is in heaven." Such a prayer starts where God starts in relation to the brokenness of creation; with an ear bent to the cries (Exodus 3:9).  U2 has done much better in this regard, singing the brokenness of life as a song before God, knowing that things ought to be otherwise. Thus, they sing versions of the lament titled, "Why?"
One compelling story is the band's work in the Irish peace movement. U2 had sung protest songs along the way, including the powerful "Sunday, Bloody Sunday" written against the horrible violence at Derry in 1972 when marchers were shot by British soldiers. Edge wrote the song to juxtapose the nonviolent death of Jesus, an act that put an end to violence, with the continued use of violence to achieve victory in Northern Ireland.  Underneath the song is the ancient Psalmist's refrain, "How long, how long must we sing this song?" The song has expanded as the band has played it over the years, but its most powerful moments remain when it connects to Ireland. At their famous Redrocks concert in Denver in 1983, Bono begins with the cry, "This song is not a rebel song. This song is Sunday, Bloody Sunday." His concern then was to make sure they were heard as a voice for peace, and not for one side or the other in "The Troubles."
Almost 20 years later, in 2001, U2 played Slane Castle in Ireland and turned Sunday, Bloody Sunday into a prayer against the history of violence in Ireland. They had orchestrated a minor miracle in getting David Trimble and John Hume on stage together during a concert in 1998. It was a coup, and helped usher in the Good Friday peace accords later that same
year.  That was spring. By late summer, the reactions had traction and a group called the Real IRA set off a bomb in the tiny town of Omagh killing 29 people out for their Saturday shopping. In response Bono said, "I could not comprehend how people could do something like that. The closest I ever came to a crisis of faith happend after that. It was hard to be a believer at that moment. We wrote the song, "Peace on Earth," after that, which is as bitter and as angry a song as U2 have ever written." The song begins, "Heaven on Earth, we need it now/I'm sick of all of this hanging around/Sick of sorrow, sick of the pain/I'm sick of hearing again and again/That there's gonna be peace on Earth." The song itself includes names of those who died in Omagh: "They're reading names out over the radio/All the folks the rest of us won't get to know/Sean and Julia, Gareth, Ann and Breda/Their lives are bigger than any big idea."  The song is, by some accounts, a moment showing U2's trajectory towards atheism. Hardly.   It is rather a lament in the finest tradition of the Psalms. It is an advent song crying out the quintessential advent cry, Maranatha! Come, Lord Jesus!.
The most powerful instance of this I know is a live concert at Slane Castle, September  2001, when Sunday Bloody Sunday becomes a desperate prayer for nonviolence and peace. It is as if Bono and the band say to the crowd, "the lion CAN lay down with the lamb here, now." They invite the crowd to "put your hands in the sky, put your hands in the air, if you are the praying kind, turn this song into a prayer: No more. No more." Bono sings, "Three years after Omagh, turn this song into a prayer. Wipe your tears away."  Then, in the most poignant section, he shouts, "We're so sick of it!  We've had enough!" Singing the last verse, Bono then joins the band  in silence, only to be broken by the insistant pound of the drum, then the bass, then Edge singing "Sunday, Bloody, Sunday," and Bono chanting names: Brenda, Sean, Julie, Gareth, . . ." and he keeps on, even after the music dies away.  Voice shaking, he concludes with: "29 people, too many."  Could that be our advent prayer? Too many, God. Too many suffer and die.  With Isaiah, we pray, " "O that you would tear open the heavens and come down." Edge, U2's guitarist, puts their advent theology this way: "Our stance as a band is that we believe in heaven but live as if we didn't." I'll take that any day over something as thin as Bon Jovi singing  a cover of Elvis' Blue Christmas.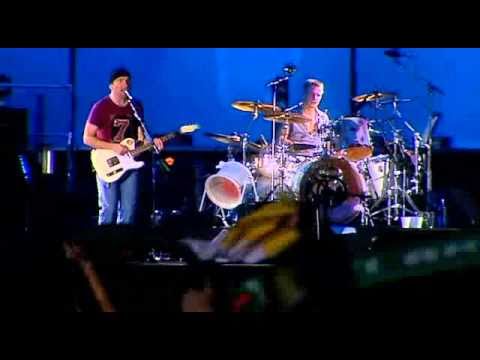 Advent peace to you,
Chris
4 Comments »
RSS feed for comments on this post.
Leave a comment