Pages
Categories
Contributors
Recent Posts
Recent Comments
Recommended
Archives
October 2017
S
M
T
W
T
F
S
« Jan
1
2
3
4
5
6
7
8
9
10
11
12
13
14
15
16
17
18
19
20
21
22
23
24
25
26
27
28
29
30
31
Last night at Barclays Center in Brooklyn, I saw Thom Yorke with his new band, Atoms for Peace, in concert. Yorke was giddy with gyrations, air-punch dancing, and music-spirit possession from start to finish with few pauses. The band's bassist, Flea (from the Red Hot Chili Peppers), put on his own show of bass-dancing with as much vigor as Mr. Yorke, hopping back and forth from foot to foot, bopping and popping and stomping his legs, jumping on the drum riser and hank-hopping sidewise, all while continuing to play the funky bass parts for which he is known but now scaled dance-ishly to the heavily electronic band that he and Yorke formed.
Here they are this summer in Los Angeles: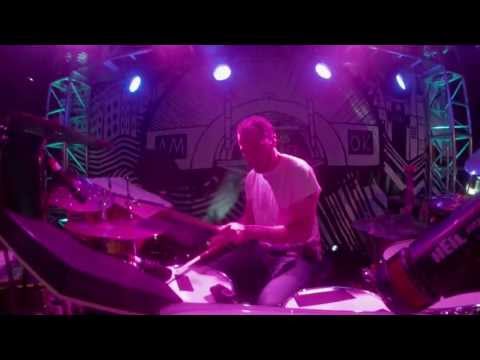 Indeed, much of the audience were dancing through the set and the (two) encores. From my seat, midway up and toward the back of what looked like a nearly sold-out arena, I could see the thousands of bodies claw-writhing and daisy-flailing and yelling out the words, and in that buoyancy, I noticed that Mr. Yorke's vocals were chants, multisyllabic and often monotonal meditations. We call it "singing," and it was, but the kind that allows (more…)
There are many ways to think about fandom, and fan studies have been an increasingly important part of cultural studies in recent decades, though in much of professional academic work they have not yet made their way substantially into theological research on popular media culture. One important quality of fan experience, however, would have to be joy, an unalloyed delight in pop culture experience, an enthusiasm for what brings delight, what deserves delight, for the experience of being delighted itself. Times of joy can leave their imprint on us, and if we can pay attention and draw fruit from them later, might also tell us something about ourselves. Joy is "spiritually" significant, because its prompting comes from beyond us and is an experience of being grateful and happy in unusual magnitude, exceeding what we can plan for ourselves.  Joy is so often "joy in" something, "joy from" something. It is a kind of ecstasy in, or of, everyday life. We are prompted to think that these joyful times are, somehow, what life is "all about." Joy helps life add up a little more. Music is the kind of occasion for joy that makes it worth reconsidering the truism that music is religion for many people. If music occasions joy and leads people to actualize their higher selves in lives of generosity, why not call music "religion" or some other word that signifies the "more" in life into which music can conduct?
These are the thoughts I had as I watched this clip from the recent induction ceremony at the Rock and Roll Hall of Fame.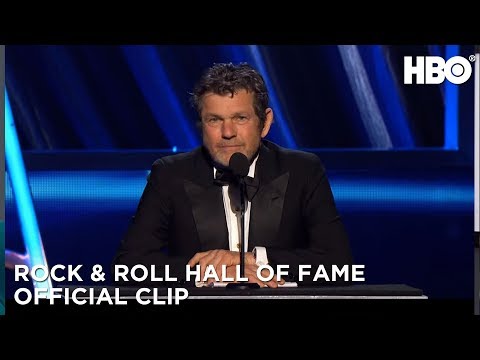 Jann Wenner announces the 2013 inductees, and once he gets to a certain band from Toronto, the place becomes suffused with joy. Perhaps as much as we might call music "religious" or "spiritual," we could call good religion or dynamic spirituality "musical."
Tommy Beaudoin, Yonkers, New York
I have been thinking about this video of the Italian rock band Lacuna Coil playing "My Spirit" in Denver a year ago.
At the start of the song, co-lead singer Cristina Scabbia explains that this song is dedicated to their friend Peter Steele, lead singer of Type O Negative, who died in 2010. She takes a couple of minutes to talk about how we experience people as dead and yet still among us, all around us, she says, as her sweeping arm gesture indicates that such presence will be here, in what they will play. Their playing will honor that reality of a "spirit" beyond death, and make it real, or make more tangible the reality of the dead who yet live. Music will help do this. Music will ritualize what is impossible to understand, or in Scabbia's words, "We're going to say goodbye with this song." She proceeds to say that the goodbye is also a greeting, welcoming what of "the spirit" is still here from those who have died, and whom the audience is invited to call to mind. It is an unusual moment in a rock show.
Here is the studio version of the tune: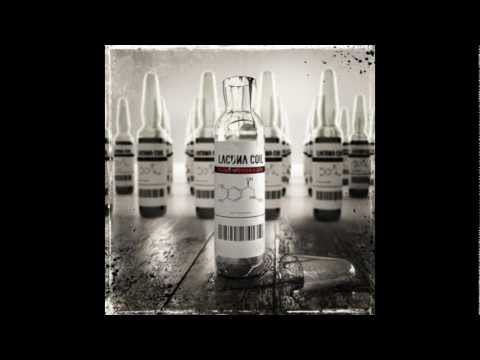 I will quote the lyrics and then add further thoughts in a followup post…
Here are the lyrics (according to this site):
Forget the pain and all the games we play
(more…)
The combination of a recent post by John Gonzalez on Evanescence and the Tourniquet Psalm and the beginning of what some Christian denominations call Holy Week have left me thoughtful. I love holy week. I know it sounds strange. I don't always (or even often, unfortunately) love the liturgies I go to, but the underlying rhythm, the sense of watching a Man-God gradually move from speech to silence, from company to solitude, from admired to despised, with all the corresponding echoes of similar experiences we all have or know, draws me; it slows me down, and creates a centre inside that holds or makes sense to me.
And the centre is about that man-God's faith, in the midst of all appearance to the contrary. And I know theology still struggles with it at times, but to me it makes perfect sense. Jesus, the man, had to believe, have faith, trust, not see and therefore let go and abandon… John's blog on lament and today's psalm:  "My God, My God, why have you forsaken me?" Lament at its most honest and deep, which Jesus makes his own…even while trusting? Of course, but feeling lost can be part of the faith experience, not its opposite. "Am I lost too?" There's something so humble and truthful about the lyrics in that song. And it echoes another 'prayer-song' I come back to form time to time: "Cold Water" by Damian Rice, here performed in London:
In a different style of music, but one which is just as desperate, the same question is asked: "or am I lost? I hear the pain of 'found-and-lost' faith or at least missing presence (missed): no one's daughter, clinging to the hand of one you don't know is even listening. The not-knowing where God is, or where we are, in terms of faith…
And it makes me wonder: I think we need more of this kind of 'faith' experience. I think the world right now needs to see us trust a God even when we (more…)
I spent the last four days at the South By Southwest music festival in Austin, Texas, launching ground for a good number of new bands over the past many years, and major meetup for those interested in the state of popular music. With a couple thousand bands, presentations and panels, exhibits, and a whole lot more, it is by any measure a major music gathering, featuring music across many genres. (I even heard "country rap" last night as I saw Colt Ford perform a raucous set, including covering "Give it Away" by the Red Hot Chili Peppers to an enthusiastic crowd.) I have a few "religion" pictures from SXSW to post soon. But before I do, a brief thought:
Religion in its "overt" forms seems to play a very minor, and almost absent, role at SXSW. I say this with little experience, though, having only attended for two years. I'm not suggesting that it needs to have a more prominent role, only that I notice being in an environment of tens of thousands of people, amidst a ton of bands, and having almost no "explicitly" religious talk or images. I wonder: do people check it at the door? Is this a liminal space where religious/spiritual/faith/etc investments are laid aside, and in that way is a "secular" space? Please don't hear me to be saying that I wish things were otherwise, only that I think these spaces in public life are significant ones, even if I cannot put my finger on why and how. Okay, let me suggest one possible meaning: popular/secular music culture, which itself grew in close relation to church contexts in the USA, is able to provide an experience-rich arena that speaks to spiritual/carnal needs, in a way that lets the focus rest more on commonalities among peoples than differences, and triggers an access to shared sentiments that — as long as the festival lasts, and sometimes longer — make doctrines and practices that might otherwise divide people seem less important. In other words, music culture changes religious/spiritual culture even as it feeds off of it. There is an (more…)
Tonight, I saw Soundgarden at the Hammerstein Ballroom in Manhattan. Ponderous riffage, minor chords, and an urgent straining wail for almost two and a half hours.
Here is footage from their Lollapalooza set in 2010:
During the last third of the show tonight, a mosh pit of a couple dozen people got going on the floor, and a few people perilously crowd-surfed from the middle of the floor to the arms of security near the stage.
As I watched all this from the second-floor balcony, I identified with their response to the music and felt gratitude for their expression, as if they were doing it in my place, because I couldn't mosh or crowd-surf from the balcony, and probably wouldn't even if I were on the floor. The actions of others, simultaneously spontaneous and elicited (by the music, the memories), helped me identify what I myself felt about the music.
On the way home, I wondered about this experience of a fruitful ritual "sacrifice" of others on my behalf. Religions have generated many theologies of vicarious benefit, sacrifice, atonement, and the like, in which one person or group are thought to accomplish things that benefit others across time and space.
Presuming that these theologies, which always risk being "magical," have some origination in ordinary experience, from where do they come? Social scientists and religion scholars have long pondered this question. Tonight's experience had me thinking about it, too.
Tommy Beaudoin, Hastings-on-Hudson, New York
There used to be a longer version of this video up on YouTube, in which the Doors discuss the religious significance of their music, but I can no longer find it. I did find this shorter one, which gives a taste of the conversation.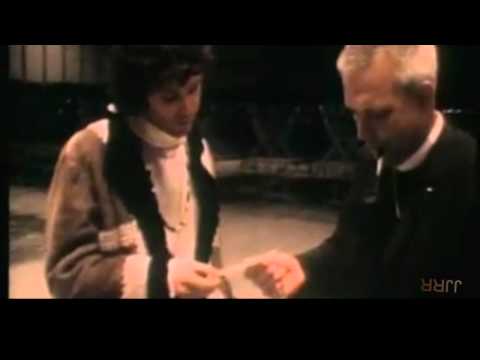 It looks like it was initiated by a Protestant minister (a Rev. Fred L. Stagmeyer, described as a "minister-at-large"), backstage at a Doors concert, and you hear some back and forth between him and Jim Morrison. I posted in December 2010 about the longer form of this video at R&T here.
I have been thinking about this concept of a "minister-at-large" as I prepare to speak tomorrow at a ministry conference at the College of Saint Elizabeth in Morristown, New Jersey. I am intrigued by the idea, and wonder whatever became of Reverend Fred and his concept.
The more I have thought about it over the last few days, however, the more I have wondered whether The Doors' frontman Jim Morrison might also be considered a "minister-at-large." Certainly Morrison's presence and the Doors' music has proven spiritually compelling for many from that era and beyond. There is no need to force Morrison into some ministerial identity, but at the same time, if Rev. Fred is even a little bit correct in this video, that there is a convergence between the experience of revelation described in "Acts" in the Christian scriptures, and the revelatory experience of a Doors concert, then it is true that theology has something to learn from "secular" music and its leaders, just as musicians and fans might open to find their experience helpfully complexified by theologizing about it further.
Tommy Beaudoin, Hastings-on-Hudson, New York
On Saturday night, I saw Roger Waters (formerly of Pink Floyd) and his band perform "The Wall" at Yankee Stadium. Somehow over the past thirty years, I had missed "The Wall." I was in fifth grade when it came out in 1979, and although I was not into music then, I certainly heard many references to it by the time I was in junior high and high school. Friends would go see the movie, but somehow I was never in those groups. I had seen Pink Floyd live (without Roger Waters) around 1988 at Arrowhead Stadium in Kansas City, and so had heard some songs from The Wall played live, and as Saturday's concert unfolded, I realized that I knew most of the songs from radio play. Most popular in the social circles in which I grew up were the songs "Another Brick in the Wall" and "Comfortably Numb," the latter of which is some sort of anthem to the experience of a depressive, isolating coming-to-terms with the tenuous connection we have to what gives us life. The playing of that song in high school would induce a reflective mood wherever it was played: car, rec room, bedroom. At Yankee Stadium, tens of thousands sang it together along with the band, a couple of whom were elevated on top of The Wall, in something like the concert's most clearly liturgical moment.
Here is Waters performing "Comfortably Numb," as part of "The Wall," in May 2011 in London, with special guest and former Floyd bandmate David Gilmour:
The show Saturday was the most technologically sophisticated rock show I have ever seen, with pyrotechnics, giant puppets, of course the famous Pink Floyd "floating pig," and most of all, The Wall itself, which was built up over the course of the first half of the show, and stood many dozens of feet high through almost all of the second set. The Wall served not just to screen off the band
Are you drawn in by this video, taken from the stage, of Gary Numan performing "Cars" in 2009 with Nine Inch Nails?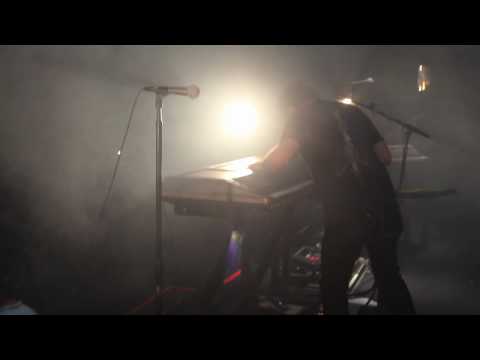 I have watched it dozens of times, as if it were the passage to some reality I can only have by undergoing this video again and again until I get it. Recently, I began to get a sense for why.
The video captures quite well the heady and paradoxically "publicly private" atmosphere of being on stage in a rock show. As a musician, I have never come close to playing a venue of that size, but even the most modest bar band understands the force field created among the players that both connects and separates them from the audience. That dynamic of live performance is powerfully shown in "Cars," as the camera wanders around to feature each musician and finds them intent in their business, each a world of energy unto themselves captured in their own immediately characteristic poses and glances, each immersed in their instrument and listening with intent and feeling to the others.
But theologically, "Cars" also shows something of the experience of what could be called sacred space, a demarcated zone in which liminal or socially unusual behaviors are permitted for the sake of conducting the assembled into another collective consciousness, simultaneously "lower" (abandoned more deeply to emotion, flesh, earth, sound) and "higher" (abandoned more deeply to the beyond in the midst of life).
Here, in "Cars," is Nine Inch Nails' Trent Reznor, rocking the tambourine. (Yes, the tambourine). That tambourine, in this song, becomes an essential part of the gateway to another experience. And then there is Numan, wiggling his fingers, shaking them out, in anticipation of pressing just one key on the synthesizer. One key on which he will lean with his forward weight, turning his body over that one key, as if that will make a difference to that synthesizer. But in some way, it will: that one key, and Numan's rehearsal for it, and his total commitment to it, will be a key to the door of ecstasis, catapulting-beyond. Only when I saw Numan hulking over the synth in this video did I for the first time, after seeing
Last Thursday, I saw the new production of Godspell on Broadway. I was eager to see it, because I grew up listening to this music and it has never left my mental-emotional-somatic soundtrack. In other words, I cathected these tunes a long time ago, and the memories that accumulate around their hearing make each new listening even richer, a new discovery and a revisiting of old territory.
This is an extraordinarily energized production, with a diverse, youthful cast who work as hard as any company I have seen in a very long time. And their focus has to stay exceptional because this incarnation of Godspell is — except for the few slower tunes — a nonstop religious frenesis. It most resembles a postmodern vaudeville: all the traditional songs are there, yes, but they have been intercut by an Internet-jetstream of pop cultural references, from phrases to song lyrics to melodies to physical gestures. Even some of the classic Godspell songs have been reworked in new formats, as rap, hip-hop, hard rock, or ballad.
httpv://www.youtube.com/watch?v=MH50joTM6uo
The show is in the round, at the Circle in the Square theater, with the band (four guitars) scattered individually throughout the theater, seated amidst fans. As I have noticed in several recent Broadway shows, the drummer was aloft in a special box. The musicians all relied on audio cues through earphones, and seemed rarely to look at each other. It was an odd diminution of the rock band aspect of the musical, but they were remarkably tight, and the sound was clean and appropriately loud but not overwhelming.
The downside of this production was that at times it felt gimmicky. As one cultural reference or attempt at a joke after another comes flying, and as the pratfalls multiply, you may wonder why they are working so very hard to
Next Page »