Pages
Categories
Contributors
Recent Posts
Recent Comments
Recommended
Archives
September 2017
S
M
T
W
T
F
S
« Jan
1
2
3
4
5
6
7
8
9
10
11
12
13
14
15
16
17
18
19
20
21
22
23
24
25
26
27
28
29
30
Here is part three of my short series on the spiritual benefits of following a band for a long time. Part one is here, and part two here.
About ten years ago, the band was interviewed answering fan questions that were facilitated (if memory serves) by RushCon, an annual Rush fan convention. At the time, I was teaching at Boston College in Chestnut Hill, Massachusetts. I submitted a question that, fortunately, was selected to be asked. The question, as you can hear in the video (I don't know who conducted the actual interview) was: "Can you please comment on the relationship between your music and your spirituality? How does your spiritual life make its way into Rush's music, and is playing in any way spiritual for you?" Vocalist and bassist Geddy Lee answered it in an interesting way. You can see it here: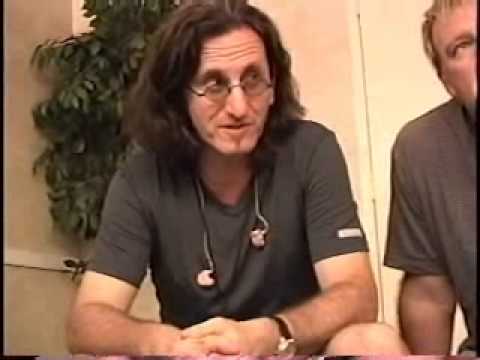 Why was I interested in knowing this from the band, and what did I think of Geddy Lee's reply? Somewhere during my theological studies in the 1990s, I realized that rock and roll experience could be thought of as containing or rendering its own spiritual significance, and that this music was not strictly "separate" from religion/spirituality/faith/etc, nor was it only a "preparation" for something more genuine or deep. I have understood that spiritual significance in different ways over the years. And I was interested in how the band thought about this—if they thought about it at all. It turns out that Mr. Lee took some time with the question and gave a thoughtful response.
His response makes a lot of sense to me: It sounds like he distanced himself from religion, or what religion had been in his life, as a way of finding a (more…)
For the last couple of years, I have wanted to do some reflection on the practice of songwriting and its connection to the traditional Lenten challenge to grow in one's "prayer life." In the course of reflecting on songwriting and/as spiritual practice, it struck me that while there is quite a bit of reflection on rock performance and the analysis of finished songs in discussions of popular music and theology, there seems to be a lack of attention on the practice of songwriting, particularly as it takes place in an "individual" or "personal" mode.
One recent exception is the work of John McClure who has reflected on "song-making" as a source of insight for theological practice. Some of this work touches on what is happening in the songwriter when she is writing a song. McClure writes,
[S]ongwriters are keenly aware that their craft is cathartic, educative, and integrative in relation to their own lives. Writing in and out of a tradition carries with it certain ways of externalizing and dealing with one's experiences and ideas. Songwriting, therefore, involves a constant reeducation and maturation of the whole person within certain traditions of thought and practice. Writing changes the artist, providing healing, perspective, vision, and qualities of good judgment. Most good songwriters are aware that songs are doing this to them, and how songs are doing it. (John S. McClure, Mashup Religion: Pop Music and Theological Invention [Waco, TX: Baylor UP, 2011], 21)
Last week I watched Martin Scorsese's new documentary on George Harrison, George Harrison: Living in a Material World . Shown on HBO, Scorsese did a fine job of interweaving photos, interviews of Harrison, his friends and family, and live performance videos to tell the story of the former Beatle's life.
The documentary showcases Harrison's fascinating spiritual journey which began in the mid-1960s when David Crosby and Roger McGuinn of the Byrds introduced him to the work of Indian sitar musician Ravi Shankar. Harrison described Shankar as the first person he'd ever met who "impressed me" while also giving him "an excuse to find a spiritual connection." Shankar's influence can be heard on the Beatles' song "Norwegian Wood."
Harrison's spiritual quest took a new twist when, during a LSD trip, the phrase "Yogis of the Himalayas" came to him out of the blue inspiring him to lead the Beatles on a pilgrimage to Rishikesh, India, where they studied Transcendental Meditation with Maharishi Mahesh Yogi. Over the next few years Harrison continued his travels to India, seeking out spiritual teachers and reading about eastern religion and spirituality. One day Shankar gave him a book that changed his life. Written by Swami Vivekananda, one particular quote caught Harrison's attention: "If there is a God you must see him and if there is a soul we must perceive it. Otherwise it's better not to believe. It's better to be an outspoken atheist than a hypocrite." This notion of having direct experience with God inspired Harrison to delve deeper into religion. He embraced meditation, Hinduism and the Hare Krishna movement. Raised Roman Catholic, when Harrison's mother expressed concern about his new found spirituality, he wrote to her saying not to worry because "it doesn't affect my dedication to Sacred Heart in any way, it only strengthens it."
While my summer was supposed to be focused on research and publishing, I ended up in the trenches in Hollywood promoting a new documentary called Dying to do Letterman (D2DL) – a film that follows the journey of comedian Steve Mazan who decides to chase his dream to perform stand up on The Late Show with David Letterman after being diagnosed with terminal cancer. How did this happen? Well, my brother Biagio Messina and sister-in-law Joke Fincioen (Joke Productions), produced and directed the film and Steve Mazan has become a close friend. Since signing on to help promote the movie, D2DL has been chosen to compete for an Academy Award® by the International Documentary Association, begun an on-going incredibly successful Kickstarter campaign to support its Oscar® dream, and continues to inspire audiences all over the country. It has been an amazing project to be involved with.
What does this have to do with Rock and Theology? Well, there is fantastic music in the film, as well as in the campaign videos, and trailer composed by Dave Pelman. The music heightens moments throughout the movie and contributes to the overall emotional experience of D2DL. So, I decided to contact Pelman and ask about his own background and how he managed to compose music that emoted so perfectly the overall message and experience of this documentary.
My conversation with Pelman was awe-inspiring to say the least. He described growing up in a family of musicians and feeling, for him, music is innate. Pelman said that it is clear that music is the only thing he is supposed to do in this life; it is his passion. He has been composing music for as long as he can remember and has an impressive list of films and television credits including Crash, Crazy Heart, The Soloist, and recently Dying to do Letterman.
Pelman stated when he was approached about composing music for D2DL he was immediately on board – Pelman was dying to emote Dying to do Letterman.  When I asked how he went about composing music for D2DL, I was fascinated to hear about his process. According to Pelman, he sat with an instrument while watching the film and allowed his emotion to dictate the musical flow. He explained that while watching D2DL, "I was emotional and I got choked up…the moody, dramatic, atmospheric sound was drawn from my own emotional buttons." Pelman went on to say that he has "always been emotionally