Pages
Categories
Contributors
Recent Posts
Recent Comments
Recommended
Archives
September 2017
S
M
T
W
T
F
S
« Jan
1
2
3
4
5
6
7
8
9
10
11
12
13
14
15
16
17
18
19
20
21
22
23
24
25
26
27
28
29
30
R&T readers have been patient while I send various reports from and about the South By Southwest music festival. Recap-wise, the New York Times report by Jon Pareles is here.
It's never clear what images count as "religious," whether inside or outside self-designated religious spaces. However, these are some photos I took at SXSW as I tried to pay attention to "religious" images that were set in the midst of a more or less "secular" music festival. (Readers beware: those terms are very mobile! They have no fixed meaning.) These images show that "secular" music is not done with its relationship to "religion," that's for sure.
[1] Here is the first one: "Is God Really Dead?" These posters were all over downtown Austin in full sight of festivalgoers. I had trouble deciphering it. The symbolism might be a touch too arcane for me. At any rate, it certainly put a theological question right into the everyday wanderings of festival attendees. I assume that by raising the question, the answer is, somehow, "no," but maybe being stumped about the provocation is the artistic point of the image. (At least one of these posters had a "YES" scrawled on it by the last evening of the festival.)
[2] The posters below were up all over downtown Austin on the morning of Friday 15 March. A variation on it had the same image but "PAPA" at the bottom. Small type at the bottom read papaemeritus.com. The site was down when I tried it a few days ago(probably too many hits at once), but  I just discovered that it is a link to a band and their new album. (more…)
I spent the last four days at the South By Southwest music festival in Austin, Texas, launching ground for a good number of new bands over the past many years, and major meetup for those interested in the state of popular music. With a couple thousand bands, presentations and panels, exhibits, and a whole lot more, it is by any measure a major music gathering, featuring music across many genres. (I even heard "country rap" last night as I saw Colt Ford perform a raucous set, including covering "Give it Away" by the Red Hot Chili Peppers to an enthusiastic crowd.) I have a few "religion" pictures from SXSW to post soon. But before I do, a brief thought:
Religion in its "overt" forms seems to play a very minor, and almost absent, role at SXSW. I say this with little experience, though, having only attended for two years. I'm not suggesting that it needs to have a more prominent role, only that I notice being in an environment of tens of thousands of people, amidst a ton of bands, and having almost no "explicitly" religious talk or images. I wonder: do people check it at the door? Is this a liminal space where religious/spiritual/faith/etc investments are laid aside, and in that way is a "secular" space? Please don't hear me to be saying that I wish things were otherwise, only that I think these spaces in public life are significant ones, even if I cannot put my finger on why and how. Okay, let me suggest one possible meaning: popular/secular music culture, which itself grew in close relation to church contexts in the USA, is able to provide an experience-rich arena that speaks to spiritual/carnal needs, in a way that lets the focus rest more on commonalities among peoples than differences, and triggers an access to shared sentiments that — as long as the festival lasts, and sometimes longer — make doctrines and practices that might otherwise divide people seem less important. In other words, music culture changes religious/spiritual culture even as it feeds off of it. There is an (more…)
On Friday here at South By Southwest, the panel "Into the Mystic: Secular Music as a Quest for More" went off well. Under the very able moderation of Dr. Greg Garrett, we panelists each spoke about the relationship between secular music and spirituality. David Nantais spoke about the ways that musicians value the creative process, and often do so in terms that resonate with spiritual concepts. Rev. Merrill Wade talked about the inventive ways that his Episcopal church is bringing in "secular" musicians to showcase their craft and discuss their music — without trying to make these musicians "Christian" or otherwise religious. Dr. Monica Miller discussed krumping as a way that urban younger generations take their culture into their hands to survive, and in the process show that there is more to their lives than their immediate lot. And I tried to provide a conceptual map for the different ways that scholars have learned to think about how spirituality relates to secular music. There is no single way to make spiritual sense of secular music. It's no surprise that, in both everyday life and in scholarly discourse, discovering/creating what is spiritually significant about secular music is a complicated, always messy task. (For more on that, see my Introduction to the forthcoming book, Secular Music and Sacred Theology). Thank you to everyone who attended the session.
On a much bigger scale (to say the least), here is Dave Grohl (Nirvana, Foo Fighters) giving the keynote address at SXSW a few days ago: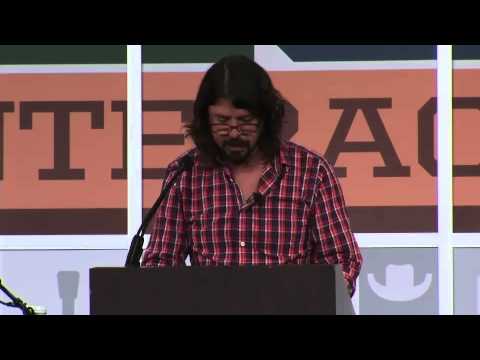 Tommy Beaudoin, Austin, Texas
Last night at South By Southwest, I witnessed perhaps the very best set of rock and roll in my life. Dead Sara played at Empire Automotive, a former auto repair shop converted into a concert space. In less than 45 minutes, Dead Sara exhibited an exquisite abandonment to rock and roll. The lead singer Emily Armstrong and guitarist Siouxsie Medley were utterly irrepressible throughout the show, somehow managing to sing and play while pacing, thrashing, headbanging, and flailing to the music.
(For a taste, here is Dead Sara performing "The Weatherman" last October in Dallas:)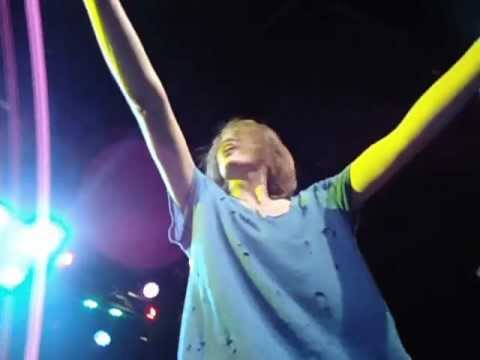 Last night, Armstrong was a one-woman rock and roll firestorm, part Janis Joplin, part Freddie Mercury, as she claimed the entire stage, and then some, as her own. Seemingly out of nowhere, Armstrong suddenly has one of the best voices in rock music today. While showing it off, she also spun around, played guitar lying down, jumped onto the drum riser and back off, swung the microphone faster and harder than I've ever seen done, wrapped and unwrapped the cord from around her body, careened in unpredictable directions, and toward the end of the show, climbed on top of a tall (more…)
Just a reminder that there will be talk of theology/religion/spirituality and music at the festival of musical extravagance known as South By Southwest this week in Austin, Texas.
(If you want to be blown away by the sheer number and quality of bands playing there, see the "showcase" list here … which does not represent even the full number of bands playing at the festival, as many more are playing but not technically "showcasing.")
On Friday afternoon (5:00-6:00, Room 15, Austin Convention Center), "Into the Mystic" will be a conversation on secular/popular/music and spirit/religion/spirit/spirituality/faith, including R&T contributors David Nantais (U-Detroit, Mercy) and Dr. Monica Miller and myself, along w Dr. Greg Garrett (Baylor) and Rev. Merrill Wade (St. Matthew's Episcopal, Austin).
Here is the official description of the session:
"For those of us for whom music is a way of life as musicians or fans, what does this interesting time for the relationship between music, religion and spirituality mean for how we think about our own lives? And how can musicians find not only common interests, but maybe even new opportunities for collaboration and employment, with those who value the spiritual dimension of music? Focusing on rock and hip hop, this session will feature practicing musicians and scholars who will explore how musicians and audiences use popular music to work out their personal and communal spiritual quests."
Here is Van Morrison performing the song that gives the session its name:
Hope to see some R&T readers in Austin!
Tommy Beaudoin, on spring break…
Dave Nantais, Dr. Monica Miller, and myself are teamed up with Dr. Greg Garrett and Rev. Merrill Wade for a session at SXSW in March titled "Into the Mystic: Secular Music as a Quest for More." We are looking forward to a good conversation on Friday March 15, 5:00-6:00, in the Austin Convention Center, Room 15. We will be exploring several different facets of the relationship between popular music and religion/spirituality/etc. More information on the session is here. If you're going to be at SXSW or are otherwise in the Austin, Texas area in March, please consider coming. It will be a fine way to enter into a Friday night and full weekend of music and more.
Here is a little South by Southwest flavor: Jack White playing on the street at the festival two years ago: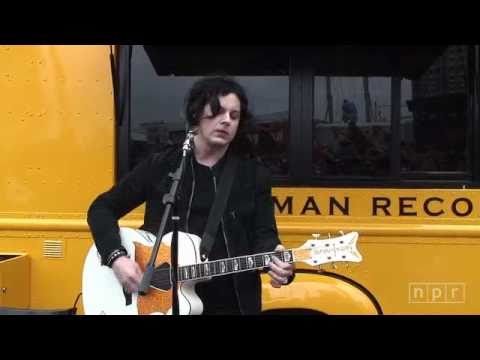 Tommy Beaudoin, Tarrytown, New York
Just announced: Three of us from Rock and Theology — Dave Nantais, (Dr.) Monica Miller, and me — will be on a panel on rock and religion at South By Southwest 2013.
The panel, titled "Into the Mystic: Secular Music as a Quest for More," will explore ways that secular music can be taken to be religiously or spiritually significant, and will range from discussing ideas about what we mean when we say that music can be "spiritual," to practical suggestions about how "secular" musicians looking for work can get connected to "religious" places that need such musicians.
So, as usual for us at R&T, it's all about bridging (and complexifying) the "secular" and "sacred."
I'm happy to report that joining Nantais, Miller, and myself will be (Dr.) Greg Garrett from Baylor University, and (Rev.) Merrill Wade from St. Matthew's Episcopal Church in Austin.
(Here is one of many posts I sent from the festival this past spring.)
Here is Bruce Springsteen giving a keynote at SXSW 2012:
We hope to meet R&T friends, new and old, in Austin!
TB
While I was at South By Southwest in Austin, Texas last month, there were many new bands to admire. Among my favorites was The Sunshine Factory. I walked out of a Mexican restaurant on the Saturday night of the festival and under an adjacent white tent surrounded by late dusk and thick with clouds of psychedelic trance rock, and a couple dozen people slowly swaying, taking it in, letting things happen. On the stage was a guitarist/singer and a bassist. In front of the bassist was a computer. Add some pedals, and that was the band. That, plus laserlike effects from the stage and low-tech psychedelic lighting. The music sounded like what would be written if Radiohead and Depeche Mode got high under a blacklit poster of The Smiths: sensitive and curated, hard-working and lovingly skilled, translucent and gently transporting.
Someday perhaps I will narrate some part of the tale of the total experience that being engulfed in their music meant for me. But for now, I am thinking of their song "Deeper Look," that I first heard that night.
"time to take / a deeper look
time to look inside the world of me
time to take / a deeper look
I need to see / what's left to understand
How the world has changed me
Love has scarred and shaped me
understand the reasons
for the locks on all the doors"
As if for the first time, I realized, with pleasure, how and why music can become religion, spirituality, or
This is part three of my brief report on a panel I attended at South by Southwest, moderated by Howard Wuelfing, that may be of interest to R&T readers. Part one is here and part two is here.
As a reminder, participant bios, and now audio of the whole session, can be found here.
Erik Davis, of the fascinating esoterica/magic site Techgnosis, and also a doctoral student in religious studies at Rice (working with Dr. Jeffrey Kripal, natch), had several interesting things to say.
Following on Alison Fensterstock's presentation, where she alluded to the ambiguous line between a real investment in voodoo/magic and mere play-acting for attention on the part of musicians, Davis suggested that the ambiguity between "real" and "fake" is central to the way that the discourse of the occult works. One is never quite certain what is "real" and what is "fake," and the "fake" draws attention because it conjures a possible "real", and the "real" is itself always a production of sorts.
Davis focused mostly on the 60s/70s rediscovery/reinvention of occultism in rock culture. He went through many good illustrations (listen to the audio mentioned above), including Mick Jagger and a symbolic top hat; Jimmy Page's interest in Aleister Crowley and his ritual "calling the quarters"-style gestures in "The Song Remains the Same"; and David Bowie's evocations of Crowley in his 1970s music. Davis also discussed bands interested in making music as a magical activity, as well as the "goofy… pop culture occultism" of bands like Black Sabbath and Iron Maiden, who never took it that seriously.
He concluded with an interesting observation that brought his presentation around to its beginning, suggesting that "The question of whether the trick is real or not brings you further into the labyrinth." (This seems to me to apply not only to the occult but also to all sorts of theological claims in what are regarded as mainstream religions; for example, questions about miraculous items or miracle healings, however dubious they may be, keep alive the very tradition that is put in question.)
The final presenter was the musician Andrew WK, who said that when he writes music, it is as if it "comes down"
In part one of this blog series, I introduced a panel I attended at South by Southwest last week, and summarized the presentation of Joshua Sharp, a practitioner of the arts of magic.
Following Sharp was Alison Fensterstock, an accomplished music journalist and critic in New Orleans. Her presentation emphasized the New Orleans context as an essential root of US popular music. Given how much of pop music can be traced back to this city, she argued, we have to pay attention to the "New Orleans voodoo" influence through Afro-Cuban-Haitian religion and music. She suggested that many revered rock and roll musicians picked up on this heritage, from Dr. John and Jesse Hill to Earl King and Alex Chilton.
Here is Dr. John:
httpv://www.youtube.com/watch?v=CSINjYrWO00
And Earl King:
httpv://www.youtube.com/watch?v=Aufo39-o_kA
This New Orleans legacy, she suggested, shows itself in pop music's ritualism, its call-and-response dynamic, and its status as a "magical-religious experience."
I think this is an important provocation. So often, rock and roll's ritualism, responsivity, and 'religiosity' get accounted to its Christian background instead of (or instead of being counted in addition to) its extra-Christian backgrounds. I will follow up this post with a further discussion of the rest of the panel at SXSW.
Tommy Beaudoin, Hastings-on-Hudson, New York
Next Page »