Pages
Categories
Contributors
Recent Posts
Recent Comments
Recommended
Archives
September 2017
S
M
T
W
T
F
S
« Jan
1
2
3
4
5
6
7
8
9
10
11
12
13
14
15
16
17
18
19
20
21
22
23
24
25
26
27
28
29
30
Even though the song began as graffiti on the apartment wall by Bikini Kill's Kathleen Hanna after a double date with Dave Grohl, Kurt Cobain, and the "over-bored and self-assured" Tobi Vail, who wore Teen Spirit perfume, Cobain said that Smells Like Teen Spirit was ultimately an attack on the apathy of his generation in the 1990s. As I point out in my book Your Neighbor's Hymnal: what popular music teaches us about faith, hope and love, Cobain admitted in interviews that the grand irony is that this great anthem of the grunge movement was musically structured as a '70s pop-rock song—the guitar riffs are taken directly from Boston's More Than A Feeling. Set to a standard power four chord progression in Fm, Cobain's theological genius lies musically in never settling on a major or minor resolve, pushing the standard power chord riffs through with a layering of suspended open chords.  Like listening to someone practice the scales on a piano and never resolving to the last note, Cobain's now classic "chunk, chunk… chunka chunka, chunk chunk" opening backed by Krist Novoselic's bass runs and Dave Grohl's frantic attack of the drum kit opens the world, clears out distraction, yet never completely answers the pain and anguish it pointedly and passionately identifies. This is many ways was the tragic genius of Kurt Cobain:  the simple fact that he spoke such truth loudly and yet, rather than embracing hope, chose to freefall into an all-too- honest despair that many don't have the courage to admit lies growling like a caged animal in the pit of many a soul. His now infamous suicide note stutters with concern:
The fact is I can't fool you. Any one of you. It simply isn't fair to you or me. The worst crime I can think of would be to put people off by faking it and pretending as if I'm having 100 % fun. Sometimes I feel as if I should have a punch-in time clock before I walk out on stage. I've tried everything within my power to appreciate it, and I do. God, believe me I do but it's not enough.
As the band's name itself attested, Nirvana strove for authenticity in a world of corporate bands that were more concerned with product placement and being the "emo" soundtrack for new Audis. But even for the idealist Cobain, entering the mainstream fray  – that of big money, huge exposure, massive stadiums filled with would-be disciples in fifty-dollar t-shirts with his picture on them, chanting the lyrics he wrote under a bridge in Aberdeen, Washington, when he was kicked out of his house—inevitably meant an Icarus-like rise and fall. This should not be such a surprise. Waking up each morning and facing both the shadowy reminder of the ideals you professed and the stark reality of what you have become would be dissonance enough for anyone. But as with the myth of Icarus, the higher the flight on waxen wings, the greater the fall.
I am sad that Kurt Cobain's life and death has become so iconic as to verge on cliché; it not only cheapens the tragedy but removes some of the responsibility we as fans have for the life and death of those we venerate through our iPod downloads and t-shirt choices. I am reminded that as Icarus began his naïve ascent toward the sun, his father Daedalus screamed for his return to the earth, that his life made sense with his feet on the ground, that he was created for the earth and not for the air. As Kurt closed his suicide
Almost exactly ten years ago, I had just moved to Georgia, and I was sitting in Javamonkey cafe in Decatur, writing my PhD dissertation, and noticed that Amy Ray of the famous indie-folk group Indigo Girls had just walked in. She was obviously recognized by many of the locals, but was left alone. A few days earlier, I had been working at home and saw out the window a woman across the street hauling guitars to a small storage trailer hitched to a van. I soon found out that neighbor was none other than Michelle Malone, a rising star in the indie-rock-folk circuit.
Last night those neighborhood memories came back to me, when my wife and I saw Michelle Malone and the Indigo Girls live in a sold-out show at the elegant Music Hall in Tarrytown. Both bands write inordinately singable, memorizable, emotionally involving songs with a depth of heart, feminist punch, political savvy, and importantly, guitarish prowess. Not to mention vocal gifts that are among the most exquisite of their generation of women rock artists, or any rock-folk musicians whatsoever today. The result is beautiful, moving, rousing song after beautiful, moving, rousing song, whether the more earnest and socially conscious folk style of the Indigo Girls or the more gritty lost-and-foundness, and sometimes sexually provocative jammy blues rock of Michelle Malone. And both bands share out some exposed entrails of Christianity regularly in their music. Their songs seem to reflect and speak to those who find that they must deal with Christianity in their lives, for better and worse, and who cannot find institutional church life making sense in their lives. (As is well known, one of the Indigo Girls, Emily Saliers, is the daughter of Emory University theologian Don Saliers. The two wrote a book together a few years ago, A Song to Sing, A Life to Live: Reflections on Music as Spiritual Practice (Jossey-Bass, 2006).)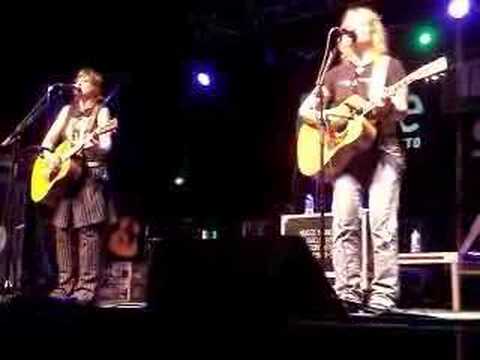 I have seen Michelle Malone in concert at least a dozen times, and am going to see her again this coming Wednesday in New York City. I had never seen the Indigo Girls live before. One of the remarkable things about seeing both of them is just how many verses, choruses, or entire songs the audience will enthusiastically sing along with them — and how distinctively female those gladsome and strong voices are. I had the feeling last night, as many hundreds of women, who were easily the majority in the audience, belted out song after song with the Indigo Girls, especially from their first several albums, that this is music that is genuinely a part of many women's salvation — in the various ways that salvation might be defined.
While in Atlanta, and in the years since, I have met many women for whom the music of Michelle Malone, Amy Ray, and Emily Saliers has been an essential traveling companion. The advocacy of all three women for lesbian and gay political (and spiritual) equality is also an essential part of their musical and theological importance, and of their meaning for many fans. The Christianity one often finds "in" their music, is of the "secular Christian" sort that I have tried to discuss at various points on this blog. I have embedded one video from each that give some sense of the kinds of Christian themes that circulate through their music. I have also put in one of them performing together the Rolling Stones' "Wild Horses." It is not too much to posit that between them and their fans, new secular theologies get fostered.
Tom Beaudoin
Hastings-on-Hudson, New York
Thinking more about the Sinead O'Connor posts below made me think about how, like O'Connor, other women in rock have crafted songs with litanies of "Thank You."
It is a commonplace in sacramental or liturgical theology to be "reminded" that "eucharist" means — "literally," it is always said — "giving thanks." Sacramental and liturgical theologies have in the main not yet taken the anthropological turn that would allow them to wonder what "eucharist" means — even "literally" — for the people who experience actual eucharists, which are typically far from unalloyed gratitude; or the genealogical turn that would allow them to wonder what kind of people can be expected to experience what kind of gratitude during the Eucharist. And as a result, I am interested in new takes on gratitude, to get new lessons on what might be involved.
And it is here that O'Connor's "Thank You" can be paired with at least two others: Alanis Morissette's "Thank U," and Natalie Merchant's "Kind and Generous."
Among much else, note the litanies:
Morissette: "Thank you India / thank you terror / thank you disillusionment / thank you frailty / thank you consequence / thank you, thank you silence"
httpv://www.youtube.com/watch?v=afk_CRHt4fQ
Merchant: "I want to thank you, thank you…"
httpv://www.youtube.com/watch?v=A89kgQK3pfU
O'Connor: "Thank you for breaking my heart, thank you for tearing it apart, now I've a strong, strong heart / Thank you for breaking my heart"
httpv://www.youtube.com/watch?v=mj_xKA5C2vU
So — many teachers on eucharist.
Tom Beaudoin
Hastings-on-Hudson, New York
Bestiaries were medieval theological works that illustrated and described animals in moral and theological terms so as to emphasize particular qualities of salvation or Christian teachings. (And as modern theology-of-animals defenders might also note, so as to schematize the place of animals, fanciful or real, in the economy of salvation.)
So, too, no one with theological awareness can fail to note the provocative character of the "bestiary" of "rock animals" — that is, living entities from rock culture (musicians, fans, roadies, and more) that are picture-able and catalogue-able — bearing some promise of spiritual insight.
I first had this idea when reading musicologist Susan Fast's breakthrough study: In the Houses of the Holy: Led Zeppelin and the Power of Rock Music (Oxford, 2001). There, Dr. Fast shows how the musical authority of Led Zeppelin, which is not separate from its sexual, gendered, and even spiritual power, is bound up with the bodily positions characteristically taken up by Zeppelin's members, Robert Plant and Jimmy Page in particular. Her book revolutionarily includes several pages of sketches of postures of Plant and Page from live shows, with accompanying commentary. Here, I thought, is the raw material for a contemporary bestiary.
Much more needs to be said about this idea. I have already begun on R&T to promote a kind of moving bestiary by proposing the idea of a "somatica divina" or attention to divine (rock) bodies through the "somatica" series here, with some explication of the idea to be found here.
But now with the notion of "bestiary," I want to signal the pictured "rock animals" as moral teachers of a kind, but above all as possible soundboards for a theological life today. Here the picture, still and framed, becomes the possible rock icon (and/or idol). Here we meditate on the gesture, the act, the pose, the singular bodily conclave. (We can even start with the observation that many rock fans have not only deep attachments to whole concerts or songs, but also to specific pictures of fan culture or rock performance, in which a facial expression, hip pitch, or conjunction of hands is, in short, everything.)
A brief verbal description and/or picture will suffice to begin, slowly, building the catalogue.
In what will our rock bestiary consist?
Tom Beaudoin
Hastings-on-Hudson, New York
Concluding the text of my remarks at the National Pastoral Life Center's 25th anniversary celebration at St Paul the Apostle Church last week…
Tom Beaudoin
Hastings-on-Hudson, New York
*
Fr. Schreiter, in his paper, suggests that Paul "melds together the influences of four different contextual strands" as background for his understanding of reconciliation: the hymns and teachings of early Christianity; his Jewish background; the "Hellenism of so many of his hearers"; and contemporary Gnosticisms. But what if Paul's teaching on reconciliation is not or not only a contextually coordinated and contextually applied teaching, but is also a spiritual exercise concerning his own multiplicity and the struggle, if you will, to hold it to make the pieces fit? And a spiritual exercise concerning what sorts of identity were allowed culturally for Jews, for Greeks, for men, and that he could allow himself? It is striking how much of Paul's theology is concerned with trying to hold disparity together: contesting camps in Christian communities, "spirit" and "flesh," Jews and Gentiles, the enslaved and the free, women and men, authorized and unauthorized leaders, wealthy and poor, and many more. This striking backbeat in his life reminds me of Richard Marius' observation about Luther's constant invocation of justification, that it was not only the intellectual crafting of a theory but a form of confidence building for Luther, in other words, not only a continual statement of a doctrine but a rehearsal of his attempt to deal with his anxiety about justification. Perhaps Paul's many ways of trying to hold many things together—and could this be a source of his contradictions, his anger, his boasting, but also his love?—were also ways of making a spiritual exercise of his felt multiplicity and multireligiousness. As we have heard today, wasn't it precisely Paul's diverse cultural emplacements that allowed the very reconciliational searching that he bestowed to us?
The post-conversion Paul is a strange person. Strange, by loose analogy, like us today. He was a living crossroad. That is why returning to him can be a way of making sense of our present, because our strangeness, our irreducible strangeness, our gorgeous strangeness, the strangeness of secular Catholics, their increasing cosmopolitanism (whether privileged or in penury), their having to deal with many different relationships, demands, and lifestyles, the strangeness of the secular habitation today, the surprising diversity out there in Catholics' existential hierarchy of truths, these are inseparable from our thoroughgoing habitation in mystery. As the French poet Rene Char tells us: "A new mystery sings in your bones / Develop your legitimate strangeness." In Paul's cosmopolitanism, in the way the powers and principalities were not only outside him but within him and he contended with them, indeed, in his legitimate strangeness, in his cultural and religious multiplicity, in the unusual way he put his life and faith together, and thus in his ability to be our traveling companion today, even and especially with the Catholic diaspora in secularity, this Sha'ul, this Paulos, this Paul, who attempted to hold so many disparate things together, can still open to us our own newly discovered mystery, and with our attention can open Catholicism to its present.
Continuing the text of my remarks at the National Pastoral Life Center's 25th anniversary celebration at St Paul the Apostle Church last week…
Tom Beaudoin
New York City
*

Secular Catholics may include the many who call themselves "recovering Catholics," and who do so because the apocalypses of their lives—physical, psychological, intellectual, spiritual—were not able to be located on the map of the faith they had been taught. And contrary to many Catholic apologists (including my earlier self), this does not necessarily mean that they had a deficient religious education. This is too convenient a story for "us" to tell about "them." Many "recovering Catholics" know as much of what Catholicism at its best is about as those who still choose the Catholic Church as central to their lives.
Secular Catholics are often more or less trying to get through their lives, like all of us. They often share something important with Paul and for that matter, with Christ: service to the truth. Or at least to "fairness." They often "scrutinize their motives" and do their own forms of "self-examination," qualities that theologian Risto Saarinen says should be honored as theologically significant because they remind Christians of the imitation of christus iudex, Christ the judge who himself is in service to truth – as distinct from the imitation of "christus medicus" or "christus victor" (God and the Gift, Liturgical Press, 2005, p. 124) They are in no way simplistically relativistic. They are often judged, however, as cultural victims.
Do we not also notice in Paul his continual reversion to the language and exercises of self-examination, possibly as a way of working through the cultural-philosophical-religious diversities in which he was made, of finding between his Jesus, Moses, and Athenodorus a set of practices that were saving for him, such as we see in his regular invocation of a Hellenistic catalogue of virtues when he wants to help people get through: set your mind, he writes in Philippians 4, on what is true, honorable, just, pure, pleasing, commendable, excellent, praiseworthy. He draws self-examining exercises as a way of faithfully taking the measure of these crossroads that he lived.
Secular Catholics need ways of acknowledging that they are living crossroads of many experiences, relationships, languages, cultures, histories. Many people think that the more diverse and "secular" their lives become, the less Christianity must figure. But then here is Paul in all his many-cultured and multireligious complexity, and perhaps less finally at one with himself and God than we might need him to be or make him out to be. I find the judgment of renowned biblical scholar Abraham Malherbe challenging: "Was Paul a hellenistic philosopher or a Christian pastor? […] It is extraordinary to what degree [his] categories and language are derived from the Greeks… Paul is so familiar with the rich Greek traditions of pastoral care, and uses them in so unstudied a fashion, that it would be wrong to think that he only superficially mined the lode for his own purposes. He is more consistent and unconscious in his appropriation of [this] tradition than most of his pagan contemporaries… As to his method of pastoral care, Paul is at once hellenistic [philosopher] and Christian [pastor]." (Malherbe, Paul and the Popular Philosophers, Fortress, 1989, pp. 76-77) Is there nothing here for secular Catholics today who find themselves multiply invested?
On this blog, I have been occasionally developing the notion of a secular Christianity and a secular Catholicism as a way of making theological room for rock, or of acceding to the theological habitat rock can allow. In that vein, what follows is part 1 of remarks I gave last week at the 25th Anniversary of the National Pastoral Life Center in New York City. These remarks were in response to presentations by Cardinal Oscar Rodriguez of Honduras and Fr. Robert Schreiter, a theologian at the Catholic Theological Union, Chicago, Illinois, United States. Cardinal Rodriguez spoke about Paul's multiple cultural backgrounds, and Fr. Schreiter spoke about Paul's theology of reconciliation. The event was held at St Paul the Apostle Catholic Church at Lincoln Center.
Tom Beaudoin
New York City
*
The more we appreciate that Paul was able to fashion a theological life, the more we appreciate how the multiple belongings of his identity were intrinsic to that achievement. His Greek and Roman philosophical coordinates do not give up their history and creative force by becoming part of his theology, they do not stop being philosophical schools within him when they become part of his theological teaching; his Jewish upbringing and training do not give up their history and creative force by becoming part of his theological teaching. The figure of Paul gives us a way to think about how multiple histories live on within us as Christians, suggesting we see ourselves as a rough assemblage of pasts, personal and cultural, conscious and unconscious.
If Paul is a model, he is a cultural pastiche and his faith in Christ found a home in an internal public housing complex he did not build on his own. So too for most of us, especially, if I may, for the post-Vatican II generations who have more than any Catholic generation grown up amidst the ascendance of secular culture, in the wake of the implosion of the Catholic subculture and counterculture, a phenomenon we even see amidst recent immigrants when they reach the second and third generations of life in the United States.
The elements of secular culture are our pastiche, our irremediable history, our internal public housing complex for Christ, in a way that has become ever clearer in the 25 years since the founding of this Center. The majority of Catholics in the US are now post-Vatican II Catholics, secularly emplaced Catholics. This will only become more so and not less for the foreseeable future. The differences within the Catholic Church highlighted at the end of both papers, have been described over the last decade by sociologists as generational differences that are even more influential for Catholic identity than racial-ethnic differences. These generational differences witness to the emergence, in my view, of a secular Catholicism, the pastoral comprehension of which could use the example of Paul in his cultural complexity. In other words, what Paul gives us is not only specific teachings, but a model of inhabiting his multiplicity. The more we appreciate this model from Paul, the more insight we may get about being pastorally with secular Catholics.
People began gathering for breakfast at 5:00 this morning, though one of my students told me that some undergraduates were on site in rock vigil all night long. I don't know how many Fordham folks were gathered, but the throng was not more than a few thousand by my completely subjective estimate. Folks were only tightly packed in for the first couple hundred feet from the stage, close enough to each other that several lads managed some brief crowd-surfing. After that there was elbow room and a layer of ice and mud beneath us. Mostly undergrads, but scattered graduate students and staff. I assume there were other faculty, but I didn't recognize any.
By 7:00 the cameras were rolling, the crowd letting out whoops and waves for the cameras, egged on by "Good Morning America" personalities and stagehands. Around 8:00, Fordham President Fr. Joseph McShane, SJ, welcomed everyone and pointed out good-naturedly that of various NYC schools, including Columbia, only Fordham had nabbed a U2 show during their weeklong NYC sojourn. He left the stage to the acclamation by the on-stage emcee, "Nobody rocks a party like a Jesuit rocks a party!"
Then the band appeared out the center doors of Keating Hall and took the stage to mad cheers, and Bono proclaimed "It's F.U. time!"
My first conscious hero came from the world of rock music. The Canadian group Rush was a bass-drums-guitar trio that first came to prominence in the 1970s, riding the wave of a musical style that Led Zeppelin had been instrumental in creating. Throughout that decade, a growing coterie of so-called "progressive" bands were experimenting with making rock music more operatic, grandiose-sounding, and simply more complicated. Elaborate songwriting with many "movements" frequently meandered into 20-minute, radio-unfriendly terrain.
Rush, like many of these bands, wrote lyrics drawing heavily from the cultures of fantasy and science fiction writing. It was resolutely not music you could dance to. More often, it was like listening to a report from the creative suffering of an overmaximizedmusicalselfconsciousness.
httpv://www.youtube.com/watch?v=pwSwa3zugCk
The potential for transport, ecstasy, a new beyond-fleeting alertness is real here. Indeed, I early on derived (and still feel) intense joy in the experience of losing myself in the superhuman proficiency of what has often disparagingly, and inaccurately, been called "music for eggheads." In the (comparatively) cerebral lyrics, constantly shifting odd rhythms, bombastic attitudes, and maturity of musicianship, I found some sort of finite salvation, a constant sense of leaving myself behind, of finding myself by losing myself, of wanting to gain that musical maturity and excellence that would allow me to know what can only be known when you climb to the absolute top of the rock ladder, only to be able to kick that ladder away. All of this I sensed that Rush could offer me, and still—with other music from the time—offers me today, nearly 30 years after I first heard them.  (more…)
"Take a deep breath in — then breathe it out." At the lung-summit between inhalation and exhalation, a spiky pain ran through me. Then again. Then one more time. Yesterday, I underwent three new piercings at Red Rocket Tattoo here in NYC. Nothing too adventurous – just my ears.
In a room laden with cigarette smoke, hip-hop and chunky rock, and under the care of latex gloves and some 70 or 80 crucifixes adorning the wall over the windows looking out onto West 36th Street, the piercing artist at Red Rocket led me through the ritual with a friendly and nonchalant skillfulness born of 11 years at his craft. He let me ask him about the crucifixes (one of the artists there was apparently a religion major as an undergrad and developed an interest in them), and about his own work, which he called the "practice of modification". He briefly initiated me into some of the philosophy: we all "modify" our bodies in quest of some goal, pushing against pure naturalness (an unwashed, uncombed, unclothed, funky possibility that he summoned imaginatively for me). And he was simply taking this everyday practice and making of it an art for living.
Putting two and two together, I wanted, then, to ask him or the other artists around about those crucifixes. There were, after all, a lot of crucifixes bearing a writhing Jesus, and not just empty crosses. Weren't those crucifixes in some way talismans of the modification philosophy? From the piercing of ears to more radical modifications, like the "pointing" of ears and more, why wouldn't a practitioner-of-modification find in the crucifix, with its singularly overfamiliar depiction of the almost unutterable excruciation of nails run through Jesus' hands and feet, thorns on his head and a spear-gash in his side—why wouldn't this portrayal of a desecrative "practice of modification" be part of the symbolic world of some tattoo and piercing artists? And therein be spiritually significant?
This imaginative composition of theological space—on Red Rocket's part and on mine—need not be thought of as a Christian-rock-ification of a tattoo parlor. No, beyond Christian rock and its Christian-tattooing and -piercing analogues, wouldn't there be an appreciation for what can be had, on the order of askeses, in this space?
Theology, therein, does not lose its voice but learns it. If, that is, theology is askesis, and a particular askesis for askeses.
Tom Beaudoin
New York City
Next Page »