Pages
Categories
Contributors
Recent Posts
Recent Comments
Recommended
Archives
Robert Plant's cover of Jesse Colin Young's "Darkness, Darkness" has lived close to my conscious awareness ever since I first heard it about eight years ago.
Here is the official video:
Here is Plant performing it live:
And here is Jesse Colin Young performing it recently: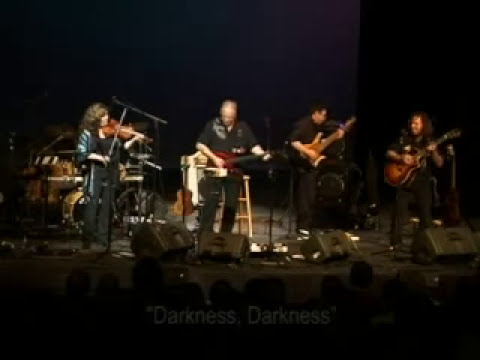 "Darkness, Darkness," sounds to me like a prayer for darkness, the kind of darkness that is promising in its uncanny, half-welcome air, a reach of the hand into the unhanding, with no guarantee of what is to come. This is one way that the Christian theological tradition,
We will no doubt return to weightier topics shortly, but for the moment, there is this: I recently ran across this clip from a 1994 interview in Australia with Led Zeppelin's Robert Plant and Jimmy Page. Does anyone know why Page is wearing a "Recovering Catholic" shirt?
("Recovering Catholic" is a term in the Catholic world for someone who had a negative experience being Catholic and describes themselves as trying to recover from it, used most often (if the vernacular I've heard over the years is any indication) by people who have moved on from Catholicism.)
Perhaps it's a meaningless gesture; more committed Zeppelin fans may know.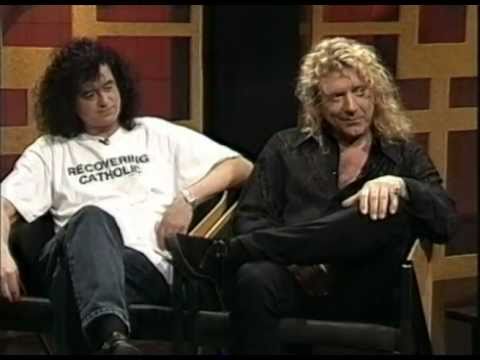 By the way, this interview has pride of place in Zeppelin arcana because toward the end of the interview (just past the eleven-minute mark), someone from the crowd yells out to ask what the "symbols" mean. This is presumably a question about the meaning of the famous and famously cryptic "ZOSO" symbols on the Led Zeppelin IV album. (In fact, the fellow who barked the query wrote about it here.)
In the interview, some confusion about the question ensues, as Page displays his "Recovering Catholic"
Thanks to Dave Nantais for the invitation to think about the way rock culture confects friendship in general and male friendship in particular. Friendship, that intimate concern of ancient philosophy and occasionally of Christian theology (especially the monastic tradition), is always a worthy topic for the overlap of theology and music.
I want to raise a few questions in response to Nantais' post.
First, in the movie clip where the "I Love You, Man!" guys are going nuts at the Rush concert, where "the girlfriend" stands aghast at the sea of slightly geeky male abandon, I was watching that and remembering how much such scenes are a part of my own and so many people's history, and how much the stories of live concerts are a part of the story many modern/Western/secular people tell about themselves, and about high points or memorable points in their lives. And I wondered, when we tell the stories of our lives in quick exchanges or more leisurely conversations, how have we learned to disaggregate these "secular" concert experiences from our "spiritual" lives, or from being potentially "theological" material? Have any studies been done on the operative discourses or practices that encourage either their aggregation or disaggregation? My rock-culture-trained gut tells me that something about the "secular" markings of the concert scene make it permissible to express and indulge the kinds of passions we see in that clip. But if this is the case, is this part of the instantiation of secularity that Talal Asad and other scholars have outlined, where real formation is happening through ideological cultural practices that are "spiritually" significant but that separate the practitioner from social-political influence — that is, we learn to restrict that "performance" we underwent, and its origins and its implications, to that space, and to call it "merely secular"? "It was just a rock show."
And on the Plant video: that is one well-crafted salute to his friend and bandmate Jimmy Page, with many phrases to ponder afterward. When I teach the field of practical theology to my students, I often give them my pithy definition of religious practices, which are what finally fascinates practical theologians: religious practices, or — stated differently — practices of theological significance, are, in my estimation, well understood as "orchestrations of identity with respect to claiming power." They have to do with how persons get put together individually and communally with reference to the grounding power(s) they claim and that claim them. From this vantage, listen to how Plant describes the power that claims Page and Page's music, and presumably Plant as well: "…towards the one light of invention and excitement." "You created music from beyond music."
The "one light of invention and excitement," the "from beyond music" — these are rich imaginaries for "claiming power." For theologians, that "claiming power" will be tangled up with the notion of God at some point in the inquiry — whether as a starting point, as a reference point, or as the conclusion.
One implication of this theological vantage is that we take seriously the following questions: Can we
Former Led Zeppelin lead singer Robert Plant, now well into the fourth decade of a beyond-successful solo career, who is — and now that he is 63 I think we are permitted to suggest this — transcendently establishing himself as a thoroughly generative and unendingly creative scion and wisdom figure of rock — as well as generator of continually new spiritual palettes and an object of persistent and contending spiritual projections — gave a press conference in Kiev on 30 July, during which he was asked about his religion.
As the video below shows, his reply includes the following: "My religion? I'm one of the children of the sun." Is he talking about the new age movement "Children of the Sun," which describes itself as "embracing all religions and spiritual paths"? Or is it a reference to the "children of the sun" in the Zeppelin tune "Going to California"? Do we have here another iteration of rock's tendencies toward pantheism and/or panentheism? (I ask this not by way of judgment, but out of a curiosity about the kind of spiritual lives that deeply experienced "secular" musicians and their fans put together.)
After this comment, Plant adds, "Yeah, why not," and then something like, "'cause that's where we came from." Then follows a comment about the kind of music appropriate to sex ("music when you make love is a distraction"), followed by his observation, hard-won over six decades of musicianship, that "music is the sound of joy and glory."
I cannot help but notice the theological thread through the whole brief meditation: originary creative power (the sun), relationship (children), desire (making love), surrender and participation (music as joy and glory). (He concludes with a joke, "Or maybe when we make love, we could listen to [the 80s metal band] the Scorpions," which sends him into a brief, knowing reverie, concluded by a laughing "fuckin' hell," and as he parts with the theme reluctantly, a meditative "yeah, yeah…")
This can all be acknowledged and certainly celebrated, but without having to idolize Plant. Or rather, I would argue that fans (including me) should make of him the proper kind of idol. Like all of us, his inner
On Sunday night at the Beacon Theater in Manhattan, I saw Robert Plant, former Led Zeppelin frontman, leading his new group Band of Joy. After recently being blown away by the worldly rock holiness of Mother's Finest a few weeks ago, I did not expect to turn right around and see a show that was as stratospheric in its musical maturity, singular creativity, and meditative relentless angelic hostage-taking heartbreaking raids on a beyond beyond all distinction. But this is, at least in my hearing, and judging from the in-show and post-show responses, what Plant and his extraordinary collection of American musicians (including Patty Griffin on backup vocals and the occasional lead) let be accomplished through them on Sunday night.
Plant has spent the last decade of his career showing why the old conversation about whether rock is music primarily for youth is only askable when one has held on too tightly to rock as a fixed star. Plant, now 62 years old, has been too busy chasing down the spiritual possibilities of rock that come from rediscovering classic early forms and letting them speak anew through the spiritual gifts that are his rockish center: that voice (wailing, moaning, yelping), that compositional sensibility (always somewhere between the English countryside, North Africa, and Memphis, Tennessee), and that trust in the music that is his characteristic slow-burning abandon in performance. In other words, his last several albums seem to say: here are the classic sounds of the rock tradition, and here is my legitimate strangeness, and now here comes music.
Recognition of the power of this approach is why the audience consisted of
Last night at the Beacon Theater in NYC, I saw Robert Plant and his new Band of Joy, featuring Patty Griffin on backup vocals. I will write up some reflections in the next few days on this extraordinary show, but I could not hesitate to share with you Plant's rendition of "Satan, Your Kingdom Must Come Down." Here are two recent performances of it:
Tom Beaudoin
Hastings-on-Hudson, New York