Pages
Categories
Contributors
Recent Posts
Recent Comments
Recommended
Archives
September 2017
S
M
T
W
T
F
S
« Jan
1
2
3
4
5
6
7
8
9
10
11
12
13
14
15
16
17
18
19
20
21
22
23
24
25
26
27
28
29
30
For the last couple of years, I have wanted to do some reflection on the practice of songwriting and its connection to the traditional Lenten challenge to grow in one's "prayer life." In the course of reflecting on songwriting and/as spiritual practice, it struck me that while there is quite a bit of reflection on rock performance and the analysis of finished songs in discussions of popular music and theology, there seems to be a lack of attention on the practice of songwriting, particularly as it takes place in an "individual" or "personal" mode.
One recent exception is the work of John McClure who has reflected on "song-making" as a source of insight for theological practice. Some of this work touches on what is happening in the songwriter when she is writing a song. McClure writes,
[S]ongwriters are keenly aware that their craft is cathartic, educative, and integrative in relation to their own lives. Writing in and out of a tradition carries with it certain ways of externalizing and dealing with one's experiences and ideas. Songwriting, therefore, involves a constant reeducation and maturation of the whole person within certain traditions of thought and practice. Writing changes the artist, providing healing, perspective, vision, and qualities of good judgment. Most good songwriters are aware that songs are doing this to them, and how songs are doing it. (John S. McClure, Mashup Religion: Pop Music and Theological Invention [Waco, TX: Baylor UP, 2011], 21)
The Ark in Ann Arbor, MI is a unique concert venue with a fascinating story.  In 1965 four Protestant churches collaborated to establish a space for college students that was similar to the popular coffee houses that were sprouting up around the U.S. at that time.  Acoustic folk music soon became a regular offering at the Ark and has been ever since.  In the mid-70s when funding from the churches dried up the Ark became a nonprofit organization and remains so to this day.  More about the history of the Ark can be found here.
The Ark has experienced a number of different incarnations over the years–it is now an intimate 400 seat room with superb sound.  The venue has hosted hundreds of folk and rock acts over the past 5 decades,  both world-famous and local artists.  I have seen some amazing shows at the Ark: The Jayhawks, Fairport Convention and, just recently, Marc Cohn, as well as numerous local bands.  Before he was famous, a  young Iggy Pop played the Ark when he was the drummer in a band called The Prime Movers.
The Ark's nonprofit status means that their board and members need to raise funds.  One way to support the Ark is by becoming a member (I discovered the first time I attended a show at the Ark that only members are allowed to purchase alcohol–a compelling incentive to become a member!).  Approximately seventy percent of the Ark's costs are covered by concert revenues, so they rely upon the generosity of their supporters to make up the difference.  All of the ushers, ticket-takers and concession workers are volunteers/members.  The annual Ann Arbor Folk Festival serves as the Ark's biggest fundraiser.  This past year's festival attracted Lucinda Williams and Colin Hay (Men at Work, now solo artist), among others.  A few years ago, Jeff Tweedy from Wilco played the Festival: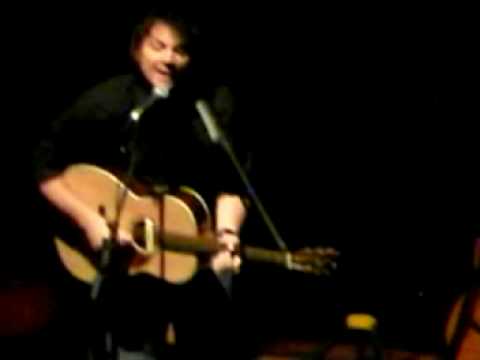 Recently on Rock and Theology we posted a link to a short article on Noisecreep entitled  Heavy Metal Stars Who Found God which Tom Beaudoin noted was "a topic of seemingly perennial interest."  This is very true.   The fascination people have with rock stars and whether they are 'Christians' or not is the subject of a whole sub-genre of rock journalism and other writing dedicated to discerning whether certain lyrical content ultimately points to a professing commitment as understood by institutionalized religion and in particular denotes an Evangelical faith.  This is nothing new as Tom mentioned and is of perennial interest to be sure and not just isolated to rock stars.  Recently Franklin Graham questioned whether President Obama was a Christian.  Graham stated that "I asked [President Obama] how he came to faith in Christ. He said he was working on the south side of Chicago in the community and the community asked him what church he went to. He said 'I don't go to church."
That said, Graham has since apologized for any inference about the state of the President's salvation but the perennial interest in Evangelical circles to define what a Christian is continues and is now turning its attention it seems to Bruce Springsteen.
Bruce Springsteen's 17th studio album – Wrecking Ball – was released in the US on March 6th and the critics have been hard at work to make sense of the Boss' latest outing (I recently posted a review of the lead single "We Take Of Our Own" here on Rock and Theology ).   One reviewer made a rather interesting comment that has had me perplexed and dismayed.  In his review of the album (wonderfully entitled "Stations of the Boss") Andy Whitman at Christianity Today noted the personal and profound impact Springsteen's music has made on him throughout his life saying that he became  "a Christian who is convinced that Bruce Springsteen has more to say to me than any other songwriter." Many people feel the same way.  At 62, Springsteen is still producing  great music of deeply spiritual and political conviction and while he hasn't recaptured the "glory days" of the Born in the USA years or the critical excellence of Nebraska, Darkness at the Edge of Town or The River, he is an undisputed American rock icon who has unique crossover appeal in an increasingly segmented music market.  I for one agree wholeheartedly with Whitman's statement to this effect and resonate with much of his review of the album (Wrecking Ball, by the way,  is a true return to form and a fantastic album worth repeated listens – IMHO).
But that isn't what caught my attention.
Posted in: General by David Nantais on January 15, 2012
In recent days I have discovered that Sinead O'Connor attempted suicide and Tony Iommi, longtime Black Sabbath guitarist, was diagnosed with lymphoma.  I find myself offering a quick prayer each morning for these two artists, with hope that they regain their physical and mental  health and can once again bless the world with their musical gifts.  Is that weird?
I ask this question because, when I step back and try to examine the reasons for my spiritual offering, I wonder if there are not more pressing world events that should be occupying my attention and spiritual life.  It is not that financial crises, sexual abuse of minors and war are not all on my mind and share space in my inner life.  But my passion for music and interest in the lives of those who create music impels me to offer my spiritual support, however small and insignificant it may be.
I prayed for Ronnie James Dio when he was diagnosed with stomach cancer, for Kerry Livgren (Kansas) when he suffered a stroke, for Bill Berry (REM) when he suffered a stroke, and for Clarence Clemmons as he was dying.  What do readers think?  Is this weird?  Have you every prayed for your favorite musicians?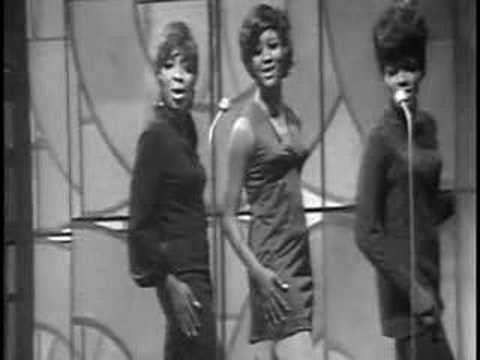 Dave Nantais, Detroit, MI
Last week I watched Martin Scorsese's new documentary on George Harrison, George Harrison: Living in a Material World . Shown on HBO, Scorsese did a fine job of interweaving photos, interviews of Harrison, his friends and family, and live performance videos to tell the story of the former Beatle's life.
The documentary showcases Harrison's fascinating spiritual journey which began in the mid-1960s when David Crosby and Roger McGuinn of the Byrds introduced him to the work of Indian sitar musician Ravi Shankar. Harrison described Shankar as the first person he'd ever met who "impressed me" while also giving him "an excuse to find a spiritual connection." Shankar's influence can be heard on the Beatles' song "Norwegian Wood."
Harrison's spiritual quest took a new twist when, during a LSD trip, the phrase "Yogis of the Himalayas" came to him out of the blue inspiring him to lead the Beatles on a pilgrimage to Rishikesh, India, where they studied Transcendental Meditation with Maharishi Mahesh Yogi. Over the next few years Harrison continued his travels to India, seeking out spiritual teachers and reading about eastern religion and spirituality. One day Shankar gave him a book that changed his life. Written by Swami Vivekananda, one particular quote caught Harrison's attention: "If there is a God you must see him and if there is a soul we must perceive it. Otherwise it's better not to believe. It's better to be an outspoken atheist than a hypocrite." This notion of having direct experience with God inspired Harrison to delve deeper into religion. He embraced meditation, Hinduism and the Hare Krishna movement. Raised Roman Catholic, when Harrison's mother expressed concern about his new found spirituality, he wrote to her saying not to worry because "it doesn't affect my dedication to Sacred Heart in any way, it only strengthens it."
The magazine Heeb interviewed Rush singer-bassist-keyboardist Geddy Lee a couple of years ago, focusing especially on his relationship to Jewishness/Judaism. Like most rock bands, Rush rarely speak in interviews about religion, although their lyrics have constantly registered a strong skepticism about religion, and in more recent years edge toward agnosticism or atheism. This has caused some discomfort and mild protest from religious Rush fans, as Rush drummer and lyricist Neil Peart has made criticism of religion and articulations of a post-religious sensibility more frequent in Rush songs in recent years.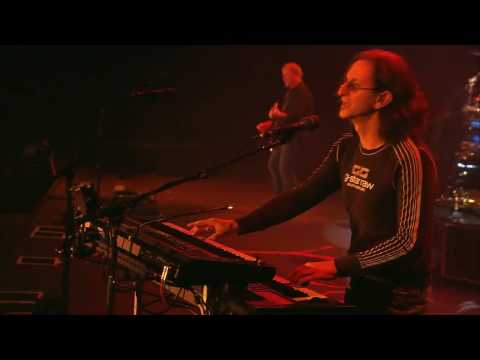 From my perspective, it is refreshing to read Lee speaking frankly, albeit in a typically clipped rock-interview style, about the place of the Holocaust in his family's life, and about his Jewish atheism. Theology is nothing if not a certain relentless and learned preoccupation with divinity, and theological preoccupations are best sculpted in free and frank exchanges and inquiry about how people experience and process their worlds. For this reason, I wish the interviewer would
The "Rock and Theology" project got its start in the spring of 2007, when a theologian friend sent me a link from "Whispers in the Loggia," to a story about Notker Wolf, then the head of the Benedictines, a Catholic religious order. There was Wolf, strumming an electric guitar with right hand, left hand a-swashing the neck forth and back, face full of focus and a drum kit off his right shoulder. Oh, yes, that's definitely an atypically liturgical shade of concert orange sidelight shining onto him and the kit, as well. And that cowl—so exceedingly metal! As a cohabitor of Catholicism, rock music, and theology, as a devotee of loud sounds shaken out of guitars under auburn lights, I could hardly breathe. What face of rock was this? I felt in this picture a strange, uncontrollable, entrancing, and consoling beckoning.
I soon learned that Notker Wolf lives not only in the spiritual atmosphere of Sant'Anselmo in Rome, but of his own rock band, Feedback. This was all too much for me and seemed to spell out an opportunity for integrating much that I cared about. I had been playing bass guitar in rock bands since 1985 (starting in Christian bands, and then off to secular bands by the late 1980s), had been raised Catholic, and had finished a PhD in religion and education at Boston College in 2001. Since then, I'd taught theology at BC, and then at Santa Clara University (and am now at Fordham University). I knew that I was called to an academic theological vocation, but had stayed connected to the rock scene wherever I lived, and played in bands where I could, all the while living the life of a rock fan: going to shows, listening to music, keeping up with music news and online fan discussions.
Immediately after the defense of my doctoral dissertation, I went to get my ear re-pierced and found a rock show that night, as a way of reminding myself what I thought my life should be about. And as I have gotten deeper into academic life, staying in the rock world and playing in rock bands has only become more important for me. I've been in more bands since I started teaching college than I was in all my years before. It became impossible to tell whether I was, at my core, more rabid for theology or for rock, and this mutual imbrication began to show up more and more in my theological publications—and in my rock playing and songwriting. More and more of my academic and musical production was beginning to center on the cultural register of theological experience: appreciating what it means to think theology as a cultural (and secular, and musical) practice, and how cultural (secular, musical) practices come to be experienced as theological.
So that Notker Wolf picture activated something in me. I knew other theologians who were also practicing rock musicians, and I wondered how they held it all together. How did they live in both "secular music" and "sacred theology"? I thought it would be worth trying to see what a deeper integration of rock and theology might feel like.