Pages
Categories
Contributors
Recent Posts
Recent Comments
Recommended
Archives
From the musical "Passing Strange" (about which I have written at R&T here, here, and in a three-part meditation, here, here, and here) comes the beautiful tune "Come Down Now." The song includes the lyrics: "Come down now / remove your mask, you see / all you have to do is ask me / I'll give you all the love life allows"…
This scene and this song often put me in mind of basic spiritual tasks in which "religions" can engage: ceasing to mistake yourself for divinity ("come down now"); shedding personae that inhibit a deeper yes to the depth of existence ("remove your mask"); consenting more openly to ultimate reality ("ask me"); taking as gift the fullness therein for more life ("I'll give you all the love"). It is too much to say that these elements are "essential" to "religion," but they are often enough found by those who end up being categorized as "religious" or "spiritual." This song offers a space to hold important spiritual experience. Spiritual traditions offer ways of making further sense of this song.
Tommy Beaudoin, Yonkers, New York
I am getting ready to teach in the spring semester at Fordham, and one of my courses is a graduate class called Theology of Ministry. Every year I feel the impossibility of saying something with solidity about a topic that is deeply elusive. So many ministries are worthy of study in their explicit and implicit theologies (that is, their ways of construing God and God-related materials). I do not find it easier to create theological maps as I get older. In my eleventh year of teaching college, I find myself more implicated in the complexity than ever before, and helping students to sit within how complex it is to know what construals of God-related materials are, and where they may be found in ministerial practice, is a cavern toward which I am endlessly digging. I revise my courses, sometimes dramatically, every time I teach them.
One constant is that I try to work from a basic assertion in each course that we revisit multiple times to test its adequacy. For my Theology of Ministry course, I will open the course by suggesting, and eventually arguing, that theologies of ministry have typically been ways of constituting a "public" rationale for ministry, prioritizing pastoral action, and specifying the formation of pastoral workers. As such, theologies of ministry show by what appeals Christian churches seek to articulate their labor.
The danger of working from such assertions-definitions-theses is that we can think that clarifying them will help us identify what "true" ministry is. But ministerial material is as much discovered as invented, as much intuited as deduced. Which puts me in mind of music's ministerial role, so much of which is "found" inductively in people's everyday lives, apart from any theological deduction. So while we will be testing my thesis (and their own theses) and thinking deductively throughout the semester, we will also be noticing our own inductive notions about ministry — where we have found ourselves grateful for a ministerial action in an unexpected time or place and surprised by the redefinition it brings.
Has music ever helped you work through the loss of someone close to you? This clip from the rock musical "Passing Strange" has spoken to many people, including me. I particularly identify with the way that the main character, "The Pilgrim," has rock music close to the center of his life and has to live with what rock culture can and cannot do for his losses ("I'll live in vans crammed with guitars / I'll sleep on floors and play in bars / I'll dance to my own metronome, 'till chaos feels like home / [...] up and down from town to town, tour van wheels go round and round / every night play rock and roll, get fucked up after the show / in the morning lock and load and then leave").
Here is the clip:
Everyone has a sense of what "good news" is for them, what helps them take the next step in their spiritual life alone and with others, and a lot of people are taking "good news" inductively through their favorite music. That is music performing a ministerial function. Making that more explicit with respect to the question of God or God-related materials "makes" it theological.
Does any music minister to you?
Tommy Beaudoin, Hastings-on-Hudson, New York
I am in Amsterdam for the biennial meeting of the International Academy of Practical Theology (IAPT), a gathering of more than a hundred scholars of practical theology from around the world.
Whatever else one thinks of Amsterdam, its notoriety as a tolerant arena for the play of desires — intellectual, culinary, herbal, sexual — is well-established. Indeed, the theme for the IAPT this year is "City of Desires: A Place for God?" Plenary addresses and numerous conference papers will explore the theme of desire from theological perspectives, especially rooting the questions in everyday urban life and pastoral work. A draft conference book is here; abstracts for many of the papers are here.
After falling for the musical "Passing Strange" a few years ago, I cannot think of Amsterdam, desire and theology without reference to it. (Earlier, I wrote three posts on the musical: one, two, three.) In these two clips you can see the "pilgrim" discovering Amsterdam, and receiving — and singing in — a set of "secular" keys to the kingdom. Speaking of "the pilgrim," the rock musical "Passing Strange" is one way to approach, in contemporary Western society, the significance of Ignatius Loyola's injunction, throughout the sixteenth century manual called the Spiritual Exercises, to "ask for what I desire." One need not equate desire with God to trust a loving attention to desire and its befriending as a path to God.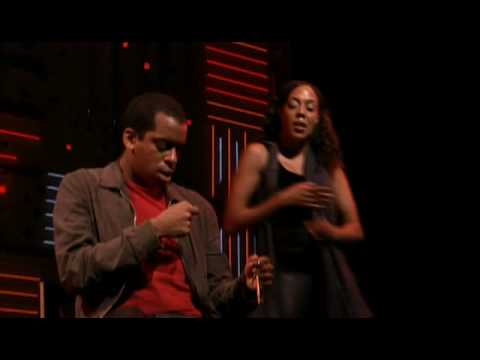 This will be my third biennial, having attended Berlin (2007) and Chicago (2009), and on the flight over from New York, I noticed the same questions arising in me as before the last two biennials: How do I explain to international colleagues what practical theology is for me? On the surface, a commitment to practice might seem to join all practical theologians, but the second one steps into international
Music critic Stephen Holden wrote a recent review, in the New York Times, of a new documentary about the history of gospel music, "Rejoice and Shout."
Here is a trailer for the film:
From Holden's overview, it looks like an excellent travelogue through influential phases and names in this proud and extraordinarily influential tradition. Holden gets bonus points for theological sophistication when he writes that "African-American gospel is a continuing dialogue between roots on one side and technological innovation and secular influences on the other."
He wonders aloud whether, while watching the film, you might (like, presumably, him) "feel that music is God, or if not, a close approximation of divinity." This musement has not haunted theological research on music nearly enough. This is a question also raised by Stew in his recent postmodern, post-soul African-American rock musical, "Passing Strange," when he has the cast sing "Music is the freight train in which God travels / Bang! It does its thang and then my soul unravels / It heals like holy water and it fights all my battles." He also has the lead character declaim, in a revelatory moment in church: "Church ain't nothin' but rock and roll." (My post on these quotations from "Passing Strange" is here.) Here is part of the scene:
In this scene "Passing Strange" celebrates its deep debt to gospel, and shortly afterward, when the "Pilgrim" equates church with rock and roll, transcends it. (Or to use Holden's language, "secularizes" it.)
Tom Beaudoin
Hastings-on-Hudson, New York, USA
Now, part three of a theological discussion of the musical and film "Passing Strange." Part one is here, and part two here. I will discuss the Pilgrim's deconversion from "ontological blackness" and the black church in the next post. In this one, I want to talk about his conversion to a life of desire more bracing than he had found in religion, even as it transmogrifies some elements of the black church in which he was raised.
After he leaves Los Angeles, he is off to Amsterdam, and the narrator Stew tells us:
"The pilgrim crossed both land and sea to find a cathedral home / Then two girl Jesuses colored him Lazarus and rolled away the stone"
Below are three clips featuring different relevant scenes from the show:
[1] The first is from the musical, when Youth/Pilgrim meets Marianna in Amsterdam, who gives him her keys.
[2] The second is from a special 2008 performance at Webster Hall in NYC, featuring an inaugural sexual encounter with Marianna and Renata and then, with two Dutch men (comparatively quite understated, or is it a joke?) Joop and Christophe, followed by Marianna's giving him her keys.
[3] The third, from the musical, shows the breakdown of the relationship between Youth/Pilgrim and Renata. Here we see that the thrill of awakening to the patterns of his own passions is not enough for Youth/Pilgrim to carry him into "the real", and he is peeling away from her "right when it's starting to feel real." These women have understood something of the real that he has yet to learn, but the conversion is underway. (That desire just needs refining, rehearsing, and much more dispossessing — which he will find in Berlin as he confronts more deeply the desire for blackness in his life.)
Here are the three clips:
Following on from Part One of this brief series of meditations on the musical "Passing Strange," here are a few further thoughts with respect to the "pilgrim's" conversion to music.
When the "youth" (or "pilgrim") goes to church with his mother, the skeptical, freethinking young man is taken up, as if for the first time, by the tornado-ish uplift of the black church at rhythm, rock, and roll. As the pastor remonstrates, the choir gesticulates, and the instruments articulate, Stew sings "Cruisin' up and down that fretboard like it was the road to Damascus / If you don't know the way, you better ask us / It was a mind expanding revelation" …
Here we are already made aware that the guitar is the agent of a sacred coming, the band the willing or unwilling place of a happening with a permanent meaning.
And then as the youth becomes taken up in the heady funnel of gospel groove, we hear the annunciation of the mutual and simultaneous submersion and subversion of "God" and "rock":
"Music is the freight train in which God travels / Bang! It does its thang and then my soul unravels / It heals like holy water and it fights all my battles / Music is the freight train in which God travels"
Check out part of the scene here:
And then further down this "fretboard" that is the "road to Damascus" (Acts 9) the phenomenology of the pilgrim's conversion to the healing (salvific/holy/graced/fundamentally claiming and compelling) dimension of rock:
Two years ago here in New York, the musical "Passing Strange" drew considerable attention, and its final performances were recorded and made into a film by Spike Lee released earlier this year. This past summer, I watched the DVD several times, engrossed by its mixture of rock and theology.
The musical, by Stew and Heidi Rodewald (see the Wiki page here for some background; and for their current projects see their website), is apparently Stew's semi-autobiography. It tells the story of a young middle class African-American man leaving Los Angeles in quest of "the real," taking him to Amsterdam and Berlin and a constant reassessment of his relationship to his doting mother and his blackness, as well as to his black church upbringing. Theological language, images, questions, and desires are infused from start to finish, and the musical is at the same time a travelogue of rock styles and influences.
The "pilgrim," as the musical calls him (and as Ignatius Loyola calls himself in his autobiography) undergoes several "conversions" and "deconversions," and I would like to briefly mention them in some upcoming posts. As I see them, they are: intertwined deconversions from ontological blackness and from the Christianity of the black church, and intertwined conversions to music, to the life of desire, and to race as performance, which are also his yes to the sacred, to "God".
These deconversions and conversions are, for me, encapsulated in a powderkeg of an affirmation contained in a heated exchange between the pilgrim and his mother, when she asks "Don't you know the difference between the sacred and the profane?" And he replies: "I can't hear the difference."
There is much more to say, and I'll try to say at least a little of it in future posts.
For now, here is a New York Times video report on the musical (apologies if any ads precede it), and below it, a trailer for the film.
Tom Beaudoin
Hastings-on-Hudson, New York
I have watched the Spike Lee movie "Passing Strange" — three times now in as many weeks — which is a recording of the last few performances of the musical "Passing Strange" in 2008. That rock musical, which had a short run on Broadway in 2008, features an all-black cast (and, aside from Stew, an all-white band) and was the invention of musicians Stew and Heidi Rodewald. I have had to watch it several times because it is such a complex, richly written and performed, and engrossing show, and because it speaks directly to theological and musical intersections treated here at Rock and Theology. The relationship between Christian culture and rock culture is one of its central meditations, laid across an equally engaging exploration of African-American identities in global and postcolonial perspective. There is quite a lot to sit with, think through, and talk out loud about religion, race, and rock in this show. I will try to post some initial thoughts soon.
But while I am still ruminating, "Passing Strange" put me in mind of the important but culturally undervalued tradition of black rock in the United States. I've written at R&T before about black rock, and one of my hopes for Rock and Theology is to try to cast our musical and theological nets as widely as we can to relate to different theological orientations as well as rock from different ethnic and cultural contexts.
I was sad to have missed the recent Afropunk festival here in New York due to other commitments that weekend, and hope to be able to go in 2011. That festival, apparently following on the "Afropunk" documentary of a few years ago, is an annual opportunity to see some of the best in black rock/punk and more.
But inspired by "Passing Strange," I was looking around the web for smart sites about black rock, and found this terrific site: Bold As Love. (Subtitle: "Rock Music and the New Black Imagination.") The editor, Rob Fields, linked to this cool video about the recent Afropunk festival:
And Fields has a lot of other interesting stuff on his site, including reportage about musicians and the music business. He also recently wrote this helpful article, "Black Rock Rolls On," for The Root. I will likely be visiting Bold As Love often, as it seems like the best site I've yet found for the latest on black rock. The black heritage in religion and rock is essential to any serious take on rock and theology in their own terms, and even more so when they are held together as we try to do here at R&T.
Tom Beaudoin
Hastings-on-Hudson, New York