Pages
Categories
Contributors
Recent Posts
Recent Comments
Recommended
Archives
October 2017
S
M
T
W
T
F
S
« Jan
1
2
3
4
5
6
7
8
9
10
11
12
13
14
15
16
17
18
19
20
21
22
23
24
25
26
27
28
29
30
31
On Mayday, I was in the parks and streets of Manhattan for #M1GS, the May 1st General Strike, a daylong gathering called by a coalition of dozens of labor organizations. Like many, I was there under many motivations: as a participant in Occupy Wall Street and Occupy Faith NYC, as a member of the labor union and advocacy organization the American Association of University Professors (AAUP), and as a theologian. I joined tens of thousands in New York City and around the country, and hundreds of thousands around the world. I noticed workers of all kinds, labor union members, Occupiers, community organizers, seasoned activists, first-time participants, and all manner of allies who cheered us on from the sidewalks, fire escapes, and opened windows in the tall buildings along the march route.
There were apparently a few dozen arrests, though I did not personally see any over the course of seven hours. (Nor could I afford to get too close if things got too hot, because I needed to be free to teach the next day.) I arrived in the early afternoon at Bryant Park to find a thousand or so people getting warmed up with teach-ins, leafletting, conversations, sign-making, and picture-taking. There were also dozens of people carrying guitars (and a few basses and banjos), rehearsing for the Occupy Guitarmy, an all-volunteer guitar ensemble led by renowned rock guitarist Tom Morello, of Rage Against the Machine and now The Nightwatchman.
I was concerned because I thought that a thousand or so people would be a poor turnout for such a hyped-up event as this General Strike. But things changed quickly.
Around 2:00, we began marching to Union Square Park, and arrived there about 75 minutes later. As we marched, more people began joining in, and by the time we go to Union Square, there were many thousands more waiting for us. And people kept streaming in from all sides for the next couple hours. Tom Morello and a contingent from the Occupy Guitarmy played a few songs…
(Note: video contains a few obscenities, heartily sung)
…there were brief speeches about solidarity and economic justice from people representing different labor organizations, and there was plenty of Latin music to aerate everyone's spirits in preparation for the long march to Wall Street.
A couple dozen members of Occupy Faith NYC gathered near the Gandhi statue in the park, where I joined them, and around 5:30 we began to move in a march with some 30,000+ people down Broadway all the way to lower Manhattan, a slow journey that took some three hours.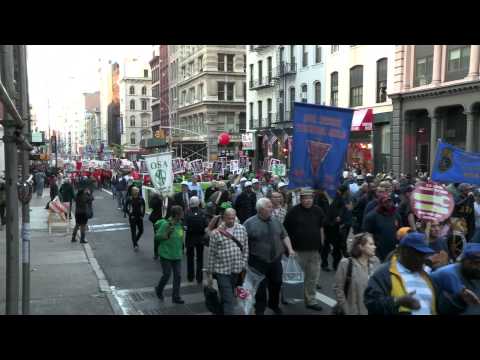 As the thousands of different banners, placards, signs, tattoos, shirts, headgear, songs and chants avowed, there was no single reason for being there, but I think it is fair to say that a great many of those gathered could endorse two basic theological statements: negatively, the market is not God; positively,
The Occupy movement is about to turn four months old, and already is planning a host of events for 2012. (See Occupy Together and InterOccupy for news on the larger movement, and Occupy Wall Street for NYC-related developments.) Occupy Together lists 1508 Occupy sites globally. Some of those are physical occupations with tents and the like, while many have been evicted and exist for the moment as meetups and planning groups that focus on events and periodic gatherings. Occupy Wall Street's Facebook page has over 360,000 followers and continues to grow daily. Just this week, Occupy Nigeria (new Facebook here) has been in the news.
In the United States, the movement is entering its second phase in most places, beyond the intense initial fervor and international publicity about campsites, and under the challenges of winter weather in some parts of the country. There is hope among many activists for a robust springtime of events, which will roll into a heady summer and crescendo in 2012 with the fall elections.
httpv://www.youtube.com/watch?v=3pl0pHJg_l8
As readers may know, I have been involved with Occupy Wall Street from early on, and with Occupy Faith NYC (Facebook here, website here), an interdenominational/interfaith/interreligious group that supports Occupy. A meeting of some Occupy faith/religious/spiritual leaders from around the USA took place in NYC recently, and there may be another coming up in March on the West Coast. In short, though Occupy may have faded from front page news coverage, the movement continues, though it clearly faces challenges.
Here are the top five challenges I see for Occupy in 2012, in no particular order:
Around 1:00 this morning, I got a text from Occupy Wall Street announcing that the police were massing to clear the park. Like thousands of others who got the notice, I watched the live feed on the Occupy website and then decided to head to lower Manhattan, but not before I took a little time to plan for the possibility of getting arrested. By the time I got down to Zuccotti Park a little before 3:00 AM, the police had cleared most of the protesters out (news reports say nearly 200 arrests were made), but some holdouts remained. I was part of a group of a few hundred behind a barricade at Broadway and Pine, a block away, as the police had blocked all access to the park except for some press. The crowd alternated between sober, festive, and restless as people struggled to get information about what was happening from minute to minute. For some reason, a few of us were permitted by police around 4:30 AM to go right up to the opposite side of the street from Zuccotti Park, and it looked as though everything from the encampment had been demolished and was being thrown away by city cleanup crews, and the entire space hosed down. I can only imagine that this includes the demolition and discarding of the entire Sacred Space Altar, which now exists only in pictures. The crowd, which grew slowly over the next two hours, was heavy on young people, but by 5:00 AM contained a good number of middle-aged folks (like me, I suppose) and some seniors, too. There were many songs and chants and conversations about what to do next. The word came that the religious leaders of OccupyFaithNYC were going to rally soon and that a new stage of the Occupy movement in NYC would come about as a result. Groups of hundreds of us made our way from Zuccotti north to Foley Square, where we held a General Assembly as the sun rose. The announcement was made that apparently Judson Memorial Church has opened its doors to help those displaced from Zuccotti Park, and I know that requests are being made of other churches in lower Manhattan to become something like a "sanctuary" for the Occupy movement, especially Trinity Wall Street. By early this morning, I had to leave Foley Square so I could teach at Fordham in the later morning. From what I can tell, things are now moving hour to hour, and this morning's forcible eviction will no doubt only increase participation in the massive day of nonviolent direct action scheduled for this Thursday.
Just yesterday I was teaching the theology of Indonesian theologian Johannes Banawiratma, who has argued that churches not only imagine their action in relation to their local culture as consisting of Christians alone but, moving beyond a Christian "base community" concept — already a stretch for many North American churches — churches share a commitment to a transformed world with other religions and the nonreligious as well, and so should create spaces that generate local "human communities" grounded in a "spirituality of openness" that includes space for prayer, social analysis, immersion in local culture, and good pastoral planning of the sort that defenders of the "pastoral circle" have been defending for three decades. It is something very much like this vision that is going on in the Occupy Faith movement here in New York City: cooperation among not only Christian denominations but among religions, and between the religious and the nonreligious.