Pages
Categories
Contributors
Recent Posts
Recent Comments
Recommended
Archives
On Mayday, I was in the parks and streets of Manhattan for #M1GS, the May 1st General Strike, a daylong gathering called by a coalition of dozens of labor organizations. Like many, I was there under many motivations: as a participant in Occupy Wall Street and Occupy Faith NYC, as a member of the labor union and advocacy organization the American Association of University Professors (AAUP), and as a theologian. I joined tens of thousands in New York City and around the country, and hundreds of thousands around the world. I noticed workers of all kinds, labor union members, Occupiers, community organizers, seasoned activists, first-time participants, and all manner of allies who cheered us on from the sidewalks, fire escapes, and opened windows in the tall buildings along the march route.
There were apparently a few dozen arrests, though I did not personally see any over the course of seven hours. (Nor could I afford to get too close if things got too hot, because I needed to be free to teach the next day.) I arrived in the early afternoon at Bryant Park to find a thousand or so people getting warmed up with teach-ins, leafletting, conversations, sign-making, and picture-taking. There were also dozens of people carrying guitars (and a few basses and banjos), rehearsing for the Occupy Guitarmy, an all-volunteer guitar ensemble led by renowned rock guitarist Tom Morello, of Rage Against the Machine and now The Nightwatchman.
I was concerned because I thought that a thousand or so people would be a poor turnout for such a hyped-up event as this General Strike. But things changed quickly.
Around 2:00, we began marching to Union Square Park, and arrived there about 75 minutes later. As we marched, more people began joining in, and by the time we go to Union Square, there were many thousands more waiting for us. And people kept streaming in from all sides for the next couple hours. Tom Morello and a contingent from the Occupy Guitarmy played a few songs…
(Note: video contains a few obscenities, heartily sung)
…there were brief speeches about solidarity and economic justice from people representing different labor organizations, and there was plenty of Latin music to aerate everyone's spirits in preparation for the long march to Wall Street.
A couple dozen members of Occupy Faith NYC gathered near the Gandhi statue in the park, where I joined them, and around 5:30 we began to move in a march with some 30,000+ people down Broadway all the way to lower Manhattan, a slow journey that took some three hours.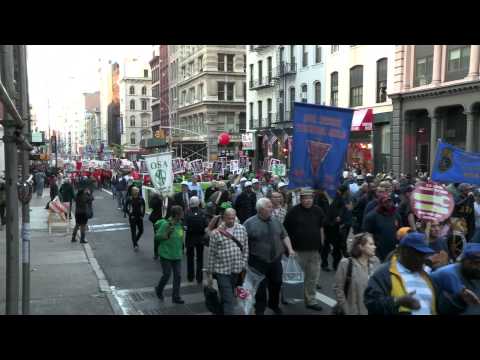 As the thousands of different banners, placards, signs, tattoos, shirts, headgear, songs and chants avowed, there was no single reason for being there, but I think it is fair to say that a great many of those gathered could endorse two basic theological statements: negatively, the market is not God; positively,
For the New York Times, Ginia Bellafante has recently written this article relating the Catholic Worker to Occupy.
R&T readers who are interested in these matters should know that Occupy, in conjunction with dozens of other organizations dedicated to the equitable sharing of social resources, is calling for a General Strike in the United States on May 1.
For more information, see the latest from the Occupy Wall Street website here, or the MayDay NYC website here, or the InterOccupy site for various May Day General Strike cities here. Occupy Catholics are here.
Rock guitar wizard Tom Morello, of Rage Against the Machine and many other collaborations, will be leading a "Guitarmy" on May 1st in NYC as part of the General Strike. Information on the Guitarmy is here.
Here is Morello on #OWS: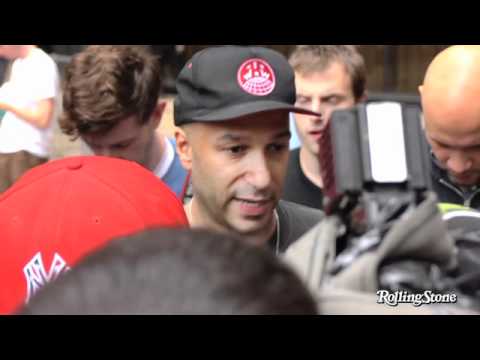 As I have mentioned many times here at R&T, various artists and spiritual teachers have endorsed
The Occupy movement is about to turn four months old, and already is planning a host of events for 2012. (See Occupy Together and InterOccupy for news on the larger movement, and Occupy Wall Street for NYC-related developments.) Occupy Together lists 1508 Occupy sites globally. Some of those are physical occupations with tents and the like, while many have been evicted and exist for the moment as meetups and planning groups that focus on events and periodic gatherings. Occupy Wall Street's Facebook page has over 360,000 followers and continues to grow daily. Just this week, Occupy Nigeria (new Facebook here) has been in the news.
In the United States, the movement is entering its second phase in most places, beyond the intense initial fervor and international publicity about campsites, and under the challenges of winter weather in some parts of the country. There is hope among many activists for a robust springtime of events, which will roll into a heady summer and crescendo in 2012 with the fall elections.
As readers may know, I have been involved with Occupy Wall Street from early on, and with Occupy Faith NYC (Facebook here, website here), an interdenominational/interfaith/interreligious group that supports Occupy. A meeting of some Occupy faith/religious/spiritual leaders from around the USA took place in NYC recently, and there may be another coming up in March on the West Coast. In short, though Occupy may have faded from front page news coverage, the movement continues, though it clearly faces challenges.
Here are the top five challenges I see for Occupy in 2012, in no particular order:
As the media have reported the last few weeks, there has been tension between many in Occupy Wall Street, as well a good number of religious leaders in Occupy Faith NYC, on the one hand, and Trinity Wall Street on the other. Trinity is a venerable Episcopal church at the end of Wall Street in lower Manhattan. Occupy has been asking Trinity for use of its lot at 6th and Canal, next to Duarte Park, as a site for the next stage of Occupy Wall Street after our eviction from Zuccotti Park in November. (This would not simply be a repeat of Zuccotti; Occupy has plans for a different kind of ongoing occupation, with advance plans for security and sanitation, among many other aspects.)
On Saturday I was part of a protest that sought to draw further attention to the appeal to Trinity – as part of the larger drawing of attention to injustice in economic policies in the United States and beyond that has been central to Occupy from the beginning. Several dozen among the protesters went over the fence into Trinity's property, in a nonviolent symbolic occupation, and were promptly arrested. Among those arrested were clergy and at least one religious, including an Episcopal bishop, a Catholic priest, a Catholic sister, and other clergy and religious leaders, as well as other lay protesters with or without any particular connection to religion.
This is a conflict with multiple reasons given on both sides for their stances.
If I might inadequately summarize the primary positions taken by each side:
Part one of this 3-part series by Kathryn Anderson is here. Part two is here. Part three is below:
*
I take issue, however, with the energy that the Occupy Movement directs toward the line that separates the 99% from the 1%. Make no mistake: I'm maintaining that the 1% can and must be called to account for abuses of power, for a perverted sense of justice, for blind loyalty to profits ahead of human life. Structures of sin are structures that require dismantling. But I object to the vilification of the richest because I know that Jesus loves the 100%, not the 99% alone. I know that God created, in God's own image, the 100%, not just the 99%. And I know, if we are to transform our society and economy, we need — we are called — to invite the 100% to join that transformation.
I wrote earlier that the Occupy Movement's strength is in inviting the disenfranchised to the dialogue about our society and our economy. I propose that a theology of Occupy Movement is one of invitation, something that Jesus did well and always. The story of Jesus' ministry is one of invitation to an abundant way of life. In fact, Jesus' very Incarnation was an invitation to humankind. By taking on our humanity, Jesus invited us to share in his divinity, to take up residence in the Kingdom of God. And he invited us to join him in building that Kingdom.
So far, the Occupy Movement is doing a decent job of inviting the disenfranchised to the conversation. That's their mission. They've been criticized for leaving some voices out, but they are trying to make democracy a public conversation. In doing so, they are empowering the marginalized to claim their dignity, ability, and worth. That's resonant with the Catholic Social Teaching emphasis on the preferential option for the poor and on participation. As DeBerri and Hug put it in their compendium of Catholic Social Teaching, "The opportunity for democratic participation in decision making is the best way to respect the dignity and liberty of people."
Part one of this 3-part series by Kathryn Anderson is here. Part two is below:
*
I want to engage the Occupy Movement critically and challenge it to be more articulate or consistent. It's because I firmly believe that our economic system is unjust and must be transformed and because I believe in the power of the Occupy Movement to affect positive change that I want to offer criticisms of the theology the movement expresses and challenge it to be authentic — in order to be truly transformative.
First, I believe that the Occupy Movement is right to identify massive injustices in our economic system. I understand why the protesters feel disaffected. Three years of faithful payments have gone since I finished grad school, and the amount I owe on my student loans is still greater than my yearly salary. But I know that my case is hardly the worst of it. Many families are faring far worse. The Catholic Campaign for Human Development offers an excellent resource on the difficult decisions that families at the poverty line face each day. For many families, economic hardship predates the current recession — it's just a fact of life.
The U.S. Catholic Bishops and the Vatican have not been silent. In their 1986 letter Economic Justice for All, the U.S. Bishops demanded a moral voice that guides for our economic system, one that will safeguard the well being of the poor and uphold the value of human life and dignity. The Pontifical Council on Justice and Peace echoed that sentiment in their October 24th, 2011 statement: "The economic and financial crisis which the world is going through calls everyone, individuals and peoples, to examine in depth the principles and the cultural and moral values at the basis of social coexistence." The Council maintains that the current economic crisis comes from a failure of moral vision and a failure to place human life at the center or our economic system.
And Catholic Church leaders remind us repeatedly that the increasing wage gap amounts to a structural sin. The chasm that separates the rich from the poor isn't unfair; it's sinful. A sinful structure is like a web, a system that keeps us from doing good, that violates the common good systematically, that stifles authentic human development, and is contrary to the will of God.
My friend once made a t-shirt with stick-on letters that read, "You can't serve God and corporate interest." That shirt didn't pull any punches, and it speaks to structural sin. Corporations are legally bound to seek the best interest of their shareholders. Even if they are well-intentioned, the board and management are obliged to steer the company in a direction that will maximize profit, even if the choices they make oppress the poor and violate the common good. This is a structural sin: despite best intentions, we have made it impossible to do good.  This sin must be repented of and atoned for. In drawing attention to it, the Occupy Movement is a prophetic voice.
I am grateful to Kathryn Anderson for her guest contribution to R&T, a short series of Catholic theological reflections on the Occupy movement beginning below. Ms. Anderson is director of social justice ministry at Centro Altagracia de Fe y Justicia in North Manhattan. Before coming to New York, she studied pastoral ministry at Boston College's Institute for Religious Education and Pastoral Ministry and worked in parish social ministry at the Diocese of Houma-Thibodaux, Louisiana.
*
Recently, I joined my coworkers from a Jesuit community organization in Northern Manhattan in a march called "End to End for the 99%," a day-long campaign to rally support along the length of the island for the Occupiers at Zuccotti Park. We joined the march at 181st Street and carried our banner down Broadway, stopping in Harlem at 125th Street; passing through the throngs at Times Square at 42nd Street, and finally arriving at Zuccotti Park in Lower Manhattan just as the sun set. For much of the march, I felt proud to be calling attention to economic injustice. As I cheered for democracy and for the 99%, I felt part of the movement. But as the afternoon wore on, I stopped hearing the breadth and expansion of "We – are – the 99 percent!" and I started hearing the line between 99 and one, a shift that left me deeply troubled. As I walked, I wondered how a theology of Occupy Wall Street could clarify our purpose and ideology, while inviting Catholics and other people of faith to engage with the movement with confidence and conviction. This post offers the beginnings of a theology for the Occupy Movement. It aims to identify the theology expressed by the movement as it stands and proposes a more consistent, authentic theology that Catholics can use as a resource to open conversation and to guide their decision-making.
Of course, it's impossible to speak of everyone in the Occupy movements as if they all think alike. They have a variety of motivations and convictions.  Still, there are plenty of ideas that can be identified with the movement in general. The movement proclaims the dignity of the poor, the unemployed, and the voiceless. The movement also proclaims the value of human persons and human lives over corporations. Two signs that I saw at the march or at Zuccotti Park expressed that conviction: one said, "I'll believe corporations are people when Texas executes one." The second sign, more pithy, read, "Love People Not $." At Zuccotti Park, the Occupiers were working in teams to manage food preparation, sanitation, public relations, and other tasks. They recognize that each member of the movement has something to contribute. Both the statements the Occupiers make and the way the camps are organized express a theological anthropology that is primarily positive (in other words, a theological system that claims the fundamental goodness of human persons).
What's inconsistent about this theological anthropology is what's implicit in the chants and signs: it's the 99% who are fundamentally good. Bankers and financial workers are vilified. A friend said to me, in jest, "Jesus loves the 99%;" the "Occupy, Catholics!" blog has a tag line that reads, "We are the 99%, made in God's image." Those statements are meant to counter the prominent mindset, whether it's expressed in advertisements or our tax code, that money confers worth. They're not meant to imply that God doesn't love the 1%, but not all of the Occupiers understand that nuance, I'm afraid.
Furthermore, there have been a handful of signs calling for class warfare. I felt a militant tone that at times settled over the march along Manhattan; one of my fellow marchers had signs calling for the overthrow of our government and claiming that the war had begun. These signs and chants betray a theological anthropology that is not fully positive.
Occupy Wall Street has been "homeless" ever since we were evicted from Zuccotti Park in lower Manhattan a few weeks ago, and many other Occupy sites have experienced the same fate. So while many of the original 1000+ global occupations remain in their original space, #OWS and others have become momentarily virtual, relying on social networking — Facebook, Twitter, email, texts — to rally Occupiers to regular rallies, marches, demonstrations, celebrations, and other events.
In the midst of this (hopefully temporary) "homelessness," I find myself noticing again and again how music is associated with spiritually-identified activities at Occupy. That association is often indirect. Occupy has no hymnal other than viral media songs made for the movement, the music played at Occupations, and musicians who support the movement and, by implication, whose music can become a wellspring for those to have ears to hear it as "occupied."
Songs made for the movement include Global Block Movement's "Occupation Freedom"…
And Miley Cyrus let her song "Liberty Walk" get remixed and re-video'd in support of #OWS:
The music played at Occupations is usually by local musicians who play songs crafted for that moment, or invented in that moment, that are not meant for going media-viral, so are heard and then dissipate.
Around 1:00 this morning, I got a text from Occupy Wall Street announcing that the police were massing to clear the park. Like thousands of others who got the notice, I watched the live feed on the Occupy website and then decided to head to lower Manhattan, but not before I took a little time to plan for the possibility of getting arrested. By the time I got down to Zuccotti Park a little before 3:00 AM, the police had cleared most of the protesters out (news reports say nearly 200 arrests were made), but some holdouts remained. I was part of a group of a few hundred behind a barricade at Broadway and Pine, a block away, as the police had blocked all access to the park except for some press. The crowd alternated between sober, festive, and restless as people struggled to get information about what was happening from minute to minute. For some reason, a few of us were permitted by police around 4:30 AM to go right up to the opposite side of the street from Zuccotti Park, and it looked as though everything from the encampment had been demolished and was being thrown away by city cleanup crews, and the entire space hosed down. I can only imagine that this includes the demolition and discarding of the entire Sacred Space Altar, which now exists only in pictures. The crowd, which grew slowly over the next two hours, was heavy on young people, but by 5:00 AM contained a good number of middle-aged folks (like me, I suppose) and some seniors, too. There were many songs and chants and conversations about what to do next. The word came that the religious leaders of OccupyFaithNYC were going to rally soon and that a new stage of the Occupy movement in NYC would come about as a result. Groups of hundreds of us made our way from Zuccotti north to Foley Square, where we held a General Assembly as the sun rose. The announcement was made that apparently Judson Memorial Church has opened its doors to help those displaced from Zuccotti Park, and I know that requests are being made of other churches in lower Manhattan to become something like a "sanctuary" for the Occupy movement, especially Trinity Wall Street. By early this morning, I had to leave Foley Square so I could teach at Fordham in the later morning. From what I can tell, things are now moving hour to hour, and this morning's forcible eviction will no doubt only increase participation in the massive day of nonviolent direct action scheduled for this Thursday.
Just yesterday I was teaching the theology of Indonesian theologian Johannes Banawiratma, who has argued that churches not only imagine their action in relation to their local culture as consisting of Christians alone but, moving beyond a Christian "base community" concept — already a stretch for many North American churches — churches share a commitment to a transformed world with other religions and the nonreligious as well, and so should create spaces that generate local "human communities" grounded in a "spirituality of openness" that includes space for prayer, social analysis, immersion in local culture, and good pastoral planning of the sort that defenders of the "pastoral circle" have been defending for three decades. It is something very much like this vision that is going on in the Occupy Faith movement here in New York City: cooperation among not only Christian denominations but among religions, and between the religious and the nonreligious.
Here's a link to an interesting interview with David Crosby and Graham Nash about Occupy Wall Street (sorry about the ad). Below is their OWS performance.
Mary McDonough
Next Page »