Pages
Categories
Contributors
Recent Posts
Recent Comments
Recommended
Archives
I am writing from Philadelphia, where the Occupy National Gathering began on Saturday and will continue through the 4th of July. The purposes of this event, a kind of conference supported by many of the Occupy sites in the USA, include comparing notes on shared concerns of the various Occupations and planning for the future of Occupy. In fact, the National Gathering is to host an all-day "Visioning Process" on July 4th to generate ideas to inform Occupy's future.
I wonder whether Occupy is dying what may be an inevitable (if drawn out) death, from which something new must and will eventually emerge. I suggest this because of the funk that the movement has generally fallen into since the shutting down of the Occupations last fall across the country by police newly equipped and trained to behave like local armies. Many Occupations continued to work for peace and justice, and raising consciousness about income inequality and related issues, in myriad ways after their eviction from public spaces. (For many examples of these sorts of activities, and especially if you are one of the many otherwise intelligent people who think that Occupy is only "hippies" parading around parks, please peruse the last nine months of updates on the websites or Facebook pages of any of the many Occupations).
But here at the National Gathering, I cannot shake the feeling that the movement is withering. I don't know how many protesters are here, but I would guess somewhere between 400 and 600, give or take, so far. Many who are here (my impression only) seem to be, understandably, some of the most activist-minded, diehard Occupiers. Middle-aged and senior persons are much less evident than they were last fall. And including children (and therefore parents of school-aged kids) does not seem to be a priority here — again unlike (my experience of) Occupy last fall, when we had encampments and momentum.
And there seems to be too much interest here at the National Gathering (and this objection has been raised about other Occupations) in provoking confrontation with the police. This provocation happens at the cost of making the best of the movement — that it represents an array of the soul-deep grievances of most Americans — invisible to the very people we need to reach, and who were in the process of being reached last fall. The survival of Occupy is utterly dependent on successfully inviting others to consider that most of us are subject to an insane system, in and through "democratic structures," of corporate influence, militarism, and hostility toward the disadvantaged (from the rise of the prison culture to general indifference toward good and accessible education for all).
At the National Gathering this weekend, there have been several standoffs with the police, leading to multiple arrests and
On Mayday, I was in the parks and streets of Manhattan for #M1GS, the May 1st General Strike, a daylong gathering called by a coalition of dozens of labor organizations. Like many, I was there under many motivations: as a participant in Occupy Wall Street and Occupy Faith NYC, as a member of the labor union and advocacy organization the American Association of University Professors (AAUP), and as a theologian. I joined tens of thousands in New York City and around the country, and hundreds of thousands around the world. I noticed workers of all kinds, labor union members, Occupiers, community organizers, seasoned activists, first-time participants, and all manner of allies who cheered us on from the sidewalks, fire escapes, and opened windows in the tall buildings along the march route.
There were apparently a few dozen arrests, though I did not personally see any over the course of seven hours. (Nor could I afford to get too close if things got too hot, because I needed to be free to teach the next day.) I arrived in the early afternoon at Bryant Park to find a thousand or so people getting warmed up with teach-ins, leafletting, conversations, sign-making, and picture-taking. There were also dozens of people carrying guitars (and a few basses and banjos), rehearsing for the Occupy Guitarmy, an all-volunteer guitar ensemble led by renowned rock guitarist Tom Morello, of Rage Against the Machine and now The Nightwatchman.
I was concerned because I thought that a thousand or so people would be a poor turnout for such a hyped-up event as this General Strike. But things changed quickly.
Around 2:00, we began marching to Union Square Park, and arrived there about 75 minutes later. As we marched, more people began joining in, and by the time we go to Union Square, there were many thousands more waiting for us. And people kept streaming in from all sides for the next couple hours. Tom Morello and a contingent from the Occupy Guitarmy played a few songs…
(Note: video contains a few obscenities, heartily sung)
…there were brief speeches about solidarity and economic justice from people representing different labor organizations, and there was plenty of Latin music to aerate everyone's spirits in preparation for the long march to Wall Street.
A couple dozen members of Occupy Faith NYC gathered near the Gandhi statue in the park, where I joined them, and around 5:30 we began to move in a march with some 30,000+ people down Broadway all the way to lower Manhattan, a slow journey that took some three hours.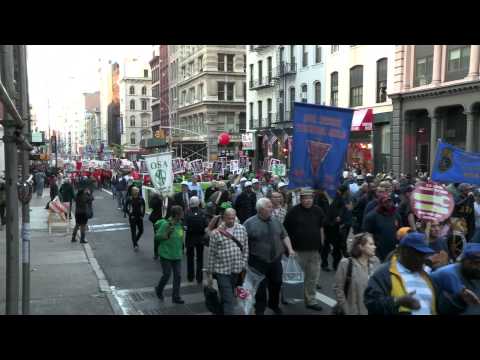 As the thousands of different banners, placards, signs, tattoos, shirts, headgear, songs and chants avowed, there was no single reason for being there, but I think it is fair to say that a great many of those gathered could endorse two basic theological statements: negatively, the market is not God; positively,
For the New York Times, Ginia Bellafante has recently written this article relating the Catholic Worker to Occupy.
R&T readers who are interested in these matters should know that Occupy, in conjunction with dozens of other organizations dedicated to the equitable sharing of social resources, is calling for a General Strike in the United States on May 1.
For more information, see the latest from the Occupy Wall Street website here, or the MayDay NYC website here, or the InterOccupy site for various May Day General Strike cities here. Occupy Catholics are here.
Rock guitar wizard Tom Morello, of Rage Against the Machine and many other collaborations, will be leading a "Guitarmy" on May 1st in NYC as part of the General Strike. Information on the Guitarmy is here.
Here is Morello on #OWS: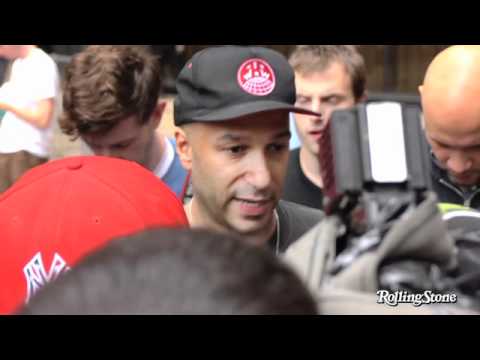 As I have mentioned many times here at R&T, various artists and spiritual teachers have endorsed
Theologians in the academy today often work with official religious texts as sources for intellectual production, and we tend to treat other potential sources (like art) as misrecognized books, as texts in nontextual form.
But I have become convinced that such an approach to theology, uninterrupted by the complexities of the socio-cultural-political effects of theological discourse, tends toward decadence (albeit sometimes useful academic promotion for the particular theologian). That is a "bad" kind of decadence, not a "good" kind, because it proceeds to pile up research that selectively buttresses the reproduction of one form of life (academic), at the expense of other learning and other interventions that impact the cultural worlds that produce the texts in the first place, that academics later use for our theological surgeries.
This is a convoluted way of saying that, due to academic socialization among other things, we have a difficult time understanding where our work comes from and what it is for. I count myself among those caught in these thickets and have tried in recent years especially to explore and resist that particular kind of theological decadence.
As one alternative, we can turn to the streets and see what people want to hear and what musicians want to play. And work theologically from there in a way that does not immaturely discard a tradition, but resituates it critically with respect to the present. Just today, I read in America magazine that the International Theological Commission recently put out a study titled "Theology Today: Perspectives, Principles and Criteria," which includes the statement that "Theology should strive to discover and articulate accurately what the Catholic faithful actually believe." As the America editors write, "dialogue with the world is a distinguishing characteristic of theology today." (Note to self: write a future post on going beyond the 'church-world' polarity in descriptions of theological research.)
A few suggestions about where to look for how people are finding material that is of theological significance "on the street": Here are two examples of popular musicians playing recently at Occupy events.
First is Tom Morello and Ben Harper and "I Believe There's a Better Way." An anthem that manages to be both aggressive and demure, calling on a yes to a world that perhaps cannot even be envisioned. In a word, hope:
Twenty-five years ago, Living Colour played "Open Letter (To a Landlord)," an anthem exhorting their listeners to commit themselves to vulnerable populations in the inner city, the displaced, the inadequately housed, the — for most 1980s rock fans — invisible persons in urban life.
They are still playing it, and perhaps even better than ever, as shown from this clip from a live show in 2007:
In the United States, discussions and activism about the right to decent housing, a basic human necessity, has expanded from the inner city to the suburbs in the wake of the 2008 economic collapse and the foreclosure epidemic and scandals. Many working class and middle class families have providers who lose their job, or fall a paycheck behind, and soon lose their houses, and have no legal representation or adequate recourse to negotiate with banks.
As I have recounted here at R&T, I have been involved in Occupy Wall Street since last October. In addition to our commitment in the Occupy movement to policies and social practices that combat material, intellectual, psychological, and spiritual poverty, many Occupy sites have committed themselves to helping families who are losing their homes to foreclosure. Here is a story about a recent success in saving the home of the civil rights activist Helen Bailey.
In addition to civilly disobedient actions like occupying foreclosed homes and helping families move back in, Occupy has been visiting foreclosure/auction hearings and singing a song called "Mr (or Mrs) Auctioneer." The idea is to appeal to the moral sense of the court and the bank to halt the sale of the house and try to go back to the negotiating table with the family. Dozens of arrests have been made of Occupy participants singing at these hearings.
Here is an example from last October:
The Occupy movement is about to turn four months old, and already is planning a host of events for 2012. (See Occupy Together and InterOccupy for news on the larger movement, and Occupy Wall Street for NYC-related developments.) Occupy Together lists 1508 Occupy sites globally. Some of those are physical occupations with tents and the like, while many have been evicted and exist for the moment as meetups and planning groups that focus on events and periodic gatherings. Occupy Wall Street's Facebook page has over 360,000 followers and continues to grow daily. Just this week, Occupy Nigeria (new Facebook here) has been in the news.
In the United States, the movement is entering its second phase in most places, beyond the intense initial fervor and international publicity about campsites, and under the challenges of winter weather in some parts of the country. There is hope among many activists for a robust springtime of events, which will roll into a heady summer and crescendo in 2012 with the fall elections.
As readers may know, I have been involved with Occupy Wall Street from early on, and with Occupy Faith NYC (Facebook here, website here), an interdenominational/interfaith/interreligious group that supports Occupy. A meeting of some Occupy faith/religious/spiritual leaders from around the USA took place in NYC recently, and there may be another coming up in March on the West Coast. In short, though Occupy may have faded from front page news coverage, the movement continues, though it clearly faces challenges.
Here are the top five challenges I see for Occupy in 2012, in no particular order:
Part one of this 3-part series by Kathryn Anderson is here. Part two is here. Part three is below:
*
I take issue, however, with the energy that the Occupy Movement directs toward the line that separates the 99% from the 1%. Make no mistake: I'm maintaining that the 1% can and must be called to account for abuses of power, for a perverted sense of justice, for blind loyalty to profits ahead of human life. Structures of sin are structures that require dismantling. But I object to the vilification of the richest because I know that Jesus loves the 100%, not the 99% alone. I know that God created, in God's own image, the 100%, not just the 99%. And I know, if we are to transform our society and economy, we need — we are called — to invite the 100% to join that transformation.
I wrote earlier that the Occupy Movement's strength is in inviting the disenfranchised to the dialogue about our society and our economy. I propose that a theology of Occupy Movement is one of invitation, something that Jesus did well and always. The story of Jesus' ministry is one of invitation to an abundant way of life. In fact, Jesus' very Incarnation was an invitation to humankind. By taking on our humanity, Jesus invited us to share in his divinity, to take up residence in the Kingdom of God. And he invited us to join him in building that Kingdom.
So far, the Occupy Movement is doing a decent job of inviting the disenfranchised to the conversation. That's their mission. They've been criticized for leaving some voices out, but they are trying to make democracy a public conversation. In doing so, they are empowering the marginalized to claim their dignity, ability, and worth. That's resonant with the Catholic Social Teaching emphasis on the preferential option for the poor and on participation. As DeBerri and Hug put it in their compendium of Catholic Social Teaching, "The opportunity for democratic participation in decision making is the best way to respect the dignity and liberty of people."
Part one of this 3-part series by Kathryn Anderson is here. Part two is below:
*
I want to engage the Occupy Movement critically and challenge it to be more articulate or consistent. It's because I firmly believe that our economic system is unjust and must be transformed and because I believe in the power of the Occupy Movement to affect positive change that I want to offer criticisms of the theology the movement expresses and challenge it to be authentic — in order to be truly transformative.
First, I believe that the Occupy Movement is right to identify massive injustices in our economic system. I understand why the protesters feel disaffected. Three years of faithful payments have gone since I finished grad school, and the amount I owe on my student loans is still greater than my yearly salary. But I know that my case is hardly the worst of it. Many families are faring far worse. The Catholic Campaign for Human Development offers an excellent resource on the difficult decisions that families at the poverty line face each day. For many families, economic hardship predates the current recession — it's just a fact of life.
The U.S. Catholic Bishops and the Vatican have not been silent. In their 1986 letter Economic Justice for All, the U.S. Bishops demanded a moral voice that guides for our economic system, one that will safeguard the well being of the poor and uphold the value of human life and dignity. The Pontifical Council on Justice and Peace echoed that sentiment in their October 24th, 2011 statement: "The economic and financial crisis which the world is going through calls everyone, individuals and peoples, to examine in depth the principles and the cultural and moral values at the basis of social coexistence." The Council maintains that the current economic crisis comes from a failure of moral vision and a failure to place human life at the center or our economic system.
And Catholic Church leaders remind us repeatedly that the increasing wage gap amounts to a structural sin. The chasm that separates the rich from the poor isn't unfair; it's sinful. A sinful structure is like a web, a system that keeps us from doing good, that violates the common good systematically, that stifles authentic human development, and is contrary to the will of God.
My friend once made a t-shirt with stick-on letters that read, "You can't serve God and corporate interest." That shirt didn't pull any punches, and it speaks to structural sin. Corporations are legally bound to seek the best interest of their shareholders. Even if they are well-intentioned, the board and management are obliged to steer the company in a direction that will maximize profit, even if the choices they make oppress the poor and violate the common good. This is a structural sin: despite best intentions, we have made it impossible to do good.  This sin must be repented of and atoned for. In drawing attention to it, the Occupy Movement is a prophetic voice.
I am grateful to Kathryn Anderson for her guest contribution to R&T, a short series of Catholic theological reflections on the Occupy movement beginning below. Ms. Anderson is director of social justice ministry at Centro Altagracia de Fe y Justicia in North Manhattan. Before coming to New York, she studied pastoral ministry at Boston College's Institute for Religious Education and Pastoral Ministry and worked in parish social ministry at the Diocese of Houma-Thibodaux, Louisiana.
*
Recently, I joined my coworkers from a Jesuit community organization in Northern Manhattan in a march called "End to End for the 99%," a day-long campaign to rally support along the length of the island for the Occupiers at Zuccotti Park. We joined the march at 181st Street and carried our banner down Broadway, stopping in Harlem at 125th Street; passing through the throngs at Times Square at 42nd Street, and finally arriving at Zuccotti Park in Lower Manhattan just as the sun set. For much of the march, I felt proud to be calling attention to economic injustice. As I cheered for democracy and for the 99%, I felt part of the movement. But as the afternoon wore on, I stopped hearing the breadth and expansion of "We – are – the 99 percent!" and I started hearing the line between 99 and one, a shift that left me deeply troubled. As I walked, I wondered how a theology of Occupy Wall Street could clarify our purpose and ideology, while inviting Catholics and other people of faith to engage with the movement with confidence and conviction. This post offers the beginnings of a theology for the Occupy Movement. It aims to identify the theology expressed by the movement as it stands and proposes a more consistent, authentic theology that Catholics can use as a resource to open conversation and to guide their decision-making.
Of course, it's impossible to speak of everyone in the Occupy movements as if they all think alike. They have a variety of motivations and convictions.  Still, there are plenty of ideas that can be identified with the movement in general. The movement proclaims the dignity of the poor, the unemployed, and the voiceless. The movement also proclaims the value of human persons and human lives over corporations. Two signs that I saw at the march or at Zuccotti Park expressed that conviction: one said, "I'll believe corporations are people when Texas executes one." The second sign, more pithy, read, "Love People Not $." At Zuccotti Park, the Occupiers were working in teams to manage food preparation, sanitation, public relations, and other tasks. They recognize that each member of the movement has something to contribute. Both the statements the Occupiers make and the way the camps are organized express a theological anthropology that is primarily positive (in other words, a theological system that claims the fundamental goodness of human persons).
What's inconsistent about this theological anthropology is what's implicit in the chants and signs: it's the 99% who are fundamentally good. Bankers and financial workers are vilified. A friend said to me, in jest, "Jesus loves the 99%;" the "Occupy, Catholics!" blog has a tag line that reads, "We are the 99%, made in God's image." Those statements are meant to counter the prominent mindset, whether it's expressed in advertisements or our tax code, that money confers worth. They're not meant to imply that God doesn't love the 1%, but not all of the Occupiers understand that nuance, I'm afraid.
Furthermore, there have been a handful of signs calling for class warfare. I felt a militant tone that at times settled over the march along Manhattan; one of my fellow marchers had signs calling for the overthrow of our government and claiming that the war had begun. These signs and chants betray a theological anthropology that is not fully positive.
Part 1 of this reflection is here.
I am thinking out loud about theology of protest in the context of the Occupy movement. As I mentioned in part one, this is going to have to be a reflection that reflects some specific religious/spiritual background(s) and at the same time that is troubled by and attempting to take up residence within the multi-, non-, and post-religious heterogeneity of the Occupy movement.
In the Christian tradition one can find what is often called a mystical tradition, which has to do with thinking the experience of a relation to "God" under the sign of some dialectic of radical transcendence and radical immanence: the "more" as the "now" and the "now" as the "more". Or in other language, God's uncontainable mystery exceeding creation is also God's incomprehensible intimacy with creation.
Such a claim cannot be "validated" by any single religious tradition "on its own" because religious traditions are not the selfsame coherent phenomena, producing "deep claims" apart from cultural context, that scholars have often longed for them to be, and because in our pluralistic Occupy movement, all religious/spiritual/faith claims are provisional and contingent amidst the pluralism. But that does not mean they are unimportant or ineffective for activism. One does not need reasons or motives that are unassailable or thoroughly proven through every potential religious and nonreligious interlocutor, in order to live, or even in order to risk oneself for another. One needs only reasons that are good enough, and that are perpetually open to revision. And for that matter, theological reasons or motives for action like Occupy just as well come after engagement and action as before it. Theological reasoning is as much, or more, an exercise in retrospection as a preliminary adjudication. So too with this very exercise: my invocation of a mystical tradition as a starting place is really not the starting place, but the place I want to test as a theological "station" or holding place for Occupy amidst its religious/nonreligious plurality. Any experience in Occupy and any specification of a theology of Occupy cannot be separated, just as any personal-cultural experience and any specification of a theology of or for that experience cannot be separated.
We do not need to think of this mystical tradition as a pure or perfect tradition in order to consider it one of the few handholds that may allow us to both speak of a specific grounding in a theological tradition, on the one hand, and a patient awareness of the openness of that very handhold to the pluralistic chastening it must undergo, on the other.
More to come–
Tommy Beaudoin, Hastings-on-Hudson, New York
Next Page »