Pages
Categories
Contributors
Recent Posts
Recent Comments
Recommended
Archives
Michael Iafrate initiated what has become a substantial series of reflections at R&T on the church and punk rock with a post in May 2009 here.
In the Chronicle Review, part of the Chronicle of Higher Education, Dr. Timothy Beal recently wrote a terrific piece displaying the substantial theological account of their actions left by the band Pussy Riot, who were recently sentenced to two years in prison in Russia — allegedly as punishment for their punk-rock protest. Michael Iafrate at R&T on the topic here. Wiki here.
Video of the "offending" event here:
Madonna, in Russia, defending Pussy Riot: "They have done something courageous. They have paid the price. I pray for their freedom."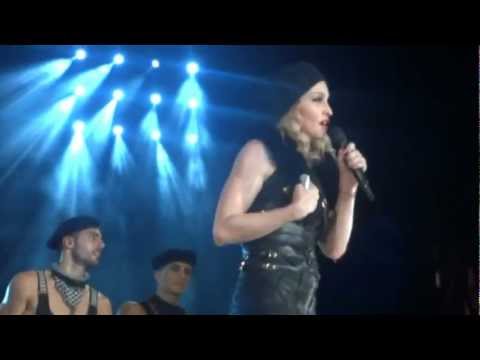 In his article, Beal very helpfully focuses on the way in which Pussy Riot's theological claims are rooted in Pauline writings about paradoxes, like the notion of holy foolishness (1 Corinthians), as they connect to Russian culture.
As I read Beal's summary of Pussy Riot's statements, I also detected echoes of Jesus' consolations or blessings (or "beatitudes") in the gospel of Matthew (5:10-11) in Tolokonnikova's assertion that "We are reviled, but we do not intend to speak evil in return." (This also seems to be a mashup with Jesus in Matthew 5:39, "If anyone strikes you on the right cheek, turn the other also.") Tolokonnikova takes this "beatitude" style of Matthew 5, as it is often called, and riffs on it: "We are in desperate
Michael Iafrate, an accomplished musician, a doctoral student in theology at the University of Toronto, and much more — including a contributor here at Rock and Theology — has just released a new EP, "No Matter How Deep the Darkness…". I just downloaded it, and you can, too (the price is whatever you want to pay).
Iafrate has also just given this interview to West Virginia Rock Scene, discussing his new music and some theological considerations in relationship to it.
Here he is last year with his band, M Iafrate and the Priesthood:
I look forward to writing some reflections on this new EP here at R&T. Congratulations, Michael!
Tom Beaudoin
Ardsley, New York