Pages
Categories
Contributors
Recent Posts
Recent Comments
Recommended
Archives
September 2017
S
M
T
W
T
F
S
« Jan
1
2
3
4
5
6
7
8
9
10
11
12
13
14
15
16
17
18
19
20
21
22
23
24
25
26
27
28
29
30
Posted in: Ruminatio by Tom Beaudoin on October 20, 2013
My earliest memories from my Catholic boyhood date to the mid-1970s, when I would have been about 6 years old. Dave Nantais' recent post about Sr. Janet Mead and her rock and roll version of the "Our Father" prayer immediately sent me back to that era. I have vague but sure recollections of hearing and singing that arrangement of the song at mass in the '70s.
We also sang pop/rock-inflected hymns at "CCD" (religion classes during the week), and during retreats or other youth programs. There seemed to be a fair amount of theater/drama in our religious education, too. We could act out Bible-inspired skits or use primitive video cameras to record our own "commercials" (I did one for "Jesus Adds Life" as a riff on the commercial jingle "Coke Adds Life," and I pray that it never finds its way to YouTube).
My friends and I were both pious and irreverent at once. We prayed the prayers, received our sacraments, and respected our authorities, and I never once — not once — bothered to wonder whether there was any other or better route to God for me or anyone else than the Catholic road. I joined many friends in being a good altar boy for several years, and taking pride in excelling at it. But we were also at the same time being drawn into a world whose contours we could not fathom at the time: rock and roll — and its related allures, real and imagined: sex, the occult, "other" religions, hedonism, the musical life, and general untetheredness. As far as I can remember, we rarely saw any substantial conflict between being Catholic and loving popular (more…)
Posted in: General by Tom Beaudoin on July 5, 2012
Yes, on fireworks. Because here in the USA, many of us have just celebrated the 4th of July, or Independence Day. (Or as some now propose it be more fittingly called, Interdependence Day.)
As I was watching a fireworks show near New York City last night, I was wondering why I am so taken by them, and why so many other people are, as well. What makes those pops, streaks, shimmers, bangs, sizzles, whistles, all that arcing, spinning, soaring, fluttering, each of those high golds, hyper reds, starry whites so arresting? Is there anything about human life that makes us recognize ourselves in fireworks?
As I let myself once again delight in sizing up that uniquely predictable-unpredictable event called "fireworks," I realized that I myself was being sized up. The measure of my own life was being taken in each firework. Which one best expresses what I have lived and what can yet happen? Is my life, is yours, more like the understated primary-color circle that blows gently outward and fades gracefully, or more like the crackly yellow-whirling wildfish that, after seeming to fade, reburst into surprising rainbows of aircake?
Is there something about fireworks that calls to us about ourselves? Watching a fireworks show is like seeing in fast-forward so many ways of having existence go. There goes one lovely configuration, and here is a stunning one, there whimsical, here a confusing riot, there elegant, and the occasional tragedy, the "dud." Are fireworks a rehearsal and display of some truth about the flash of our existence?
Some communal rituals have found fireworks friendly elaborations of their purpose. For example, rock shows sometimes
Posted in: General by Tom Beaudoin on May 27, 2012
I'm not quite sure that's quite what is going on, but it looks like it might be close to accurate, in Andrew Dinwiddie's recent show (with Michelle Ellsworth) at the Danspace Project in New York City. I learned about it just yesterday from this review by Gia Kourlas. Kourlas describes a show in which Dinwiddie, as Paul Stanley of Kiss, "transforms […] until the rock star image takes on religious undertones." Sounds perfect for R&T. I wish I could go, but the brief run closed last night.
Here is Stanley with Kiss singing "I Was Made for Loving You" – not a song of inconsequence for those interested in religion. Now, can you imagine Paul Stanley's transformation toward "religious undertones"? How long or short a leap?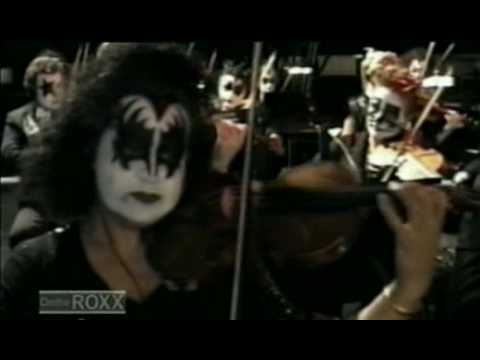 My earlier R&T reflection on Kiss is here.
Tommy Beaudoin, Hastings-on-Hudson, New York
I have a weakness for KISS that has come back to salt my palette every ten years since I first started listening to them three decades ago.
(And before I continue, let me insert here: Whatever you think of KISS, this particular performance of "Cold Gin" is close to a Platonic Form for a live hard rock show. One could write an entire treatise on authority by restricting oneself only to Gene Simmons' punctuative kicks.)
httpv://www.youtube.com/watch?v=1FiUvNvpzYY
When I was about ten, a grade school friend gave me the first KISS album at a birthday party, and I was aghast at what I thought was the satanic cover, showing the four band members' faces emerging from total darkness in full and — especially for a suburban kid — frightening makeup.
I rediscovered them around age twenty while I was in college and sinking happily into glam rock of the late 80s, like Ratt, Winger, Whitesnake, Kingdom Come, and I felt that these bands, in their foppish testosteronicity, reminded me of the delightful glam pop-rock sensibility that KISS had inaugurated.
Then, when I was about thirty, I frequented the Someday Cafe in Davis Square, Somerville (Massachusetts), while I was in graduate school. Someday (now, sadly, closed) was a hard-core coffee joint catering to the pierced, tattooed, and otherwise "alternative" college and young adult set in the shadow of Harvard and Tufts. Nothing was really "clean," and the bathrooms featured graffiti from floor to ceiling that would amuse any moderately educated person for hours. I remember Radiohead's "OK Computer" being played again and again. And the owner had placed every KISS album ever made on a ledge near the ceiling running the perimeter of the cafe. There wasn't much KISS played, that I recall, but those albums made some kind of statement about the okayness of the glam character of that late '90s moment, and so I checked them out again for a while.
Growing up in Independence, Missouri, I lived in two different "townhouse" complexes that were federally-supported housing for families hanging on to something like the dream of their own modest space in a relatively safe place. Most of the families were mostly lower-middle-class white families, with a few firmly middle-class as well as a good number of working-class folks. The education I received while living there in the 1970s-1980s, about the values and practices of nonelite white cultures, was probably as formative as my relatively deep and positive exposure to Catholic culture as a boy, or as my later formation in academic theological cultures as an adult.
In Independence at that time, there was a rolling interaction of that fairly narrow band of socioeconomic cultures, at school, at the mall, in our housing complex, and at an annual festival in downtown Independence called Santa-Cali-Gon (commemorating the Santa Fe, California, and Oregon Trails leading out of Independence). As classic evidence in the local lexicon for the importance of and anxieties around class, the annual festival was jokingly and derisively called the "white trash festival" by some of us who imagined that we could participate in that culture but not be touched by it. Whoever wrote this Santa-Cali-Gon entry is aware of the same class fear/identification as I was.
I was thinking of the kind of talk, music, camaraderie, ways of boy-girl interaction, and more as I thought about the recommendations people made in response to my recent post about music with "low cultural capital" today, music often presumed to be of little positive interest for theology. Whatever other class-based scoffings have been trained into me since I left Independence, I still find that I instinctively want to think about the ways in which this music is a part of people making sense of their lives, even as it symbolizes and enacts what holds people back. Placing a theological analysis of music in the context of lived life gets us away from preoccupation with a theological semantics of the songs or videos themselves, and moves us toward a curiosity about placing this music back in the lives of those who find it meaningful, available, or at the least unavoidable. Here are a few tunes from some of the groups thought of as lower on the musical food chain today. How do our relationships to these artists or songs, musically and spiritually, give us information about our social class? And what does that tell us for theological work?
*
This, anyway, was how my original draft of this post went. I spent a good deal of time sifting through videos that I wanted to add, for example, from Kid Rock and Insane Clown Posse. And I decided that someone who is better able than I am to show how these songs work culturally today should probably do this analysis. I had originally pasted up a few videos, but then could not stop wondering if abstracting them from their everyday use was contradicting the very point I was trying to make above.