Pages
Categories
Contributors
Recent Posts
Recent Comments
Recommended
Archives
It all began in 1915 with a double homicide. A union activist-musician was convicted of the murders and then executed in Utah even though he probably didn't commit the crimes. In his final telegram to another union organizer he wrote: "Don't waste time mourning —organize!" He also included a request to be buried outside the state because "I don't want to be found dead in Utah." A legend was born.
Fast forward to 1969 and the Woodstock Music Festival where Joan Baez performed a song commemorating the union organizer who had been executed, but not buried, in Utah: Joe Hill.
I am fascinated with the correlation between social movements and music. The two share a long history. I often wonder: Do social movements arise and music responds; or, do musicians grab hold of a burgeoning cause and promote it through song; or, do activism and music emerge independently only to unite into a powerful force? However you might answer that question there is no denying that a nexus exists between social movements and music, often with an underlying view of religion thrown into the mix.
David Dault's wonderful recent post," Think on These Things?," brings up important questions for R & T readers. Bishop Ricken's quote that "rock music, prurient or lewd films, access to Internet pornography, or student organizations that promote homosexuality all poison the entire ambience of the Catholic University and rob it of its identity" really hit a nerve with me. I have several problems with it but I'll only address two of them right now.
My first issue with the bishop's statement is the utter lack of nuance reflected in his use of the term "rock music." I would guess that Bishop Ricken doesn't know much about contemporary music. Still, that doesn't give him permission to make broad accusations debasing an art form that is no more homogenous than the "Christian" church. Rock music is diverse and includes bands as varied as the Beach Boys, the Beatles, Bob Dylan, Black Sabbath, Slayer, the Sex Pistols, Bruce Springsteen, Mayhem, Fleetwood Mac, and Van Morrison. Frankly, a 10-year-old child could differentiate between the musical styles and messages of these bands.
Moreover, not only does rock music have a positive place in American history and culture but it often promotes causes that the Catholic Church supports. Peace, love, economic rights, human rights, giving a voice to the marginalized, are just a few examples. Clearly there are elements of rock music—drugs, sex, aggression—that the Church, and many music fans I might add, do not like. But this doesn't mean that the entire genre is without merit. This utter lack of nuance, an "all or nothing" approach, is far too often used by the Church to arrive at the most implausible conclusions regarding many moral questions.
Every constellation of ritual, belief, and ethical practice that we call "religion" finds its way to inventing something like blessings for children, of more or less consequential form. Some such ritualizations are taken to be of deep consequence or significance — like naming, christening, baptism, confirmation, or becoming bar/bat mitzvah. Others are more ordinary though not necessarily less important for identity in the long term, like blessings during "routine" religious services, or special invocations or prayers when young people are gathered for special youth events.
Here in this video we have blues magicianmusician Susan Tedeschi and her band covering a Bob Dylan tune, which is an everyday prayer for a youngster: "Lord, Protect My Child."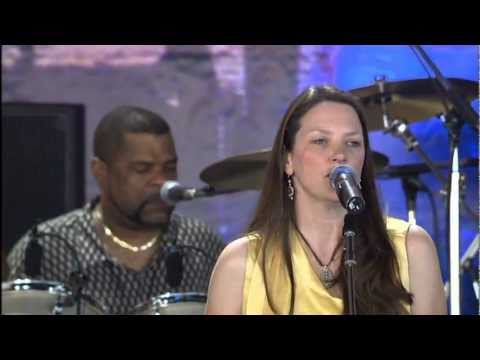 The song tracks the child as "he" grows up, with the parent continually asking for divine favor, especially in the event that the parent will not be around.
As a parent, I listen to this tune and feel a hefty equality between the two parts: the plea for blessing for the child, and the awareness that like many parents, I am, I hope, destined to die before my child. The plea of "Lord, protect my child" is not just about the child in childhood, but the child throughout her whole life. As I write, I can imagine that parents who have lost their children might have a different interpretation of this song. As I step back from the lyrics and think theologically about them, I can only assert that either all children are divinely "protected," or none are. The plea to protect "my" child can, finally, only be an affirmation that all children should be protected, and that divine "protection" is asked for not because anyone has a right to be immune from suffering and tragedy, but because we love our children with a love that awesomely exceeds what we could muster of our own accord. "Lord, protect my child," then means: "Let the love that carries my dreams for this child beyond my wishes for my own life be the very love that is active, effective, and felt right now — by this child, through me as a parent, and despite me as a parent."
Tommy Beaudoin, Hastings-on-Hudson, New York
The word sacred often comes up in R&T discussions. Sacred places, sacred events, sacred practices, sacred music. If you look up the definition of sacred you'll find phrases like "state of being holy," worthy of devotion, reverence," and "associated with the divine."
Last week I was once again reminded of the word sacred when I heard about Bob Dylan's guitar. Not just any guitar but the guitar. An electric Fender Stratocaster with a sunburst finish that not only changed the course of his career but represented a major shift in American culture.
On July 25, 1965 Dylan, up until then a folk musician, showed up at the Newport Folk Festival in a leather jacket. He took the stage, plugged in his Fender Strat, and ripped through a set of 3 loud songs. Today it's hard for us to understand the significance of his performance but back in 1965, Dylan was a folk music god. Devoted to the protest songs of Woody Guthrie, he was considered to be the voice of the next generation. The Newport Folk Festival was the holy shrine of folk music with a tradition considered sacred by many fans. Anyone who played rock music with its loud, more aggressive style was considered a "sell out." So when Dylan took the stage with his Fender Strat the shocked audience actually booed him. People behind the scenes say that Pete Seeger was so enraged during the performance that he wanted to cut the cord to Dylan's power source.
Recently some of us at R&T had a lively discussion about song covers and poaching (here and here). Coincidentally, on January 24 the cover of all cover CDs was released: Chimes of Freedom: The Songs of Bob Dylan Honoring 50 Years of Amnesty International. Comprised of four discs with a total of 73 songs, the CD is … hmm … it's hard to criticize a music project covering one of the best songwriters ever that also benefits a wonderful charity like Amnesty International. However, as a diehard Dylan fan, I'm disappointed in many of the tracks. Maybe it's because Dylan, with his unique voice and incredible phrasing, is really difficult to cover. Still, over the years people like Peter, Paul and Mary ("Blowin' in the Wind"), The Byrds (Mr. Tambourine Man"), and Jimi Hendrix ("All Along the Watchtower") managed to do it quite well.
The artists on this CD are remarkably diverse representing different styles of music (rock, blues, reggae, punk, rap, country), various nationalities (US, Great Britain, Iran, Somalia, Mexico), the old and young (Pete Seeger, Miley Cyrus) and even one dead person (Johnny Cash). Perhaps that's the problem. It's an incredibly eclectic bunch—Joan Baez, Pete Townsend, Sting, Ximena Sariñana, Ziggy Marley, Sugarland, My Chemical Romance, Cage the Elephant, Kesha, and the Dave Matthews Band (just to name a few). Several of the covers are flat, unrecognizable, or just plain odd. Not a good kind of odd but the kind of odd where you can't resist pushing the "skip" button.
Nonetheless, there are some gems here. Standouts for me include My Morning Jacket's "You're a Big Girl Now," Miley Cyrus's "You're Gonna Make Me Lonesome When You Go," (yes, I'm serious, it's really good), Adele's "Make You Feel My Love," Jeff Beck's guitar playing on Seal's cover of "Like a Rolling Stone," and Sinéad O'Connor's "Property of Jesus."
Speaking of "Property of Jesus," it and Eric Burdon's version of "Gotta Serve Somebody" are the only two songs on the CD from Dylan's "Christian Period." For any of you who are fans of that stage of his music, there's a wonderful DVD from 2005, with an accompanying CD, called Gotta Serve Somebody: The Gospel Songs of Bob Dylan. Featuring some of the country's best Gospel singers covering Dylan's Christian-themed songs, these people can sing Dylan. Their passion, dedication to the genre, and incredible voices make the music and its message come alive.
Mary McDonough
I've been thinking of late about Michel de Certeau's The Practice of Everyday Life.  In particular, I've been thinking about the claim de Certeau makes in his introduction that "everyday life invents itself by poaching in countless ways on the property of others" [xii].
Elvis Costello swiped the quotation from Lionel Trilling (or was it Picasso?) to the effect that immature artists imitate, and great artists steal.  As I look back at the history of Rock 'n' Roll, from Pat Boone to Elvis to the Beastie Boys, I'm struck that the genre has moved forward by hefty amounts of creative "borrowing" — Page and Clapton borrowed blues riffs, Captian Beefheart borrowed from Howlin' Wolf, the Police borrowed Reggae.  To borrow a phrase, "it goes on and on and on and on."
So, for the next few days, I'd like to reflect on some aspects of poaching, on the various ways the economy of Rock 'n' Roll depends upon various forms of borrowing (or stealing).  Along the way, I invite your responses and comments, as well as your own thoughts and examples about how poaching works.
Probably the best known style of poaching in Rock is the cover song.  However, the practice is not consistently rewarding.  Often, covering a song becomes an exercise in a bad sort of repetition.  Aping a style or a sound, and adding little to the puzzle in the process.
I'm going to start here with a controversial example, Dylan's "Knockin' on Heaven's Door" — partly because it's one of the most-covered songs of all time, and partly because it's a song that I really have little appreciation.  Three chords and twenty-three words.  It's a dirge (in my humble opinion).  It's a bore.
And yet, it lives on, like a Frankenstein monster.  I've picked three versions here to illustrate this first type of poaching — versions that borrow and add little, if anything, to the artifact.  Just copies and copies and copies of a lost original.
To prove the point (about the lost original part, especially), let's start out with Dylan, basically covering himself:
Clapton managed to redeem it, for a season, with (in my opinion) the most palatable poach to date:
And then there's the version that just kills the song dead in its tracks (and, in my humble opinion, perhaps the least interesting cover in the whole history of Rock):
In subsequent posts, I will take up examples of covers that are actually challenging and worthwhile reinventions of songs, among other issues.  For now, though, I invite your thoughts.  And feel free to steal mine.
- David Dault, Memphis, TN
Irish writer Oscar Wilde once said, "I sometimes think that God in creating man, somewhat overestimated His ability." Perhaps he was right. People never seem to get their facts straight. Try reading Wikipedia. You'll be amazed at the inaccuracies. Still, I have friends and students who swear by the website.
Sometimes mistakes can be funny. Recently I picked up a used copy of Gavin Edwards's book, 'Scuse Me While I Kiss This Guy and Other Misheard Lyrics. It's a silly little book full of commonly misquoted song lyrics. The following are some of my favorites.
From The Steve Miller Band song "Jungle Love": "The question to everyone's answer is usually aspirin and gin." The actual lyric is "The question to everyone's answer is asked from within."
From Led Zeppelin's "Stairway to Heaven": "And there's a wino down the road, I should have stolen oreos." The actual lyric is "And as we wind on down the road, our shadows taller than our souls."
From Debbie Harry's "French Kissin' in the USA": the title lyric is misquoted as "Franciscans in the USA."
From Bob Dylan's "Blowin' in the Wind": "The ants are my friends, they're blowin' in the wind." The actual lyric is "The answer my friends, is blowin' in the wind."
Wow, people really do get things screwed up. There are, however, different levels of screw ups. It's one thing to misquote a song lyric but a very different thing to misuse information or misconstrue words in such a way that harms people. Words, their meanings and interpretations, are important.
Theological texts seem to be some of the most misquoted and abused. I'm particularly irritated by biblical text-proofing, a practice of interpreting tiny fragments of scripture in isolation from, and often, in opposition to, their context. Text-proofing has been used to justify many heinous acts and beliefs including: the waging of wars, the Nazi's extermination of Jews and the promotion of homophobic and misogynistic views. Another example, recently in the news, is California preacher Harold Camping's prediction, based on his whacky text-proofing, that the world would end on May 21. Ads donned billboards across the US declaring the end is coming because "The Bible Guarantees It." Most of us recognize a lunatic when we see one but Camping has a group of followers many of whom took extreme actions such as quitting their jobs and spending down their savings to prepare for the Second Coming. Now he claims the "end" will come on Oct. 21.
What's the lesson here? Words matter. They have ethical implications. Choose yours carefully.
Writing on this subject reminded me of a Bob Dylan song that exposes the hypocrisy of war and questions the notion that God takes sides in a conflict. I couldn't upload the video but you see him performing "With God on Our Side" here.
Mary McDonough
"Here's the thing with me and the religious thing. This is the flat-out truth: I find the religiosity and philosophy in the music. I don't find it anywhere else. Songs like 'Let Me Rest on a Peaceful Mountain' or 'I Saw the Light' – that's my religion. I don't adhere to rabbis, preachers, evangelists, all of that. I've learned more from the songs than I've learned from any of this kind of entity. The songs are my lexicon. I believe the songs."
- Bob Dylan, Newsweek, 1997
Michael J. Iafrate
Parkersburg, WV
From Rock and Theology to Rock and Jurisprudence: In yesterday's print edition of the New York Times, Nate Schweber has an article about a conference at Fordham that took place this week on "Bob Dylan and the Law." You can read the program here. According to Schweber's article, Neil Young may be the topic of the next conference.