Pages
Categories
Contributors
Recent Posts
Recent Comments
Recommended
Archives
September 2017
S
M
T
W
T
F
S
« Jan
1
2
3
4
5
6
7
8
9
10
11
12
13
14
15
16
17
18
19
20
21
22
23
24
25
26
27
28
29
30
Posted in: Reviews by Tom Beaudoin on December 15, 2013
Last night in New York City at Brooklyn Bowl, I saw guitar guru Anders Osborne and his band perform for a New Orleans-rockish, groove-heavy, guitar-blistering 2-hour set. I had never heard of Mr. Osborne's music, but a friend turned me on to his status and accomplishments among the lick-heavy jam-band blues-loving crowd. Think of an overlap between Phish and Black Crowes fans.
One of my favorite tunes from the night was the heavier song "5 Bullets." Here is the track:
Here is Mr. Osborne live with "Burning on the Inside":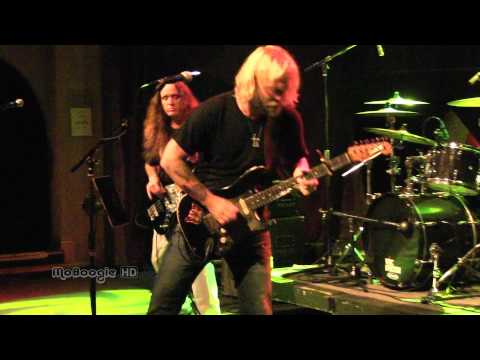 As I watched him play, I was taken by his ability to show through his bodily stances the sounds of his guitar and the feelings/meanings those sounds harbor, letting himself be taken away especially by the experience of resolving chords, so that as he thrummed a chord at the end of a phrase, his arms
would flange backward or his body would stagger askance, as if disoriented by the impact of a rockish meteorite. The more he showed us what it felt like to play the chords that brought things together, and the more his bass player responded by leaning toward him and pressing hard into blues-based basslines, it dawned on me that the communication that was taking place between the musicians was not reducible to concepts, ideas, or words. Moreover, it never would be.
If theology is to say anything about how musicians relate to each other in the musical moment, it will have to find ways of saying that theology is as much about feel and sound as about words and notions. It could be said that because musicians communicate nonverbally with each other, only through their playing, that music outstrips any theology, because theology is a conceptually-driven discourse. On the other hand, if music is the ground of conceptuality, if all ideas are ultimately drawn from sound, silence, and time, then theological concepts are musically generated. And the border between theology and music would be impossible to secure.
Theologically speaking, is Mr. Osborne's genius in musically communicating the incommunicatable, or in showing how incommunicatability is at the origin of the drive to communicate conceptually?
Tommy Beaudoin, Hastings-on-Hudson, New York
No Comments »
No comments yet.
RSS feed for comments on this post.
Leave a comment