Pages
Categories
Contributors
Recent Posts
Recent Comments
Recommended
Archives
October 2017
S
M
T
W
T
F
S
« Jan
1
2
3
4
5
6
7
8
9
10
11
12
13
14
15
16
17
18
19
20
21
22
23
24
25
26
27
28
29
30
31
Posted in: Ruminatio by Tom Beaudoin on October 20, 2013
My earliest memories from my Catholic boyhood date to the mid-1970s, when I would have been about 6 years old. Dave Nantais' recent post about Sr. Janet Mead and her rock and roll version of the "Our Father" prayer immediately sent me back to that era. I have vague but sure recollections of hearing and singing that arrangement of the song at mass in the '70s.
We also sang pop/rock-inflected hymns at "CCD" (religion classes during the week), and during retreats or other youth programs. There seemed to be a fair amount of theater/drama in our religious education, too. We could act out Bible-inspired skits or use primitive video cameras to record our own "commercials" (I did one for "Jesus Adds Life" as a riff on the commercial jingle "Coke Adds Life," and I pray that it never finds its way to YouTube).
My friends and I were both pious and irreverent at once. We prayed the prayers, received our sacraments, and respected our authorities, and I never once — not once — bothered to wonder whether there was any other or better route to God for me or anyone else than the Catholic road. I joined many friends in being a good altar boy for several years, and taking pride in excelling at it. But we were also at the same time being drawn into a world whose contours we could not fathom at the time: rock and roll — and its related allures, real and imagined: sex, the occult, "other" religions, hedonism, the musical life, and general untetheredness. As far as I can remember, we rarely saw any substantial conflict between being Catholic and loving popular music. I felt some shock when an altar-boy friend of mine gave me the first Kiss album for my birthday around 1979. I tried to hide it because of its "obscene" (or so I thought) cover, but I liked listening to it.
As I watched and listened to Sr. Mead, I thought back to all of this, to how much I listened to Godspell, was exposed to the '70s Catholic Charismatic movement, and I considered how much of the present configuration of Rock and Theology might be rooted in my experience of 1970s Catholicism. When I had the initial idea for Rock and Theology in 2007, it was occasioned by a story about the rock-and-roll playing monk, Notker Wolf. I wonder now whether Wolf reminded me of the 1970s Catholicism that I drank in so strongly.
Thinking about this, as I watch YouTube, I see this hardly-watched video, "I Miss Catholicism from the 1970s":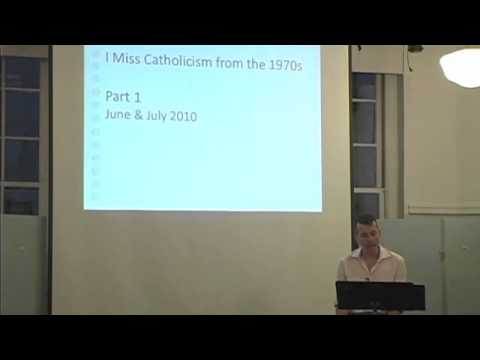 R&T had as its initial charter the charge to relate "religious" things to "secular" things, to explore why rock and roll matters for those who are committed to religious claims and practices. I see now how much of this program was a recapitulation of my 1970s Catholic experience: bringing together music and faith, critically exploring how the God known on Christian terms is unrestricted and at play in all music.
Thank goodness that many other R&T contributors and readers have taken the project in unexpected directions and made it much more rich than I could have planned. Still, no doubt I remain closer to the example of Sr. Janet Mead than I am able to admit.
Tommy Beaudoin, Hastings-on-Hudson, New York
1 Comment »
Absolutely brilliant, Tom. Your post brought back so many memories. It reminded me how thankful I am for having been raised in a family that embraced Catholicism but also encouraged us to embrace political activism and even rock & roll. After reading your post, I realized something I hadn't completely put together before: my interest in music, ethics, and social movements comes from my Catholic childhood where music, faith, and activism were integrally connected. Thanks for the insight.

Comment by Mary McDonough — October 21, 2013 @ 10:14 am
RSS feed for comments on this post.
Leave a comment