Pages
Categories
Contributors
Recent Posts
Recent Comments
Recommended
Archives
I have been following with interest the remarkable quantity and energy in the news reports about Pope Francis. Many, especially those that feature interviews with academics, take care to emphasize "tone" as distinct from "teachings," as in: the tone has shifted, yes, and dramatically so, but teachings have not been altered one iota.
This is accurate, but only in the narrowest sense, and does not go very far theologically. Tonight at Fordham I was teaching the work of the theologian Seward Hiltner, who argued that in every discipline, and quite evidently in a trench-like field like pastoral theology, culture and faith exercise a potentially mutual influence on each other. Every theology, he underscored, is effectively a conversation between faith and culture, however explicit or implicit. This is most obvious when the theologian is theologizing "on the fly," as a hospital chaplain does, but is just as true for any other theological field.
One corollary of such an approach is that one cannot maintain too strict a separation between "tone" (read: culture) and "teachings" (read: tradition/faith). Indeed, theological research into everyday belief and practice most often shows what social science theory would predict: that in "real life," people who consider themselves to be religious or spiritual do so with respect to the tones of Christian leaders as much as any teachings. In a way, tones can become operative teachings. For example, if a religion teaches against same-sex relationships, but the local religious leader soft-pedals that teaching and instead actively welcomes same-sex couples and their children, then the "tone" has become the de facto "teaching" for many.
All of this reminded me of Phil Collins and Genesis. I don't know how Collins' music became so maligned in pop culture in the last couple decades, but in the 1980s almost everyone loved his music. He is an extraordinarily accomplished songwriter, singer, and drummer, who managed not only a highly successful solo career, but a key role in an innovative and also very successful rock band (Genesis). But somehow it's not cool to like his music now, or at least that is the impression I get. Still I want to say a word about the Genesis song "Tonight, Tonight, Tonight."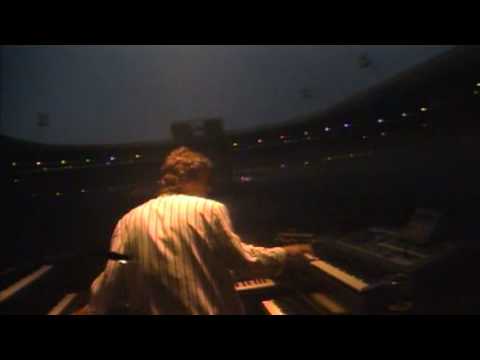 As I've followed the news coverage of Pope Francis, I think of "Tonight, Tonight, Tonight" as a somewhat lonely and righteous soliloquy for/by Pope Francis. He is obviously trying very hard to rid the papacy and the Catholic Church of a set of associations with which they have become encrusted over the past several decades. He knows the Catholic Church faces a membership/affiliation crisis of massive proportions. He is working with dexterity and ingenuity to outmaneuver not only forces of inertia in the Roman Curia, but decades (and more) of Catholic ethnocentrism and churchly self-satisfaction.
Phil Collins and the band set the tone for the task: ominous yet melodic, restless and searching, unnerved by the weight of the past, crying out "enough!" So he sings: "Like a load on your back that you can't see, but it's alright / Try to shake it loose, cut it free, just let it go, get it away from me"
He is going for it: "Tonight… we're gonna make it right."
There are even references to the phone calls that Francis has been making to people who write him letters. (That "money…ready to burn…don't remember where I got it" reminds me of the social capital/prestige he inherits simply by being declared pope, and he is using some of it to make these "calls", literal and metaphorical.)
As for the fate of what will happen "tonight," the song is not hopeful, but like many good pop songs, it lets the ambiguity of the "it's alright" be carried into something lovely by the beauty of sound. Or is it tone?
Tommy Beaudoin, Hastings-on-Hudson, New York
1 Comment »
Tommy,
Excellent post! I'm going to ask my Rock, Hip-Hop and Religion students to read it and discuss.

I'll throw in my 2 cents regarding why Phil Collins is so maligned in pop culture. There's a scene in the film "High Fidelity," based on the Nick Hornby book of the same name, where Barry (played by Jack Black) asks his friend Rob (played by John Cusack) to come up with a top 5 list about Stevie Wonder. A customer in Rob's record store had just asked for a copy of Wonder's single "I Just Called to Say I Love You" and Barry shames him out of the store for asking for such "tacky, sentimental crap." Rob confronts Barry and Barry responds:
Barry: Rob, top five musical crimes perpetuated by Stevie Wonder in the '80s and '90s. Go. Sub-question: is it in fact unfair to criticize a formerly great artist for his latter day sins, is it better to burn out or fade away?
It is my experience that hard-core Genesis fans think that Collins has "sold out." This was one of the best progressive rock drummers of all time–he even formed a very influential fusion band called Brand X that several of the best drummers in the world have cited as an influence. In recent years, however, Collins has been covering Cindy Lauper songs and putting out what amounts to easy-listening music. Those who were fans of Genesis and Collins from the early 70′s do not believe these "latter day sins" are worthy of such a great talent. I'm not defending their point of view, I'm just trying to help understand why Collins has the reputation he does now. I welcome any feedback that you or our other readers may offer.

Comment by Dave Nantais — September 25, 2013 @ 6:29 am
RSS feed for comments on this post.
Leave a comment