Pages
Categories
Contributors
Recent Posts
Recent Comments
Recommended
Archives
September 2017
S
M
T
W
T
F
S
« Jan
1
2
3
4
5
6
7
8
9
10
11
12
13
14
15
16
17
18
19
20
21
22
23
24
25
26
27
28
29
30
I have been interested in what we can learn from two theologically significant faces of rock — how it can be with Christianity, and without it — in the transition from one version to another of the song "Up Above My Head." More specifically, from a 1960s soul version of this song, where Christianity rehearses an appropriation of rock culture, into the 21st century where secular rock rehearses a dispossession of Christianity.
On YouTube, one can view Sister Rosetta Tharp in the 1960s, playing a version of her 1940s gospel tune, but now wearing a Gibson SG (thanks to Michael Iafrate for the heads-up) and soloing in front of a gospel choir.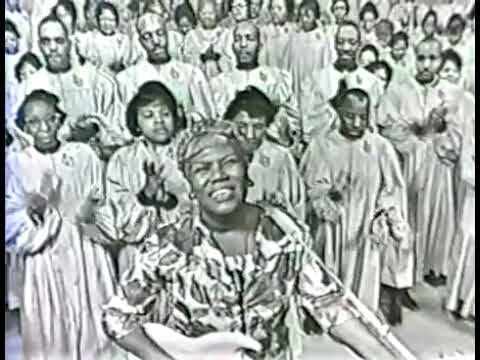 The lyrics proclaim "Up above my head, I hear music in the air," that suggests, in a less committal stance than one might at first expect, "There must be a God somewhere." In this version, however, Tharp sings the slightly more denominative, "I really do believe there's a heaven somewhere." The scene shows rock's gospel atmosphere. The gospel choir declaims and sways, Tharp is front and center with alternating solos of voice and guitar, playing with what are already becoming defined rock guitar gestures. Rock culture seems to be an outflow of church culture, and black performances help define that relationship. Tharpe is performing on a gospel music television show.
Fast forward to 2009 in Eindhoven, Netherlands, and the rock band "King's X" is playing a live show. They are a hard rock trio with an African-American singer-bassist and white drummer and white guitarist, that when first formed in the 1980s were commonly thought of as a Christian rock band. Now the singer, Dug Pinnick's public coming out over the last decade, and his gradual disillusionment with Christianity, put the band in a situation that makes a certain sense in rock culture: a gay African-American lead singer who is going through a long and public decompression chamber in regard to his Christianity. The band has lost almost all aura as hard-edged defenders of the faith. At this 2009 show, they performed their version of "Up Above My Head," "Over My Head," referencing the religiousness of Pinnick's family.
When this song was first recorded and performed in the late 1980s, it was easy to hear it as a scrapbookish tribute to the steadfastness of his grandmother's faith, even simply as a harder rocking iteration of Tharpe's own rocking version. The years since became pivotal for Pinnick in digging into the failures of the rock industry, racist and capitalist limits on music and more, and in coming to terms with his sexual identity, and in finding his own voice about his spiritual life.
So King's X takes from Tharp a submission to music as such as the foundation of a revelatory way of life, and the song can now be heard as a mournful meditation for a faith that can no longer be had. In the middle of the performance, Pinnick gave something like a sermon: "Welcome to the first church of rock and roll… We are your pastors. We don't believe in religion. And we don't care what kind of God you believe in. We believe in rock and roll. That's what it's all about tonight. We leave politics at home. We leave religion home. It's just rock and roll… All music is good! Can I get a witness? All music is good. Don't let anybody tell you that the music that you listen to, or the music that you play, or the music that's in your heart, don't let anyone tell you that there's something wrong with it. There's nothing wrong with what you do. Don't let them take that away from you. It's music. Music."
Here, secular rock rehearses a dispossession of Christianity. Theologians who find rock culture antithetical to Christianity must reckon with both Sister Tharpe and Dug Pinnick. Here is a kind of traditioning. It will not be enough to interpret from the outside but to enter into the study of rock practitioners in order to see why rock has provided both rehearsals of habitation for and dispossession from Christianity. And so much is implicated here: race, social class, gender, the figuring of musical and divine experience or discourse. Rock music may be particularly effective at consolidating ways of life, but it also shares this capacity with all music, as the Western tradition has known.
Tom Beaudoin
Hastings-on-Hudson, New York

2 Comments »
Technically, Sister is playing a Gibson SG, not a Les Paul (my axe of choice!), but either way, that song is sweet!

Comment by Michael Iafrate — July 9, 2009 @ 5:35 pm

Actually, it IS a Les Paul, lookee here:
http://www.musicradar.com/news/guitars/the-10-greatest-gibson-sg-players-469845/5

The guitar we now know as 'SG' was initially the successor to the name 'Les Paul'. The single cutaway Les Paul guitar introduced in the 50s wasn't selling well, so Gibson substantially redesigned the guitar with two cutaways and a thinner, flatter body. Later, Les Paul the man withdrew his contract from Gibson and the new version of the guitar was renamed SG.

Comment by Ecron Muss — January 10, 2012 @ 10:43 am
RSS feed for comments on this post. TrackBack URL
Leave a comment