Pages
Categories
Contributors
Recent Posts
Recent Comments
Recommended
Archives
I just saw this news that Robert Plant is (at long last) apparently open to a Zeppelin reunion. If you have any doubts about whether they can still do it, you should see the Celebration Day film, which recounts their one-off 2007 show in London. Here is a clip: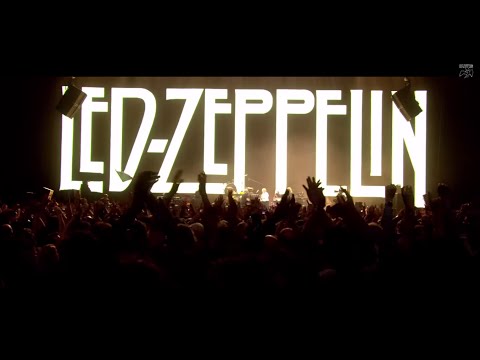 Such a reunion, which would probably be among the biggest concert events in decades, reminded me of the remarkable book by Susan Fast, In the Houses of the Holy: Led Zeppelin and the Power of Rock Music (New York: Oxford University Press, 2001). If this tour materializes, I'm going to have to go back to this book and write a commentary about its spiritual significance for R&T. My thesis would be something like: this book is laden with examples of how rock and roll is a spiritual exercise. (In fact, now that I am writing this out, I think I might choose a few examples from Fast's book to punctuate my upcoming talk at South by Southwest.)
Here are just a few suggestive examples: Writing about Jimmy Page's way of holding his guitar on his hip, and how it creates a "fictional body" that performs on stage, she writes: "The way in which Page moves the guitar over to the side is a metaphor for this decenteredness: the right side of his body and the hip on which the instrument rests in particular form a zone of psychological difference; it signals that now Page has moved further into the subjunctive, further into his otherness, further into the music. Raising his leg deepens the movement further, creating even greater instability. Raising the leg also points more directly to the materiality of the instrument: "Look; this is the vehicle through which I have become other." (p. 152)
"Many Zeppelin fans link sex with spirituality in their experience of the music" (p. 174), and this is exemplified in the complexities of gendered responses to Zeppelin. "Fan responses," Fast writes, "make it clear that normative gender identities with respect to Led Zeppelin's music — gender identities that have become accepted as 'natural' — need to be reevaluated. [With older models of gender and music], there is no way to account for these responses, for women who enjoy the machismo images of Plant, know the repertory as well as their male counterparts, and prefer the 'heavy' songs over the more acoustically based ones, and men whose concept of sexuality in the music encompasses tenderness as well as the crude and 'heavy' side[,] and the messy way in which issues of sexuality and gender are entangled with ideas that concern spirituality, soul, and so on." (p. 184)
Fast's book is a rich meditation on what it feels like to be a Led Zeppelin fan, and on the spiritual, emotional, and gendered significance of the band's practices of live performance. How to read this as theological material — I would argue that it make sense to think of it in the tradition of spiritual exercises — and where to go from there, is a task for future theological work, and perhaps a Zeppelin reunion will give us occasion to explore it.
Tommy Beaudoin, Hastings-on-Hudson, New York
2 Comments »
How about a rockin' parody of "Jesus Christ Super Star"
http://www.youtube.com/watch?v=dLGJXo8gshg

Comment by Sam Waterburry — February 19, 2013 @ 3:33 pm

To be honest, I think he was flirting with the female interviewer when he alluded to that. She was certainly a rabbit in his headlights. Thanks to his kindness, her story has now gone around the world. http://sixtyminutes.ninemsn.com.au/extraminutes/8611438/mountain-madness-gallery

Comment by Excronimuss — February 21, 2013 @ 3:55 pm
RSS feed for comments on this post.
Leave a comment