Pages
Categories
Contributors
Recent Posts
Recent Comments
Recommended
Archives
September 2017
S
M
T
W
T
F
S
« Jan
1
2
3
4
5
6
7
8
9
10
11
12
13
14
15
16
17
18
19
20
21
22
23
24
25
26
27
28
29
30
And there is this story about the Vatican's attempt to more deeply grasp youth culture by way of an appreciative exegesis of the music of Amy Winehouse. According to one Yes, I wrote Amy Winehouse.
Here is Winehouse from a 2007 concert:
The story about the Vatican's interest in Winehouse's music, as it sponsors a conference on youth culture this week, is kind of interesting, but I'm just not sure how interesting.
It is noteworthy that a Vatican office seems to be admitting that it does not understand an important part of contemporary culture — younger generations' tastes, needs, interests. I think that this is actually pretty remarkable, this admission of a lack of comprehension and the need for dialogue, and I hope that it will be more prominent as the Vatican continues to attempt to shape its new stance toward culture and toward "lapsed" Catholics that it calls the "new evangelization." I think that an approach of what the theological tradition calls "learned ignorance" — here with respect to the meaning of culture, not only with respect to "God", but theologically because of learned ignorance about "God" — is a wise stance for the "new evangelization." (I have written earlier at R&T about the present bishop of Rome's invitation to the Roman Catholic Church to dialogue with the culture.)
I wonder who is advising the Pontifical Council on Culture and how they came to make Amy Winehouse's music their opening exhibit. Amy Winehouse is a provocative choice, but I wonder if the interest in her music is more symbolic (in the "thin" sense of symbol) than anything else. Winehouse, after all, died in 2011 and so cannot be invited to a conversation about the meaning of her music. Were the Vatican two invite a smattering of (living) bands/musicians and fans from around the world to talk about the place of music in their lives, and how music helps people make sense of a life that may or may not need active affiliation with a religious institution or tradition in order to anchor it morally and existentially — this would be something even more than listening to the records of Amy Winehouse. I am, however, curious about what the Council on Culture is finding in Winehouse's music that seems illustrative of something larger about youth. That too could be fascinating to hear about and a way for the Vatican to play a role in helping model making theological sense of popular culture.
According to one prelate quoted in the news story, "We keep on giving the same answers, but the way the questions are posed now is totally different." I am not sure what this betokens regarding an openness for new "answers" — or as I would hope, a reticence to use the language of "answers" at all — and so, again, it is hard to know just how interesting a development this Vatican conference will be. But the stance of curiosity about music's meaning and significance for people's lives is, after all, promising. And theologically, it is essential.
The conference kicked off recently with a Christian rock band. A news report is below, a bit painful to watch. It's, um, a rock concert of sorts, but there's very little rolling while a good number of older clergy are sitting still as rocks.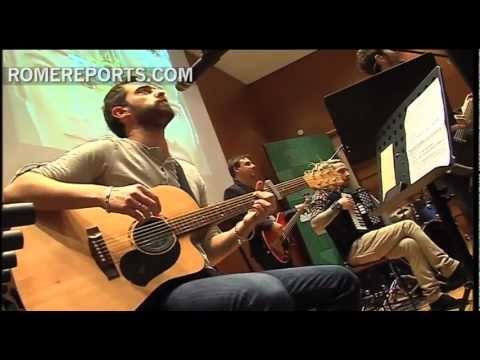 An unusual choice of matching audience, venue, and band, and while perhaps a little wince-inducing, I also think it is bold in its own way. An attempt to try something new, in which the spirit is more important than the actual execution of the attempt.
I wonder how things will unfold and whether there will be a renewed interest, stimulated by the Vatican, in spirituality and music, in rock and roll and theology. (Thanks to CB for the tip on this story.)
Tommy Beaudoin, Hastings-on-Hudson, New York
1 Comment »
I can't say for sure but wonder if Matt Maher isn't having an impact. I have listened intently to his music, heard him speak on a few occasions and even had my picture taken with him. He is an amazing musician, amazing man of God who has played for World Youth Day and other events in the Catholic Church. He has worked with very wise people that also have an appreciation of music and of the culture, Christopher West being one of many. Another man who knows God, loves people and is incredibly musically talented and intellectually gifted. I pray that there will be renewed interest, in rock and roll theology. I think it may already be under way–just may be a while until it is mainstream. Thinking the grassroots efforts are already underway.

Comment by Nancy Monfredo — February 9, 2013 @ 7:23 pm
RSS feed for comments on this post.
Leave a comment