Pages
Categories
Contributors
Recent Posts
Recent Comments
Recommended
Archives
September 2017
S
M
T
W
T
F
S
« Jan
1
2
3
4
5
6
7
8
9
10
11
12
13
14
15
16
17
18
19
20
21
22
23
24
25
26
27
28
29
30
When I was in college, in 1989, my roommate would often put Soundgarden on the turntable and an untamed horizon would dawn. (I remember in particular the song "Hands All Over.") He was the guy who introduced me to SubPop, whose literature was strewn around our apartment. (He could hardly believe that I was "still listening to Rush.") But from a second floor apartment on Warwick Avenue in Kansas City, Missouri, was where I learned to savor Soundgarden. I loved them right through their 1995 album SuperUnknown, which was a significant influence on my first book Virtual Faith: The Irreverent Spiritual Quest of Generation X (Jossey-Bass/Simon and Schuster, 1998). In that book, I included many references to their song "Black Hole Sun" (how I wish we had YouTube back then!) which I took to be symbolically important in revealing some key spiritual sensibilities of my generation.
On Tuesday night, I'm going to see the recently-reunited Soundgarden at Hammerstein Ballroom in New York City. I've been getting into their new album King Animal, which picks up where the band left off in the heavy rock/grunge world of the 1990s when they broke up.
So, given my own interests, I'm also thinking about Soundgarden and theology. Here is an interview from a few years ago with lead singer Chris Cornell about some religious matters. Apparently — surprise, surprise! — he went to a Catholic school as a boy. (Their lyrics feature many references to Catholic/Christian imagery, including — listen to that voice! —Jesus Christ Pose.)
Here is Cornell's interview: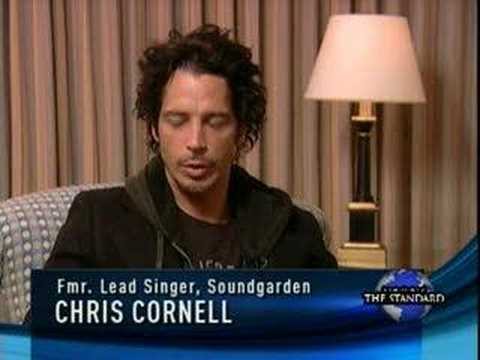 Like many people in the rock and roll world, Cornell wants to now remain a "free spirit" or a free agent. This will be criticized by many academic theologians who think that he has not adequately pictured his own relationship to traditions that constrain and specify his choices and even his language. There is some truth to that. But we don't need to make Chris Cornell into a creature of academic theology in order to take seriously the journey he has taken into a spiritually aware habitation, one that lets him in the interview think out loud about Jesus of Nazareth and note that there are things to appreciate and to fear from religious traditions. Chris Cornell seems so characteristically post-Catholic to me: now non-affiliated, but still sympathetic to religious innovation (Jesus) while remaining deeply skeptical of the overall project of religion. In writing that, I have no automatic judgment of Mr. Cornell — far from it. But notice how fresh in his mind are those experiences of Catholic school! These have clearly exercised his imagination and continue to live in him, having become one important source of his creativity and of Soundgarden's achievement.
Tommy Beaudoin, Hastings-on-Hudson, New York
3 Comments »
I find it pretty absurd to criticize a musician for being a "free spirit". What kind of academic theologian would think in such a stubborn way?

Comment by Kurtz Detektei München — October 30, 2015 @ 3:29 am

I believe that Chris Cornell has had spiritual experiences that are at a much higher level than most would ever understand. His experiences may be so unique that they cannot be defined in words but have been expressed in his music extremely well. In fact, his music has helped me through some of the darkest and most blessed times in my life. His spiritual expression and interpretations are truly a blessing. This puts Chris Cornell #1 on my list of performers.

Comment by Tony Mason — July 29, 2016 @ 10:20 am

Even though I was college-age when he gained popularity, I never listened to rock or popular music at that time. Tonight was the first time Ive taken an evening to listen to some of his songs and wordings. I was blown away after hearing 3 songs, as I sensed the deep underlying elements of the Gospel story as it played out- the garden of Gesthemene, the crucifixion, Judas' betrayal, are all passionately sung and represented in the songs I listened to tonight. Overtones of the Psalms can be also heard. As someone who has studied the psalms, I feared that maybe I was 'reading too much into" his works. Then I looked him up to see a photo of what he looks like, and low and behold, he's got the spittin' image of Jesus- at least a white Jesus, lol. I was taken aback. Underlying one of his songs, BlackHole Sun, I immediately thought of the Beatles song- Here Comes the Sun, as I reverse of that song. I cant believe how deep and talented he is, and at such a young age. It seems to me that he must be some sort of genius, at least lyrically, as I can't comment on the music as I am not a rock/grunge/etc fan myself. And the last song I heard was his 2017 song! So incredibly beautiful! And he sings with such passion! And I know in my heart that he is singing about the Bible story, or, rather, the son of God and his relationship to His father.

Comment by Julie — May 8, 2017 @ 1:46 am
RSS feed for comments on this post.
Leave a comment