Pages
Categories
Contributors
Recent Posts
Recent Comments
Recommended
Archives
October 2017
S
M
T
W
T
F
S
« Jan
1
2
3
4
5
6
7
8
9
10
11
12
13
14
15
16
17
18
19
20
21
22
23
24
25
26
27
28
29
30
31
There was a fairly long moment (as pop culture moments go) in the mid-1990s that — across a good number of musical-cultural differences — Alanis Morissette was "cool." I learned about her music through hearing her song "You Oughta Know" everywhere, seeing the video on MTV multiple times,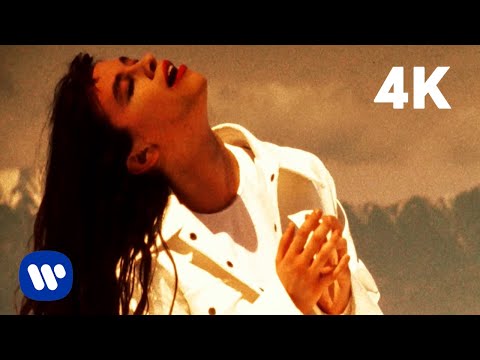 and purchasing her Jagged Little Pill CD at a CD store near The Tasty in Harvard Square (Cambridge, MA) and playing it constantly. I thought that every song on that record was a beautifully crafted work of pop revelation. As I listened to her interviews, I sometimes disagreed with the way that I thought she melted "new age" psychology into religion, but I also respected and was intrigued by the earnest and searching quality of her attempts to put the pieces of her life, faith, belief together… and to risk that searching in public.
By the late 1990s, the zeitgeist had moved on to other artists, but like hundreds of thousands of other fans, I continued to follow her music and, when I could, her life and interviews. I frequently found songs that invited me into reflective states occasioned by a reflective, regretful, celebratory, or uncertain lyric. Not all her music of the 2000s caught my attention; I wished she had kept the rock aesthetic and bombast that drove "You Oughta Know" and what I considered some of her other strong songs, like "21 Things I Want in a Lover," "Uninvited," or "Baba."
I have noticed that Morissette describes herself Holy mother of God!! Have you seen her perform "Baba" live? Check out this performance from a decade ago that opens with scenes of her backstage with her band:
Morissette has described herself as "post-Catholic." She has talked about her transformative travels to India. She speaks openly about the Dalai Lama, and acknowledges her interest in Buddhism, Christianity, and other religions, as well as the debt she owes to her Catholic upbringing for how she is moved by the excellences of ritual. She speaks frequently about therapy and healing practices. She embodies the navigation through many of the soul-shaping forces in contemporary culture — acknowledging pluralism in religion and sexuality; resisting religious and cultural misogyny; valorizing women's equality of voice, artistic creativity, and social-economic-individual-familial opportunity; exploring the welter of ways of being "made whole" in therapy, spirituality, and science — that I recognize in myself and that I know affect many others in Western culture today. If her songs can err on the side of oversimplifying through overpsychologizing contemporary life's besetting difficulties — and I think sometimes they do — then this is not for lack of trying, through an extraordinary singing voice, a penchant for enchanting pop melody, and a desire to seek out personal consolation wherever it might truly be found. I am as interested in how she is going forward musically as I am in any particular monument to that journey, such as a song or video.
This is a long way of saying that I remain an energetic fan, because of her songs, her search, and did I mention the sense of abandon to the personal-spiritual stakes of her music that she generates in her live shows? (I have written several times at R&T about her live-performance sensibilities, for example here.)
I checked in recently with her latest album, Havoc and Bright Lights, and immediately glommed on to "Lens," about — what else? — seeking a way through faith differences in an intimate relationship — or perhaps in society more broadly. ("Now it's your religion against my religion / this does not feel like love")
Here is an interview Alanis Morissette did with Anthony DeCurtis at the 92nd Street Y in New York City last summer. She talks about spirituality/religion throughout the interview. A more focused discussion of such things takes place starting at 32:30 and thereafter in her responses to audience questions read by DeCurtis.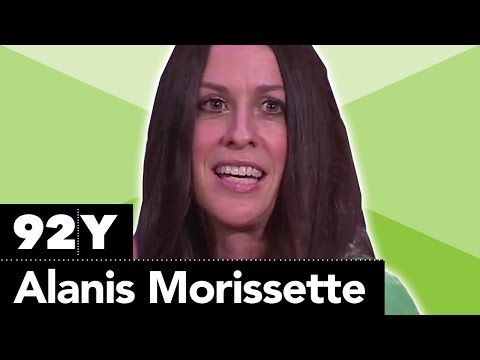 And here is a shorter interview piece on "well being/spirituality" she did in promotion for Havoc.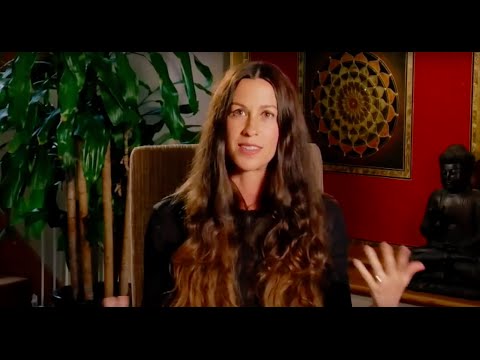 Whether you agree with the way she makes her way on any particular matter of spirituality, discernment, or the quest for what she often calls "wholeness," I think she gives us an example of one way that one thoughtful person is trying to figure things out — and her way has proven influential with her many fans, past and present.
Tommy Beaudoin, Hastings-on-Hudson, New York
1 Comment »
Great post Tom and certainly makes me want to go back and listen to her catalog again. To be sure, Alanis single-handedly ruined a generation's operational definition of "irony" thanks to her song "Irony" (which was actually a masterwork in ironic turns given that the only thing 'ironic' about the song was the song itself!)

BTW – what did you think of her revisiting of Jagged Little Pill in 2005 for the Jagged Little Pill Acoustic release? Just when you think the whole "unplugged" meme had grown tired (which I had since Nirvana's MTV unplugged was the high watermark of that genre) Alanis comes out with a revisiting of her signature release – in many way her artistic nemesis of a debut that she can't seem to top – and then like attacking the Gordian knot just eviscerates it and re-imagines the whole album anew. I think that JLP Acoustic release is am unsung triumph and in many ways speaks volumes to how faith struggles with its past glories and whatnot.

Again, great post and thanks for bringing Alanis back to the top of my iPod.

Comment by Jeffrey Keuss — January 2, 2013 @ 12:27 am
RSS feed for comments on this post.
Leave a comment