Pages
Categories
Contributors
Recent Posts
Recent Comments
Recommended
Archives
September 2017
S
M
T
W
T
F
S
« Jan
1
2
3
4
5
6
7
8
9
10
11
12
13
14
15
16
17
18
19
20
21
22
23
24
25
26
27
28
29
30
For one of my upcoming classes at Fordham, we are reading selections from Our God is Undocumented: Biblical Faith and Immigrant Justice, by theologian Ched Myers and pastor Matthew Colwell (Orbis, 2012). Myers and Colwell argue that a close reading of the Hebrew Bible and the Christian Scriptures, in the context of the pressing controversies about immigration in the West, and particularly in the USA, show that care for the immigrant is fundamental to the continual "care for the stranger" theme in these biblical traditions.
They argue that the practice most fitting these biblical disclosures is, in the language of organizer and activist Alexia Salvatierra, "prophetic hospitality," in which care for the vulnerable transcends concern for contingent political borders. Myers and C0lwell emphasize that the theological ground of care for the "undocumented" is the "statelessness" of God, expressed also in the injunction to ancient Israel to care for the stranger, because they were strangers in Egypt. Along the way, Myers and Colwell remind us that the Christian scriptures picture Jesus' family as political refugees, and Jesus' stateless itinerancy comes up again and again (nowhere to rest — Luke 9:58; needing hospitality — Luke 19:5; knocking on the door and asking for a meal — Revelation 3:20). The city for all time, the "New Jerusalem" in the book of Revelation, is pictured as a city whose gates are permanently open (21:25).
As I reviewed their work over the last few days, I thought that what Myers and Colwell are suggesting is that readers come to greater terms with the "immigrant within" each of us, that we perhaps deny or repress, as a way of rendering "secure" and "documented" persons more available to acting in the interest of the undocumented, the immigrant. (See here for information on the New Sanctuary Movement.) As they put it, "Individual, family, and social health all depend on our willingness and ability to transact our past. It is thus a pastoral challenge to our churches to facilitate the process of 'excavating' our buried immigrant identities." (p. 66)
I wondered, what musical experiences or songs have aided, or might aid, this state of awareness?
For me, Radiohead's song "The Tourist" has been one aid to such an exercise. The song's languorous and elegiac tone allows a kind of reflection on the ways that I have made journeys from one place to another, internally and externally, in my life, and brings me into, I hope, further sympathy for the ways in which everyone around me is in process of negotiating borders in their lives. Or in the rich symbol of flight proffered in the lyrics: "They ask me where the hell I'm going at a thousand feet per second." Hurtling through time and space, the line seems to suggest, we all go a long way in the short time we have. For all of us, however many generations back, that "where the hell I'm going" included a journey from one country to another. And for most if not all of us, that "where the hell I'm going" is part of an interior journey from one understanding of life to another.
Here is Radiohead playing "The Tourist":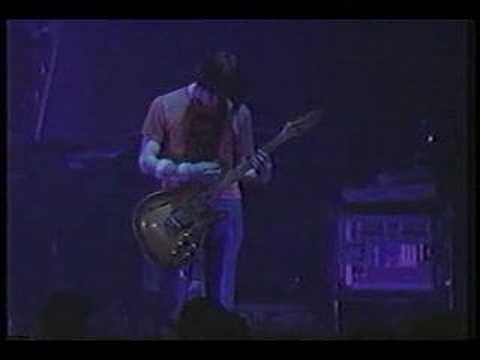 Is music a spiritual exercise for helping you release yourself to the stranger and immigrant within?
Tommy Beaudoin, Chicago, Illinois
1 Comment »
Nice thought – I am sure there are songs that speak to the immigrant (missionary?) in me, but right now Iam thinking about the songs that mark each step of the way. When I change culture, situation, (internally or externally, or both), usually I 'hang' my feelings and prayer-life, even, on a tune that speaks into it… Right now, for example, in Germany: not so familiar (or enamoured) with German music, one song broke through: "Der Gedanke" by a group called Viva Voce. Very beautiful – epitomized something of Germany's past and my current call… will think more…

Comment by Maeve Heaney — November 19, 2012 @ 6:27 am
RSS feed for comments on this post.
Leave a comment