Pages
Categories
Contributors
Recent Posts
Recent Comments
Recommended
Archives
When I first saw the movie, "O Brother, Where Art Thou?" about a dozen years ago, I was enchanted by one scene in particular: it is where the "outlaws" (three white prison escapees and their African-American guitar-playing compatriot) who are also the artists (the "Soggy Bottom Boys") behind a popular radio hit in Depression-era Mississippi, make a surprise appearance at a local campaign event.
They are there because "Everett," the George Clooney character, is trying to get the attention of his estranged wife. Here is the scene: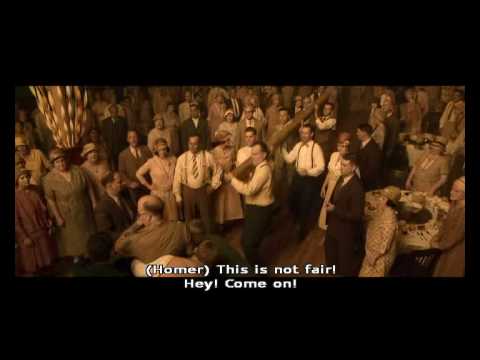 Many commentators have remarked on the ingenious way that the film re-tells The Odyssey. That re-telling is riven with Christian theological backgrounds from start to finish, as is only fitting for a story set in the early 20th century American South.
Over the course of a few posts, I would like to offer some brief theological notes on the scene.
As the scene opens, the performers are costumed in fake beards. (They have just recently escaped from a Ku Klux Klan rally, where the white chaps (Everett, Pete and Delmar) have just saved their guitarist friend's (Tommy's) life.) They find themselves on stage and forced to play music. When they launch into "I Am a Man of Constant Sorrow," the crowd cheers with delight
as they recognize it from the radio. (The "Boys" don't realize that they are stars because their song was recorded without their knowing it.)
For now, I would like just to focus on this opening. The personal identity indicated in the title of the song, which is also the first line of the song, "I Am a Man of Constant Sorrow," is an echo of a line from the Hebrew Bible that has often been attributed to Jesus of Nazareth in the history of Christian theology. That line is Isaiah 53:3, "He was despised and rejected by others; a man of suffering and acquainted with infirmity; and as one from whom others hide their faces he was despised, and we held him of no account" (New Revised Standard Version). In its original context, this passage did not refer to Jesus, but it was appropriated by much later commentators as a frame for interpreting Jesus as a "suffering servant." Jesus is, as other translations of this passage have it, "a man of sorrow," and that sorrow according to Isaiah 53:3 was pretty "constant."
So in its opening words, the song sets itself within the horizon of Christian theological culture in the Bible-quoting South.
What are these men of constant sorrow doing on the stage? Resurrecting. They have skirted death many times throughout the movie, including the dramatic escape from the Klan rally just prior to this scene, and in their own ways they have all been "buried" away from family and society due to imprisonment, and in Tommy's case, due to violent state racism. This stage will be their coming-out, their announcement of a decisive turn toward escape from their grave.
More to come…
TB
No Comments »
No comments yet.
RSS feed for comments on this post.
Leave a comment