Pages
Categories
Contributors
Recent Posts
Recent Comments
Recommended
Archives
In the April 2012 issue of Harper's magazine, Anthony Heilbut has an engaging essay on Aretha Franklin. Titled "Aretha: How She Got Over," Heilbut (who is the author of The Fan Who Knew Too Much: The Rise of the Soap Opera, Children of the Gospel Church, and Other Meditations) tells the story of Franklin's beginnings in the church and the influence of her pastor father, and shows how her gospel music background has served as a recurrent anchor for Franklin's brilliant singing career.
Here at R&T, we think about relating theology and pop music, and one way to do that is to look at how theological culture and musical culture come together in the lives of individuals, and Franklin's life gives much to consider in this regard. Her pop success was underwritten by gospel music skills and feel, Heilbut argues, and the close relation between sexual and religious experience, confected in the black church, is a leitmotif that warrants several interesting asides (including a note about her performance at a same-sex wedding in October 2011), and that I wish Heilbut would have explored more directly. Perhaps he does in his book.
Here is Franklin early in her career:
Franklin, he suggests, "virtually colonized American music for the gospel style." It seems the choice of verb is innocent here, but I think it tells deeper than Heilbut lets on. From the church of a colonized people came an extraordinarily talented woman, who neither simply repeated nor neatly inverted that colonization, however metaphorically, but let gospel music flower across many different gardens over the past five decades.
Her interesting musical debts to Billie Holiday and Judy Garland are noted, and her singular influence on what has become the
melismatic style of American Idol is observed. But most of all, Heilbut emphasizes how her regular recapitulation of her religious roots has been the key to so many of her greatest musical achievements.
Here is Franklin in 1995 at the funeral of Luther Vandross: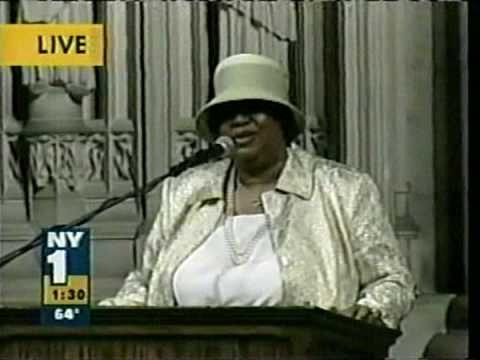 There is no need to make of Franklin's experience a general rule regarding the relationship between music and theology, but Heilbut gives us an opportunity to appreciate what the relationship between Jesus and Judy Garland might have meant thus far in her life. Franklin recently turned seventy years old, and there will, I hope, be much more of her music to enjoy, and to teach students about the theology-music relationship.
PS: I appreciated the theological question Heilbut raises halfway through the essay, after parsing Franklin's 1994 White House concert: "Just what were these listeners embracing as gospel truth?" If only more theologians asked that question more often, we would begin to get away from over-rehearsed claims about what the gospel means. The close study of music helps theology in this regard, just as it takes an understanding of theology to fully appreciate the uniqueness of Aretha Franklin's music.
Tommy Beaudoin, Hastings-on-Hudson, New York
1 Comment »
Thank you for your kind words. The Harper's serialization only includes one third of the book's essay. I think you'll find most of your concerns addressed in the book itself. "The Fan Who Knew Too Much" was officially published on June 19.

Comment by Anthony Heilbut — June 28, 2012 @ 1:39 pm
RSS feed for comments on this post.
Leave a comment