Pages
Categories
Contributors
Recent Posts
Recent Comments
Recommended
Archives
Posted in: General by Tom Beaudoin on June 22, 2012
Tonight, I saw the musical "Once" on Broadway. I did not know much about the backstory before I saw it, although I know that it recently won the coveted Tony award for Best Musical. This is a show for those who appreciate lustily-performed Irish music, tending toward the modern folk side, and who like love stories. The musical is essentially about two musicians, an Irish man, and a Czech woman, who find that their shared musical companionability is opening onto deeper realms of relationship. This is tricky because they are also both kind of already in relationships (he with girlfriend, she with husband and daughter). The musical tracks their unfolding negotiation, within themselves and with each other, of these complexities. But the musical is also about a very talented ensemble of supporting actors and musicians, who join the two stars for many numbers, and frequently star in their own right, beginning before the show officially starts, when the ensemble takes the stage fifteen minutes before curtain and starts playing music on stage, surrounded by any audience members who want to come up on stage and have a drink and enjoy the band up close. This is so much a show about the music that at the curtain call, there were no separate entrances for the actors. Instead, all gathered together to take a shared bow.
I most enjoyed hearing the songs, which are unfailingly listenable, lovingly crafted, and soulfully sung.
Here is the cast performing at the recent Tony awards: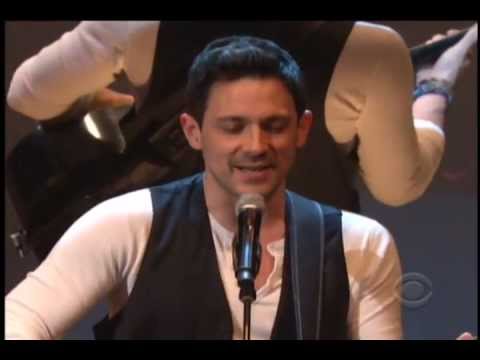 Here is a video of some tunes from the show: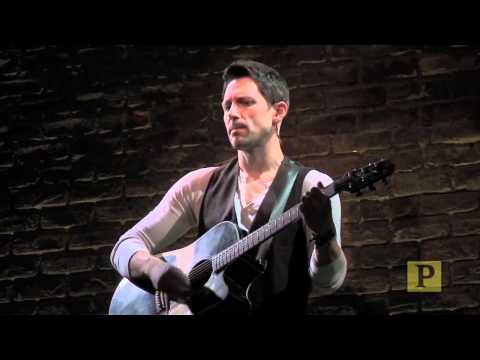 As much as I was affected by the melodies, I found the lyrics of the songs to be variations on the theme of love's longings and
frustrations, and the story itself to be a little too Hollywood for my tastes, with the restless, wounded and a little needy male artist helped along by a demure "foreign" woman who is talented and self-assured, but not very emotionally complicated despite being conflicted about her love. And the arc of the story is frequently punctuated by mainstream movie-style jokes, a little corny.
All of which made me wonder why stories of tension-filled love are so often the stuff of popular entertainment. I am not suggesting they should not be, only that theology should have some sort of tentative thoughts, at least, about why they are. Until there are serious studies of what "Once" attendees thought of their experience, we will be missing a crucial experiential resource to help us answer this question. But at least a part of the answer might have to do with the ways that humans are perpetually foiled by our own desires for love. It helps us to see this on stage for reasons that the older theories of "catharsis" (providing an analogous experience that allows emotional recognition and release) and the newer theories of "cathection" (providing symbols that we can attach ourselves to in desire and hope for the purpose of gaining a better vantage on unresolved deep conflicts) help to explain.
Theology finally wants to know what all this has to do with God or some better-named divine reality (the sacred, holy, impossible, etc.). For me, I am with the theologian Karl Rahner and the philosopher Emmanuel Levinas: humans are creatures who are perpetually falling behind themselves because of our ken for the other, which runs faster than our ability to name, process, and accept or reject that drawn-ness toward the other. And we are like this because we come from a "beyond" (without lapsing into "mythological" models of reality) to which we continue to be related at every moment of our lives, haunting us in the insufficiency of every encounter.
So we get musicals like "Once," which has such a singular name because it tells a story that feels so apexical, but is at the same time a story about every day of our lives. Maybe "Once" should be renamed "Frequently." That would be less romantic, but maybe more true.
Tommy Beaudoin, New York City
No Comments »
No comments yet.
RSS feed for comments on this post.
Leave a comment