Pages
Categories
Contributors
Recent Posts
Recent Comments
Recommended
Archives
This Friday, I'll be seeing Radiohead in New Jersey. Radiohead and U2 are two bands that I feel like I should have seen live many times before, given their influence on my life, musically, theologically and otherwise, but I have never seen either band live. Radiohead wound its way into my head through their OK Computer album, a conversion experience that I wrote a bit about earlier at R&T here.
In anticipation of Friday's show, I have been thinking especially about "Airbag" from OK Computer, because that is the song that most compelled me day after day as I would hear that album played at a coffee shop in Somerville, Massachusetts. It was the theological fragments that got me, resituated as they were amidst fresh sounds and new words that were not trying to hold them in an unchanging theological system, but rather let them be the cry of a personal search:
"In the next world war / in a jack-knifed juggernaut / I am born again
In the neon sign / scrolling up and down / I am born again
In an interstellar burst / I am back to save the universe
In a deep deep sleep / of the innocent / I am born again
In a fast German car / I'm amazed that I survived / an airbag saved my life
In an interstellar burst / I'm back to save the universe"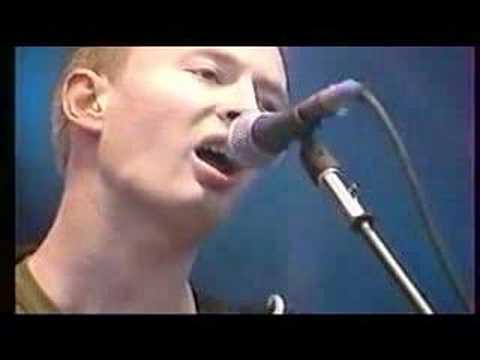 The words to me seemed ancient and new, theological and psychological, intercut by those weirdly baffled drums, the modest and thoughtful bass, the inquiring and companionable guitar, the keyboards
on the edge of indulgence at the balance point of psychedelia and nerdy tech literacy, and Thom Yorke singing for what I presumed was all of us, by which I mean all of us who could wake up inside his words and call them home: "I'm amazed that I survived / an airbag saved my life." Naming that airbag would become one of the defining tasks of adulthood. Some of us, including me, thought it would be settled by a persuasive theology of salvation — a "soteriology" — but no, I should have known that nothing so complexly launched could be so simply resolved.
I look forward to Friday's insight into the "interstellar burst" that makes so many of us realize we need an airbag.
Tommy Beaudoin, Hastings-on-Hudson, New York
No Comments »
No comments yet.
RSS feed for comments on this post.
Leave a comment