Pages
Categories
Contributors
Recent Posts
Recent Comments
Recommended
Archives
Most of the time, the public is unaware of both the intellectual and spiritual side of rappers. The dominant stereotype of Black males only being relegated to thuggery, lavish sexuality, and sporting profligate jewelry governs the mindset of many—including some Blacks. Yet, in the wake of Trayvon Martin's death, rappers like David Banner and Jasiri X are speaking out against the continued attack on not just Black males, but urban youth in general.
The post soul intelligentsia is a generation of urban youth who "see" life differently and engage with it in the post-industrial, post-civil rights conditions they grew up in and now live with. Mark Anthony Neal tells us that the post soul intelligentsia youth are, "…a generation of urban-bred Black intellectuals born during the waning moments of the civil rights/Black Power movements, raised on the rhythms and harmonies of 1970's soul but having come to maturity during the mid-to late 1980's and embracing the oppositional possibilities or urban and Hip Hop aesthetics, mass media, and popular culture as vehicles for mass social praxis" (Soul Babies: Black Popular Culture and the Post-Soul Aesthetic pp. 102-104). Moreover, the post soul youth see life through a critical lens and continue to engage it that way as a result of the numerous failed promises from politicians, pastors, churches, schools, parents, and society. Trust is a hard earned commodity for this generation.
Once again, Neal reminds us that, "The post soul intelligentsia is a generation of Black thinkers in large part distanced from the nostalgia that pervades the civil rights generation, but who as young adults and teens experienced the terror of the Reagan and Bush (Sr.) years armed with distinct social and cultural memories of the traditional Black public sphere" (p. 106).
You hear this ethos, worldview, and social perception from both David Banner and Jasiri X. Trayvon Martin was not an isolated case—especially for Black Americans. Both Banner and Jasiri challenge us to look deeper and beyond the marches, sit-ins, and rallies; to who we are at the core and how we ourselves see life. Both are valid and present some very interesting concepts to the current state of racism we find ourselves in.
Notice that Jasiri is in a "church" setting and utilizes the social context of "The Black Church" to make his point and part of his connection to the crowd. While Banner clutches an iPhone and reminds us that technology is part of this generation's mode of ideology.
I invite you to listen to and view their message below: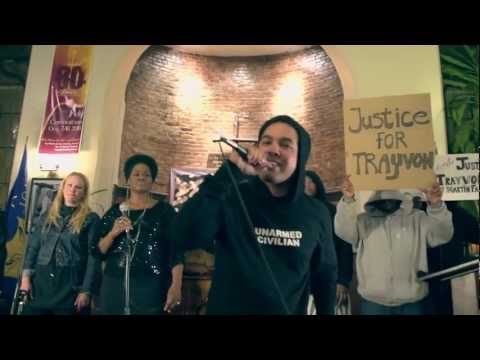 No Comments »
No comments yet.
RSS feed for comments on this post.
Leave a comment