Pages
Categories
Contributors
Recent Posts
Recent Comments
Recommended
Archives
Adam Yauch, also known as MCA of The Beastie Boys, died on 4 May. Jon Pareles' obituary in the New York Times is here, and C.J. Hughes' NYT report from the Lower East Side and East Village of Manhattan about mourning Yauch on the streets is here. Oliver Wang at NPR has a thoughtful piece on Yauch here.
I first listened to the Beastie Boys around 1986 or so, when a high school friend played his Licensed to Ill cassette over and over, and our group of Risk-playing ne'er-do-wells quickly memorized the whole album. Thus began the peppering of everyday speech with Beastie Boys lyrics, many decanted from the mouth of Yauch, whose scratchy throat always made him sound like the scruffiest of the three. Well into the 90s, part of the bond I had with that group of men from high school had to do with the ability to drop Beastie lyrics into ordinary scenarios like ordering fast food at the drive-through, playing basketball, or competing in video games.
Yauch and the other Beastie Boys, just a few years older than me and my friends, seemed to grow through their 20s, 30s, and 40s in ways that kept making sense, while never letting go of their adolescent insouciance. Licensed to Ill is a ready-made soundtrack for a punk rock frat party – or suburban fantasies of same. But Yauch was instrumental in shaping the band's later lyrical maturity and public presence in the direction of political and spiritual engagement. Yauch took up Buddhism, and penned a song for the Beastie Boys, "Bodhisattva Vow." Here are the lyrics (courtesy of lyricsdepot.com, with some of my editing):
As I Develop The Awakening Mind I Praise The Buddha As They Shine
I Bow Before You As I Travel My Path To Join Your Ranks,
I Make My Full Time Task
For The Sake Of All Beings I Seek
The Enlightened Mind That I Know I'll Reap
Respect To Shantideva And All The Others
Who Brought Down The Dharma For Sisters And Brothers
I Give Thanks For This World As A Place To Learn
And For This Human Body That I'm Glad To Have Earned
And My Deepest Thanks To All Sentient Beings
For Without Them There Would Be No Place To Learn What I'm Seeing
There's Nothing Here That's Not Been Said Before
But I Put It Down Now So I'll Be Sure
To Solidify My Own Views And I'll Be Glad If It Helps
Anyone Else Out Too
If Others Disrespect Me Or Give Me Flack
I'll Stop And Think Before I React
Knowing That They're Going Through Insecure Stages
I'll Take The Opportunity To Exercise Patience
I'll See It As A Chance To Help The Other Person
Nip It In The Bud Before It Can Worsen
A Change For Me To Be Strong And Sure
As I Think On The Buddhas Who Have Come Before
As I Praise And Respect The Good They've Done
Knowing Only Love Can Conquer In Every Situation
We Need Other People In Order To Create
The Circumstances For The Learning That We're Here To Generate
Situations That Bring Up Our Deepest Fears
So We Can Work To Release Them Until They're Cleared
Therefore, It Only Makes Sense
To Thank Our Enemies Despite Their Intent
The Bodhisattva Path Is One Of Power And Strength
A Strength From Within To Go The Length
Seeing Others Are As Important As Myself
I Strive For A Happiness Of Mental Wealth
With The Interconnectedness That We Share As One
Every Action That We Take Affects Everyone
So In Deciding For What A Situation Calls
There Is A Path For The Good For All
I Try To Make My Every Action For That Highest Good
With The Altruistic Wish To Achive Buddhahood
So I Pledge Here Before Everyone Who's Listening
To Try To Make My Every Action For The Good Of All Beings
For The Rest Of My Lifetimes And Even Beyond
I Vow To Do My Best To Do No Harm
And In Times Of Doubt I Can Think On The Dharma
And The Enlightened Ones Who've Graduated Samsara
Down from such luminous heights, my favorite Beastie Boys video and one of my favorite of their songs is "Sabotage," in which Yauch's fat bass and phat 'stache compete for most grandiose performance.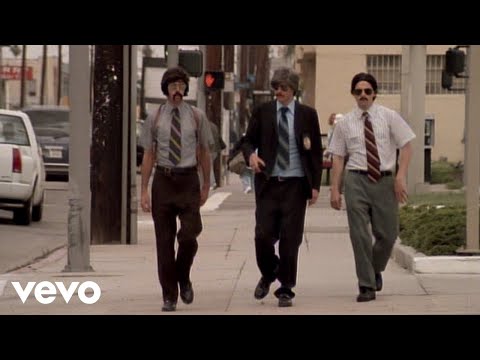 Thank you, Adam Yauch.
Tommy Beaudoin, Hastings-on-Hudson, New York
1 Comment »
Never thought I could feel so sad listening to Beastie Boys songs. If you haven't seen the Make Some Noise video, ch-ch-check it out. It's comic.

Comment by kate — May 8, 2012 @ 2:39 pm
RSS feed for comments on this post.
Leave a comment