Pages
Categories
Contributors
Recent Posts
Recent Comments
Recommended
Archives
October 2017
S
M
T
W
T
F
S
« Jan
1
2
3
4
5
6
7
8
9
10
11
12
13
14
15
16
17
18
19
20
21
22
23
24
25
26
27
28
29
30
31
On Mayday, I was in the parks and streets of Manhattan for #M1GS, the May 1st General Strike, a daylong gathering called by a coalition of dozens of labor organizations. Like many, I was there under many motivations: as a participant in Occupy Wall Street and Occupy Faith NYC, as a member of the labor union and advocacy organization the American Association of University Professors (AAUP), and as a theologian. I joined tens of thousands in New York City and around the country, and hundreds of thousands around the world. I noticed workers of all kinds, labor union members, Occupiers, community organizers, seasoned activists, first-time participants, and all manner of allies who cheered us on from the sidewalks, fire escapes, and opened windows in the tall buildings along the march route.
There were apparently a few dozen arrests, though I did not personally see any over the course of seven hours. (Nor could I afford to get too close if things got too hot, because I needed to be free to teach the next day.) I arrived in the early afternoon at Bryant Park to find a thousand or so people getting warmed up with teach-ins, leafletting, conversations, sign-making, and picture-taking. There were also dozens of people carrying guitars (and a few basses and banjos), rehearsing for the Occupy Guitarmy, an all-volunteer guitar ensemble led by renowned rock guitarist Tom Morello, of Rage Against the Machine and now The Nightwatchman.
I was concerned because I thought that a thousand or so people would be a poor turnout for such a hyped-up event as this General Strike. But things changed quickly.
Around 2:00, we began marching to Union Square Park, and arrived there about 75 minutes later. As we marched, more people began joining in, and by the time we go to Union Square, there were many thousands more waiting for us. And people kept streaming in from all sides for the next couple hours. Tom Morello and a contingent from the Occupy Guitarmy played a few songs…
(Note: video contains a few obscenities, heartily sung)
…there were brief speeches about solidarity and economic justice from people representing different labor organizations, and there was plenty of Latin music to aerate everyone's spirits in preparation for the long march to Wall Street.
A couple dozen members of Occupy Faith NYC gathered near the Gandhi statue in the park, where I joined them, and around 5:30 we began to move in a march with some 30,000+ people down Broadway all the way to lower Manhattan, a slow journey that took some three hours.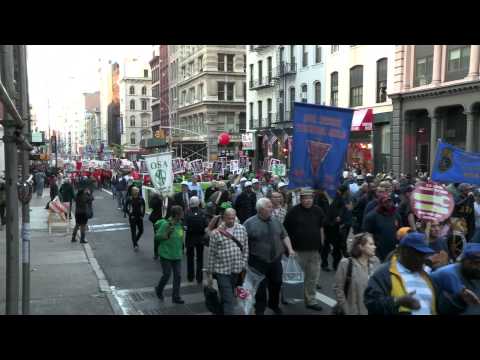 As the thousands of different banners, placards, signs, tattoos, shirts, headgear, songs and chants avowed, there was no single reason for being there, but I think it is fair to say that a great many of those gathered could endorse two basic theological statements: negatively, the market is not God; positively,
humans are created to share.
Amidst this notably relaxed atmosphere, there were occasional moments of tension, such as when the police would march with their batons out right next to protesters, or would suddenly move to clear part of a street or a sidewalk. And I saw one incident in which counter-protesters with an aggressively anti-immigration banner, who were shouting at the marchers, and were then met by the attempts of a handful of marchers to shout them down. Soon, a few marchers jumped at the counter-protesters and tore their sign in half and carried it away. I thought that was a negative mark on the day, and wished that folks could have taken an indifferent and nonviolent approach to that provocation. Getting aggressive (or repaying vocal aggression with physical aggression) only brought more attention to the anti-immigration "send them back to Mexico" counter-protesters, and facilitated the uncorking of aggressive, personal yelling on the part of some Mayday marchers. That said, I would be amazed if nothing like that happened the whole day, given how many people took part in the protest, and how various provocateurs on the sidelines try to incite just such a scuffle.
Overall, the day was festive, joyful, diverse, and for me anyway, energizing, realizing just how many people were willing to give up their day to join their cause to the causes of others in quest of a society more worthy of all of us. "We are unstoppable," as the chants recounted, "another world is possible."
I met my Theology of Ministry class at Fordham the next day, on Wednesday, and it seemed fitting that our topic for the day was theologies of poverty, as if the class was providing some theological language for much of what had been on display in New York City and around the world the day before. We read parts of Ricardo Antoncich's Christians in the Face of Injustice: A Latin American Reading of Catholic Social Teaching (Orbis, 1987), and Keith Hebden's Dalit Theology and Christian Anarchism (Ashgate, 2011).
We discussed Antoncich's argument that according to Catholic social teaching, no one has an ultimate and unassailable natural absolute right to property, and certainly not beyond what serves their human needs. Any natural right to private property is "subordinate to the universal ordination, by the Creator's will, of all material goods to all human beings" (p. 97). Under this divine relativization of the goods that people need to make and keep life human, access to both consumer goods as well as the means of production of goods are "rights" of all persons, and preferentially so for poor persons. With such an understanding, the church, Antoncich shows, in Latin America (and elsewhere) has a responsibility to help workers organize themselves so that they can experience agency in their lives in the name of their divine calling to experience themselves as worthy beings.
Hebden, working from Indian theologies, argues for a Christian anarchism modeled on the anarchist practices of Jesus: decentralized, non-statist, anti-imperialistic, justice-seeking, incarnated-from-below networks of disobedience in the name of the assertion of free and honorable humanity, especially and preferentially for low caste Dalit persons (in the Indian context). Starting with Jesus the Dalit (pp. 149-150), a christology from Dalit theology, I wondered how non-Indians might retranslate that christology into their own contexts, and how especially in the USA Jesus the Dalit can be translated into resolutely local terms that can inform preaching, teaching, prayer, worship.
Forty-eight hours after the conclusion of the General Strike, I have renewed hope that Occupy and the coalition of labor/activist groups that took part in Mayday will retain their energy as a social force through the summer. Occupy participants disagree about whether a physical site for occupation is still necessary — whether we need a new Zuccotti Park. I would argue that it is crucial for the future of the movement that Occupy cannot exist only as an activist social network on the Internet, as essential as that network is for every single social action and service that Occupy has undertaken. It is essential to have a physical/symbolic place where people meet face to face, strangers can be welcomed, and the "more" in life experienced, however unevenly, in an ongoing manifestation of the motivating, revolutionary and, with Hebden (and Jesus of Nazareth), anarchic idea that social resources are for sharing.
I learned how all of this can play out on the home front when my daughter announced tonight that she was going to occupy her bedroom until she got what she wanted from her parents. We held out for a full 60 seconds, and then negotiated with the Occupier about her modest demands. I should have known that all of this would come back to haunt us. I hope we'll all continue to be so willing to meet at the (collective) bargaining table.
As I think back about what the General Strike was like, and as each reader of this blog ponders what relation we take up to the injustices in which we participate, and what spaces we take up in the spaces that have been designated for us to live, work, and love, maybe we are led to something like what the philosopher Charles Sanders Peirce called the state of "musement." It is an essential condition for deeper action in life, a playful and freeform wonderment about why things are the way they are, and is a way, he wrote, to experience an "agreeable occupation of mind." And, I would add, of space.
Here are some pictures I took at the General Strike:
If none of this interests you, then please do shake the virtual dust from your sandals and move on, but if you want to learn more: InterOccupy is here and here; Occupy Wall Street is here and here; Occupy Faith NYC is here and here. Thanks for re-walking the General Strike with me.
Tommy Beaudoin, Hastings-on-Hudson, New York
3 Comments »
Great post, Tom. I loved the first-hand account and pictures. I've never heard of the Occupy Guitarmy before. That's an "army" I want to join!

Comment by Mary McDonough — May 6, 2012 @ 9:49 am

You opened up a bit of space to reflect on what the challenge of "Jesus the Dalit" might bring to a Minority world country like the USA. I'm glad you asked! This was the question that led me for most of my journey for the last …er… ten years, I suppose.

One of my answers has been to look at how indigenous – pre-nation – religions might shape or impact our understanding of God(s) and of Jesus. Religions that have yet to be entirely seduced by the idea that ultimately, it's the state that saves us.

Comment by Keith Hebden — October 3, 2012 @ 2:47 pm

Mary and Keith, thanks for your comments on my post. Keith, I really appreciate your work on anarchism and Dalit theology, and also your comment here about 'indigenous… religions… impact[ing] God(s) and Jesus.' I think that's right on — theologically and politically.
TB

Comment by T Beaudoin — March 26, 2013 @ 11:14 am
RSS feed for comments on this post.
Leave a comment