Pages
Categories
Contributors
Recent Posts
Recent Comments
Recommended
Archives
Springsteen fans were greeted this week with something akin to Gabriel speaking to Zechariah announcing the birth of John the Baptist:  a new album will be released on March 6th entitled "Wrecking Ball", a new tour is set with dates in Europe and the US coming out soon, and to add icing to the cake, a new single available for streaming to wet our appetite entitled "We Take Care Of Our Own" (more on that in a bit).
Like Zechariah, there are many fans who are probably having doubts about this next outing from the Boss given that the last two offerings of new material – 2009′s Working on a Dream and 2007′s Magic – were lackluster at best.  Perhaps in an attempt at penance, Springsteen released 2010′s The Promise which offered B-sides, rarities and outtakes from his masterful 1978 Darkness at the Edge of Town to remind people (and perhaps himself) of his genius and (to riff on one of his Born in the USA barn-burners) "glory days."
Now that Springsteen has throw out this new single, fanboys will be drumming their fingers and wringing their collective hands in anticipation of the full CD to drop in March in order to assess where the patron saint of the true Jersey Shore will take us.  Like other baby boomer rockers in their 60′s the question remains: what does Springsteen have to offer the 21st century? Is there anything left in the old war horse of the prophetic imagination or is only trading in on the past and becoming a travelling parody act?
Part of what animates my anticipation is the simple fact that this is Bruce Springsteen we are talking about. What makes Springsteen such an interesting figure in American popular music is his ability to draw on the Everyman experience and make it an anthem for the masses—a rock and roll version of Aaron Copland's Fanfare for the Common Man. When he was inducted into the Rock and Roll Hall of Fame, Bono gave the induction speech and put it this way regarding Springsteen's appeal:
"He didn't buy the mythology that screwed so many people. Instead he created an alternate mythology, one where ordinary lives became extraordinary and heroic. Bruce Springsteen feels familiar to us. But it's not an easy familiarity, is it? Even his band seems to stand taller when he walks in the room. It's complex. He's America's writer, and critic. It's like in Badlands, he's Martin Sheen and Terrence Mallick. To be so accessible and so private . . . . But then again, he is an Irish-Italian, with a Jewish-sounding name. What more do you want?"
Central to this 'alternate mythology' for Springsteen was the desire to escape and that we are all, to use the title of his 1975 breakthrough album, Born to Run. In an interview with Creem magazine in 1978, Springsteen discussed how rock and roll provided that sense of escape:
"Rock and roll came to my house where there seemed to be no way out. It seemed like a dead-end street, nothing I liked to do, nothing I wanted to do, except roll over and go to sleep or something. And it came into my house—snuck in, ya know, and opened up a whole world of possibilities. Rock and roll. The Beatles opened doors. Ideally, if any stuff I do could ever do that for somebody, that's the best rock and roll motivates. It's the big, gigantic motivator; at least it was for me." – cited in Louis P. Masur, Runaway Dream: Born to Run and Bruce Springsteen's American Vision, p. 190

In this way, music became religion, a means of absolution and release, for Bruce Springsteen in the way that it has for many Americans who feel that the church says nothing and that a three-minute minute pop song understands and speaks to the core of their deepest needs.
Springsteen grew up a Catholic, attending grammar school at St. Rose of Lima at the corner of South Lincoln streets in Freehold, New Jersey. Commenting on his song Jesus was an Only Son on an episode of VH1 Storytellers, he said that "once you have been introduced to Golgotha, you are haunted by it forever." Organized religion is a subject of disdain for Springsteen. This is easily understood in the light of his reflections on parochial schooling. In one interview he reflects on his time at St. Rose of Lima this way: "In the third grade a nun stuffed me into a garbage can she kept under her desk because she told me that's where I belonged . . . . I hated school. I had the big hate. I remember one time, I was in eighth grade and I wised off and they sent me down to the first class and made me sit in these little desks, you know, little chairs. And the sister, she said, 'Show this young man what we do to people who smile in this classroom'—I was probably laughing at being sent down there. And this kid, this six-year-old who has no doubt been taught to do this, he comes over to me—him standing up and me sitting in this little desk are about eye-to-eye—and he slams me in the face. I can still feel the sting. I was in shock."  Yet even with this disdain for organized religion, Bruce Springsteen continues to expand on the god-haunted longing of the Everyman in his "alternate mythology" for America.
This brings us to his single "We Take Care Of Our Own" which is being released visually as much as musically given that it is a YouTube video of the song that is captivating cyberspace and racking up comments.  In this way Springsteen is returning to his 1980′s heyday found in the blend of MTV video, visceral pounding rock intertwined with his arena-sized social commentary.  In watching the video and listening/seeing the lyrics floating across the screen, you wonder if the Boss has been sitting in Evangelical worship services – atmospheric archival images float with PowerPoint lyrics across the screen evoking a sing-a-long engagement with the song.  As noted in a recent posting in Rolling Stone by Andy Greene in relation to the single, "in the grand tradition of "Born in the USA" and "This Land Is Your Land," some critics have already declared it a jingoistic, chest-thumping, "America, Fuck Yeah!" song – but it seems crystal clear that Springsteen is suggesting that America is not living up to its ideals, or "taking care of our own."  To be sure, it will be interesting to see and hear if the ironic comedy of error committed by the Reagan campaign to employ "Born in the USA" as a "morning in America" anthem suited for Reaganomics occurs again when it was a serious takedown of such politics. Will this occur with the new single "We Take Care Of Our Own"?  We shall see.
What will be asked is whether this is a song to be sung from below by the Occupy movement or from above in the company of the humidors and single-malts of the investment bankers. When we sing "We Take Care Of Our Own" what audience will we be in allegiance with this election cycle?
But the lyrics and ache in the bones of the song leaves nothing to chance:  people are being left behind in the age of foreclosure, dehumanizing debt and settling into the haunting sense that perhaps the elusive God that haunts the alleyways of Springsteen's back catalog  is no longer listening.  As you listen to the song and watch the lyrics roll across the screen, Springsteen seems to be seeking a text to grab a hold of as well – a new Scripture perhaps that speaks to our longings, despair and exhaustion. With the final shot of the video, the lyrics fill the gap between the urban cityscape and the blue skies above as if only art can bridge the stuff of earth and the stuff of heaven.  In this "I believe in Springsteen" in a creedal sense as any fanboy should and will hold out faith for another around of the Boss this year… "should the Lord tarry" that is.
What do you think of the new single?  Has the Boss captured our nation imagination once again?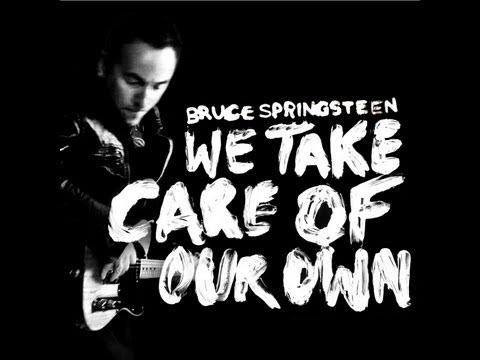 2 Comments »
Great review! Yes ala Born in the USA but for those less qualified to question, this song says it all! Sometimes charity begins at home, we give up and say' sometimes we just gotta take care of our own' JR

Comment by John Ross — January 27, 2012 @ 5:34 am
RSS feed for comments on this post.
Leave a comment