Pages
Categories
Contributors
Recent Posts
Recent Comments
Recommended
Archives
September 2017
S
M
T
W
T
F
S
« Jan
1
2
3
4
5
6
7
8
9
10
11
12
13
14
15
16
17
18
19
20
21
22
23
24
25
26
27
28
29
30
Former Led Zeppelin lead singer Robert Plant, now well into the fourth decade of a beyond-successful solo career, who is — and now that he is 63 I think we are permitted to suggest this — transcendently establishing himself as a thoroughly generative and unendingly creative scion and wisdom figure of rock — as well as generator of continually new spiritual palettes and an object of persistent and contending spiritual projections — gave a press conference in Kiev on 30 July, during which he was asked about his religion.
As the video below shows, his reply includes the following: "My religion? I'm one of the children of the sun." Is he talking about the new age movement "Children of the Sun," which describes itself as "embracing all religions and spiritual paths"? Or is it a reference to the "children of the sun" in the Zeppelin tune "Going to California"? Do we have here another iteration of rock's tendencies toward pantheism and/or panentheism? (I ask this not by way of judgment, but out of a curiosity about the kind of spiritual lives that deeply experienced "secular" musicians and their fans put together.)
After this comment, Plant adds, "Yeah, why not," and then something like, "'cause that's where we came from." Then follows a comment about the kind of music appropriate to sex ("music when you make love is a distraction"), followed by his observation, hard-won over six decades of musicianship, that "music is the sound of joy and glory."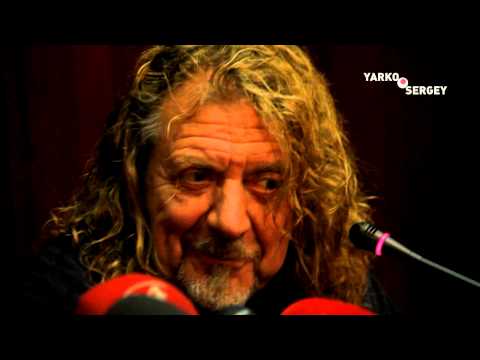 I cannot help but notice the theological thread through the whole brief meditation: originary creative power (the sun), relationship (children), desire (making love), surrender and participation (music as joy and glory). (He concludes with a joke, "Or maybe when we make love, we could listen to [the 80s metal band] the Scorpions," which sends him into a brief, knowing reverie, concluded by a laughing "fuckin' hell," and as he parts with the theme reluctantly, a meditative "yeah, yeah…")
This can all be acknowledged and certainly celebrated, but without having to idolize Plant. Or rather, I would argue that fans (including me) should make of him the proper kind of idol. Like all of us, his inner
divergences come out in even the shortest of exchanges: in this interview, if you listen carefully, there is that little moment of the performance of "masculine" entitlement at the beginning, in which he makes a regrettable attempt at humor, when he patronizingly asks his assistant ("Marianne, darling") where he should sit, and then jokes that she sleeps on her right side, for which you can hear him immediately apologize ("sorry") to her, sotto voce.
Theology and music, for better and for worse, for richer and for poorer, are a closely knit pair.
Tommy Beaudoin, Hastings-on-Hudson, New York
9 Comments »
RSS feed for comments on this post.
Leave a comment