Pages
Categories
Contributors
Recent Posts
Recent Comments
Recommended
Archives
October 2017
S
M
T
W
T
F
S
« Jan
1
2
3
4
5
6
7
8
9
10
11
12
13
14
15
16
17
18
19
20
21
22
23
24
25
26
27
28
29
30
31
Tonight, I saw Michelle Malone at "New York City's Oldest Rock Club," the venerable rock venue Bitter End in Manhattan's Greenwich Village. I wrote about Malone (in concert with the Indigo Girls) a few days ago, and want to continue that thread here.
Malone, both paragon and paramour of the rich and soulish intersection of blues, rock, gospel, and folk, played an exhilarating set tonight of what I can only call nasty blues, to a crowd considerably larger than I have ever seen her attract at the Bitter End, having seen here there off and on for the last decade. (The last time I saw her there, a few years ago, there were probably only 30 or 40 of us, but tonight the house was packed with easily 150-200 people by my rough estimate).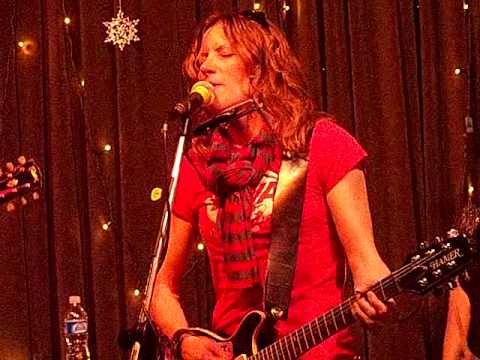 This was easily among the loosest and most available Malone concert personae over the last ten years. She twice jumped up on tables for guitar solos, took many occasions for orans postures, poured herself aggressively into her harmonica solos, and has become more free than ever in her vocal growl and blues-rock acrobatics. Not to mention her guitar-playing, which complements in her own way her "blues sister" Susan Tedeschi's own remarkable six-string prowess.
Partway through her set, in between refrains of "Jesus is Coming," Malone yelled out a welcome to this (seen-it-all, it's-all-good, what-have-you-done-for-me-lately) New York crowd with the words "Brothers and sisters of the first nondenominational church of New York City, can I get an amen?" Response: wild cheers.
It takes some theology to consider why such an invocation was not at odds with Malone's palpably nasty blues that dig around in the dirt for traces of redemption. Songs from her latest album, like "Weed and Wine," revel in a joyful carnal exploration that delights in the other. Were it not for the courageous if relatively understated lesbian politics of some of Malone's other songs, "Weed and Wine" would remind me of the heterosexual reading of the Song of Songs that so conveniently takes the scripture as a frank celebration of married or at least hetero-sexuality (and was so swashbucklingly undone in biblical scholar Roland Boer's book Knockin' on Heaven's Door: The Hebrew Bible and Cultural Criticism (Routledge, 1999)).
Christian theology usually has a tough time with the abandon evident in such venues, and with such songs. But theology, and more importantly, younger theologians, are slowly learning to appreciate the earthish seismology that such songs might allow, cathected in a night at The Bitter End or over a lifetime of listening or even more intensive fan practices. Theology is still in the opening stages of learning how a reading of the terrestrial terrain contains its own forms of "yes" that not only might be "correlated" to more explicit and venerable Christian "yeses," but might even refigure what Christians look for in their own tradition—and experience. In other words, to put it more directly: theology, wherever it ends up, cannot do without a thorough valorization of what is good and compelling in this world, and of having these not only serve as tests of what Christians end up considering good and compelling, but as goods turned out by rock culture in its own right, and therefore deserving of Christians' respect and patient sifting. For those of us who live in both the rock and theological worlds, this sifting is already going on.
Christian theology used to position itself as the governor of all experience. Its new identity is much more to do with its facility in becoming a student of experience.
Tom Beaudoin
New York City, New York, United States
No Comments »
No comments yet.
RSS feed for comments on this post.
Leave a comment