Pages
Categories
Contributors
Recent Posts
Recent Comments
Recommended
Archives
Tonight in my "Foundations of Pastoral and Practical Theology" class at Fordham, I taught about Gregory the Great's sixth century classic, the Book of Pastoral Rule. In it, Gregory argues that pastors must become "student[s] of how to live." In this short firework of a phrase is contained centuries of thought and practice about spiritual exercises in antiquity, attempts to explore and take up a different relationship to one's "soul" through practices that take one both outside and into oneself: meditation, contemplation, reflection, imagination.
I had the thought today, while preparing class, that my approach to theology and music foregrounds such practice-minded techniques as Gregory's while backgrounding the explicit God-related 'content' of those techniques. This has to do with a much bigger question about the relationship between form and content in general, and specifically in works like Gregory's as well…. which has to do with an argument also about what spiritual exercises are and how they work.
As that argument is not best made in a short blog post (but maybe I will attempt it later), I will leave well enough alone for now. But suffice it to say that Gregory's work reminded me of the ways that music has helped me learn how to live with reference to ultimate reality. And in that sense, pop music has been theologically significant for millions of fans and musicians.
A few years ago, Audioslave had a song that spoke to this: "Show Me How to Live."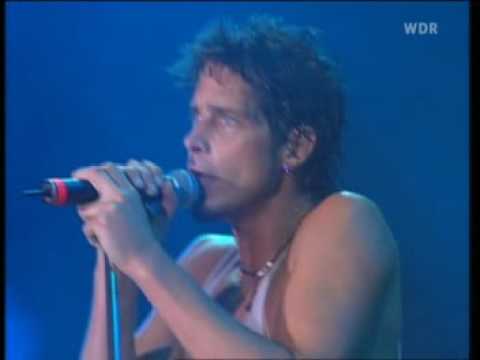 The song was written (as far as I can tell) from the vantage of the crucified Jesus, which I appreciated theologically because it put so dramatically the (more…)
Last night at Barclays Center in Brooklyn, I saw Thom Yorke with his new band, Atoms for Peace, in concert. Yorke was giddy with gyrations, air-punch dancing, and music-spirit possession from start to finish with few pauses. The band's bassist, Flea (from the Red Hot Chili Peppers), put on his own show of bass-dancing with as much vigor as Mr. Yorke, hopping back and forth from foot to foot, bopping and popping and stomping his legs, jumping on the drum riser and hank-hopping sidewise, all while continuing to play the funky bass parts for which he is known but now scaled dance-ishly to the heavily electronic band that he and Yorke formed.
Here they are this summer in Los Angeles: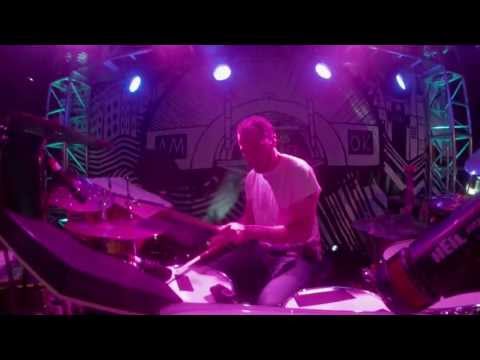 Indeed, much of the audience were dancing through the set and the (two) encores. From my seat, midway up and toward the back of what looked like a nearly sold-out arena, I could see the thousands of bodies claw-writhing and daisy-flailing and yelling out the words, and in that buoyancy, I noticed that Mr. Yorke's vocals were chants, multisyllabic and often monotonal meditations. We call it "singing," and it was, but the kind that allows (more…)
Fr. Jim Martin, S.J. introducing Metallica on the Colbert Report Tuesday night.  'nuff said.
Dave Nantais, Detroit, MI
I have been following with interest the remarkable quantity and energy in the news reports about Pope Francis. Many, especially those that feature interviews with academics, take care to emphasize "tone" as distinct from "teachings," as in: the tone has shifted, yes, and dramatically so, but teachings have not been altered one iota.
This is accurate, but only in the narrowest sense, and does not go very far theologically. Tonight at Fordham I was teaching the work of the theologian Seward Hiltner, who argued that in every discipline, and quite evidently in a trench-like field like pastoral theology, culture and faith exercise a potentially mutual influence on each other. Every theology, he underscored, is effectively a conversation between faith and culture, however explicit or implicit. This is most obvious when the theologian is theologizing "on the fly," as a hospital chaplain does, but is just as true for any other theological field.
One corollary of such an approach is that one cannot maintain too strict a separation between "tone" (read: culture) and "teachings" (read: tradition/faith). Indeed, theological research into everyday belief and practice most often shows what social science theory would predict: that in "real life," people who consider themselves to be religious or spiritual do so with respect to the tones of Christian leaders as much as any teachings. In a way, tones can become operative teachings. For example, if a religion teaches against same-sex relationships, but the local religious leader soft-pedals that teaching and instead actively welcomes same-sex couples and their children, then the "tone" has become the de facto "teaching" for many.
All of this reminded me of Phil Collins and Genesis. I don't know how Collins' music became so maligned in pop culture in the last couple decades, (more…)
Britney Spears recently announced that she will be accepting a two year residency at a Las Vegas casino hotel.   Other musicians have done this in the recent past, notably Celine Dion and Elton John–these deals are incredibly lucrative for the artist, and performing multiple times each week helps these musicians keep up their chops.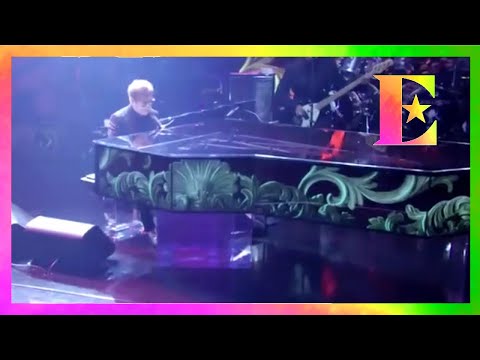 Britney's announcement caused me to reflect on this residency phenomenon in popular music.  What if an artist chose to reside in a place for philanthropic reasons?  What if an artist wanted to understand the joys and struggles of a community, so s/he decides to reside there for an extended period of time?  Allow me to flesh out this idea.  Musicians often respond generously to disasters by performing free concerts to raise money for victims (Live Aid, Band Aid, Farm Aid, Hearing Aid, USA for Africa, Live 8, among others).  A positive outcome of these efforts (besides the money raised) is that popular musicians' involvement helps to inform the public about the plight of victims and raises awareness especially among the fan base.  On the down side, such efforts reinforce a "quick fix" mentality about very complex social issues–no disasters, natural or otherwise, are completely random–there are social structures created by human beings that contribute to the problems, and even large amounts of money can't immediately improve the situation.
I am proposing that in order to understand the complexity of particular social issues, musicians take up residency for an extended period of time in the areas they are trying to help.  I recommend my home, Detroit, MI.  Detroit is now the largest municipality to declare bankruptcy in the history of the (more…)
A post from May 2009 here at R&T, with reference to …..
We are happy to feature this guest post by Don H. Compier, author of the new book Listening to Popular Music.
*
Shortly after its appearance in the 1950s, a number of Christian ministers began to denounce rock and roll as "the devil's music." American musical icon Mavis Staples, on the other hand, reportedly declared in an interview that "The devil ain't got no music! All music is God's music!"
Those suspicious of rock and roll may claim that Christian tradition is on their side. Leading figures such as Augustine, John Calvin, and even John and Charles Wesley did express their profound concern about the seductive, immoral influence of music. And yet sister Mavis could cite no less an authority than Martin Luther in her defense. The Reformer insisted that "Music drives away the devil and makes people gay; they forget thereby all wrath, unchastity, arrogance, and the like."
I know many people like myself for whom listening to rock and roll has been nothing less than a joyful conversion experience. We testify that we have often encountered divine grace. We marvel at the creativity of human beings made in God's image. We celebrate music's power to draw diverse persons together. Rock and roll helps us to read the signs of our times. Even the Rolling Stones' infamous "Sympathy for the Devil" is an astute perspective on the terrible events of 1968. Rock and roll's struggle with sexism and racism informs our own battle to exorcise these demons that have haunted our culture. In spite of rampant commercialism, rock has raised up prophets like Bruce Springsteen. On "Wrecking Ball" the Boss draws from his own spiritual wells to powerfully denounce today's massive economic inequality and envision a better world.
Mavis' approach helps us appreciate that God's Spirit is always active, everywhere. God has not left popular music to the devil!
Don H. Compier, Graceland University, Independence, Missouri
When I was a little girl, my father dragged me to a Johnny Cash concert. I had no desire to see the singer. I loved rock n' roll. To me, Cash was just some hillbilly country singer. All I remember from the concert is that I didn't hate it. Since then, however, I have come to deeply respect Cash, not only for his music but also for his character with all its chinks and cracks.
Recently, I thought of Johnny Cash again when I saw a picture of his tombstone. The inscription caught my eye—a quote from Psalms 19:14: "Let the words of my mouth, and the meditation of my heart be accepted in thy sight. Oh Lord, my strength, and my redeemer." Very fitting words, indeed, for the conflicted singer known as "The Man in Black."
Cash originally wanted to record gospel music but when he auditioned for Sam Phillips (who also worked with Elvis Presley) at Sun Records in Memphis, Phillips told him he should play rockabilly instead. He went on to have an illustrious career: three hall of fame inductions (Rock and Roll Hall of Fame class of 1992), seventeen Grammy awards including a Lifetime Achievement Award, and numerous country music awards. Even more impressive to me, though, were his personal battles—all waged with a vulnerable determination to stay on that path of righteousness. Amid one of his relapses into drug addiction, Cash had a spiritual conversion he credits with saving his life. Still, he struggled to stay on course.
His first major hit, "I Walk the Line," was written about his determination to stay faithful to his then wife, Vivian Liberto. Yet, the title could also serve as a metaphor for Cash's own perilous journey through a life precariously teetering between drug and alcohol addiction, rehab stints, and brushes with the law on the one side; and a sincere love for his family and deep Christian faith on the other side.
I wonder what Sinead O'Connor means by that. She is quoted to that effect in a July interview with Rolling Stone here.
Here is an interview with Ms. O'Connor about her religious/spiritual life, from Catholicism to "Fiddler on the Roof" to the Book of Job.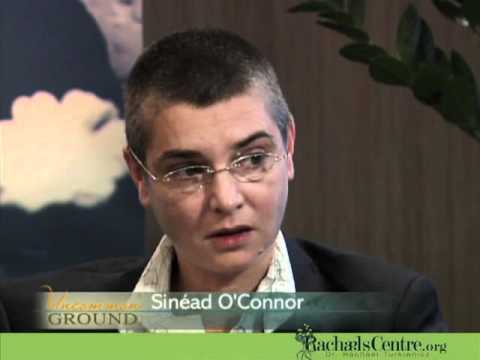 It is rare nowadays to see this kind of extended conversation with a renowned musician on religious topics. Sinead O'Connor seems to be one of the few prominent musicians integrating a searching theological sensibility with popular music.
Here she is covering Curtis Mayfield's "Jesus" in New York City in July: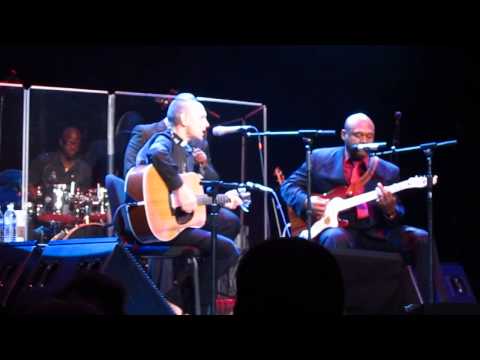 And here is another version one year earlier in NYC. (Thanks I.F. for the tip.)
Tommy Beaudoin, Hastings-on-Hudson, New York
Next Page »