Pages
Categories
Contributors
Recent Posts
Recent Comments
Recommended
Archives
I hope I am not the only one who finds the new video by the Pixies, released this week, to be more than a little disturbing.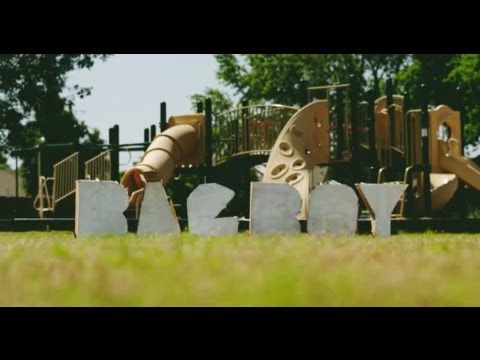 The evolutions of Calvinism, particularly in their Dutch contexts, are of course well-known for giving us some stark systematic theological categories. Most (in)famous among these being the acronym TULIP, a memory device to keep track of the "five points" of orthodox Calvinism. In the acronym, as many know, the "T" stands for "Total Depravity," the notion that all human aspiration and behavior has now become corrupted by the leaching powers of sin. (more…)
In February, I listed the top 5 posts (the most clicked-on posts according to our WordPress data) here at R&T. It's time for an update, except I'm going to count down the top 10, not just the top 5.
#10: "Occupy Wall Street Update: Including Photos of the Sacred Space Area" (Beaudoin)
#9: "Five Finger Discount: Augustine, Night Ranger, and the Delight of Transgression" (Robinette)
#8: "Just 10,000 Hours? Musical Skill, Musical Feel" (Robinette)
#7: "Songs of Sin from Student Perspectives: A Good Site for Theology" (Beaudoin)
#6: "Same Love: The Prophetic Challenge of Macklemore and Ryan Lewis" (Keuss)
#5: "Geddy Lee, Jewish Atheist" (Beaudoin)
#4 "Black Metal as Philosophy (of Religion)?" (Beaudoin)
#3: "Robert Plant in Kiev: 'My Religion?'" (Beaudoin)
#2: "Bruce Springsteen's 'Wrecking Ball' Faith vs. Evangelical Certainty" (Keuss)
…and………
#1: "Wish You Were(n't) Here: Concerning Album Warts and Other Blessed Imperfections" (Robinette)
Here is part three of my short series on the spiritual benefits of following a band for a long time. Part one is here, and part two here.
About ten years ago, the band was interviewed answering fan questions that were facilitated (if memory serves) by RushCon, an annual Rush fan convention. At the time, I was teaching at Boston College in Chestnut Hill, Massachusetts. I submitted a question that, fortunately, was selected to be asked. The question, as you can hear in the video (I don't know who conducted the actual interview) was: "Can you please comment on the relationship between your music and your spirituality? How does your spiritual life make its way into Rush's music, and is playing in any way spiritual for you?" Vocalist and bassist Geddy Lee answered it in an interesting way. You can see it here: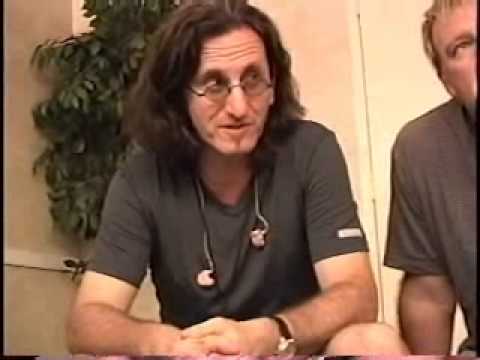 Why was I interested in knowing this from the band, and what did I think of Geddy Lee's reply? Somewhere during my theological studies in the 1990s, I realized that rock and roll experience could be thought of as containing or rendering its own spiritual significance, and that this music was not strictly "separate" from religion/spirituality/faith/etc, nor was it only a "preparation" for something more genuine or deep. I have understood that spiritual significance in different ways over the years. And I was interested in how the band thought about this—if they thought about it at all. It turns out that Mr. Lee took some time with the question and gave a thoughtful response.
His response makes a lot of sense to me: It sounds like he distanced himself from religion, or what religion had been in his life, as a way of finding a (more…)
From a May 2009 post by Andy Edwards.
On a related note, here is Bob Dylan meeting Pope John Paul II: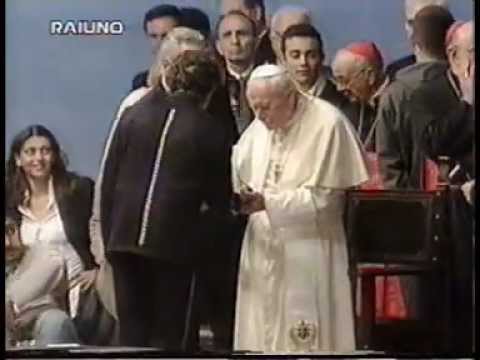 In Part One of this short series, I wrote about my long relationship with the band Rush, thinking about the spiritual benefits of being a long-term fan of a band.
My interest in this band dates back to the days when, as a teenager, I had band posters across my bedroom wall, I ordered almost all their albums on cassette through tape clubs, and I would listen to Rush interviews on the radio (mostly on Rockline or similar shows) and tape-record them, and then transcribe them into a binder that ended up being fairly stuffed by the time I finished high school. That's how I got into their thinking, not only their music.
Here is the band in the early 1980s playing "Tom Sawyer":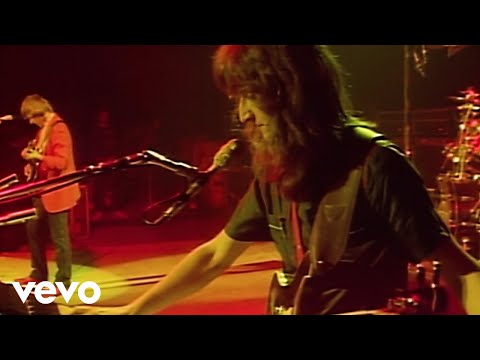 And here they are in 2011 revisiting the same tune: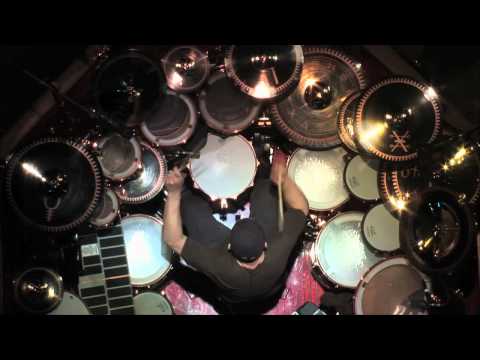 So I suppose I have not only followed this band, but in some way I have tried to imagine their world. Or I have put together a world through them, a world in which the "external" touchpoints are their life stories, their musicianship, their role models as men, their growing up (when I first listened, they were in (more…)
Last night, along with many thousands of others, I saw Rush at Jones Beach on Long Island, New York.
(Here is the trailer for the upcoming DVD from the current "Clockwork Angels" tour)
I believe that my first Rush show was 29 April 1986 at Kemper Arena in Kansas City, Missouri. Over 27 years, I have seen the band perhaps probably between 15 and 20 times, and have been more or less connected to Rush fan culture since about 1981 (first through magazines and later through fan boards online). Very few rock bands last as long as Rush, who were recently inducted into the Rock and Roll Hall of Fame, and have been together for four decades. I am 44 years old, and started following this band when I was 11 or 12. As I get older, I have more and more appreciation for what this experience has provided me. This band has been a through-line from my childhood to the present. Not even my interest in religion has had that kind of consistent longevity.
I was happy to have been unexpectedly bumped-up to a floor seat last night — about 20 rows back from the stage — after the broker (read: professional scalper) from whom I had (unwittingly!) purchased the ticket online gave me an upgrade because, I'm guessing, he (re-)sold my original seat for more money and moved me to a much more expensive seat that he couldn't unload. Having such an extraordinary view of the stage made me reflective about (more…)
Pops used to tell me, "Mavis, make it plain. You want the people to get what you're saying." I won't wear rings and jewelry on the stage because I don't want you looking at my hands. I want you hearing what I'm saying. I don't want the band to play too loud. I'm singing these songs to inspire you, to keep you going, to lift you up and give you a reason to get up in the morning. These aren't just songs I'm singing to be moving my lips. I mean this.
From an interview with Mavis Staples in The Wall Street Journal, Friday, June 21, 2013, p. D6
On June 23, 1963, Dr. Martin Luther King, Jr. led a march down Woodward Avenue, the main artery in downtown Detroit, to Cobo Hall.  Here he delivered for the first time what would become his "I Have a Dream" speech.  To commemorate the 50th anniversary of this important event, Detroiters will again march down Woodward Avenue in solidarity with those who came before and struggled for equal rights, as well as those around the world who continue to fight to claim the rights they are due by virtue of their humanity.
In her compelling and thoroughly researched book, Dancing in the Street: Motown and the Cultural Politics of Detroit, Suzanne Smith reports that Motown Records utilized its influential status to advance Civil Rights causes in Detroit and around the country.  One way they accomplished this is by recording speeches by important civil rights figures of the time.  Motown's recording engineers preserved Dr. King's speech at Cobo Hall on June 23, 1963 for future generations, as well as several other seminal speeches.  Smith writes:
"Motown's success within the music industry allowed the company to experiment with other types of recording that directly addressed the civil rights movement.  These recordings documented the efforts of black Americans to integrate not just popular culture but American society as a whole.  In 1963 Motown produced its first spoken-word recording, entitled The Great March to Freedom, which preserved Martin Luther King Jr.'s speech at the Detroit demonstration held on June 23, 1963.  By the late 1960's Motown had created a separate spoken-word label–the Black Forum label–with the explicit goal of preserving black thought and creative writing…Albums included poetry recordings by Langston Hughes and Margaret Danner, Amiri Baraka, and Elaine Brown as well as political speeches such as Free Huey! by Stokely Carmichael.  The Black Forum label illustrated Motown's awareness that, as an independent black cultural producer, it should help preserve black history and culture."
This is from my "Introduction" to the new book, Secular Music and Sacred Theology, which features several other R&T contributors as well:
"For good contemporary theological research, especially with a public topic like popular music, we do not merely assert. We have to have good reasons and justly persuasive rhetoric for theological work. By 'good reasons,' I mean reasons that stand up to scrutiny as good argument among those committed to it inside and outside of theology. By 'justly persuasive rhetoric,' I mean to recognize that we are persuaded not only by 'good reasons' but by persuasive, poetic, even beautiful writing and other forms of theological presentation, and that this persuasive rhetoric ought to ultimately serve justice toward ourselves and all others in our (local and global) society. 'Good reasons' can never be separated cleanly from 'justly persuasive rhetoric.' But good theological researchers keep this sort of thing in mind when they try to talk about culture, or about any theological work for that matter." For more, check out the book.
A few years ago I saw famed jazz clarinetist Anat Cohen play downtown in Manhattan at the Village Vanguard, finding myself utterly unprepared for what "jazz clarinet" might really entail. As the jazz unfurled, it entailed an intensely personal form of musical communication, laden with emotion, interjection, assertion, charisma. I read a story about her recently here — and was intrigued by her description that she can now play "as if it is part of my body."
Though I am, by many orders of magnitude, by no means as accomplished on bass guitar as Cohen is on clarinet, I do know the experience of feeling like my Fender or Rickenbacker basses are an extension of my body. Only in the last few years have I really begun to feel like I am in a relationship to these basses, neck, body front and body back, strings, headstock, and frets, in a way that approaches something like a feeling of "bone of my bone and flesh of my flesh," to use the old biblical phrase. I think that I have been playing my way toward this relationship to my basses over the course of 27 years. When I stop to think about it, what happens in this relationship between my arms/hands/fingers and wood/metal/wire is something (more…)
Next Page »