Pages
Categories
Contributors
Recent Posts
Recent Comments
Recommended
Archives
Here is another entry in the rock bestiary. (For more on the bestiary, the rock bestiary, and its theological significance, see here.) For this new entry, I submit an entire review by critic Ben Ratliff of a recent concert in New York City by the Canadian band "Duchess Says." The review can be found here.
This is the best entry by far in the bestiary. Almost every line of Ratliff's review is a report of gesture and its sonic significance. It includes lines like this about lead singer Annie-Claude Deschenes: "She sang words direly, squeaked nonsense, hollered and squealed and chanted and, occasionally, for effect, screamed. None of this was expressing the attitude of the song; emotionally they seem neutral. She was expressing their sound content, singing their riffs, as in 'Narcise,' or their beats, as in 'Tenen Non Neu,' which sounded like her own version of konnakol, the South Indian system of vocalizing rhythm syllables. For a quieter song she made a downward motion with her hands: everyone sat down cross-legged. She enacted her movements at the center of a circle, then softly crashed into a few men, rolling over them."
This video from their 2010 performance at SXSW shows something of what this looks and sounds like: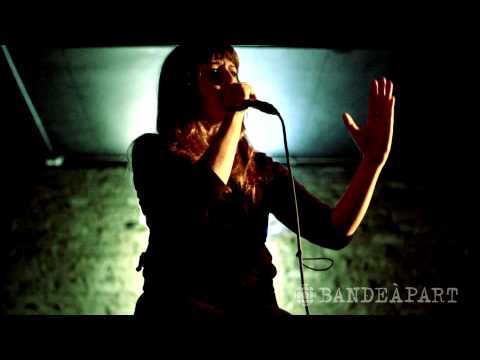 Ben Ratliff, this writing, this report of other worlds summoned in and through this rock, is exquisite. Are you writing especially for us at R&T?
tb