Pages
Categories
Contributors
Recent Posts
Recent Comments
Recommended
Archives
Today in the New York Times, I read a nice (but too short) feature on women who have found/created paths to ordination to the Roman Catholic priesthood, reported by Judith Levitt.
This group of Catholic "Womenpriests" is a revolutionary community who have been not only theorizing the ordination of women in Roman Catholicism, but finding ways to make it happen. No doubt, a few hundred years from now, all the drama around ordaining Catholic women will seem like such a parochial matter because women will share equally in Catholic leadership at all levels, but for right now, and as a way of getting to that (hopefully inevitable) future, it is worth appreciating that history is being made.
Here are two videos about the movement: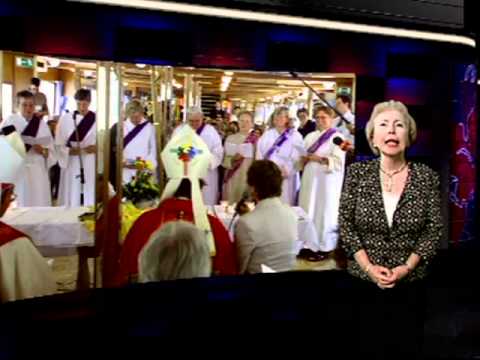 Forgive my leap of imagination, but this story called to mind an artist in the music world often referred to as the "high priestess" of rock and roll: Stevie Nicks. That title "priestess" has a different meaning in the world of secular music: Nicks is often
When my nieces introduced me to The Script, I will admit that the title of the first CD I tried out grabbed me: "Faith and Science" – hardly surprising for someone who was theologically trained in fundamental theology and theological aesthetics. In truth, there is only one song that develops that theme – the 4th track of the same title. Although it could be fruitfully brought into dialogue with PierAngelo Sequeri's theology of faith and trust (and perhaps I will in a future post), it is not the only one I like.
I admit it: I'm hooked. I love their music. From the first guitar riff of the first song "You won't feel a thing":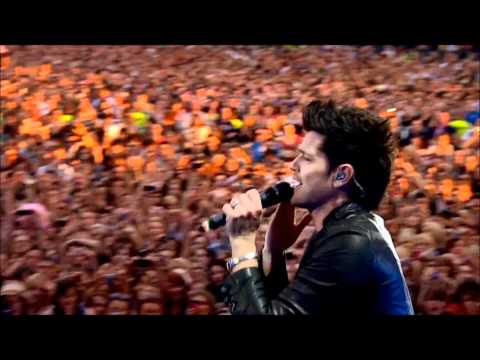 my bad days are interrupted and touched by something my body recognizes and moves to, inside and out. So in the next blog or two I am gonna reflect a little bit about what and why that is. They're Irish (Dubliners even :-)) – but I will declare with complete honesty that I only found that out after I started investigating them. But of course it only endears me further. There is always gonna be that fascinating, albeit paradoxical, pull to and rejection of the mystical side of life that is such a part of my nation in 'recent times', and that I recognize.
What they say about themselves is interesting, and again has to do with what making-music implies, as much as, or as a means
A talk available on YouTube about "homosexuality and the Bible" by a Harvard undergraduate, Matthew Vines, has become something of an Internet sensation. I learned about it through a story in the New York Times here.
You can watch the talk here: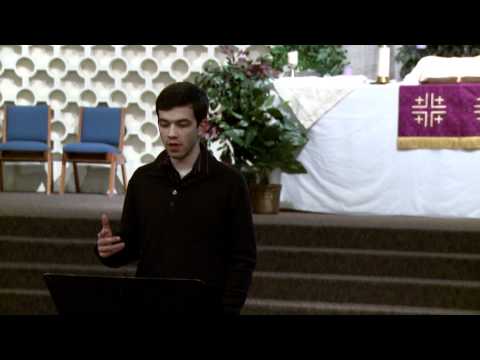 I think Vines is being courageous and I hope that many more people will listen to his presentation. I venture that most people in the USA, anyway, do not know that a good deal of recent scholarship on same-sex erotic relationships in the world of the Bible has come to the conclusion that the Bible (Torah/Hebrew Bible/Old Testament as well as New Testament/Christian Scriptures) is not really talking about "homosexuality" at all in the way that that term is understood today. "Homosexuality" is simply not dealt with. The passages of the Bible that are typically invoked are all embedded in other "cultural"/"religious" concerns of the time. For Christians, it is especially important to note that just because Paul seems to discuss same-sex relationships in some passages, it does not mean he is talking about being "gay" or "lesbian."
Rock and roll, perhaps due to its bound-up-ness in church backgrounds (which makes it both run to and run from matters of faith, sexual identity, and sexual activity, however those might be defined), has generally shied away from addressing homophobia (fear of non-straight-identified persons) or heterosexism (the privileging of straight-identified ways of life). This is especially true of "mainstream" white-guy hard rock, the kind of stuff on which I grew up in the Midwest, and, in the midst of other musics, to which I often still return. Virtually none of that music dealt explicitly with gay-bashing or directly challenged spiritual denunciations of LGBT persons.
I feel like, compared to the world in which my undergraduate students live, my own Midwestern high school and undergraduate/college world of the 1980s was markedly different in this regard. Of over 350 people in my high school class, I
Continuing on my recent post on a scene from the film "O Brother Where Art Thou" with its famous song, "I Am a Man of Constant Sorrow"….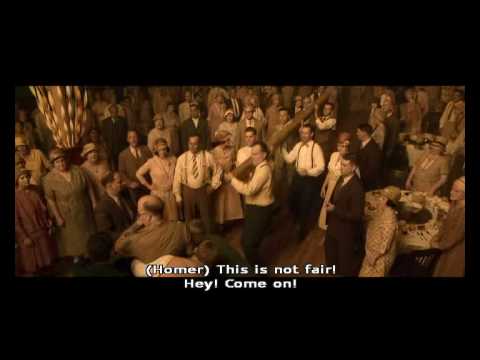 What I also notice in this resurrection scene, in which the "convicts" — Jesus/Soggy Bottom Boys — are coming out into the light, the footlights, public attention, is the hint of surprise of the resurrected at their new stage. They are a little bewildered, but they also know what to do; the singing they used to do under night's cover now happens in a way connected more deeply with all beings across status — symbolized here by "crossing" race and bringing the community together ("these boys is integrated!"). It is entry into a new level of connectedness to all life, betokened here in the small ways that movies can afford.
In the Christian tradition, there are no canonical accounts of any detail about Jesus' own feelings after being raised from the dead. Whatever your spiritual orientation, if you can place yourself in that story, what might that feel like? Wouldn't it be
I posted this in February 2009.
The old link to the Moulin Rouge video in that post has expired, but here is one that works:
The other morning my mind was wandering and I found myself thinking about the record stores of my youth.
This was thirty-some-odd years ago, now.  I remember the first cassette tape I bought – Supertramp's Breakfast in America.  It was purchased at a hole in the wall Record Bar tucked back in the Cross Country Plaza shopping center in my home town of Columbus, Georgia.
Some time later I went back to that same store and picked up my first LPs.  On the same day I bought the Beatles' Sgt. Pepper's Lonely Hearts Club Band and Billy Joel's Glass Houses.  I actually was disappointed that I couldn't find the newer version of Sgt. Pepper's, the one with the Bee Gees and Peter Frampton.
I was seven, so perhaps that can be forgiven.  I will say I did not remain disappointed. (more…)
After reading Maeve Heaney's superb post on Bruce Springsteen's music, I thought I would share the following quote by Catholic priest and Springsteen friend, Fr. Kevin Keelen, made in his opening remarks at Monmouth University where a four-day symposium on Springsteen was held two week ago:
"Like nothing else in life, music transports us … more than any service or lecture you could do." Springsteen "is a priest, and a priest brings people together." USA Today, Sept. 17, 2012, p. 3D
"Bruce Springsteen is to the Synoptics as U2 is to John's Gospel"; the words of a friend, moral theologian and Springsteen fan ring in my ear as I run through the park listening to Bruce Springsteen's Wrecking Ball. And there's no doubt that one track after another leaves me with a growing sense of the call to mercy and justice that the Gospel stories evoke about Jesus' life. And in this CD he does it so masterfully – as a part-time singer/composer, I admit to being somewhat jealous… Land of Hope and Dreams has me fascinated – playing on music (and thoughts) of the past: Curtis Mayfield's "People get Ready"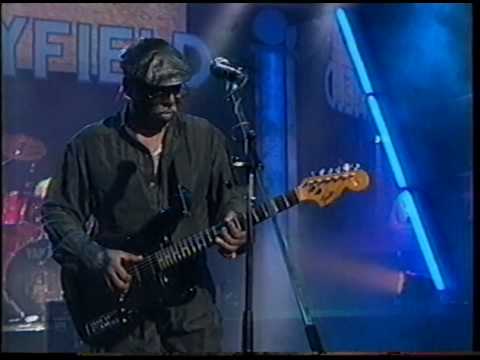 People get ready, there's a train a-comin'
You don't need no baggage, you just get on board
All you need is faith to hear the diesels hummin'
Don't need no ticket, you just thank the Lord
evoked in his "Wrecking Ball" version by a Gospel choir at the end of the song;
and "This Train is bound for glory", a traditional American gospel song first recorded in 1925 made famous by Woody Guthrie.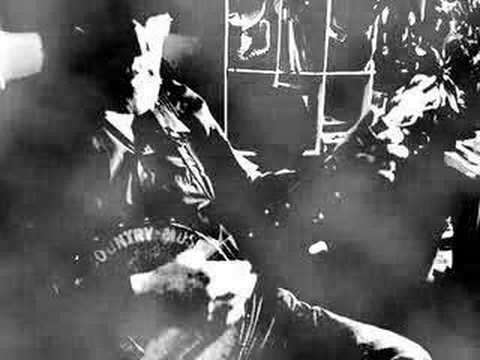 played recently in the Woody Guthrie Centennial Concert: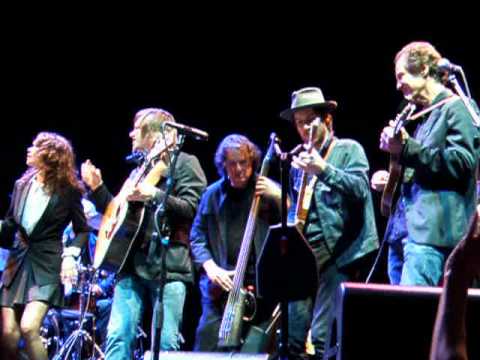 This train… don't carry nothing but the righteous and the holy.
This train is bound for glory, this train.
This train don't carry no gamblers, this train;
When I first saw the movie, "O Brother, Where Art Thou?" about a dozen years ago, I was enchanted by one scene in particular: it is where the "outlaws" (three white prison escapees and their African-American guitar-playing compatriot) who are also the artists (the "Soggy Bottom Boys") behind a popular radio hit in Depression-era Mississippi, make a surprise appearance at a local campaign event.
They are there because "Everett," the George Clooney character, is trying to get the attention of his estranged wife. Here is the scene: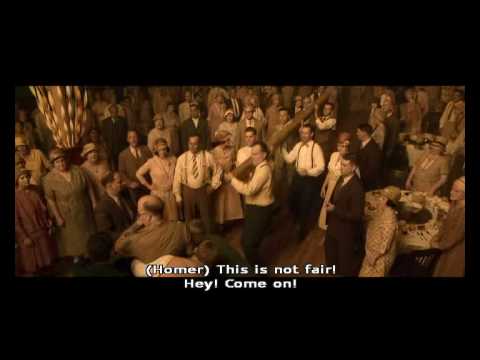 Many commentators have remarked on the ingenious way that the film re-tells The Odyssey. That re-telling is riven with Christian theological backgrounds from start to finish, as is only fitting for a story set in the early 20th century American South.
Over the course of a few posts, I would like to offer some brief theological notes on the scene.
As the scene opens, the performers are costumed in fake beards. (They have just recently escaped from a Ku Klux Klan rally, where the white chaps (Everett, Pete and Delmar) have just saved their guitarist friend's (Tommy's) life.) They find themselves on stage and forced to play music. When they launch into "I Am a Man of Constant Sorrow," the crowd cheers with delight
httpv://www.youtube.com/watch?v=x2Ds_s916r0
Next Page »