Pages
Categories
Contributors
Recent Posts
Recent Comments
Recommended
Archives
Take a minute-or in reality over an hour- to check out the complexity of Hip Hop culture in this video below. In it are both a pro and con side of and for Hip Hop. Listen to the arguments; engage in the rhetoric being said; and take in the complexities of a culture that is truly hard to define. This is a great clip to truly get an overview on some of the main arguments currently happening within and around Hip Hop studies. Moreover, it is important to understand the various viewpoints in a culture that many people only see as a musical genre.
I'd love to hear your thoughts!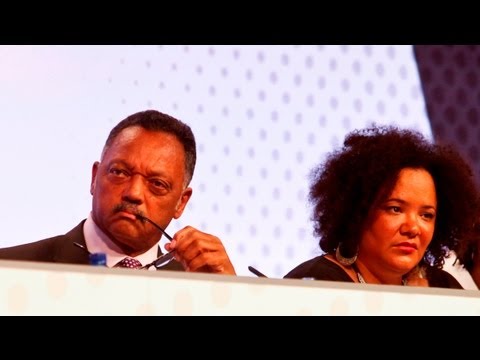 As R&T readers know, last week I saw the musical "Once" on Broadway (and wrote about it here). This afternoon, I was walking in NoHo in Manhattan, and was about to stop in at a cafe.
Out front, I noticed a familiar-looking guy, and I quickly realized he was one of the cast and musicians from "Once." In fact, he was an extraordinary musician in the musical, playing guitars and drums and singing. His name is Lucas Papaelias, and he is already an accomplished musician, actor, and composer.
I told him about Rock and Theology and we talked about musicals, performing, and spirituality. (He was very generous with his time, allowing this interruption from a random professor who wanted to talk with him about religion and music.) He is performing in, and is the musical director of, a show this weekend at The Culture Project in Manhattan, a show titled "A Thick Description of Harry Smith (Volume 1)," which, if you read the description, looks like it would be of interest to R&T readers.
Here is a picture of Lucas and me. (That's him in the AC/DC shirt, and that's me holding the phone-camera.)
On YouTube, I found a video of Lucas playing at a party purportedly at 4 a.m. Ever been in a scenario like that? If so, you will recognize
In the April 2012 issue of Harper's magazine, Anthony Heilbut has an engaging essay on Aretha Franklin. Titled "Aretha: How She Got Over," Heilbut (who is the author of The Fan Who Knew Too Much: The Rise of the Soap Opera, Children of the Gospel Church, and Other Meditations) tells the story of Franklin's beginnings in the church and the influence of her pastor father, and shows how her gospel music background has served as a recurrent anchor for Franklin's brilliant singing career.
Here at R&T, we think about relating theology and pop music, and one way to do that is to look at how theological culture and musical culture come together in the lives of individuals, and Franklin's life gives much to consider in this regard. Her pop success was underwritten by gospel music skills and feel, Heilbut argues, and the close relation between sexual and religious experience, confected in the black church, is a leitmotif that warrants several interesting asides (including a note about her performance at a same-sex wedding in October 2011), and that I wish Heilbut would have explored more directly. Perhaps he does in his book.
Here is Franklin early in her career:
Franklin, he suggests, "virtually colonized American music for the gospel style." It seems the choice of verb is innocent here, but I think it tells deeper than Heilbut lets on. From the church of a colonized people came an extraordinarily talented woman, who neither simply repeated nor neatly inverted that colonization, however metaphorically, but let gospel music flower across many different gardens over the past five decades.
Her interesting musical debts to Billie Holiday and Judy Garland are noted, and her singular influence on what has become the
Just a quick post before I take off for vacation in northern Michigan for 10 days.  In the most recent issue of Christianity Today there is an article about the history of the Christian Rock band Petra.  You can read it here.  Evidently two of their greatest albums are being re-issued.  I know next to nothing about Petra–they were not on my musical radar in the 80s.  Those of you who are fans might want to comment on their place in Christian Rock and what unique contributions they made.
I hesitate to post this because I don't like reinforcing the notion that this blog is primarily (or event partially) focused on Christian Rock.  Without fail, each time I mention in casual conversation that I write for a blog called Rock and Theology, someone inevitably comments, "Oh, Christian Rock?!"  I can't say I'm a huge fan of Christian Rock, although I do find it to be a fascinating phenomenon.  I offer a brief critique of Christian Rock in my book, Rock-A My Soul–I think I was even-handed.  I do give this style of music credit for its early attempts at building a bridge between the world of secular rock and (primarily) Evangelical Christianity.  There is a LOT more to be done–and I believe we attempt to explore alternative paths here at R&T.
Time for vacation to shake off the summertime blues!
httpv://www.youtube.com/watch?v=iem5TUVxpQI
I am a fan of A Band Called Pain, the San Francisco Bay Area hard rock act. They are a spry, assertive, tight ensemble with a knack for writing memorable hooks while stomping confidently through the neighborhoods of rock-metal-pop badassery. They are also that rare contemporary art form, an African-American rock band. They are a band that, based on talent alone, deserves to be much better known than they are.
Here they are performing "Swallow":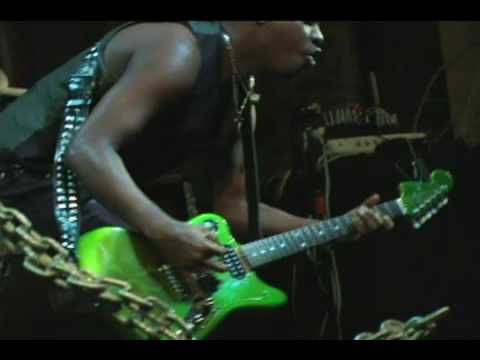 Recently, I watched their homemade "documentary" ("A Band Called Pain: Behind the Pain") and learned some more about the backgrounds of these excellent musicians. Given the racial divisions still operative in popular music, and the racist history of rock and roll, it is interesting to hear snippets of their stories about their interest in the genre. It is worth remembering that without that racist history, black rock bands (or multiracial bands) would be much more the norm today, instead of the exception. In the United States, anyway, rock and roll has never not been racially invested music, wittingly or unwittingly, even when it sets out to complicate or displace raciality (by which I mean the ongoing authority of race as a determining factor of identity) in popular music.
Part one of the documentary (viewer discretion advised) is here: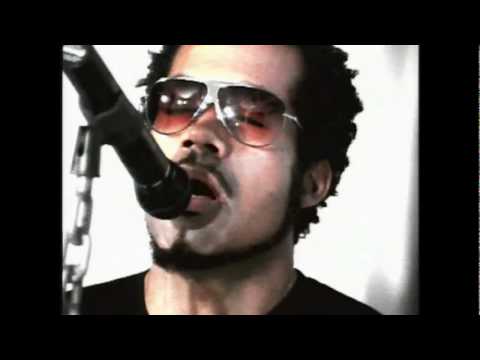 part two is here, part three is here, and part four is here.
Thinking about my experience as a white musician, in dialogue with these videos, I was aware of how rarely race has come up as an explicit factor in what I can and cannot do as a musician, compared to the members of A Band Called Pain. This is not, of course, because my own musicianship has not been steeped in racialized history and practices, but because I have had the benefit (and in a different way, the disadvantage) of not having had race called to my attention in creating, recording, distributing, and performing music. That said, neither rock and roll nor life are reducible to a few licks, to sound bites, and this documentary gives
From a January 2009 post by Brian Robinette here.
Tonight, I saw the musical "Once" on Broadway. I did not know much about the backstory before I saw it, although I know that it recently won the coveted Tony award for Best Musical. This is a show for those who appreciate lustily-performed Irish music, tending toward the modern folk side, and who like love stories. The musical is essentially about two musicians, an Irish man, and a Czech woman, who find that their shared musical companionability is opening onto deeper realms of relationship. This is tricky because they are also both kind of already in relationships (he with girlfriend, she with husband and daughter). The musical tracks their unfolding negotiation, within themselves and with each other, of these complexities. But the musical is also about a very talented ensemble of supporting actors and musicians, who join the two stars for many numbers, and frequently star in their own right, beginning before the show officially starts, when the ensemble takes the stage fifteen minutes before curtain and starts playing music on stage, surrounded by any audience members who want to come up on stage and have a drink and enjoy the band up close. This is so much a show about the music that at the curtain call, there were no separate entrances for the actors. Instead, all gathered together to take a shared bow.
I most enjoyed hearing the songs, which are unfailingly listenable, lovingly crafted, and soulfully sung.
Here is the cast performing at the recent Tony awards: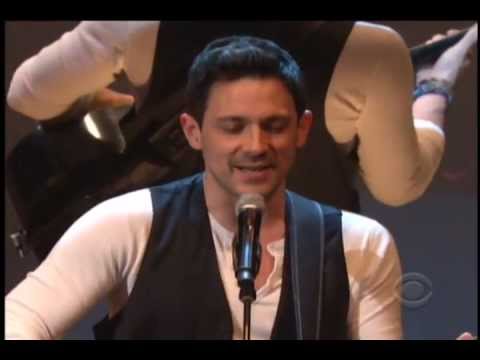 Here is a video of some tunes from the show: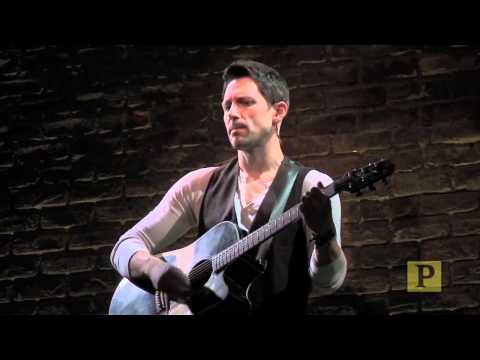 As much as I was affected by the melodies, I found the lyrics of the songs to be variations on the theme of love's longings and
On Monday, while walking through the Garment District in Manhattan, I stepped into Holy Innocents Roman Catholic Church on West 37th Street between Broadway and 7th. When I sat down in the pew halfway into the nave, I was surprised at what I saw, and took a picture of it. There were the shadows of workers up in the air above the altar, laboring behind a white scrim, walking up and down metal rigging, guided by hanging lamps. (I believe that part of the church is called the reredos, the wall behind the altar, or simply the sanctuary wall.)
I later learned from the church website that the workers are restoring a nineteenth century painting of the crucifixion. But what impressed me in that moment was the similarity in look and feel between preparation and reparation, between roadies preparing a stage for a rock show, and these conservators at work repairing a church. I felt the overlaps immediately: the quiet stillness of a space that can be otherwise ebulliently loud with song, the tink-tink of tools indicating a level of concentration known only to the person up there behind the screen, the dim multicolored light filtering across the scene that whispers of the brighter lights to come, the unamplified murmurs of workers whose ordinary speech is correlated with their intimate knowledge of the space despite the impression that will later be given that the priest/choir/artist/band has owned the space with their sound.
Over everything hung the sense of making-ready for an event whose seams of preparation must never show once the actual event is underway, and watching this was like the odd fascination and mild obscenity of watching a sped-up film of a seed bursting from the soil and growing rapidly into a flower.
And sitting there, I realized how much of my own interest in the connections between theology and music are on the level of form, aesthetic, space, and experience.
Tommy Beaudoin, New York City
Here's the link to a recent, excellent video conversation with Bruce Springsteen. He talks about his new CD Wrecking Ball, songwriting, social justice issues, and the loss of saxophonist Clarence Clemons. In the middle of the interview he briefly discusses how Catholicism has influenced his music.
"Bruce Springsteen and the Song of the Working Man"
Mary McDonough
As a parent, I am witness daily to the mysteries of my daughter's growing-up and find myself rehearsing memories of my own childhood. This is an experience that many parents have. Noticing the substantial theological influences from books, cartoons and games in my daughter's life has made me reflect on the ones from my boyhood.
I always found public television's "Mister Rogers" an inviting and endearing presence. I grew up on his show, alongside Sesame Street and Electric Company. And when I was a young adult, I read a profile of Fred Rogers in a magazine and related to him in a new way. I learned about a man who went to seminary, continued to read and think about theology, and was an ordained Presbyterian minister. Of course, as a child I had no idea about the grown-up spiritual questions he lived with behind the scenes, but learning even a little more about his "private" theological life, that he still read and thought about the great questions that theology constantly puts before us, allowed me a small vantage into the nobility of a great teacher who had found the magic of living in two registers at once: the experiential worlds of childhood and adulthood, and of the fantasies and realities whose intertwining make each experiential world a journey worth inhabiting with as much consent and appreciation as one can muster.
Recently, some clips of "Mister Rogers' Neighborhood" were remixed into an auto-tuned song, "Garden of Your Mind," by John D. Boswell for PBS, apparently to help carry Fred Rogers (who died in 2003) and his message to a new generation, and to help spread the word about supporting PBS. I think this quality remix gives a good taste of the show, and more deeply, of the revelatory power of falling in love with the world that Rogers advocated. The song also provides a taste of the gentle psychedelia, a bidding strange and welcome, present in the show. This uncanny element — a way of entering into the depth of things ruminatively — occurs throughout the song: "scary things," "cat's eyes," the mysterious delivery of whistles and Rogers' brief rococo solo, and the recurring reference to "the garden of your mind."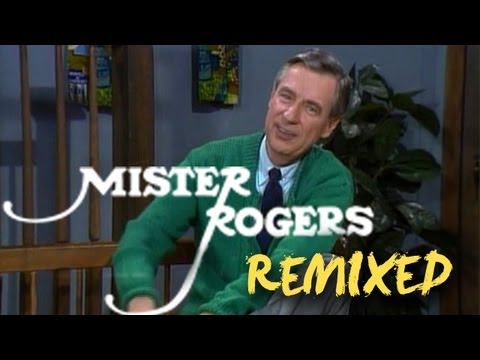 Feeling directly addressed by Mister Rogers is an example of what every child deserves from their childhood teachers, and is one way that the education of children should inform the education of adults. (Here is a reflection from Rogers' friend and co-worker Rev. Eliot Daley on the God of Fred Rogers evident in his approach to educating children.)
I think about this especially when I teach my undergraduates, mostly 18-22 year olds who are in the midst of
Next Page »