Pages
Categories
Contributors
Recent Posts
Recent Comments
Recommended
Archives
On Mayday, I was in the parks and streets of Manhattan for #M1GS, the May 1st General Strike, a daylong gathering called by a coalition of dozens of labor organizations. Like many, I was there under many motivations: as a participant in Occupy Wall Street and Occupy Faith NYC, as a member of the labor union and advocacy organization the American Association of University Professors (AAUP), and as a theologian. I joined tens of thousands in New York City and around the country, and hundreds of thousands around the world. I noticed workers of all kinds, labor union members, Occupiers, community organizers, seasoned activists, first-time participants, and all manner of allies who cheered us on from the sidewalks, fire escapes, and opened windows in the tall buildings along the march route.
There were apparently a few dozen arrests, though I did not personally see any over the course of seven hours. (Nor could I afford to get too close if things got too hot, because I needed to be free to teach the next day.) I arrived in the early afternoon at Bryant Park to find a thousand or so people getting warmed up with teach-ins, leafletting, conversations, sign-making, and picture-taking. There were also dozens of people carrying guitars (and a few basses and banjos), rehearsing for the Occupy Guitarmy, an all-volunteer guitar ensemble led by renowned rock guitarist Tom Morello, of Rage Against the Machine and now The Nightwatchman.
I was concerned because I thought that a thousand or so people would be a poor turnout for such a hyped-up event as this General Strike. But things changed quickly.
Around 2:00, we began marching to Union Square Park, and arrived there about 75 minutes later. As we marched, more people began joining in, and by the time we go to Union Square, there were many thousands more waiting for us. And people kept streaming in from all sides for the next couple hours. Tom Morello and a contingent from the Occupy Guitarmy played a few songs…
(Note: video contains a few obscenities, heartily sung)
…there were brief speeches about solidarity and economic justice from people representing different labor organizations, and there was plenty of Latin music to aerate everyone's spirits in preparation for the long march to Wall Street.
A couple dozen members of Occupy Faith NYC gathered near the Gandhi statue in the park, where I joined them, and around 5:30 we began to move in a march with some 30,000+ people down Broadway all the way to lower Manhattan, a slow journey that took some three hours.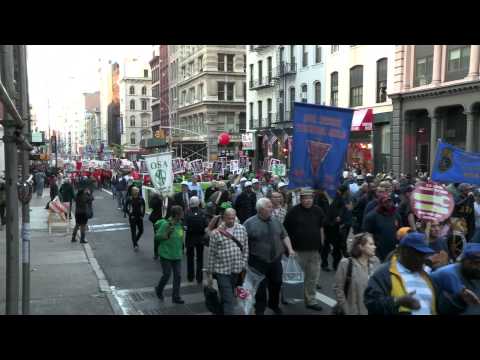 As the thousands of different banners, placards, signs, tattoos, shirts, headgear, songs and chants avowed, there was no single reason for being there, but I think it is fair to say that a great many of those gathered could endorse two basic theological statements: negatively, the market is not God; positively,