Pages
Categories
Contributors
Recent Posts
Recent Comments
Recommended
Archives
Students of popular music and theology learn two things quickly: first, that religion, faith and spirituality have had a lot to do with the origins and ongoing vitality of rock and roll; second, that rock and roll has sometimes had critical, negative, dismissive and otherwise derogatory things to say about religion, faith and spirituality. I think that both aspects of this relationship are important for grasping popular music and theology in some depth.
This thought came to me today after I did an interview for a news organization writing a story on the latest round of conflicts between U.S. Catholic bishops and those who disagree with them about Catholicism's public stances on contraception, religious freedom, and Catholicism itself. The interview focused on my interpretation of an ad by the Freedom From Religion Foundation strongly criticizing the Catholic Church and inviting Catholics to leave.
During and after the interview, I thought about how understandably difficult it can be for religions and religious people to hear criticism, especially blunt criticism, of what is held dear. I know what it is like to react defensively and dismissively when it feels like someone is trying to pull the rug I know and love out from under me. This is especially true if the very way that criticism is communicated contradicts "appropriate" forms of address.
All of this put me in mind of the song "Judith," by A Perfect Circle.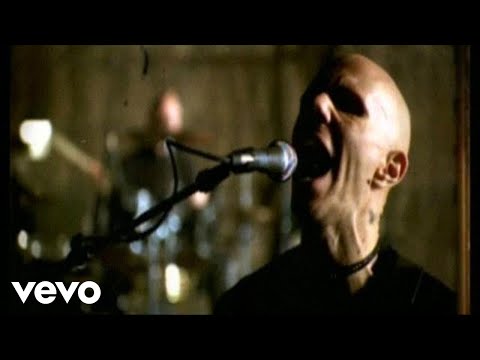 It is probably very hard not to hear this song as a blunt attack on Christianity. Here are the lyrics as taken from the Perfect Circle website, and I've added a few in brackets that are sung but not listed here:
This Friday, I'll be seeing Radiohead in New Jersey. Radiohead and U2 are two bands that I feel like I should have seen live many times before, given their influence on my life, musically, theologically and otherwise, but I have never seen either band live. Radiohead wound its way into my head through their OK Computer album, a conversion experience that I wrote a bit about earlier at R&T here.
In anticipation of Friday's show, I have been thinking especially about "Airbag" from OK Computer, because that is the song that most compelled me day after day as I would hear that album played at a coffee shop in Somerville, Massachusetts. It was the theological fragments that got me, resituated as they were amidst fresh sounds and new words that were not trying to hold them in an unchanging theological system, but rather let them be the cry of a personal search:
"In the next world war / in a jack-knifed juggernaut / I am born again
In the neon sign / scrolling up and down / I am born again
In an interstellar burst / I am back to save the universe
In a deep deep sleep / of the innocent / I am born again
In a fast German car / I'm amazed that I survived / an airbag saved my life
In an interstellar burst / I'm back to save the universe"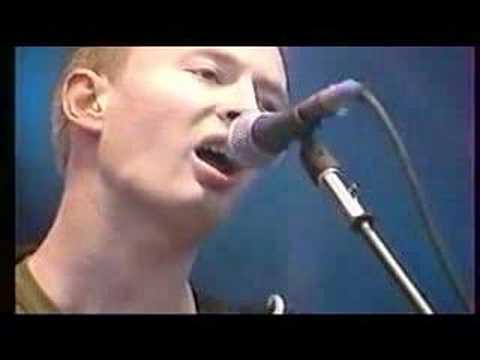 The words to me seemed ancient and new, theological and psychological, intercut by those weirdly baffled drums, the modest and thoughtful bass, the inquiring and companionable guitar, the keyboards
From 6 January 2009 – you can read it here.
I'm not quite sure that's quite what is going on, but it looks like it might be close to accurate, in Andrew Dinwiddie's recent show (with Michelle Ellsworth) at the Danspace Project in New York City. I learned about it just yesterday from this review by Gia Kourlas. Kourlas describes a show in which Dinwiddie, as Paul Stanley of Kiss, "transforms […] until the rock star image takes on religious undertones." Sounds perfect for R&T. I wish I could go, but the brief run closed last night.
Here is Stanley with Kiss singing "I Was Made for Loving You" – not a song of inconsequence for those interested in religion. Now, can you imagine Paul Stanley's transformation toward "religious undertones"? How long or short a leap?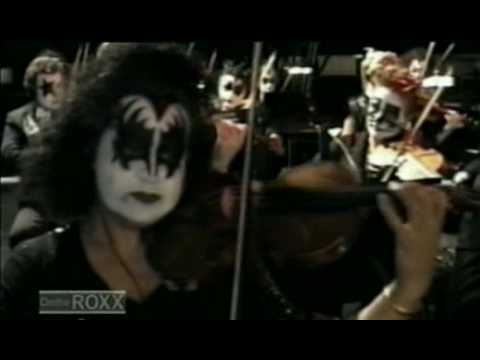 My earlier R&T reflection on Kiss is here.
Tommy Beaudoin, Hastings-on-Hudson, New York
Several days a week, I walk by a mural of the Sacred Heart of Jesus in the Bronx, painted on the side of a building on Arthur Avenue near the Fordham campus. It is part of a memorial to Anton D. Nikci. (See it here courtesy of Forgotten New York). It seems to me to stand as a kind of symbol in the neighborhood, and I often wonder what people make of it as they walk by. Yesterday, while walking around the East Village in Manhattan, I saw this street art memorial of MCA of the Beastie Boys, near 1st Ave and 7th Street.
I wondered, too, how people related to this depiction. And how urban life gives a lively palette for interrelating adored figures of wisdom or creativity, guides for life.
When I see MCA in that rap pose and think of the Jesus mural, it looks to me like MCA is giving a blessing, with his hands open and a couple fingers bent as a signal of a creative bodily registration of a greater reality. When I see the Jesus mural and think of MCA, it looks to me like Jesus is in the middle of a dynamic motion, instead of standing stone-still as he normally appears, and I wonder how that sacred heart gesture is part of a larger gesture, a livelier performance, of which the mural caught just a moment. What is the blessing MCA gives? What is the song Jesus is performing?
Tommy Beaudoin, Hastings-on-Hudson, New York
Robert Plant's cover of Jesse Colin Young's "Darkness, Darkness" has lived close to my conscious awareness ever since I first heard it about eight years ago.
Here is the official video:
Here is Plant performing it live:
And here is Jesse Colin Young performing it recently: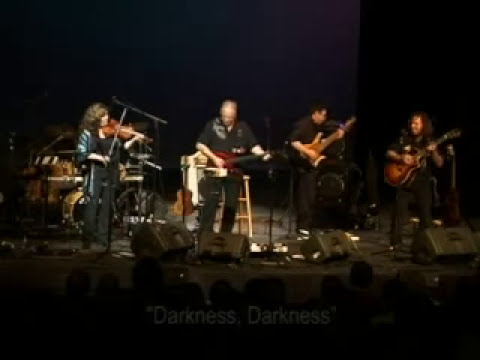 "Darkness, Darkness," sounds to me like a prayer for darkness, the kind of darkness that is promising in its uncanny, half-welcome air, a reach of the hand into the unhanding, with no guarantee of what is to come. This is one way that the Christian theological tradition,
As an American, specifically a Californian, living and teaching in higher education in the UK, I find it interesting, disturbing and important to note how the 'Britain' that is exported as authentic to the States does not reflect in any manner the England that I exist in on a daily basis. There is a worshipping, at least in the hipper than thou circles which as an anglophile and indie rock lover I often found myself in Stateside, of an amber trapped yet non-factually based moment in British music history. Case in point: in my native Bay Area, there are monthly tribute nights, which are PACKED with hundreds of people, dedicated solely to the holy foursome of the The Smiths. San Franciscans flock to the event, dressed in their best floppy bowl cuts or Mozzer-esque pomps, beads and blazers, emulating a past decade of the 1980s which they saw on the TV, have re-watched and rewound on video cassettes and refreshed on YouTube. Here in the country which birthed the band, I have yet to find any town in the whole of the nation that throws such a monthly shindig; at best, a group in Brighton does an annual Smiths night. This is a small but significant example- illustrating the worship, glamorisation and re-telling of The Smiths, through time, space and place- in a Benjamin like stance, the band has been ripped from their original context, and thrown into the revamping nostalgia machine that pop culture has come to bow down at.
This past weekend, I walked by a mall store which had a "FABULOUSLY BRITISH" display, featuring a Sex Pistols flag and a mannequin adorned in a Stone Roses t-shirt. This turning in side out of culture- the fringe being not only accepted, but now celebrated as part of the "Fabulous"- ness of being English. This appears as a re-telling of the story, a new perspective and elevation of what was once deemed horrifying to a 'new' imaging of it as the quintessential traits of a whole nation.
The Associated Press published a story yesterday about recent protests in the Philippines against Lady Gaga's upcoming concerts.  The story can be read here.  It seems that some people are upset by Gaga's song "Judas" and her sexually provocative stage show.  That is not surprising.  What IS surprising to me is that the protesters are primarily teenagers.  Shouldn't the parents be protesting their teenage childrens' music?!  That has been the natural order of things since Elvis shaked his hips on television in the mid-1950's.  I can't claim to have any knowledge of the cultural landscape in the Philippines, so if anyone can shed some light on this phenomenon, that would be great.  The article boils the issue down to the tired explanation of religion vs. sex/rebellion.  But I have a difficult time accepting this simplistic (and, frankly, over-utilized) cultural commentary.
It could be that, for these teens in the Philippines, Lady Gaga represents the overbearing nature of U.S. popular culture, which has been foisted on people all over the world whether they want it or not.  Perhaps young Filipinos are interested in reclaiming a sense of their own cultural identity rather than making due with what the music executives at Geffen or Atlantic are feeding them.  Hard to say–there are several strands interwoven here–cultural, religious, sexual–and made all the more complex by the lives of adolescents who are seeking a personal identity.
Would any R&T readers be willing to chime in on this issue?
Dave Nantais, Detroit, MI
Today was graduation day at Fordham University, where I teach. Aside from the (important) controversy about John Brennan being the commencement speaker, it was as it most always is: a day of joy and satisfaction, a day to celebrate and to remember what it took to get there.
At the smaller followup ceremony for graduates at my School, the Graduate School of Religion, I noticed a small ritual that seems to have gained increasing acceptance in recent years (I saw it also at the Penn graduation I attended last week): asking family and friends to stand up and to be acknowledged for supporting the graduates all along the way.
I was thinking of this at the same time I was recalling recent lectures by Dr. Robert Thurman, of Columbia University, that I listened to (as an audiobook) on Tibetan Buddhism. In these lectures, called "The Jewel Tree of Tibet," he introduces the "Jewel Tree" meditation, in which one imagines a soaring jewel tree made of gems, radiating many beautiful colors of light, and in this tree are seated one's great teachers. Part of the meditation is the enjoyment of their delight in you. It is a form of recognition of all those on whose wisdom you rely in your everyday life.
And my mind went to Sinead O'Connor's "Thank You for Hearing Me" as a way of bringing together this graduation and this meditation, on gratitude for teachers.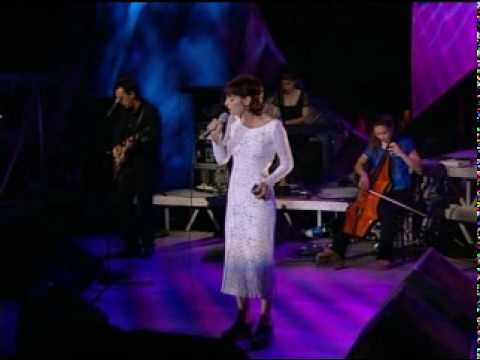 Even the tragic final verse ("thank you for breaking my heart") can be an experience that one has in education, of having one's heart broken in the quest for truth, of having one's certainties shattered in the desire for more.
Tommy Beaudoin, New York City
Thomas Erdbrink reports on the story here. Shanin Najafi wiki here. It is striking to see the rock and roll tradition, now as rap, continuing its creative tangle with religion in new religious and cultural contexts. And it is frightening to see the violent pushback against that creativity in the form of a bounty on a musician's life.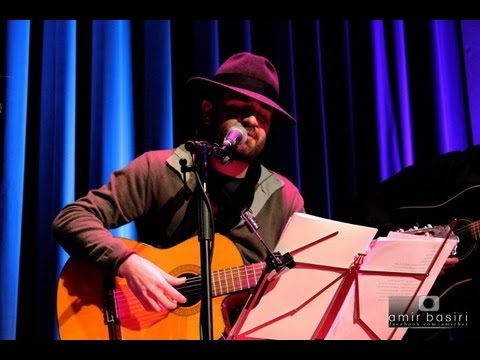 TB
Next Page »