Pages
Categories
Contributors
Recent Posts
Recent Comments
Recommended
Archives
Tupac Shakur has arrived at a type of Saint Hood status within both the urban and Hip Hop communities. How do I arrive at this assessment you ask? The reaction to Dr. Dre and Snoop Dogg using Tupac's hologram image has been similar to those reactions from religious communities in response to the defamation of, say, Jesus or Saint Mary. It was made clear that Dre and Snoop had walked a thin socio-spiritual line when they used Shakur's image. Conversely, the positive emails I received from former students, youth, and adults alike about Tupac's "appearance" were also noteworthy. It was as if the "Saint" had re-appeared in his common setting to entertain from the grave in a ghostly holographic image echoing rumors that he was still alive. Still,  C-Bo called Dre and Snoop "vultures" and "parasites" for using the image. C-Bo was "offended" by the use as he felt Tupac is a sort of "hallowed ground." Max Eddy considers the "Tupac hologram a fascination with resurrection" and that it is "distressing." Eddy asserts that, "The Tupac Hologram is most distressing as it's an entertainer completely stripped of its humanity." And even Joe Carter discusses the "resurrection" significance within the performance.
Death brings with it a certain social protection for most individuals. For example, my grandfather never really had a good relationship with people. However, at his funeral an overwhelming majority of the people talking about him remembered the "positive" memories. Death tends to give the individual a shield posthumous for their name and character. Yet, with Tupac, there is a certain hallowedness that fans have when his image is misused or defamed. In comparison, the Mexican American pop-star Selena has the same social status among her followers—slander her name, and you are liable to, at worse, be killed yourself. Tupac, it would appear, is at the same level as that (although to my knowledge no one has been killed recently over slander of Tupac's name).
Partly because of what Tupac represented to and for so many people. He was their voice, their theological reference, their place of examining pain, meaning creator in times of need. Therefore, it should be of no surprise that Tupac is as protected as he is and that some of the reactions received regarding this hologram are that of frustration and anger.
What I find equally as interesting is the technology used to create this image of Tupac. In some scenes
For the New York Times, Ginia Bellafante has recently written this article relating the Catholic Worker to Occupy.
R&T readers who are interested in these matters should know that Occupy, in conjunction with dozens of other organizations dedicated to the equitable sharing of social resources, is calling for a General Strike in the United States on May 1.
For more information, see the latest from the Occupy Wall Street website here, or the MayDay NYC website here, or the InterOccupy site for various May Day General Strike cities here. Occupy Catholics are here.
Rock guitar wizard Tom Morello, of Rage Against the Machine and many other collaborations, will be leading a "Guitarmy" on May 1st in NYC as part of the General Strike. Information on the Guitarmy is here.
Here is Morello on #OWS: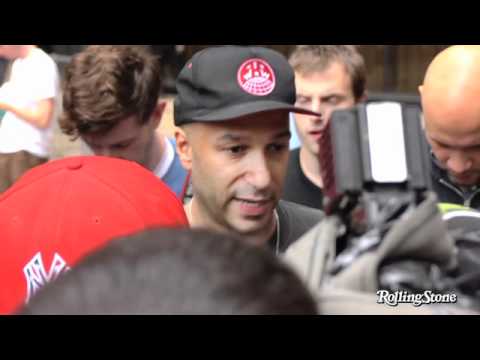 As I have mentioned many times here at R&T, various artists and spiritual teachers have endorsed
Here at Fordham, we are closing in on the end of the semester, and things tend to get a little intense: final papers, theses, dissertations, graduation preparation, plans for the fall semester, and more. So I've been a little lax on posting lately, but have this gem to provide a hopefully pleasant distraction for all those (like me) who need it.
Why is Robert Plant singing in a mall, circa 1989, in this video? And what band is he playing with? I don't know and I don't know, but thank you to the person who videotaped it and uploaded it to YouTube.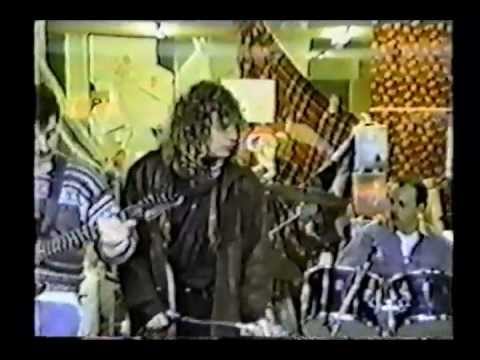 Here is a slightly better quality clip of it, with intro comments from Plant — a charity event of some sort. Anyone know the backstory?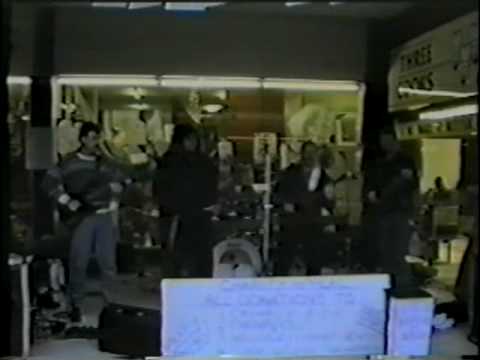 tb
While I was at South By Southwest in Austin, Texas last month, there were many new bands to admire. Among my favorites was The Sunshine Factory. I walked out of a Mexican restaurant on the Saturday night of the festival and under an adjacent white tent surrounded by late dusk and thick with clouds of psychedelic trance rock, and a couple dozen people slowly swaying, taking it in, letting things happen. On the stage was a guitarist/singer and a bassist. In front of the bassist was a computer. Add some pedals, and that was the band. That, plus laserlike effects from the stage and low-tech psychedelic lighting. The music sounded like what would be written if Radiohead and Depeche Mode got high under a blacklit poster of The Smiths: sensitive and curated, hard-working and lovingly skilled, translucent and gently transporting.
Someday perhaps I will narrate some part of the tale of the total experience that being engulfed in their music meant for me. But for now, I am thinking of their song "Deeper Look," that I first heard that night.
"time to take / a deeper look
time to look inside the world of me
time to take / a deeper look
I need to see / what's left to understand
How the world has changed me
Love has scarred and shaped me
understand the reasons
for the locks on all the doors"
As if for the first time, I realized, with pleasure, how and why music can become religion, spirituality, or
One still May afternoon in Atlanta in 1978, not long before I headed off to seminary, my friend and I stepped into the cool, dark, and cavernous Rialto Theater. Knowing that this would likely be the last time we'd see each other for a while, Craig, my college friend up from West Palm Beach, and I were celebrating various joys and doing what we loved best—seeing movies and listening to rock and roll. On this afternoon, we got a chance to combine those loves as Robbie Robertson, Levon Helm, Rick Danko, Richard Manuel, and Garth Hudson, and many of their best friends poured out their hearts and souls in The Last Waltz, Martin Scorcese's affectionate film of The Band's farewell concert at Bill Graham's Winterland on Thanksgiving Day, 1976.
We missed the beginning of the movie, though, and walked in just as The Band lit into "It Makes No Difference," one of their later songs (from the album "Northern Lights-Southern Cross," released in 1975), but one that showcases them at the height of their powers. In that moment, I felt myself lifted out of the room and transported to that night at Winterland almost two years earlier when for a few hours music created a powerful sense of community and the audience—which had eaten a Thanksgiving meal together before the concert—grew into a family. In that moment, the spiritual power of Rick Danko's moaning vocals about loss and love were palpable, and for the rest of the concert/movie a throng of musicians—Neil Young, Eric Clapton, Van Morrison, Emmylou Harris, Joni Mitchell—paraded across the stage, joining The Band in these moments of celebration and lifting the spiritual aura of the moment higher and higher.
Levon Helm, The Band's drummer and consummate Americana musician, died today. When I heard the news, I played "It Makes No Difference" and "The Weight" and cried at my desk. Helm was diagnosed with throat cancer in 1998, and he battled back against it so that he was able to perform live and to record several albums. He'd become famous for his midnight rambles at his home in upstate New York, where numerous close friends would gather for a night of music. He took those shows on the road, and he'd just played one in Nashville a couple of months ago.
I've been trying to figure out why Helm's death has hit me so hard.
I am in Cleveland, where the Rock and Roll Hall of Fame just concluded its 27th annual induction ceremony yesterday (April 14, 2012). Unfortunately, I was not able to attend any of the events, but the inductees have been on my mind. When I learned that Guns N' Roses was to be inducted this year, I was taken back to the summer I first heard Appetite for Destruction. It was August of 1987 and my family was visiting the beach in North Carolina. My sister and I had met two out-of-a-John-Hughes-fantasy towheaded surfer kids at the arcade and billiard hall at the end of the pier. Of course, we were smitten, and my surfer guy ended up being my first real kiss (it was sadly kind of gross), but I mostly remember hanging out at their home listening to this cassette tape they were playing over and over. It was somehow dangerous to me, and it wasn't just the album's cover art (I found skulls to be sincerely evil back then). There was an edge to it that cut like a razor, and it seemed to be slashing away the whole bill of goods I had been sold for most of my life. When we got home, I went to the local head shop/record store and bought my own tape, rewinding it continuously and studying it fervently as I tried to wrap my mind around the dark truths it seemed to reveal.
Years have passed, and I still think that album was a tour de force, but recently I have been contemplating its theological value. What is an "appetite for destruction" and why did so many feel it. Then, in conversation with my husband over the hullabaloo of Axl's refusal to be inducted with his former band mates, it became clear to me that this record bore honest witness to these guys' dark nights of the soul. There was despair in the work – of love, of drugs, of trust, of personal value, of social capital, of life itself – and it does not really let up except in track # 6 "Paradise City." Even the soft spots in the record are filled with nostalgia, loss, and a sense of hopelessness (e.g., "Sweet Child of Mine").
This album came late in the 1980s. When I think about the context of the album's release, it is easy to see why Appetite's no-nonsense rage cut through it all like a hot knife through butter. What did we have then? 1) The Cold War ~ recall Reagan's famous behest, "Mr. Gorbachev, tear down this wall;" 2) the early and terrifying onslaught of AIDS; 3) farm crises in the Midwest; 4) banking and economic crises; 5) the first and second great waves of hair metal bands; 6) the Iran-Contra Affair; 7) Pac-Man; Space Invaders; Asteroids; Pong; 8) The original V miniseries; 9) Whitley Strieber's Communion; and 10) Tootsie. If it were not AIDS or the Bomb, it would be aliens or Dustin Hoffman in drag. No wonder people were feeling despair.
I get kind of grumpy, perhaps grumpy like Axl, when I think about how mind-bending it was to grow up in that decade. But, in the aftermath of it, I think it sensitized a whole generation to a prolonged dark night of the soul. What is more, I think there was and is theological virtue to people holding on in the midst of despair, even if they seem to be failing at it. The fact that so many artists in this era showed up at all, albeit ill-tempered and drugged-up as they were, is a witness to the resiliency of people searching and enduring.
During last week's Holy Week liturgies, I found myself pondering the stillness and anticipation of the Triduum. I spent time imagining those moments for the original players – huddling together, fearful, tense, uncertain, witnessing a terror of violence, tentatively surfacing after the storm. I don't like to pass over too quickly the silence of Holy Saturday, because I think it represents those perennially transformative moments where humanity's courage has to become Promethean in order to endure life's circumstances. There is a certain rebirth of the spirit that comes from facing down such destruction, and I think in some way this is what was so grippingly captured in Appetite for Destruction. Some dark nights are really quite dark, and during them it is good to have company howling back at … nuclear annihilation; inky, blinky; and pinky; lying politicians; Greys; etc. So, cheers, to these rockers, inducted and otherwise, for keeping us company. We will try not to let you mummify in that museum.
Many present and former rock and roll venues throughout the U.S. are sacred spaces.  Think of CBGBs, The Filmore West, or the Whiskey A Go Go.  Fans and musicians trade their favorite legendary stories about these venues, which transcend just four walls and a roof to take on a spiritual significance.  The place is important, the ground is holy, the memories are succor for the soul and the amplifiers still ring in the ears of the fans years later.
The Grande Ballroom in Detroit is one of these sacred spaces.  Now abandoned and dilapidated, the Grande is still alive and pulsating with music in the hearts of the musicians and fans who frequented it during its glory days, 1966-1970.  The list of performers is impressive: The Stooges, MC5, Alice Cooper, Ted Nugent, The Who, Jeff Beck, the Grateful Dead, Jethro Tull and Vanilla Fudge, among dozens of others.  It seems like everyone who grew up in Detroit during the late 1960s has a favorite Grande story.
Now the rest of the world can hear these stories too in the new exquisite documentary, "Louder than Love."  A preview of the film can be viewed here. Last year I attended a concert fundraiser organized by the film's director, Tony D'Annunzio–he needed extra cash to purchase music rights for the film.  "Louder than Love" will be making the rounds at a number of national film festivals this spring and summer–I highly recommend that R&T readers check it out.
What are your favorite music venues and what makes them so special?
httpv://www.youtube.com/watch?v=JCPxJv1PU0s&feature=related
Dave Nantais, Detroit, MI
httpv://www.youtube.com/watch?v=JjD4eWEUgMM
As I was walking near Keating Hall recently on a chilly spring morning at Fordham University, where I teach, I looked out on the great green nearby — called Edwards Parade — and remembered that it was almost exactly three years ago that U2 played there. I wrote about it at R&T here.
In the video below, that's Keating Hall behind the band as they rock the Parade.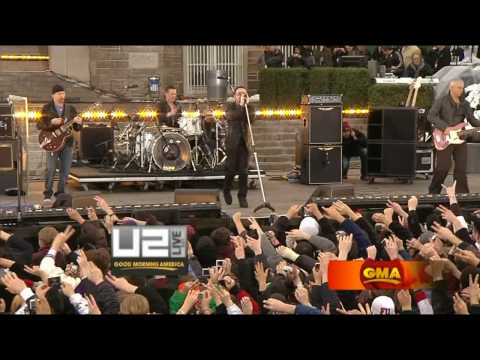 Tommy Beaudoin, Princeton Township, New Jersey
Next Page »