Pages
Categories
Contributors
Recent Posts
Recent Comments
Recommended
Archives
On Saturday night, I saw the Italian rock band Lacuna Coil perform at the Theater at Madison Square Garden in New York City. (Last week they released their new album "Dark Adrenaline," and were the opening act on the Gigantour, a collection of metal bands headlined by Megadeath.) Do you know what it feels like to be way, way into a band? I am that way with this band. It has to do with their cocktail of rockish bombast, unabashed respect for melodic hooks, and restless and searching spirituality in the back-and-forth between Christina Scabbia's arena-rock vocal soaring and Andrea Ferro's spoken word chant-yell, dealing out lyrics about ruptures in relationship, about the taste for something more around the corner, about the "no" to everything small about the present, and occasionally about the grandeur of something calling out from existential rubble. References to saviors, angels, churches, sins, desolations and consolations, and more are distributed liberally throughout their tunes, in an almost baroque display of references from theological tradition admixed with a spirit of introspection. In other words, they are well within the atmosphere of metal, but a strong female lead singer puts them in a somewhat different relationship to the typically male-heavy genre.
Here is their new tune, "Trip the Darkness":
httpv://www.youtube.com/watch?v=VTT6picaCoQ
Making use of her power all along the front of the stage, a dynamism erotic but not cheap, spiritually open but not banal, Scabbia is the difference between Lacuna Coil being just another metal band and something more compelling. And witnessing Scabbia trading grandiose strides, dramatic gestures, and the vocal pouring-out-of-self with Ferro all along the front of the stage on Saturday night, I was not so much taught any particular lesson as I was drawn into an atmosphere of at-stake-ness that I want to inform my everyday life.
In this kind of rock, things matter, which is why I have never been too interested in jokey/ironic rock. Even though
I was reading a review of the latest musical offering from Machine Head, a 90's-era heavy metal band that has been a critics' favorite for many years .  The review discussed their latest (seventh) disc called "Unto the Locust."  Commenting on how heavy this album is, the reviewer mentioned that frontman Rob Flynn sings one song in Latin!
httpv://www.youtube.com/watch?v=vZMAsYfICsg
Latin lyrics are not uncommon in some styles of heavy metal.  One other example that occurs to me can be found at the beginning of the Queensryche song "Suite Sister Mary" from their prog-metal epic "Operation Mindcrime," where it sounds like a Gregorian choir is chanting in a monastery.
httpv://www.youtube.com/watch?v=EFmI9r9EquI
I am intrigued by metal bands integrating Latin phrases into their songs.  What is the attraction?  When did Latin become so bad ass?!
Thanks to everyone who commented on my first post about poaching, from a couple of weeks back.  Those comments sent me back to the drawing board with regard to this "series" — I thought I had a handle on what de Certeau meant by "poaching," but the commentators pointed out some areas where I needed to do some more explaining.
In other words, this present post was not part of the original plan, but arose as a response to those responses.  I will still get back to the other posts I intended, but let's linger here in this space for a bit.
First of all, Tom observed that "once we start talking about better and worse poaches, we are either displaying our own 'tactics' or enforcing a larger 'strategy' — or both."  I want to think through Tom's point in conversation with a point made by Alec that "[p]oaching is not about what happens to the text, but rather to its reader."  The way I want to think this through is by asking: What happens when artists–successfully or unsuccessfully–poach themselves?
httpv://www.youtube.com/watch?v=ne43u8suEAg
When I sailed past the age of 27, I have to admit: a small part of me was miffed. Didn't all the 'greats' meet their maker at this age? Was I destined for mediocrity, as I had not achieved greatness, at the age when Kurt Cobain, Janis Joplin, Hendrix and Jim Morrison had all cashed in all of their chips?
Conspiracy theories and media have propelled that the "27 Club" is a mystical age of death, a number shared by revered musicians for the past 50 years. It has also made dying young an almost marketable sell-by product. Much of this worship has come AFTER the death- Morrison, Joplin and Hendrix have now been dead 'members' for longer than they were alive.
A new study out of Australia discovered that it is a combination of rock star life styleand media hype, which has created this much-mentioned club. Professor ADRIAN BARNETT found that, "One of the theories behind the 27 Club is famous musicians become famous in their early 20s, then you know, the money comes in, they start to engage in risky behavior, maybe then they need you know, stronger drugs, more alcohol."
He goes on to say that there could just as easily be "25 Clubs," or "32 Clubs." Yet why are we as a culture fixated on the '27'? Is it because 25 seems too young, too close to childhood and teen life still, while 32 is OVER the 30 hump, into 'real' adulthood? Does the age of 27 really just resonate with our own feelings of mortality more substantially than either of the other ages?
I myself am now intent on belonging to the 100+ Club.

Springsteen fans were greeted this week with something akin to Gabriel speaking to Zechariah announcing the birth of John the Baptist:  a new album will be released on March 6th entitled "Wrecking Ball", a new tour is set with dates in Europe and the US coming out soon, and to add icing to the cake, a new single available for streaming to wet our appetite entitled "We Take Care Of Our Own" (more on that in a bit).
Like Zechariah, there are many fans who are probably having doubts about this next outing from the Boss given that the last two offerings of new material – 2009's Working on a Dream and 2007's Magic – were lackluster at best.  Perhaps in an attempt at penance, Springsteen released 2010's The Promise which offered B-sides, rarities and outtakes from his masterful 1978 Darkness at the Edge of Town to remind people (and perhaps himself) of his genius and (to riff on one of his Born in the USA barn-burners) "glory days."
Now that Springsteen has throw out this new single, fanboys will be drumming their fingers and wringing their collective hands in anticipation of the full CD to drop in March in order to assess where the patron saint of the true Jersey Shore will take us.  Like other baby boomer rockers in their 60's the question remains: what does Springsteen have to offer the 21st century? Is there anything left in the old war horse of the prophetic imagination or is only trading in on the past and becoming a travelling parody act?
Part of what animates my anticipation is the simple fact that this is Bruce Springsteen we are talking about. What makes Springsteen such an interesting figure in American popular music is his ability to draw on the Everyman experience and make it an anthem for the masses—a rock and roll version of Aaron Copland's Fanfare for the Common Man. When he was inducted into the Rock and Roll Hall of Fame, Bono gave the induction speech and put it this way regarding Springsteen's appeal:
Years ago, I saw Social Distortion perform in Cleveland's Odeon – a former no-frills, rock venue – in the dead of winter. When the lights went up so that Mike Ness could gaze upon the adoring face of the crowd, he chuckled, "You guys look like a bunch of survivors." I was kind of insulted, but it was Cleveland and it was the winter. He saw what he saw, I guess (and, people do sort of survive this city as much as they live in it).
In similar type weather in Cleveland a few days ago, while sitting in the grocery store parking lot for an hour as my two-year old napped, I decided to listen to Social D's 2011 Hard Times and Nursery Rhymes again. I have played it a few times since it was released, but something about the conspicuous new use of choral backing vocals has kind of thrown me. As I wondered about the meaning of this musical idiom in a punk band, it occurred to me that Social Distortion has had a decidedly evolving sound over seven albums, since Mommy's Little Monster debuted in 1983. This is one of those bands that grows up with their fans. After the long caesuras between records, each new release has felt like catching up at a high school reunion. It stands to reason that their voice would mature. This time, they were (I think) underlining with musical motifs, and lyrical complements, the spiritual gravitas of their situation as mid-life adults. For example, on the Stones' inspired track "California (Hustle and Flow)," Ness growls: "Well, I was born, babe, with nothing to lose but the black man taught me how to sing the blues…" connecting his hard knocks with the original genre of hard knocks.
Yet, despite the evolutions, there is something persistent in Social Distortions' themes. They sing of lapses in judgment, trouble with the law, and aggression. But, these struggles are couched in the seeming lifelong desire to make better decisions; to avoid further disastrous mistakes; to repent of wrongdoing; and to experience long and loyal love. Given that the things they sing about often parallel their lived experiences of addiction, rehabilitation, injury, and bereavement, one hears this as the music of genuine seekers after redemption.
In discussing all this with my husband, he spoke of the "praxis" of Mike Ness's songwriting, whereby he distinguished between Ness praying and playing guitar (a very nice observation!). When I considered his praxis, though, I thought in liberationist theological terms of the interplay between experience-> theory-> action -> revised theory -> revised action -> and so on. For experientially driven liberation theologies, redemption is this-worldly (as opposed to heavenly and yet to come). It is about finding and/or constructing ways of living with greater justice, purpose, and participation. Grace is experienced from the ground up, by people striving to live with dignity. I could not say whether these musicians have found the grace or dignity they appear to seek or whether they have been liberated from the sundry oppressions that appear to have weighed them down. But, I recognize them as fellow survivors, and I do appreciate the lesson: redemption lies in the intentional struggle to be better.
I love finding a new band or artists. I discover them and can hardly listen to anything else for weeks. Through November, it was an old and well-known artist, John Fahey, who was simply new to me.  Now it is an breaking band, just on the cusp of becoming widely known.  I've not found out much about them yet, but they seem to combine blues, soul and a blast that must have punk roots. Oh, yes, and definitely God-haunted. They are from Athens Alabama and you've just got to hear them sing and play. They were called The Shakes till they learned another band had that name already. Now The Alabama Shakes, they were named by Paste Magazine as "2011 Best New Band." Their gutsy, rootsy lead singer Brittany Howard describes their live shows as "just like going to rock 'n' roll church." I believe, sister, and I want to join!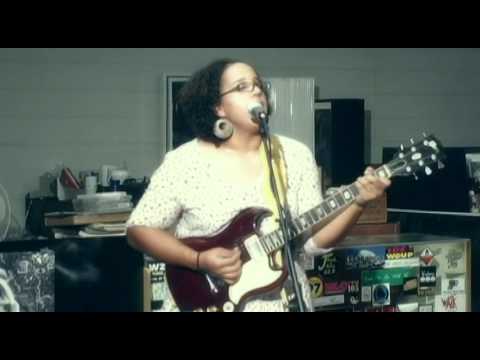 This weekend there are a number of poignant tributes to the legacy of Dr. Martin Luther King, Jr. and the history of the Civil Rights movement.  One of the aspects of this legacy (among many) that is salient for readers of Rock and Theology is the history that Spirituals and Blues have continued to play in social activism.  James Cone provides a wonderful reflection on the power of music for social change in his book The Spirituals and the Blues.
In my reading of Cone's book, three key themes arise: the promise of Liberation, Lament without resignation, and what I call Emmaneul-ness (God is in the Flesh):
– Liberation: Central to Cone's own interpretation of this rich musical tradition is his conviction that a very evident theme of liberation pervades the spirituals:
"So far from being songs of passive resignation, the spirituals are black freedom songs which emphasize black liberation as consistent with divine revelation… the theological assumption of black slave religion as expressed in the spirituals was that slavery contradicts God, and he will therefore liberate black people." (35)
This is a central concern of many of Martin Luther King Jr.'s sermons and lectures as well.  In Martin Luther King Jr.'s seminal book Strength to Love, King articulates the call to liberation forged in the deep human desire – what he calls a 'strange feeling of homesickness' – to be freed *for* love and to *be* loved:
"At times we need to know that the Lord is a God of justice. When Slumbering giants of injustice emerge in the earth, we need to know that there is a God of power who can cut them down like the grass and leave them withering like the green herb. When our most tireless efforts fail to stop the surging sweep of oppression, we need to know that in this universe is a God whose matchless strength is a fit contrast to the sordid weakness of man. But there are also times when we need to know that God possesses love and mercy. When we are staggered by the chilly winds of adversity and battered by the raging storms of disappointment and when through our folly and sin we stray into some destructive far country and are frustrated because of a strange feeling of homesickness, we need to know that there is Someone who loves us, cares for us, understands us, and will give us another chance. When days grow dark and nights grow dreary, we can be thankful that our God combines in his nature a creative synthesis of love and justice which will lead us through life's' dark valleys and into sunlit pathways of hope and fulfillment." (Strength to Love, 20)
– Lament: For Cone, true spirituals are authentic lament in that they do not provide a simplistic or escapist solution. Black suffering is faced honestly and realistically in the spirituals; there is no attempt to explain it away or to dismiss it as unimportant. Rather, these songs gave a theological perspective to suffering – as expressed, for example, in the line "I'm so glad that trouble don't last always."
Today in the United States, we officially recognize Martin Luther King, Jr.'s birthday. In honor of this holiday, I am reposting a post I wrote here at R&T last July, on Rage Against the Machine offering a rockish litany of the saints.
*
In the Catholic tradition, the "Litany of the Saints" is a sung prayer of appeal to God and the saints. I am most familiar with it as a chant, with the cantor intoning the saint and the assembled responding "hear our prayer," as you can see in this video of such a litany when the Roman Catholic Pope Benedict XVI held a youth rally as part of his visit to New York City a few years ago:
In my experience, those litanies are a beautiful way to call forward a host of persons from the tradition into the present, somehow making more real and meaningful the act of addressing them not only from across the centuries but as one chanting ensemble. Such a hive of yearning rarely fails to reach me deeply and to authenticate some mystical truth about the desire to ask the dead to intercede for "us" on behalf of reality, to care about our lives as we do theirs. This despite the fact that the exploits or even existence of some, or even many, of the saints whose names are recited are more fiction than fact. Actually, that knowledge heightens the experience for me, because it pitches the whole exercise into a sublime realm of literary beauty and literary mysticism, wherein wanting to indulge in the depiction of an artfully rendered life is enough, spiritually, to already claim some small purchase on such a life for oneself.
It is with this in mind that I recently thought about the band Rage Against the Machine.
Their video for the song "Renegades of Funk" features a compelling display of adored figures from politics and music, focusing especially on "renegades" of color with a bent toward Black Power. The lyrics name-check a few heroes (Sitting Bull, Dr. Martin Luther King, Tom Paine, Malcolm X) and thereby kick off the litany, but the real litany is in the visuals. Every few seconds, a visual with the name and image of a person or group from U.S. political or musical history is featured, and those visuals are intercut with shots from everyday life of struggling and creative people in the USA, especially in African-American culture (Bronx blight, Bronx pride, early breakdancing). The cumulative effect is something like a visual litany of the saints renegades.
Next Page »