Pages
Categories
Contributors
Recent Posts
Recent Comments
Recommended
Archives
httpv://www.youtube.com/watch?v=KUmZp8pR1uc
What up, "Why I am Catholic"! Thanks for the nice note.
R&T
I am in Amsterdam for the biennial meeting of the International Academy of Practical Theology (IAPT), a gathering of more than a hundred scholars of practical theology from around the world.
Whatever else one thinks of Amsterdam, its notoriety as a tolerant arena for the play of desires — intellectual, culinary, herbal, sexual — is well-established. Indeed, the theme for the IAPT this year is "City of Desires: A Place for God?" Plenary addresses and numerous conference papers will explore the theme of desire from theological perspectives, especially rooting the questions in everyday urban life and pastoral work. A draft conference book is here; abstracts for many of the papers are here.
After falling for the musical "Passing Strange" a few years ago, I cannot think of Amsterdam, desire and theology without reference to it. (Earlier, I wrote three posts on the musical: one, two, three.) In these two clips you can see the "pilgrim" discovering Amsterdam, and receiving — and singing in — a set of "secular" keys to the kingdom. Speaking of "the pilgrim," the rock musical "Passing Strange" is one way to approach, in contemporary Western society, the significance of Ignatius Loyola's injunction, throughout the sixteenth century manual called the Spiritual Exercises, to "ask for what I desire." One need not equate desire with God to trust a loving attention to desire and its befriending as a path to God.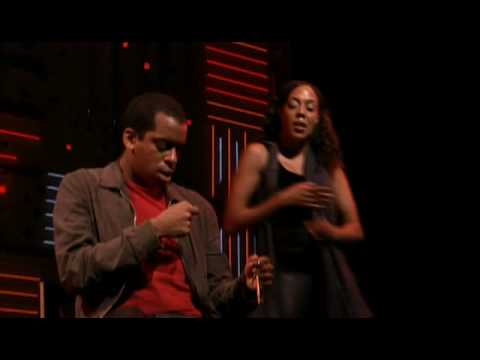 This will be my third biennial, having attended Berlin (2007) and Chicago (2009), and on the flight over from New York, I noticed the same questions arising in me as before the last two biennials: How do I explain to international colleagues what practical theology is for me? On the surface, a commitment to practice might seem to join all practical theologians, but the second one steps into international
Rock music and religion have always had a volatile relationship. Beginning as far back as the 1950s when rock first came on the American scene, various churches have railed against it imploring parishioners to refuse to listen to or buy the music.
Apparently certain churches haven't given up the fight. American rock band Incubus is playing in the Philippines on July 28. Recently, an anonymous protest group sent out the following text message: "PRAYER ALERT !! A rock band called INCUBUS s comin 2perform at d Araneta Coliseum on July 28. We mUST pRAY this group dUZnt even step on2 Philippine soil so that they dONT impart their spirits in2 our youth!!"
Incubus guitarist Mike Einziger doesn't seem too worried about it. He told Rolling Stone magazine (entire article can be found here): "I've heard people were worried about us bringing our evil music to the holy land there. In a certain way, it's kind of an honor and I do very much treat it with a sense of humor." Still, he is concerned about religious fanaticism because "the people who are sending those kinds of messages, they're not treating it with a sense of humor. They're very serious about it and I think it's just a part of a larger problem that affects us on a global scale, which is that religious extremism runs rampant."
How true.
httpv://www.youtube.com/watch?v=q1Sm4l483yo
Mary McDonough
While my summer was supposed to be focused on research and publishing, I ended up in the trenches in Hollywood promoting a new documentary called Dying to do Letterman (D2DL) – a film that follows the journey of comedian Steve Mazan who decides to chase his dream to perform stand up on The Late Show with David Letterman after being diagnosed with terminal cancer. How did this happen? Well, my brother Biagio Messina and sister-in-law Joke Fincioen (Joke Productions), produced and directed the film and Steve Mazan has become a close friend. Since signing on to help promote the movie, D2DL has been chosen to compete for an Academy Award® by the International Documentary Association, begun an on-going incredibly successful Kickstarter campaign to support its Oscar® dream, and continues to inspire audiences all over the country. It has been an amazing project to be involved with.
What does this have to do with Rock and Theology? Well, there is fantastic music in the film, as well as in the campaign videos, and trailer composed by Dave Pelman. The music heightens moments throughout the movie and contributes to the overall emotional experience of D2DL. So, I decided to contact Pelman and ask about his own background and how he managed to compose music that emoted so perfectly the overall message and experience of this documentary.
My conversation with Pelman was awe-inspiring to say the least. He described growing up in a family of musicians and feeling, for him, music is innate. Pelman said that it is clear that music is the only thing he is supposed to do in this life; it is his passion. He has been composing music for as long as he can remember and has an impressive list of films and television credits including Crash, Crazy Heart, The Soloist, and recently Dying to do Letterman.
Pelman stated when he was approached about composing music for D2DL he was immediately on board – Pelman was dying to emote Dying to do Letterman.  When I asked how he went about composing music for D2DL, I was fascinated to hear about his process. According to Pelman, he sat with an instrument while watching the film and allowed his emotion to dictate the musical flow. He explained that while watching D2DL, "I was emotional and I got choked up…the moody, dramatic, atmospheric sound was drawn from my own emotional buttons." Pelman went on to say that he has "always been emotionally
Here is an interesting article about a Fordham professor, Edgar Tyson, in the Graduate School of Social Service, who works on the therapeutic use of hip-hop with youth. As I read it, I thought that the parallels with how theology can engage hip-hop are obvious, starting from theology's traditional commitment to care of souls, which places it so often next to social work, therapy, education, medicine, and other such disciplines and professions focused on the well-being of the person and the world. As the theological discipline of pastoral care and counseling has so often shown in its engagements with psychology, whoever is interested in the good life is a potential friend to theology. In that vein, Prof. Tyson's work and the forthcoming book mentioned in the article, Therapeutic Uses of Rap and Hip-Hop (Routledge, 2011), may well be of interest to theologians.
Tom Beaudoin
Amsterdam, Netherlands
Simon Reynolds has recently written in the New York Times of the strange "atemporality" of twenty-first century pop music. He borrows the term from William Gibson and Bruce Sterling, and calls atemporality "the disturbing absence of contemporaneity" in today's popular culture. By this, he means that there seems to be nothing unique about popular music today that is driving the tradition forward. Pop music is stuck in a preoccupation with rehashing the styles newly and overwhelmingly available through technology like YouTube and iTunes, where much of the history of popular music is available instantaneously. The most music has been able to do in the first decade of the twenty-first century, he suggests, is indulge that technology to ramp up pop that we already knew musically, a strategy for which AutoTune is almost a perfect symbol: it adds almost nothing new to pop sounds that were already perfected well over a decade ago, and speaks to a caughtness in futzing around with what technology can do with what we already know rather than actually moving music forward. (The "mashup" song, in which two or more established tunes are put together to create a "new" song, also would seem from Reynolds' perspective to be a good emblem for this sensibility.)
I appreciate Reynolds' unfolding of this argument in the creative way that he has. He helpfully reminds us that lots of the pop music of the present is a repackaging of pop so recent as to barely have escaped short-term memory for adults. (Reynolds gives the example that almost everyone acknowledges that Lady Gaga's "Born This Way" is a restatement of Madonna's "Express Yourself," with some tricked-up vocals (but – I would add – not AutoTuned, at least that I can hear).
And he has given a name to the feeling that the massive back-catalogue of popular music is suddenly a tsunami of sound to which any artist must give attention, and that can feel beyond daunting. (An analogy from teaching would be the way that the Internet in general, and Google in particular, has become the default source for theological thinking among my students. I would guess that 90% of my undergraduates, and now most of my graduate students, consult Google as a partner in constructing their papers from start to finish. There seems to be a sense that almost everything worth saying has already been said and can be found online. Here's the thing: My students work hard and do lots of good work, but I suspect that if many of my students had no Internet access during paper-writing time, their papers would be even better, by which I mean more inventive, organic, and — ironically — more "searching.")
Recently my R&T colleague Michael Iafrate posted comments by an Irish activist group criticizing certain business decisions made by U2. You can read his post here. On July 7th, the Baltimore Sun published a letter by a federal employee named Simon Maroney criticizing Bono's ONE campaign and accusing the band of moving their business to a tax haven in Holland in order to avoid taxes in Ireland. On July 12th the newspaper published the following letter written to them by The Edge in defense of his band's business practices:
The recent letter to the editor entitled, "Senator Cardin's affection for Bono's foundation is indefensible," (July 7) by Simon Moroney contains so many inaccuracies that it is pointless to attempt to correct them all.

But the most serious inaccuracy is the totally false and possibly libelous accusation that U2 and Bono have, by moving a part of their business activities to Holland, been involved in tax evasion.

For the record U2 and the individual band members have a totally clean record with every jurisdiction to which they are required to pay tax and have never been and will never be involved in tax evasion.

Contrary to what Mr. Moroney writes, Ireland is, thankfully, not bankrupt.

Had he bothered to contact the Irish Ministry of Finance, as did Spin magazine journalist Steve Kandrell for his March 25th 2009 feature on U2, he would have discovered that they have no problem with U2 basing some of their business activities in Holland.

"People complained at the time," says Owen Durgan of the Ministry of Finance. "But we have companies moving here from the rest of the EU, so it all evens out. We wouldn't make an issue of it."

Furthermore, since he is a federal worker, it might interest Mr. Moroney to know that U2 and its members have paid many, many millions of dollars in taxes to the United States Internal Revenue Service over the years.

I hope that his fears of an Obama tax increase affecting him personally turn out to be as unfounded as his statements about U2's tax affairs and Bono's ONE campaign.

The Edge
Mary McDonough
I have been involved with various conferences on theology and sexuality in recent years, and the topic is on my mind again as we plan for a conference series this fall starting at Fordham. The recent legislative endorsement of same-sex marriage here in New York, and the tension between the official Catholic opposition to it and what appears to be fairly strong support for it by lay Catholics, has me thinking about what it takes to do theology from non-normative, if you will, perspectives in Catholicism about lesbian, gay, bisexual and transgendered lives.
Most theology of "homosexuality" in contemporary Catholicism is focused, for good reasons, on interpreting official teaching and its many avowed sources (scripture, natural law, and the like). But Catholicism has very little sexual theology "from below."
There are, in truth, more than a few resources that can inspire Catholicism to take grassroots LGBT theologies more seriously, but one recent book that I hope will inspire a new kind of theology "from below" of Catholic sexual diversity is sociologist Dawne Moon's book God, Sex and Politics: Homosexuality and Everyday Theologies (Chicago, 2004). Moon looks at how everyday theologies appear in Methodist congregations trying to talk about homosexuality, and she builds a case along the way for everyday theology as the theology that matters most in people's ordinary lives. It seems to me that Moon agrees with theologian Jeff Astley's argument about the existence of an "ordinary theology" that motivates people on a day-to-day basis (see his book Ordinary Theology (Ashgate, 2002)).
Both Moon and Astley show that in "real life," theologies come from and return to very personal experiences, and do not change by intellectual force alone, or even foremost. They have to do with the faith-sense people make of what they have endured in their lives. Importantly, Moon devotes an entire chapter to the significant but ambiguous role of emotion in everyday theologies. The importance of feeling
Over the last few weeks a couple tracks from Wugazi — a mash-up project of Cecil Otter and Swiss Andy that brings together the hip-hop of the Wu-Tang Clan and the post-punk of Fugazi — have gone viral. Today Wugazi releases the entire album, 13 Chambers, as a free download at www.wugazi.com. It's what I've been listening to today, and it's fantastic.
I'm puzzled, however, by Rolling Stone's brief comment about the project on their Tumblr: "Punk and rap music may seem to be at the opposite ends of the genre spectrum, but the masterminds behind Wugazi – a groundbreaking mash-up project that blends hardcore band Fugazi with the hip-hop of the Wu Tang Clan – are turning this idea on its head."
Are punk and hip-hop really at "opposite ends of the genre spectrum"? I'm not so sure. I do not listen to a lot of hip-hop, though I should, so I cannot speak as an expert by any means. But a few years back I gave a guest lecture on punk rock and the prophetic for a course at the University of Toronto called "Music, Prophecy and Culture" taught by Brian Walsh. A few weeks later another doctoral student gave a lecture on prophecy and hip-hop. The overlap of the originating impulses of these two "genres" could not be more obvious to those of us in the course. And it seems to me that the speed and excitement with which the Wugazi project "went viral" among fans of both punk and hip-hop suggests that there is more to it than mere mash-up entertainment. For fans of this music, this is not a disorienting mash-up along the lines of George W. Bush singing "Give Peace a Chance." Something about it makes perfect sense.
I would not want to simply reduce punk and hip-hop to the "same thing," but I do think Rolling Stone's parroting of a slice of the dominant narrative of popular music in relation to "seemingly opposite" genres offers an opportunity to think more deeply and with more complexity about the relationship of punk and hip-hop.
Michael Iafrate
Parkersburg, West Virginia
USA
« Previous Page
—
Next Page »