Pages
Categories
Contributors
Recent Posts
Recent Comments
Recommended
Archives
I just finished reading a challenging and creative new book by biblical scholar Avaren Ipsen, called Sex Working and the Bible (Equinox, 2009). I will post a few thoughts about it soon, but for now I want to highlight some references Ipsen makes to hip-hop as it helped her think through some theological questions.
One of the book's chapters investigates how to interpret the figure of the "whore Babylon" in the book in the Christian Bible called Revelation. One of Ipsen's tasks in Sex Working is to correlate interpretations of sex work in the Bible from two perspectives: those of scholars and those of actual sex workers. When she gets to the "whore Babylon" in Revelation, she wants to think about how the language of "whore" might be functioning in its historical context and today. Does this image contribute to a freeing life for its hearers and those influenced by this text, or does it repeat hate speech in destructive ways? Why is Babylon, typically taken in ancient and contemporary perspectives to represent Rome, called a "whore," and what is at stake in retaining or rejecting this language today? Such questions are especially acute because the Bible is potentially dangerous on this matter. As Ipsen carefully details, this "whore" is stripped, eaten, and burned in Revelation 17 — by God's command: "And the ten horns that you saw, they and the beast will hate the whore; they will make her desolate and naked; they will devour her flesh and burn her up with fire. For God has put it into their hearts to carry out his purpose…"
Ipsen wonders if the "whore" language should be read as an ambiguous kind of parody of imperial power, flinging back at Rome a hate word in circulation in the ancient world, and possibly signaling that prostitutes were part of the community associated with Revelation. She gets this idea from hip-hop.
In Ipsen's words, "The main reason I attempted a reading that inserted prostitutes among the oppressed community of Revelation is because of my own upbringing in the underclass within the revolutionary left. The men of my ghetto childhood were often in a very unstable solidarity with the women […] But with a lifetime of hearing the reverse slander of calling oppressive leaders and institutions 'whores,' Arundhati Roy, Dead Prez and Tupac Shakur gave me the idea of analyzing the whore metaphor in this same way as
The lead singer of former Christian-ish rock band Pedro the Lion keeps making the unhanding of his Christianity the catalytic converter of his most compelling music, writes critic Jon Caramanica in a recent New York Times review of David Bazan's show at the Bowery Ballroom in New York City.
Caramanica calls Bazan's new album, "Strange Negotiations," a keeper: "one of the year's most affecting rock albums." In these new songs, Bazan registers "his continuing struggle with religion," as a "man grappling with fatigue — spiritual, emotional, and otherwise."
This review made me wonder about a peculiar but significant genre of popular music: the losing-my-faith song, the stepping-down-from-the-ladder ditty, the going-secular hit parade. What would Rock and Theology readers and contributors recommend as the best songs about giving up what you and your peers previously held as true, that you once took on faith?
Here is Bazan with "Level With Yourself," in which he exhorts: "Level with yourself and be at peace."
httpv://www.youtube.com/watch?v=-QFTjd3QRYQ
Could "Level With Yourself" be a theme song for contemporary deconversion? It is a strong candidate.
Tom Beaudoin
Hastings-on-Hudson, New York, USA
A group of Irish activists is criticizing U2 for avoiding taxation in Ireland by moving part of its business activities to the Netherlands. The group Art Uncut conducted a protest at U2's set at the Glastonbury festival on June 24. The group's founder, Philip Goff, writes:
In 2006 U2 Ltd moved most of its tax affairs to Holland, seemingly in response to the Irish government's decision to cap the tax-free exemption on royalties at €225,000 (before this, artists in Ireland were not obliged to pay any tax on royalties). Our concern is that when individuals and corporations "shop around" different countries for the best tax deal, this puts pressure on governments all round the world to lower their tax rates, which results in an ever-dwindling proportion of profits going to governments to spend on schools, hospitals and public services. Given the financial difficulties in the group's native country right now, any tax revenue denied to Ireland hurts badly.

The broader point of the protest was to raise awareness of the connection between tax ethics and development. Christian Aid estimates that $160bn, more than the global aid budget, is lost every year to the developing world from multinational tax dodging. It's clear that if we're serious about making developing countries richer, we need individuals and corporations to take a much more ethical and responsible approach to their tax affairs.

Art Uncut aims to bring about a culture shift, to create a world where people automatically and instinctively think about tax ethically. We're not claiming that individuals have a duty to pay as much tax as possible. Rather each of us has a duty to think about tax in an ethical context, to ask questions such as: what's my fair share? What do I owe to the country that paid for my healthcare and education? What's the spirit as well as the letter of the law? What effect does how I arrange my tax affairs have on the globe?
The case of U2's business practices raises important issues and questions for those thinking about rock and theology regarding the place of economics and music ethics in our theologies of rock as well as the possible dissonance between what rock artists say and what they do.
Michael J. Iafrate
Parkersburg, WV
USA
I recently read this report from Rob Fields at Boldaslove.us, which argues that a change is going on in African-American culture that has black rock being the index of a changed racial-musical self-understanding. "Post-modernism has come to black music," he writes, "and African-Americans are flocking to it." Hip-hop as an influence and a symbol, Fields suggests, is in decline, and a new "post-black" identity among African-Americans within a relatively privileged demographic is on the rise.
I wonder what our contributors (especially Daniel White Hodge, Rachel Bundang, and Monica Miller, who have written on hip-hop) think of this claim, as well as what R&T readers make of it.
I'm a fan of Boldaslove.us, a site that works hard to chronicle diverse tastes in African-American punk/rock/pop music and its cognates. And I recognize my own inclination to valorize black rock. Still, I am going to have to learn more before I can embrace Fields' claims. His sample of 316 Internet surveys, from what I can tell, may be disproportionately drawn from already-avowed fans of black rock, and the fact that the survey results are worked into a a ready-made branding/marketing strategy to reach African-American consumers raises some questions about the study's reliability. But these are only questions, and I reserve further comment until I learn more.
Such questions, however, are not meant to suggest that I think the Boldaslove study is completely misconstruing a cultural phenomenon, especially given the rapid rise of interest in Afro-punk and other forms of black rock in "mainstream" and "alternative" music cultures. Given the historic entanglement of popular music with religion in the United States, one question I have is how these (potential) shifts map on to contemporary forms of Black Theology, especially if popular music retains its spiritual significance for everyday life even and perhaps especially in its "nonreligious" forms. Or is "post-black" correlated to "post-religious" or "post-Christian"? Where are these phenomena headed in terms of spiritual and cultural identities and practices in the USA and beyond?
While we're at it, here is Tres Mts, a new band featuring Dug Pinnick (King's X), Jeff Ament (Pearl Jam), Richard Stuverud (Fastbacks/Fifth Angel), and Mike McCready (Pearl Jam).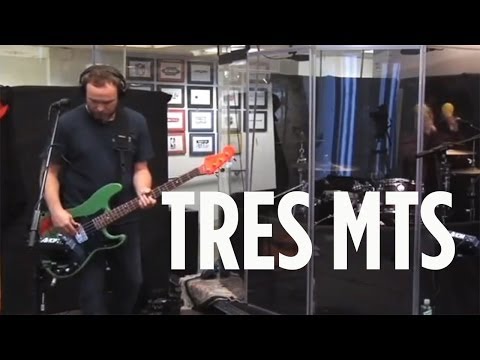 Tom Beaudoin
Hastings-on-Hudson, New York
"They're looking for God. They're looking for God. I can sit here and speak from personal knowledge and say I was in the number one band in the world and it didn't get me what I was looking for…. Because it had no foundational meaning beyond what I thought it did…. Watch the news. Who gets on the news? The person who says the offensive thing, the person who gets the good sound bite…. Everybody is walking around all thirsty. Why doesn't my government reflect who I am? Why do I feel dispossessed? They're looking for God, but you can't tell somebody who is individuating that what they're looking for is God. There is a reason that, in essence, God on one level has been pushed out of the mainstream, because it's just not cool, it gets in the way. No, fuck that. I see God everywhere I go."
Billy Corgan of The Smashing Pumpkins
(from The God Factor by Cathleen Falsani, New York: Sarah Crichton Books, 2006, p. 69.)
Brian "Head" Welch, one of the founding members of the band Korn, recently visited a Christian church to speak about his conversion experience and how he was able to kick a severe drug habit. The Huffington Post covered it here:
I am fascinated by the phenomenon of rock musicians "finding God" and then leaving their careers in secular rock music.  I first heard about this in the early 90's when I was delving into the music of Kansas.  Founding guitarist and songwriter Kerry Livgren, who is responsible for the band's biggest hits, "Dust in the Wind" and "Carry On Wayward Son," left the band in the mid-80's after he converted to Christianity and started writing and recording Christian rock.  Interestingly, on his first solo album, Livgren recruited then Black Sabbath vocalist Ronnie James Dio to sing on the overtly religious songs, "To Live for the King," and "Mask of the Great Deceiver."  To me, this music sounds like Kansas but with Christian inspired lyrics–not a radical shift from LIvgren's former work.
Other musicians who have reported Christian conversion stories include Neal Morse (formerly Spock's Beard), Dave Mustaine (Megadeth), Alice Cooper, and Mark Farner (Grand Funk Railroad), among others.  Almost all of the rocker conversion stories I have read about include a battle with substance abuse and usually conclude with an acceptance of some form of Evangelical Christianity.  I find this fascinating.  I would love know if anyone has done in-depth research about how/why this happens–R&T readers–are there any such studies that you know of?
Dave Nantais
Detroit, MI
As a complement to the posts below on Clarence Clemons, I want to mention that Timothy Egan has a column in the New York Times about the significance for rock fans of the interracial friendship of Clarence Clemons and Bruce Springsteen. He revises Martin Luther King, Jr.'s famous observation about Sunday morning being the most segregated hour in the U.S.: "The most segregated place in America on a given night," Egan writes, "can be a stadium rock concert — on stage, and in the audience." The death of Clemons spells the end of a particularly inspiring hope for what the band Earl Greyhound calls the imperative to "Rock your faces [and] mix the races."
Theologically, I consider the matter at stake here to be the question of whether and how popular musical experience and culture can be a witness to and training for a transcendent horizon — by going through the particularities of specific identities (religious, racial, ethnic, gendered, classed, dis/abled, sexual, and more) telling how they (we) have learned to live with and beyond themselves/ourselves. A white-privileged rock scene is, from this perspective, deficient in a way that a theological consciousness can help to unearth. Coming out of a Catholic background, as I do, the imperative is only multiplied, given how deeply the religion and theology I have learned has been covertly co-identified with whiteness.
Egan's article shows a little of its own whiteness when he writes that "There weren't a lot of blacks in my high school graduation class — two, to be exact — which meant that race was somewhat of an abstraction, happening elsewhere, mostly on a screen or from the grooves of a record."
I know what he means, because I went to mostly-white schools, from kindergarten through seven years of graduate school, and have taught in mostly-white universities for ten years. A good number of these years
In this unaired and uncensored footage from The Colbert Report, Stephen Colbert and Jack White hilariously test each other's Catholic knowledge. You may want to skip this if you are offended by bad language in close proximity to discussion of Marian dogma.
I just stumbled across this wonderful BBC documentary that chronicles the rise of the post-WWII German avant-garde music scene.  The film features interviews with a host of musicians, including members of Faust, Can, Kraftwerk, and NEU!
In particular, I was interested to learn about the explicit desire on the part of many of these musicians to imagine a music that was based neither in classical motifs or in blues-rock chord structures.  I also was not aware (though, thinking back, I should have been) of the influence these German musicians had on the likes of Brian Eno and David Bowie, as well as on the development of the ambient and electronica movements.
Finally, I just really dug watching the interview with Damo Suzuki.  An old favorite of mine, still crazy after all these years.
Viel Spass!  Enjoy!
Next Page »