Pages
Categories
Contributors
Recent Posts
Recent Comments
Recommended
Archives
My friend CR sent me this interesting little story from the New York Times about the recent comment of the Czech Prime Minister Mirek Topolanek about USA President Obama's stimulus plan being a "road" – or is it "highway"? – "to hell." Turns out that you have to understand the Czech passion for rock and dispassion for religion to fully appreciate the comment. (This is also a transparently shameless opportunity to get AC/DC into the blog today.)
httpv://www.youtube.com/watch?v=TziyOcb96q0
With everyone wearing the devil horns and the apparently utter lack of menace among the assembled fans, can this song possibly be rendered any less threatening? We are a long way from the anxious '80s and the Parents Music Resource Center.
Tom Beaudoin
Hastings-on-Hudson, New York
Tonight I saw the boy-flick "I Love You, Man" along with about two dozen other indulgent souls at the 34th street AMC in Manhattan. I went with modest hopes due to what I assumed would be a slightly overlong comfort-food helping of half-langorous oh-so-gently-ironized-half-disguised homoerotic straight-male friendship seasoned by some good rock music. Oh, how I was mostly correct.
The movie's potentially celebratory man-date groove was uneven due to the stock plot and its network-tv-ish microscenes of unrevelatory banter.
However, the movie wanted to say something of moment, and as far as I'm concerned it was this: how the music of Rush is tied to the creation of liminal zones for straight-male friendships.
The overwhelmingly male makeup of Rush's audience has long been noted and marveled-at. There is a scene in the movie, in the movie I otherwise wanted to have teach me something about rock and male experience, that gets it just right about the man-date-creating desires given by Rush music (or to almost-quote the old Rush tune, "Cinderella Man": "When man-dates grow too mighty to slay with pen or sword…"). In this cinematic scene, the real band Rush is playing in front of the two presumably 30ish man-boys of the movie, who are in the midst of discovering the pleasure taken in making their male friendship work, and the guys act out for each other with dorky drama the lyrics of Rush's "Limelight":
"Cast in this unlikely role
Ill-equipped to act
With insufficient tact
One must put up barriers to keep oneself intact"
And as they revel in each other's company, it is hard not to marvel at how this kind of permission for masculine suspensions (and, no doubt, reinscriptions) gets given by the eu-daimonia of rock.
Tom Beaudoin
New York City
Sorry that it's sounded more like Air Supply than Aerosmith at Rock and Theology lately. It's turned out to be a busy stretch on the academic front. But now it's time to return to that (hopefully) saving and disseminating stretchery known as rockish theology / theologische rock. As you can see from Robinette's fine soloing on Sigur Ros below, the theological swag mart is once again open for business. More posts coming soon.
Tom Beaudoin
New York City
"He became more and more convinced that he had to keep his reason unclouded and his emotions in abeyance." Theodor Reik, speaking of his friend Sigmund Freud, opens his book, The Haunting Melody, with the observation that the iconic Austrian analyst "developed an increasing reluctance to surrendering to the dark power of music." Noting that he had witnessed Freud actually enjoy music on occasion, Reik maintains that his friend's "turning away" was an "act of will in the interest of self-defense."
Freud himself wrote surprisingly little of music. In one of the very few instances he did, as in the introduction to "The Moses of Michelangelo," he observed that art in general moved him deeply, especially literature and sculpture, and that taking pleasure in them required an exacting process for explaining why they did so. That is, an explanatory scheme was needed to permit the pleasure, to justify and carefully superintend the temporary releasement. This he could not achieve with music, however. "Wherever I cannot do this, as for instance with music, I am almost incapable of obtaining any pleasure. Some rationalistic, or perhaps analytic, turn of mind in me rebels against being moved by a thing without knowing why I am thus affected and what it is that affects me."
It may be difficult for many of us to appreciate, much less sympathize with Freud's sentiment. The vast majority of us think very little of opening ourselves to a piece of music, even when it demands considerable attention and emotional investment. But Freud's apprehension is instructive, for it reminds us that to listen to music is to surrender. Even when we can speak of music's "intelligence," that it has "communicated" something that stirs up in us deep feeling and intuition, still we must confess that we haven't the slightest idea how we might re-present it in another idiom. Music may be supremely intelligible, but it remains incomprehensible and virtually untranslatable. Freud would not be seduced by such ephemera, perhaps especially because, unlike sight, he could not maintain it in objectifying "distance." But music penetrates and submerges; it passes through while enfolding the body. Listening, compared to seeing, is an intensely intimate experience. When rapt in music, music is closer to us than we are to ourselves.
In learning of Freud's apparent musicophobia recently, I immediately thought of a Sigur Rós tune that would probably be as nightmarish as anything for him. What tune by Sigur Rós isn't haunting?, you might reasonably ask. Well, Saeglópur is special, especially when accompanied by its video. (Freud might have appreciated music more with such visual assistance.) This luscious and sublime lamentation provides countless possibilities for the armchair analyst. I don't want to impose my own amateurish interpretations here, but I might point out that we have here an impressive assembly of materials for endless conjecture, including mother and son, oceanic submergence, struggle, (possible) death, a (possible) pietà scene. Listen and see what I mean.
Brian Robinette — Saint Louis, Missouri
httpv://www.youtube.com/watch?v=cIvs4j4IniA
When I read rock reviews I often feel as if I am overhearing (the report of) a theological conversation, without amplification, from 20 feet away, catching suggestive phrases, alluring intonations, gestures that may be — if they were only seen and heard from the right vantage — sacred. It is difficult to read most any review of a rock show and not want to enlist a fragment for the modern scripture that the great 18th-19th century Protestant theologian Friedrich Schleiermacher thought that all truly religious persons could write on their own.
And as theologians we may want to ask, with Luke chapter 1 verse 43: "Why has this happened, that" (what we may psychoanalytically and theologically call) "the mother of my Lord comes to me" in this way?
Does it have to do with Rene Girard's theory of mimetic desire? That desire is learned, that learned desire is imitation, and that what is imitated is the desire of others?
The ahagiographical power of rock's live bounty works remarkably in the elicitation of desires, and thus one finds in reviews of live shows, again and again, snapshots of manifestation that may be mistaken for a pitch into holiness. Like this line from today's review by Jon Caramanica, in the New York Times, of the recent show in Brooklyn by the band The Pains of Being Pure at Heart: "It's not that [singer Kip] Berman isn't capable of seeing the bright side, or celebrating how it arrives in brief flashes. 'I can't see into the sunset,' he sang on 'Come Saturday,' which was the loudest the band got all night. 'All I know is that you're perfect / Right now.'"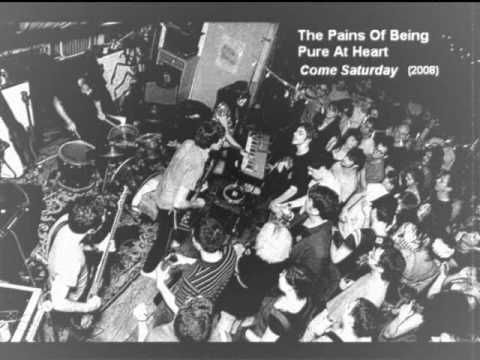 As if on cue, theologian Risto Saarinen whispers a coda from God and the Gift: An Ecumenical Theology of Giving, page 111: doctors of rock, he seems to admonish us, do not forget that "theological imitation has its counterparts in various other forms of human culture."
Tom Beaudoin
Hastings-on-Hudson, New York
httpv://www.youtube.com/watch?v=9U6GSOytcWo
My friend Dave N sent me this news item about the capacity of infants to dig the Beastie Boys and Beck. This helps me understand why my daughter, already by age two, could sing with an impressive percussive inflection, "brass money, that funky monkey," and "bottles and cans, just clap your hands."
Tom Beaudoin
Hastings-on-Hudson, New York
I am interested in the spiritual significance of holding together secular musics and spiritual practices, and in particular rock and theology. What are the motivations for doing so, and what the benefits? There are undoubtedly many ways to find this nexus culturally, personally, and religiously/ecclesially important. I have begun to reflect on my perspective on these questions elsewhere in this blog, and have another installment to add here:
A few nights ago I went to see "Krapp, 39," at the Soho Playhouse in lower Manhattan. In this play, based on Samuel Beckett's Krapp's Last Tape, a 69-year old man listens to tapes from his 39-year old self, and Michael Laurence in "Krapp, 39," working from his own script, updates Beckett with a one-act exploring what 39 feels like today… at least from the vantage point of an urbanish straightish male kind of guy.
As one of these kinds of guys, and at 39 no less, I came to "Krapp, 39" eager for revelation.
Midway through the show, Laurence/Krapp raises what he calls a "theological question": does he want to be loved, or does he want to be left alone? This question, in touching down within my own life, spurred reflection on more theological questions about approaching what is so unhelpfully described as "midlife."
Last week, I did an interview with WFUV, Fordham's respected radio station, which among many other good works, keeps rock culture pumping through the ears of New Yorkers and beyond. The interview, with Nora Flaherty, was focused on my little book on theology and branding/consumption. It can be heard here.
Tom Beaudoin
Hastings-on-Hudson, New York
Next Page »