Pages
Categories
Contributors
Recent Posts
Recent Comments
Recommended
Archives
September 2017
S
M
T
W
T
F
S
« Jan
1
2
3
4
5
6
7
8
9
10
11
12
13
14
15
16
17
18
19
20
21
22
23
24
25
26
27
28
29
30
Last night at Terminal 5 in Manhattan, I saw the Black Crowes.
(Here they are from the early 1990s:)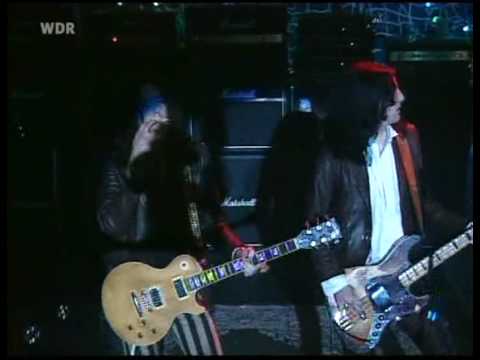 Last night, this well-oiled blues-rock machine of a band seemed relatively loose but also a little workmanlike at times. The most compelling figure for me, as for many Black Crowes fans, is lead singer Chris Robinson. (Below are a few pictures I took.)
Many fans sympathetically mimicked Robinson's gestures, making his center stage their own, or their body his own. I wondered if this sympathetic gesturing from fans is particularly compelling to do because Mr. Robinson has developed numerous bodily wherewithals suggesting (more…)
I am thinking about Miley Cyrus and theology as I compare these three videos for her huge hit "We Can't Stop." One is the "Director's Cut" of her official music video: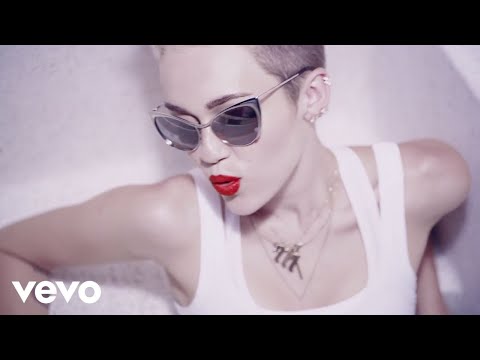 And the second is her Brady-Bunch-like live-video version with The Roots and Jimmy Fallon:
And the third is her recent Saturday Night Live performance: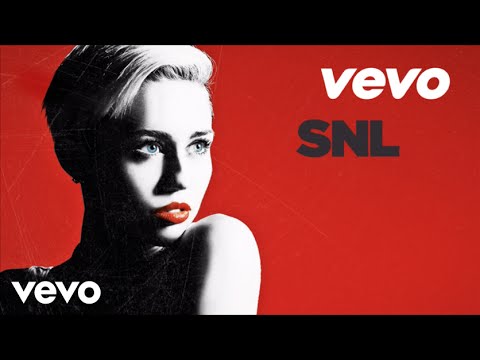 These videos, in their visual differences, had me focused more than ever on the song that unites them, and within that song, on the lyrics that have drawn so much attention. The most sing-able line is also the chorus: " 'Cause we can't stop, and we won't stop." It is an unusual invocation. It can be (more…)
Last night at Barclays Center in Brooklyn, I saw Thom Yorke with his new band, Atoms for Peace, in concert. Yorke was giddy with gyrations, air-punch dancing, and music-spirit possession from start to finish with few pauses. The band's bassist, Flea (from the Red Hot Chili Peppers), put on his own show of bass-dancing with as much vigor as Mr. Yorke, hopping back and forth from foot to foot, bopping and popping and stomping his legs, jumping on the drum riser and hank-hopping sidewise, all while continuing to play the funky bass parts for which he is known but now scaled dance-ishly to the heavily electronic band that he and Yorke formed.
Here they are this summer in Los Angeles: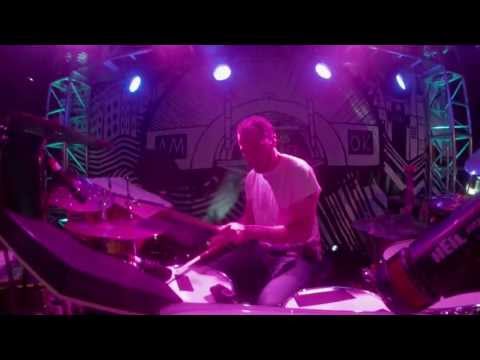 Indeed, much of the audience were dancing through the set and the (two) encores. From my seat, midway up and toward the back of what looked like a nearly sold-out arena, I could see the thousands of bodies claw-writhing and daisy-flailing and yelling out the words, and in that buoyancy, I noticed that Mr. Yorke's vocals were chants, multisyllabic and often monotonal meditations. We call it "singing," and it was, but the kind that allows (more…)
There may be a few musicians who are relatively, and unjustly, unknown on the national scene, who are exquisite and heartbreaking singers, torrid and groovish guitarists, soulful songwriters of unaffected Americana and Southern-tinged old-fashioned rock and roll, and a stage presence that makes of every word of every song a test of authenticity and an opportunity for spiritual reconsideration — but I only know of one such musician: Michelle Malone.
(I have written about Malone several times earlier at Rock and Theology, first in October 2009, again in October 2009, and in January 2013.)
Here is Ms. Malone playing "Wild Horses" at a house concert: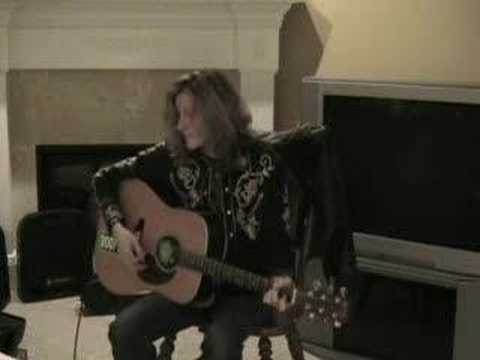 Last night, I saw her play in New York City, at a classy Irish bar and performance space called An Beal Bocht, in the Bronx. I took this picture:
I know you will not believe the next sentence I am going to write, but I will write it anyway: I have been seeing live music for over thirty years, and after hundreds of shows, I can say that I know of no solo artist who is more dedicated to, and natural at, making their songs live afresh every time (more…)
Last night at South By Southwest, I witnessed perhaps the very best set of rock and roll in my life. Dead Sara played at Empire Automotive, a former auto repair shop converted into a concert space. In less than 45 minutes, Dead Sara exhibited an exquisite abandonment to rock and roll. The lead singer Emily Armstrong and guitarist Siouxsie Medley were utterly irrepressible throughout the show, somehow managing to sing and play while pacing, thrashing, headbanging, and flailing to the music.
(For a taste, here is Dead Sara performing "The Weatherman" last October in Dallas:)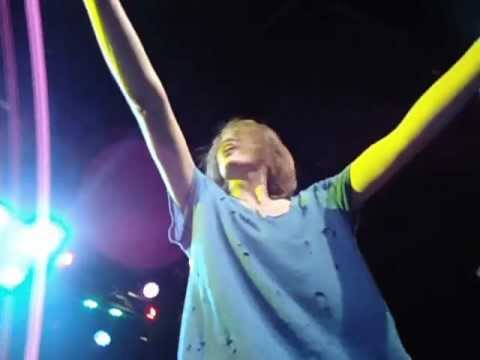 Last night, Armstrong was a one-woman rock and roll firestorm, part Janis Joplin, part Freddie Mercury, as she claimed the entire stage, and then some, as her own. Seemingly out of nowhere, Armstrong suddenly has one of the best voices in rock music today. While showing it off, she also spun around, played guitar lying down, jumped onto the drum riser and back off, swung the microphone faster and harder than I've ever seen done, wrapped and unwrapped the cord from around her body, careened in unpredictable directions, and toward the end of the show, climbed on top of a tall (more…)
One of my favorite new rock bands is Dead Sara. This is the rare sort of rock music that just explodes out of the speakers. Is lead singer Emily Armstrong the new Janis Joplin?
Their song "Monumental Holiday" contains two mentions of a provocative phrase scream: "Save Jesus!" The relevant verses are:
"It's just a matter your violence
Save Jesus
Laugh loud, pretend to let go
Live your life like an Eskimo!"
and later
"Slow down children, save Jesus!
Your body clock, tick-tick-tock
Abstinence and contraceptives"
I'd like to think out loud a little more about the song, especially the lyrics. Here is the video for the song: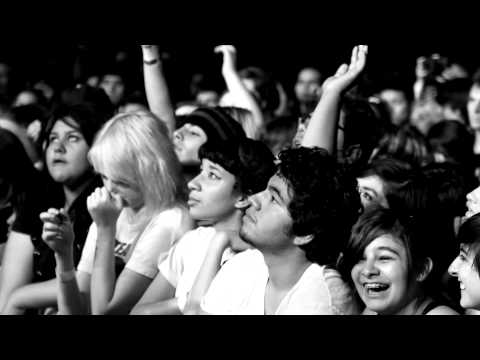 I can't help wondering about this saving of Jesus business — what an evocative and provocative term. (more…)
One way to understand theology is that it is an attempt to recapture treasured origins, both by what theology argues (the meaning of this or that idea, text, or practice), and by how that argument is made, how the reader is carried along from turn to turn.
The recapturing of treasured origins is like a reconstituting of them, insofar as theology tries to make present, or at least make echo, some originating inspiration of the tradition, way back in time. Pay new attention, theology says, to these materials that are at the beginning of what matters: God, grace, beauty, unity.
Reading our own theological writings as attempts to recapture and reconstitute treasured origins is a way to see our theologies for the spiritual exercises that they might already be, and to make of them a new exercise now.
I thought of all this as I watched Rod Stewart sing a song of origins, going back "to Gasoline Alley where I was born."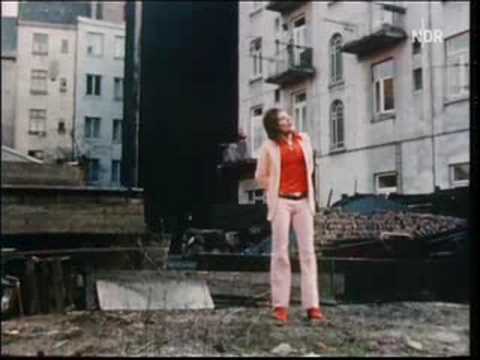 Especially because what is so arresting about Stewart, especially in this early (1970s?) era of his career, is not only what he is singing, but how he is singing it. "Going home, going home…"
Tommy Beaudoin, Hastings-on-Hudson, New York
Today in the New York Times, I read a nice (but too short) feature on women who have found/created paths to ordination to the Roman Catholic priesthood, reported by Judith Levitt.
This group of Catholic "Womenpriests" is a revolutionary community who have been not only theorizing the ordination of women in Roman Catholicism, but finding ways to make it happen. No doubt, a few hundred years from now, all the drama around ordaining Catholic women will seem like such a parochial matter because women will share equally in Catholic leadership at all levels, but for right now, and as a way of getting to that (hopefully inevitable) future, it is worth appreciating that history is being made.
Here are two videos about the movement: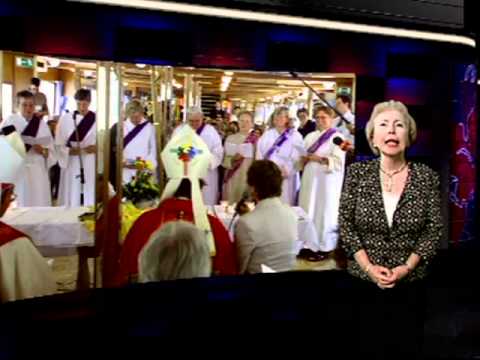 Forgive my leap of imagination, but this story called to mind an artist in the music world often referred to as the "high priestess" of rock and roll: Stevie Nicks. That title "priestess" has a different meaning in the world of secular music: Nicks is often
As R&T readers know, last week I saw the musical "Once" on Broadway (and wrote about it here). This afternoon, I was walking in NoHo in Manhattan, and was about to stop in at a cafe.
Out front, I noticed a familiar-looking guy, and I quickly realized he was one of the cast and musicians from "Once." In fact, he was an extraordinary musician in the musical, playing guitars and drums and singing. His name is Lucas Papaelias, and he is already an accomplished musician, actor, and composer.
I told him about Rock and Theology and we talked about musicals, performing, and spirituality. (He was very generous with his time, allowing this interruption from a random professor who wanted to talk with him about religion and music.) He is performing in, and is the musical director of, a show this weekend at The Culture Project in Manhattan, a show titled "A Thick Description of Harry Smith (Volume 1)," which, if you read the description, looks like it would be of interest to R&T readers.
Here is a picture of Lucas and me. (That's him in the AC/DC shirt, and that's me holding the phone-camera.)
On YouTube, I found a video of Lucas playing at a party purportedly at 4 a.m. Ever been in a scenario like that? If so, you will recognize
In the April 2012 issue of Harper's magazine, Anthony Heilbut has an engaging essay on Aretha Franklin. Titled "Aretha: How She Got Over," Heilbut (who is the author of The Fan Who Knew Too Much: The Rise of the Soap Opera, Children of the Gospel Church, and Other Meditations) tells the story of Franklin's beginnings in the church and the influence of her pastor father, and shows how her gospel music background has served as a recurrent anchor for Franklin's brilliant singing career.
Here at R&T, we think about relating theology and pop music, and one way to do that is to look at how theological culture and musical culture come together in the lives of individuals, and Franklin's life gives much to consider in this regard. Her pop success was underwritten by gospel music skills and feel, Heilbut argues, and the close relation between sexual and religious experience, confected in the black church, is a leitmotif that warrants several interesting asides (including a note about her performance at a same-sex wedding in October 2011), and that I wish Heilbut would have explored more directly. Perhaps he does in his book.
Here is Franklin early in her career:
Franklin, he suggests, "virtually colonized American music for the gospel style." It seems the choice of verb is innocent here, but I think it tells deeper than Heilbut lets on. From the church of a colonized people came an extraordinarily talented woman, who neither simply repeated nor neatly inverted that colonization, however metaphorically, but let gospel music flower across many different gardens over the past five decades.
Her interesting musical debts to Billie Holiday and Judy Garland are noted, and her singular influence on what has become the
Next Page »