Pages
Categories
Contributors
Recent Posts
Recent Comments
Recommended
Archives
September 2017
S
M
T
W
T
F
S
« Jan
1
2
3
4
5
6
7
8
9
10
11
12
13
14
15
16
17
18
19
20
21
22
23
24
25
26
27
28
29
30
Recently, the Rock and Roll Hall of Fame posted a brief interview with singer-songwriter Graham Nash who played with the Hollies and later, Crosby, Stills & Nash (sometimes, with the addition of Neil Young):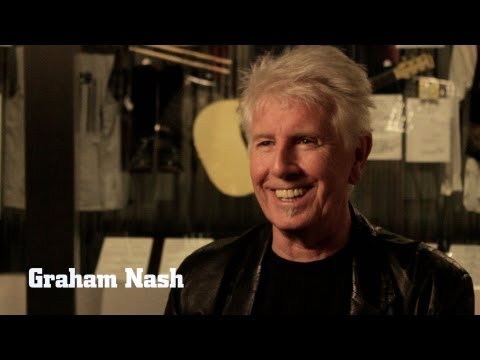 I love Nash's description of music as "a newspaper for the street" and as a "town crier." What a wonderful way of portraying how music can change our moral imaginations. While working on my Ph.D., I studied with a wonderful moral theologian, Richard Gula, S.S. He is fond of saying: "We see what we believe." What he means is that one's moral position and behavior depends, in part, on experiencing life from a different perspective. Moral choices are not made in a vacuum. Rather, they are influenced by the way we see the world and react to that vision.
(This is the second part of a two part series on the relationship between music and emotions. Part one can be found here.)
In part one I focused on how instrumental music influences emotions. Today I'm going to discuss how harmonies and lyrics also convey emotion.
Vocal harmonies, where consonant notes are sung at the same time as a main melody, are a musical skill that gives songs depth, complexity, and a beautiful tone. They can, I would argue, also influence emotion. Harmonies not only sound good to the ear but they are also symbolic of unity, a kind of camaraderie among musical tones. In fact, a study just released last week shows that the heart rates of people who sing in unison actually accelerate and decelerate simultaneously.
In order to sing good vocal harmonies, one has to have an excellent ear for music pitch and tremendous vocal control. The harmonies of the Beach Boys, with their depth, angelic tones, and symbolic solidarity, exemplify the qualities that make harmonies particularly adept at acting as emotional conduits. While the following song contains lyrics, try to focus solely on the sound of the harmonies and how they make you feel.
Several days ago I listened to the podcast from SXSW featuring three of my R&T colleagues. The session, called "Into the Mystic: Secular Music as a Quest for More," is an excellent study of the relationship between spirituality and popular music. Tom Beaudoin's presentation focused on how people make spiritual sense out of popular music pointing out how we often use spiritual language, words such as healing, empowering, ecstatic experience, and joy, when discussing music. David Nantais emphasized the creative process of making music and how musicians themselves describe it as "a healing process" or an "out of body" experience. Then Monica Miller talked about culture as a lived reality in hip-hop music by explaining her notion of "faith in the flesh," a term describing how people living on the margins use their bodies to create meaning. Finally, Austin Episcopalian priest Merrill Wade told the audience about the "Soul of Musicians" series he started at a tavern near his church. Once a week he invites a musician/songwriter to come in and discuss the meaning of her/his song lyrics. A podcast of the entire session can be accessed here. If you haven't listened to it yet, make the effort to do so. It's worth your time.
One particular theme that dominated the SXSW session is the importance of meaning in people's lives. We are all seekers of meaning because life is full of moments that require interpretation. The human condition, rife with pain and suffering, joy and sorrow, life and death, needs ways of understanding the world through avenues of meaning. Emotions can act as our compass for navigating those avenues and music can be the vehicle for transporting us on that journey to create our interpretive frameworks of meaning.
I've been studying the connection between music and emotions for a book chapter I'm writing. It is still a work in progress but I thought I would share some of my findings. What I have discovered is that music influences people's emotions profoundly and through several different channels. Today I'm posting the first part of a two part series on some of the various ways music touches our emotions. The first part will look at two dominant psychological mechanisms that help explain why music influences our emotions so strongly. Part two will examine the effect that harmonies and lyrics have on our emotions.
In the Chronicle Review, part of the Chronicle of Higher Education, Dr. Timothy Beal recently wrote a terrific piece displaying the substantial theological account of their actions left by the band Pussy Riot, who were recently sentenced to two years in prison in Russia — allegedly as punishment for their punk-rock protest. Michael Iafrate at R&T on the topic here. Wiki here.
Video of the "offending" event here:
Madonna, in Russia, defending Pussy Riot: "They have done something courageous. They have paid the price. I pray for their freedom."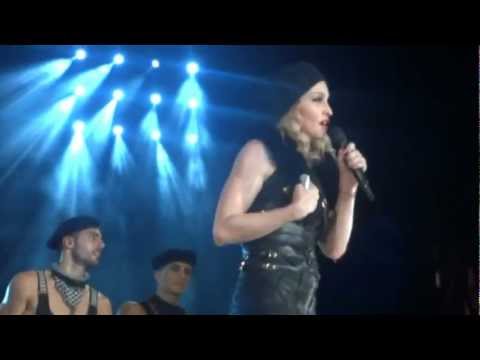 In his article, Beal very helpfully focuses on the way in which Pussy Riot's theological claims are rooted in Pauline writings about paradoxes, like the notion of holy foolishness (1 Corinthians), as they connect to Russian culture.
As I read Beal's summary of Pussy Riot's statements, I also detected echoes of Jesus' consolations or blessings (or "beatitudes") in the gospel of Matthew (5:10-11) in Tolokonnikova's assertion that "We are reviled, but we do not intend to speak evil in return." (This also seems to be a mashup with Jesus in Matthew 5:39, "If anyone strikes you on the right cheek, turn the other also.") Tolokonnikova takes this "beatitude" style of Matthew 5, as it is often called, and riffs on it: "We are in desperate
I was extremely disappointed to read Margaret O'Brien Steinfels' dismissal of the Pussy Riot "brouhaha" over at dotCommonweal, but perhaps not very surprised. (Tom wrote about PR's "punk prayer" protest here back in April. This past Friday, PR was sentenced to two years in prison.)
I have very little to add to the critique offered by Bridget, a Ph.D. candidate at Notre Dame, in "Virgin Mary, Mother of God, Become a Feminist" at Women in Theology. While acknowledging the legitimacy of critiquing Pussy Riot's protest on tactical grounds, Bridget rightly flags O'Brien Steinfels' language as "not merely critical […] but dismissive and gendered": (more…)
I recommend Bill Moyers' excellent recent interview with renowned journalist and author Christopher Hedges. They discuss Hedges' research on the ways that corporations' and the US government's widespread, unchecked, and nearly invincible capitalist commitments, have reached a new and deeply troubling apex of wreaking economic, social, and political devastation in the United States. They also discuss Hedges' "faith" and what resistance to the dehumanizing effects of greed in our society means today. Hedges comes around to what he calls a theological point: the neglect of "the neighbor" in this society.
Here is the interview:
In recent years, I have grown more persuaded by analyses like Hedges', as I take further stock of the perpetual war economy, the aggregation of wealth in fewer and fewer hands, the deep difficulties of most families in meeting basic necessities for surviving and thriving in life while maintaining a healthy family life, and the violence and human diminishment that our participation in the everyday economy–joining "us" to impoverished workers around the world–propagates.
Hedges calls for massive nonviolent resistance, and is untroubled by questions about its short-term effectiveness. He seems to return again and again to the question of duty, to what one must do in order not to betray oneself, whether or not the system is overturned in his/our lifetime. He also focuses continually on the matter of telling the truth about the world.
I think that however we construe the relationship between theology and music, the basic question about how we are being made
Students of popular music and theology learn two things quickly: first, that religion, faith and spirituality have had a lot to do with the origins and ongoing vitality of rock and roll; second, that rock and roll has sometimes had critical, negative, dismissive and otherwise derogatory things to say about religion, faith and spirituality. I think that both aspects of this relationship are important for grasping popular music and theology in some depth.
This thought came to me today after I did an interview for a news organization writing a story on the latest round of conflicts between U.S. Catholic bishops and those who disagree with them about Catholicism's public stances on contraception, religious freedom, and Catholicism itself. The interview focused on my interpretation of an ad by the Freedom From Religion Foundation strongly criticizing the Catholic Church and inviting Catholics to leave.
During and after the interview, I thought about how understandably difficult it can be for religions and religious people to hear criticism, especially blunt criticism, of what is held dear. I know what it is like to react defensively and dismissively when it feels like someone is trying to pull the rug I know and love out from under me. This is especially true if the very way that criticism is communicated contradicts "appropriate" forms of address.
All of this put me in mind of the song "Judith," by A Perfect Circle.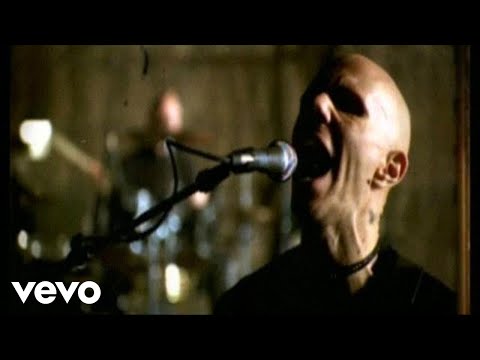 It is probably very hard not to hear this song as a blunt attack on Christianity. Here are the lyrics as taken from the Perfect Circle website, and I've added a few in brackets that are sung but not listed here:
On Mayday, I was in the parks and streets of Manhattan for #M1GS, the May 1st General Strike, a daylong gathering called by a coalition of dozens of labor organizations. Like many, I was there under many motivations: as a participant in Occupy Wall Street and Occupy Faith NYC, as a member of the labor union and advocacy organization the American Association of University Professors (AAUP), and as a theologian. I joined tens of thousands in New York City and around the country, and hundreds of thousands around the world. I noticed workers of all kinds, labor union members, Occupiers, community organizers, seasoned activists, first-time participants, and all manner of allies who cheered us on from the sidewalks, fire escapes, and opened windows in the tall buildings along the march route.
There were apparently a few dozen arrests, though I did not personally see any over the course of seven hours. (Nor could I afford to get too close if things got too hot, because I needed to be free to teach the next day.) I arrived in the early afternoon at Bryant Park to find a thousand or so people getting warmed up with teach-ins, leafletting, conversations, sign-making, and picture-taking. There were also dozens of people carrying guitars (and a few basses and banjos), rehearsing for the Occupy Guitarmy, an all-volunteer guitar ensemble led by renowned rock guitarist Tom Morello, of Rage Against the Machine and now The Nightwatchman.
I was concerned because I thought that a thousand or so people would be a poor turnout for such a hyped-up event as this General Strike. But things changed quickly.
Around 2:00, we began marching to Union Square Park, and arrived there about 75 minutes later. As we marched, more people began joining in, and by the time we go to Union Square, there were many thousands more waiting for us. And people kept streaming in from all sides for the next couple hours. Tom Morello and a contingent from the Occupy Guitarmy played a few songs…
(Note: video contains a few obscenities, heartily sung)
…there were brief speeches about solidarity and economic justice from people representing different labor organizations, and there was plenty of Latin music to aerate everyone's spirits in preparation for the long march to Wall Street.
A couple dozen members of Occupy Faith NYC gathered near the Gandhi statue in the park, where I joined them, and around 5:30 we began to move in a march with some 30,000+ people down Broadway all the way to lower Manhattan, a slow journey that took some three hours.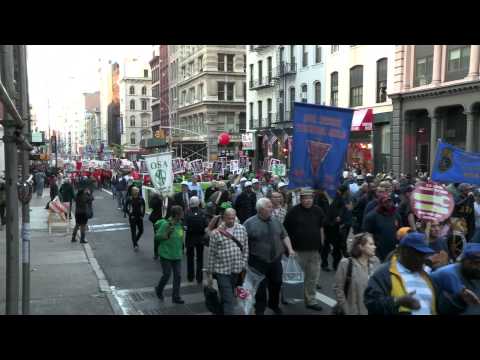 As the thousands of different banners, placards, signs, tattoos, shirts, headgear, songs and chants avowed, there was no single reason for being there, but I think it is fair to say that a great many of those gathered could endorse two basic theological statements: negatively, the market is not God; positively,
For the New York Times, Ginia Bellafante has recently written this article relating the Catholic Worker to Occupy.
R&T readers who are interested in these matters should know that Occupy, in conjunction with dozens of other organizations dedicated to the equitable sharing of social resources, is calling for a General Strike in the United States on May 1.
For more information, see the latest from the Occupy Wall Street website here, or the MayDay NYC website here, or the InterOccupy site for various May Day General Strike cities here. Occupy Catholics are here.
Rock guitar wizard Tom Morello, of Rage Against the Machine and many other collaborations, will be leading a "Guitarmy" on May 1st in NYC as part of the General Strike. Information on the Guitarmy is here.
Here is Morello on #OWS: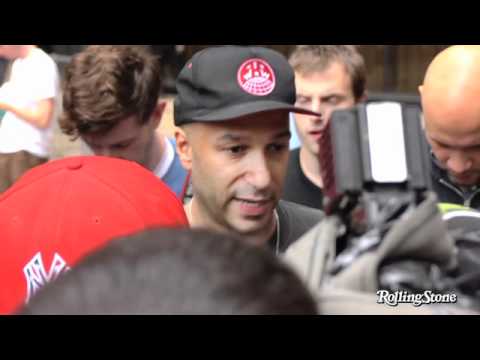 As I have mentioned many times here at R&T, various artists and spiritual teachers have endorsed
Some R&T readers may be following this story about the Russian punk (Riot-Grrrl-inspired) band, Pussy Riot, and their February "punk prayer service" protest against Putin in a cathedral in Moscow, as a way of protesting (among other items) the close link between church and state of late in Russia. This is a rare example of a band staging a protest in a church. At least some of its members were jailed immediately and have not yet been released.
Here is some video apparently from the protest, where they apparently performed their song, "Virgin Mary, Mother of God, Expel Putin!"
In many cultures, attempting to occupy a church for a political protest, especially one undertaken with electric guitars, conjures up a powerful symbolic conflict, with allegations of desecration and sacrilege not far behind. The exact contents of that symbolic conflict in Russia, I don't know, but if it bears any resemblance to Western countries, it would have to do with an imaginary of self-assertion or aggression, license and sexuality on the one side, and an imaginary of peace, order, hierarchy, and respectability on the other.
Next Page »